Analysis
The Rise of Kanas City Royals Prospect Austin Charles
Drafted in the last round, the Royals gave Austin Charles a big signing bonus to get him to forgo college and early returns have been great.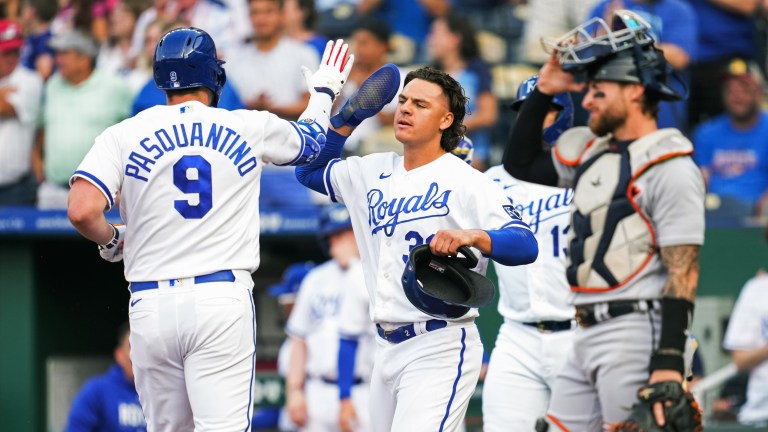 It's not often you look at a guy taken in the 20th round of the MLB Draft and expect hype to grow around him. Kansas City Royals prospect Austin Charles has been an exception of the normal.
Coming into the 2022 MLB Draft, Charles was committed to UC Santa Barbara and it looked like he was going to honor that commitment.
The Royals plucked him in the last round of the draft and gave him a $429,500 signing bonus. To put that into context, that is what you normally see a fourth- or fifth-rounder getting. That right there should show that the Royals immediately saw something special in Charles. 
Charles had quickly established himself as a potential two-way player, showing early signs of potential both on the field and at the plate as well as on the mound. In high school, he hit .483 and posted a 1.36 ERA as a senior.
The 6 '6, 215lb frame had scouts comparing his size and stature to O'Neill Cruz/Aaron Judge types and had them dreaming of what he could do on the mound. Early video showed the athleticism of Charles in the box and at shortstop.
He showcased plus-plus power even with his funky swing mechanics. His lengthy arms play a role in his odd swing mechanics as he can be a bit long to the ball. His quick, powerful swing had scouts really impressed with him. He primarily played shortstop his senior year and showed off a ton of athleticism and range, but there was always a chance he could be moved off position given his size and plus-arm. 
On the mound, Charles was flashing fastball velocity anywhere from 88-95 mph. There were a lot of inconsistencies in his delivery which goes back to Charles' tools being very raw. He had an above-average curveball to go along with his fastball.
The size and future projection had a lot of teams looking at taking Charles as a pitcher, but he lacked a lot of innings as he preferred to play on the field. Even though he was selected as a two-way guy, the Royals decided to focus on him as a position player with how sky high the ceiling is. 
Charles made a brief debut in the Arizona Complex League in 2022, going 3-for-11 with four strikeouts in three games. It was very tough to make any kind of judgment on Charles at that point. The hype was growing coming out of the draft, but it was pretty quiet for the most part. Then Charles made his way to extended spring training in 2023 and boy did the hype start growing.
It seemed like every day that the Surprise Royals twitter account tweeted stats from extended spring training games, Charles was showing up with a multi-hit game. It was clear that Charles was far from overmatched by the competition in extended. There wasn't a hotter prospect name in the Royals organization than Austin Charles. 
The Arizona Complex League kicked off on June 5th and Charles carried over his white hot extended spring bat right into regular season play. In his first game, Charles went 2-for-6 with a triple and an RBI. He followed that performance with a 3-for-5 game hitting a double, home run, and driving in two. The Royals had seen enough.
They quickly promoted Charles to Low-A Columbia where he has been since June 9th. Of course, in his first game he roped a double into left field. Charles is still getting adjusted to the higher level of competition, but there are still signs of what the potential future might hold for the prospect. 
The biggest change for Charles in moving up to Low-A was he is now slated to play third base. Something that was slightly expected coming out of the draft. It doesn't seem that he was moved to third for his lack of ability to play short though, but rather the fact that Daniel Vazquez, another top prospect, is playing elite gold glove type defense at shortstop for the Kansas City Royals. 
It can be easy to buy into the hype of a guy with tools like Charles, but Royals fans should be patient with the young 19-year-old. He is going to face his moments of struggles at such a young age as he continues to develop and learn how to face increasingly good pitching each year.
He has a raw tool set, but still has the opportunity to develop into something special with improvements to his plate discipline and ability to pick up spin. Drew Saylor and the Royals hitting development team worked wonders with high-school draft picks Nick Pratto and MJ Melendez so maybe they can do the same with the uber-talented Charles.
Only time will tell. Either way, Charles provides a much-needed jolt into a farm system that recently had most of their top prospects graduate.