Analysis
Kansas City Royals 2023 MLB Draft Guide
The Kansas City Royals will be drafting in the top 10, with the No. 8 overall pick in the 2023 MLB Draft. Who could they take with the pick?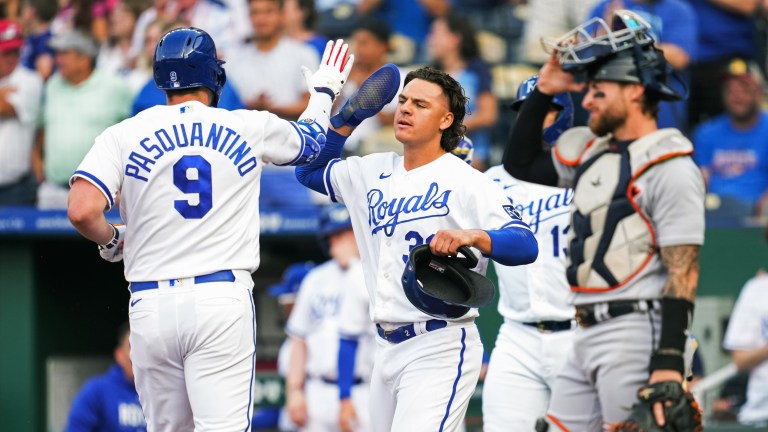 It's July and the 2023 MLB Draft is right around the corner. This is the first year of the draft since the league implemented a draft lottery and the Kansas City Royals will be selecting eighth.
The Kansas City Royals have one of the worst-ranked farm systems in the major leagues. Half of that can be attributed to the fact they just recently graduated guys like Vinnie Pasquantino, Bobby Witt, Jr., MJ Melendez, Michael Massey, and many others. The other half of that is because of not so great drafts in both 2020 and 2021. The Royals went for a lot more upside in 2021 and it has been a much longer development process for Frank Mozzicato and others.
Along with that, 2022 first rounder Gavin Cross has shown some struggles at the plate, which has led many organizations to take him out the top 100 of many organizations who rank prospects. This leaves the Royals with zero top 100 prospects. It is still too early to just give up on Cross as he's shown signs of improvement as the season has carried on.
Overall, in the 2022 draft, the Royals really stepped up their game. They capitalized on a lot of mid-to-late round picks who have really shown a lot of potential. Guys like Steven Zobac, David Sandlin, Javier Vaz, and Austin Charles have been quite impressive. They were able to save some significant money in picks 3 through 10 and get guys like Sandlin and Charles to sign.
The 2023 MLB Draft presents an opportunity for the Royals to significantly improve their farm system. What direction might Kansas City go this year?
Well, there are several potential options. For context, the Royals have had eight first round picks since the 2017 MLB Draft. Five of those have been pitchers and only one has been a prep pitcher (Frank Mozzicato, 2021). Usually, I'd say history can be a good tracker of what might be to come, but the Royals seemed to have changed their draft strategy in 2022 and have focused on safer floor bats in the early rounds. The first three picks for the Royals looks like this:
1st Round (8th overall)
2nd Round (44th overall)
Competitive Balance Round B (66th overall)
Since the Royals have three picks in the top 75, there is a chance the Royals could reach for upside over a safer floor. But under the first scenario, let's say the Royals repeat 2022 and grab a college bat. The top two college bats, Dylan Crews and Wyatt Langford, are guaranteed to be gone by the time the Royals pick, leaving them with a couple of other options. There is one guy, that if he makes it there, seems to be a lock to become a Kansas City Royal.
SCENARIO #1: College Bat
Kyle Teel, C, Virginia
Kyle Teel is the big name everyone in the Royals world is clamoring over. In his recent mock draft, Joe Doyle has Teel falling to the Royals at #8. According to Doyle, the Royals are in love with Teel and sent scouts to take in his games toward the end of the year.
He feels that if Teel makes it to the Royals at #8, it is a done deal. He also mentions that there is a real good chance he lands on a team prior to the Royals pick. If he falls to them at #8, this would be a massive win for Kansas City if they take him.
I had the opportunity to watch Teel in my Live Looks for Prospects Live and he has by far one of the best approaches at the plate I've ever seen. He has an incredible feel for the strike zone and when he makes contact, he is able to get barrel to ball with ease. Defensively, Teel has a plus-plus arm and is very athletic behind the dish. He could use some improvements there, but with his athleticism the sky's the limit. 
Teel presents the Royals with a lot of opportunity. With team captain Salvador Perez not getting any younger and with Teel's already polished college bat, he could potentially be his replacement in the near future as he will likely be a quick riser.
Secondly, if Teel can't stick behind the dish, he has enough athleticism to play either second or third and has also played some outfield. If Teel doesn't make it to the Royals at #8, Doyle did mention on a recent podcast that they could go the underslot route. 
Options if Kyle Teel Isn't Available at #8
So what do the Royals do if Kyle Teel is not available at #8? Things could get crazy. There are several names that the Royals could go with if Teel isn't available. The first name that keeps popping up for me is Enrique Bradfield. The 21-year-old left handed center fielder out of Vanderbilt.
For a team who has really lacked a legit centerfield prospect, Bradfield is very intriguing. He's a guy who has double plus speed on the base paths and someone who will quickly be mentioned as a potential Gold Glover as soon as he makes his major league debut. 
He's a contact-first guy, but has shown some ability to tap into his pull-side power. Even though he won't be a power hitter, he's got really good vision at the plate. He's also got some room for growth so double-digit home runs might not be out of the question. Bradfield seems to be ranked anywhere from the late-teens to early twenties which could give the Royals a chance to cut a deal with him at #8 if Teel is gone.
Three other guys who come to mind that could be of interest are Chase Davis (OF, Arizona), Tommy Troy (SS, Stanford), and Jacob Gonzalez (SS, Ole Miss). Davis has above-average power and speed with a plus arm. He's been gaining a lot of traction as a guy who could fall in that 8-15 range. The hit and power combo with the underlying analytics have a lot of teams bought in. Troy is a guy who is good at making consistent, hard contact. He's got a lot of tools that are easy to fall in love with. 
SCENARIO #2: Prep Bat
Rumors are flying that there is the possibility the Royals take a prep bat or arm as well if they don't land Teel. Going an underslot prep bat here could save the Royals nearly a million, if not over a million to spend later. This would free up money for the Royals to spend extra with the 44th pick and 66th pick. There are two names that could come into consideration.
Colin Houck, SS, Parkview (GA)
Joe Doyle mentioned on his Over-Slot podcast that if Kyle Teel was not there at eight, he thinks the Royals would go prep bat Colin Houck. Houck was Gatorade's Georgia state player of the year. He is uber athletic and talented. He grades out with an above-average hit tool and above-average power with a plus arm. Like most prep bats, there are concerns about how the hit tool will develop over time and Houck has shown some swing and miss tendencies.
Blake Mitchell, C/OF, Sinton (TX)
Mitchell is considered one of the best high school catching prospects the MLB draft has seen in years. Taking Mitchell at Mitchell has some easy power that is hard to not fall in love with. The power comes with a 70-grade arm behind the plate. Mitchell is one that is really fascinating to me as the tools are ones to dream on. As always with any prep bat, you're banking on more ceiling than floor. Mitchell also throws 97 mph off the bump, but there seems to be so much upside with the bat, most teams will take him as such.
SCENARIO #3: Pitching
This seems to be the scenario that most Royals fans want to avoid. After the multiple drafts where Royals have loaded up on arms like Asa Lacy, Ben Hernandez, and many others, fans want the safer options in bats. The narrative has always been the Royals can't develop pitching, which has been true in the past, but they recently revamped their entire pitching development and have seen significant strides with many of their minor league arms.
Rhett Lowder, RHP, Vanderbilt
Rhett Lowder is probably considered the best arm in the draft class not named Paul Skenes. The Wake Forest product has been filthy this year and has a three-pitch mix that are all above-average. His best pitch is his change-up which grades plus. He is a truly polished pitcher with a ton of pitchability and would likely move through the system fairly quickly. He just knows what he is doing on the mound. This wouldn't be an underslot pick and its not likely Lowder even makes it to #8. Lowder will go top 10 regardless of whether or not the Royals take him. 
Noble Meyer, RHP, Jesuit (OR)
Meyer is the name you keep hearing tied to the Royals and the one that every Royals fan seems to them to avoid. He comes out of Jesuit High School in Oregon, which also produced Phillies top pitching prospect Mick Abel. His fastball has reached 98 mph and he also throws a mid-80s slider that has some real nice sweep across the zone. He's got a frame that can easily be built upon as well which gives you things to dream on for his future development. There have been a lot of teams linked to Meyer and if the Royals go the 2022 draft route it would be hard to see them taking Meyer at eight. 
After the first round, the Royals may have some intriguing options at the 44th and 66th overall mark. Some names I'd be keeping my eye on include. Some of these guys may not make it 44 but could also potentially fall:
Andrew Walters, RHP, Miami
Brock Wilken, 3B, Vanderbilt
Thomas White, LHP, Phillips Academy (MA)
Jake Gelof, 3B, Virginia
Tai Peete, SS, Trinity Christian (GA)
Brandon Winokur, SS, Edison (CA)
Cade Kuehler, RHP, Campbell
Tanner Witt, RHP, Texas