Rankings
Seattle Mariners Top Prospects For 2023
Boasting advanced young bats and the most athletic catcher in Minor League Baseball, Seattle's hyper-talented system hasn't entirely graduated just yet.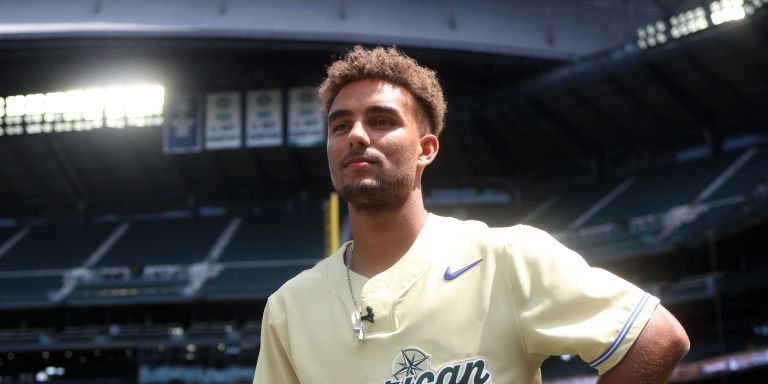 Widely considered the owners of the best farm system in baseball heading into the 2021 season, the Seattle Mariners have seen the likes of Julio Rodriguez, Jarred Kelenic, Logan Gilbert, George Kirby, and Cal Raleigh graduate from their prospect status, while Noelvi Marte, Connor Phillips, Brandon Williamson, and Austin Shenton have been shipped out for big league reinforcements.
Still, President of Baseball Operations Jerry Dipoto has kept the organization stacked, with some of the best young talent in the game with ample organizational depth.
1. Cole Young – SS – (High-A)
Height/Weight: 6'0, 180 | Bat/Throw: L/R | 1st Round (21) – 2022 (SEA) | ETA: 2026
| | | | | | |
| --- | --- | --- | --- | --- | --- |
| HIT | RAW POWER | GAME POWER | RUN | FIELD | FV |
| 55/65 | 45/50 | 35/45 | 55/55 | 50/55 | 55 |
As polished of a prep prospect as you are going to find from the jump, Young has impressed with his feel to hit, advanced approach and smooth actions in the field.
Offense
Young hit the ground running in pro ball thanks to his ability to consistently make contact and patient approach. He has little pre-swing movement, a great feel for the barrel and engages his lower half well, allowing him to consistently be on time and spray line drives.
Since debuting in 2022, Young has walked more than he has struck out while getting on base at a .400 clip. While power will never be a big part of his game, he already uses the ground so well for a young hitter and has more power than many give him credit for, especially to his pull side. Young has already popped multiple 110 MPH exit velocities this year with a 90th percentile exit velocity of 102 MPH, which is slightly above average.
Between his 15% chase rate and ability to hit with two strikes, Young should be a consistent threat to get on base with low strikeout totals. He already hits lefties pretty well while posting solid overall numbers against secondary stuff. Young is a high floor bat with on base skills that should translate as he climbs along with enough power to hit around 12-15 homers.
Defense/Speed
A smooth defender with great actions and footwork, Young is already an extremely reliable defender. While his arm is average, his instincts and quick feet help him extend his range. Just 19 years old at season's start, Young could make some gains with his arm strength as he matures physically, which could make him a plus defender at short. Regardless, he has a great chance of sticking there.
An above average runner, Young has the speed to be a factor on the base paths and has been a willing base stealer at the lower levels thus far.
Outlook
Viewed as one of the "safer" prep prospects in the 2022 draft, Young has appeared to be just that in the early goings of his professional career. Between his feel to hit and approach, it is not hard to believe in Young's bat. Add in his solid tools across the board, great baseball instincts and the potential slightly above average power and there is an exciting everyday middle infielder dream on here.
2. Harry Ford – C – (High-A)
Height/Weight: 5'10, 200 | Bat/Throw: R/R | 1st Round (12), 2021 (SEA) | ETA: 2025
| | | | | | |
| --- | --- | --- | --- | --- | --- |
| HIT | RAW POWER | GAME POWER | RUN | FIELD | FV |
| 45/55 | 50/55 | 40/50 | 60/60 | 40/50 | 55 |
First round prep catchers have a brutal track record, but Ford is not your typical prep catcher. Easy plus speed and projectable power give Ford plenty of upside, even if he does not stick behind the dish.
Offense
At a physical 5-foot-10, 200 pounds, Ford generates impressive bat speed and a compact swing geared for line drives. Ford scrapped the leg kick in favor of a toe tap which has helped him catch up to higher velocity and has not come at the expense of power. Ford has a great feel for the barrel and is able to get to a lot of difficult pitches thanks to his lightning-quick hands.
Ford impressively only chased 14% of pitches in 2022 and has maintained one of the lower chase rates in the minors in High-A this season, helping him to a walk rate of 19%. Though he is pretty filled out frame wise, Ford gotten his lower half more consistently involved in his swing and has tapped into more power in 2023. The 20-year-old has seen a 2 MPH jump in his 90th percentile exit velocity and a 7% jump in his HR/FB rate at the time this is being written (53 games into the season).
Ford already makes good swing decisions, shows a good feel for the barrel and has flashed above average power as a 20-year-old, already reaching exit velocities as high as 109 MPH. There's a nice blend of on base skills, power potential and athleticism that could make Ford a dynamic offensive threat.
Defense/Speed
Ford reminds me a bit of Daulton Varsho. He's so athletic and cerebral that he will find a way to develop into at least an average defensive catcher. Unsurprisingly, he moves well and gets to difficult pitches to block. His receiving is better than I thought it would be, and his arm looks above average.
He is such a good athlete that he could probably play center field, much like Varsho, if the Mariners wanted to get Ford some run in other spots or if he doesn't develop behind the dish like the team hopes. An easy plus runner, Ford stole 23 bases on 28 tries last season and swiped 12 through his first 50 games of 2023.
Outlook
Projecting a player as unique as Harry Ford is difficult, but for nothing but good reasons. If Ford struggles behind the dish like many of his high school catching predecessors, he has a really exciting bat and plus speed to fall back on.
Ford really impressed against MLB-caliber competition in the World Baseball Classic for Great Britain and looked better with his receiving and blocking overall, though there's still some room to improve there. A smart player and grinder, Ford earns high marks for his makeup and work ethic lending more reason for optimism in regards to his defensive development.
If Ford is able to stay at catcher, he could be one of the most dynamic prospects we have seen in a while. It is worth wondering if moving Ford to centerfield would be better for the longevity of his career and overall value, especially if the 20-year-old isn't providing much value with his glove behind the dish. Ford has the offensive skillset to put up 20/20 seasons while being an OBP machine.
3. Bryan Woo – RHP – (MLB)
Height/Weight: 6'2, 205 | Bat/Throw: R/R | 6th Round (174), 2021 (SEA) | ETA: 2023
| | | | | |
| --- | --- | --- | --- | --- |
| FASTBALL | SLIDER | CHANGEUP | COMMAND | FV |
| 70/70 | 50/55 | 40/45 | 55/60 | 55 |
Another young Mariners arm with an elite fastball, Woo is cut from the same cloth as Bryce Miller meaning the fastball will make him a big league arm, but development of his secondaries will help him reach his mid-rotation ceiling.
Arsenal
When a hitter steps in the box against Woo, there's about a 70% chance they see a fastball, but you have to do more than just sit heater to beat Woo. His four-seam vertical approach angle (-3.7 degrees) is as flat as any qualified starter at the MLB level, with a fastball profile reminiscent of Joe Ryan.
Through his nine Minor League starts prior to his MLB debut, Woo averaged 95 MPH on his four-seam fastball, holding Double-A hitters to a .174 batting average, along with a 30% in zone whiff rate and 15% swinging strike rate.
Woo will go to his four seam fastball around 60% of the team while mixing in a sinker around 10% of the time with good arm-side run. He has incorporated this pitch more as the year has progressed while phasing out his changeup a bit. Because of how many called strikes and whiffs his four seamer picks up, the sinker could help Woo go deeper into starts by picking up more early contact and ground balls as well as changing eye levels.
Working off of the fastballs is an average slider in the low 80s that Woo will go to around 25% of the time. When he is commanding it well, the pitch flashes above average, but Woo only landed it for a strike around 57% of the time through his first 11 starts this year between Double-A and MLB.
Woo will mix in a few changeups per game in the upper 80s, but it has the tendency to be firm and is inconsistent.
Outlook
Woo's fastball is a big league plus pitch already, but as we have seen with pitchers of similar prototypes, extreme fastball usage typically needs to be complemented by plus command of it and a quality slider to maximize potential. Or, you can find a nasty splitter like Joe Ryan.
At this stage, Woo has above average fastball command and an average slider, though he has flashed plus command of his heater. If Woo can develop his slider into a consistently above average pitch, he could sniff middle-rotation upside, regardless, his big whiff heater and ability to throw strikes make him a high probability big league starter in come capacity.
4. Gabriel Gonzalez – OF – (High-A)
Height/Weight: 5'11, 210 | Bat/Throw: R/R | IFA: $1.3M – 2021 (SEA) | ETA: 2026
| | | | | | |
| --- | --- | --- | --- | --- | --- |
| HIT | RAW POWER | GAME POWER | RUN | FIELD | FV |
| 50/60 | 50/55 | 40/50 | 40/40 | 45/55 | 55 |
Gonzalez is a physically mature teenager who just knows how to hit and continues to get better each time we check in.
Offense
Starting upright with his bat resting on his shoulder, Gonzalez uses a sizable leg kick with a bit of an inward twist to get into his back side. Despite the big pre-swing move, Gonzalez does a really good job of getting slotted early, holding his back hip and controlling his body. He is consistently on time and makes plenty of contact (75% contact rate, 85% in-zone contact rate).
Though Gonzalez is pretty filled out frame wise, he should tap into some more power/strength as he matures. The game power has played up a bit better than the exit velocities would imply as Low-A Modesto is one of the more hitter-friendly environments in the minors, but Gonzalez still produces slightly above average EV's along with a knack for hitting line drives to all fields.
An aggressive hitter, Gonzalez would benefit from cutting down his near-40% chase rate, but as is the case with many young hitters, it's hard to pull the trigger less frequently when you feel like you can get to everything thrown your way. Given the fact that Gonzalez is hitting right around .350 in Low-A as this report is being written, his high swing rate is far from a detriment at this point, but is something to monitor against more challenging pitching.
An uptick in power would help elevate Gonzalez's somewhat limited ceiling, but he is another Mariners position player prospect with a high floor for a teenager thanks to his feel for the stick and just enough impact.
Defense/Speed
A slightly below average runner, Gonzalez covers enough ground to play an above average corner thanks to his comfortable reads and 70-grade arm. He has been an opportunistic base-stealer, swiping 12 bags on 13 tries in his first 100 Low-A games.
Outlook
More power would probably be expected from a player of Gonzalez's profile, but his bat to ball skills are far better than most teenage corner outfield prospects. The average exit velocities put more pressure on his hit tool, but he projects as above average in that department, especially if he matures approach wise.
5. Colt Emerson – SS – (CPX)
Height/Weight: 6'0, 195 | Bat/Throw: L/R | 1st Round (22) – 2023 (SEA) | ETA: 2027
| | | | | | |
| --- | --- | --- | --- | --- | --- |
| HIT | RAW POWER | GAME POWER | RUN | FIELD | FV |
| 50/60 | 40/50 | 35/45 | 55/55 | 45/55 | 50+ |
One of the younger prep bats in the 2023 class, Emerson's strong summer circuit and performance for Team USA helped him rise up draft boards. There's plenty in common with last year's first rounder Cole Young, which means Emerson could make a smooth transition into pro ball.
Offense
Emerson boasts a smooth swing from the left-side with a good feel for the barrel. He already uses his lower half well with a smooth gathering leg kick and keeps his weight back at launch pretty well.
The power is presently a bit below average, but with his recently added strength, his moves in the box should allow him to tap into at least average pop as he continues to mature. Between his advanced approach and swing malleability, Emerson is tough guy to punch out and has the potential to develop into a plus hitter.
Defense/Speed
Nothing jumps off the page when it comes to Emerson's tools, but he also has little to no holes to poke. He is a slightly above average runner with an above average arm and soft hands. His actions are smooth for a young prep shortstop and he is comfortable making throws from different angles. He has a good chance to stay at shortstop, but should he move to second, he could be a plus defender there.
Outlook
Admittedly, looks and data are limited on Emerson, as he has yet to make his pro debut as this report is being written, but it's easy to see how the newly-turned 18-year-old fit the bill of what the Mariners look for in their prep draft targets.
How much power Emerson will hit for will ultimately determine his ceiling, but he is one of the higher floor high school prospects in the 2023 draft class with enough upside to dream on.
6. Jonatan Clase – OF – (Double-A)
Height/Weight: 5'9, 170 | Bat/Throw: S/R | IFA: $35K – 2018 (SEA) | ETA: 2024
| | | | | | |
| --- | --- | --- | --- | --- | --- |
| HIT | RAW POWER | GAME POWER | RUN | FIELD | FV |
| 35/45 | 55/55 | 50/55 | 70/70 | 50/55 | 50+ |
One of the best base stealers in the minors, Clase has broke out in a big way with the bat in 2023. There's still some hit tool questions, but if he can become an average hitter, he could be a dynamic center fielder.
Offense
A switch-hitter with above average pop from both sides, Clase is a twitchy athlete who generates impressive bat speed. After posting average exit velocities last year, Clase adjusted his set up by starting a bit wider with his weight more stacked on his back side. The adjustment paired with some added strength has helped him see more than 3 MPH jump in his 90th percentile exit velocity while topping 2022's home run total of 13 in less than 50 games this year.
In addition to his uptick in exit velocity, Clase has cut his ground ball rate by nearly 10%, but his steeper swing has resulted in more whiffs at the top of the zone as well as struggles against breaking balls with more depth. Clase's average launch angle of 24 degrees would be the third highest in the Major Leagues behind only Joey Gallo and Wilmer Flores.
Clase is an elite runner who can steal hits just by putting balls in play, so completely selling out for lift may be an extreme choice, especially considering the fact that his ground ball rate of 41% was very palatable last year.
It's a great sign to see Clase tapping into above average game pop and after putting up slightly above average numbers at Low-A last year, he dominated High-A prior to his Double-A promotion. Having just turned 21 years old, Clase is young for Double-A and looks to be holding his own in the early going.
That said, he will probably need to find a middle ground swing path wise from where he was in 2022 to where he is now. It's hard to justify a player with Clase's skillset leaning into the three true outcome approach, even if the hit tool may never be better than average. He has the potential for 20-25 homers at the highest level with the ability to draw walks.
Defense/Speed
A 70 runner, speed is Clase's best tool and he uses it well in center. Though his jumps and routes have continued to improve, he has the wheels to close in on balls even if he gets off on the wrong foot. When Clase gets a good jump, he is capable of getting to balls few outfielders can. With an above average arm to go with his legs, Clase projects as an above average to plus defender in center.
A menace on the base paths, Clase stole 55 bags on 65 tries last season. At the time of this report, Clase has already swiped 41 bases in 48 tries in 56 High-A and Double-A games.
Outlook
There's no doubt that Clase is arguably the most volatile prospect in the Mariners system, but that often comes with the territory of being the most dynamic athlete in a system as well. He has the chance to be an electrifying center fielder with above average pop and enough speed to be among the game's best base stealers, but he will need to make some tweaks to his approach to prove that he can hit enough at the highest level. Just 21 years old in Double-A, Clase has plenty of time to polish his potentially exciting offensive game.
7. Jonny Farmelo – OF – (CPX)
Height/Weight: 6'2, 200 | Bat/Throw: L/R | 1st Round (29) – 2023 (SEA) | ETA: 2027
| | | | | | |
| --- | --- | --- | --- | --- | --- |
| HIT | RAW POWER | GAME POWER | RUN | FIELD | FV |
| 45/55 | 40/50 | 30/40 | 70/70 | 45/55 | 50+ |
An absolute burner, Farmelo's speed has been his calling card, but his progress with the stick and strong frame helped drive his stock up in the months leading up to the draft.
Offense
A strong base with his hands starting close to his slot, Farmelo utilizes a toe-tap for timing with little pre-swing movement. Though there's plenty of present strength, his swing is more geared for contact and gap to gap juice. His athleticism is evident in how well he controls his body throughout his swing.
Farmelo has shown a patient approach against strong competition and looked comfortable left on left. There's not a ton of projection in Farmelo's frame, but some tweaks could allow him to tap into more power if he decides to go that route. His simple moves in the box help him consistently be on time and with elite home-to-first times, the contact-oriented approach with doubles power could be more than enough from a production standpoint.
Defense/Speed
A 70 grade runner, Farmelo has the speed to cover tons of ground in the outfield and swipe plenty of bases in the pro ranks. With more reps to refine his reads and routes, he has a chance to play a good center field thanks to his elite speed and above average arm.
Outlook
Top-of-the-scale speed and an above average hit tool can carry Farmelo quite far. Assuming his bat-to-ball skills carry into professional baseball, he could be an exciting top of the order threat with just enough power to out-slug the "throwback player" label. If Farmelo can develop the hit tool closer to the plus territory, there's a lot to be excited about, but his likelihood of sticking in center and potential for average power–or something close to it–should take some pressure off of the hit tool.
8. Michael Arroyo – 2B – (Low-A)
Height/Weight: 5'8, 175 | Bat/Throw: R/R | IFA: $1.37 M – 2021 (SEA) | ETA: 2026
| | | | | | |
| --- | --- | --- | --- | --- | --- |
| HIT | RAW POWER | GAME POWER | RUN | FIELD | FV |
| 50/60 | 40/50 | 35/45 | 50/50 | 45/55 | 50 |
An extremely advanced teenage prospect who can punch above his weight, Arroyo was one of the most impressive bats in the DSL in 2022 and has not flinched in the early going at Low-A as the only 18-year-old on his ball club.
Offense
Though his frame is smaller, Arroyo is physical and uses his lower half extremely well to tap into above average pop for his age while still showcasing a good feel for the barrel. Arroyo's swing is more geared for line drives than loft, but his ability to hit the ball hard at a young age (107 MPH max EV), gives him the potential for average game pop.
An extremely patient hitter, Arroyo ran a chase rate below 20% in the DSL and has carried that approach into Low-A where he has walked as much as he has struck out in the early going. Arroyo has posted well above average contact rates since making his professional debut in 2022, which paired with his good swing decisions, helps him project as a plus hitter.
It's tough to gauge exactly how much power Arroyo can eventually tap into given his small frame, but he is already showing enough gap to gap power to be a productive hitter given his great feel to hit and approach.
Defense/Speed
Currently splitting his time between shortstop and second base, Arroyo is a sure-handed fielder with clean actions and a decent arm. He may ultimately lack the range to be an everyday shortstop but his feel for the game, sound fundamentals and at least average arm should allow him to play there in a pinch. He projects as a second baseman longterm where he could be an above average defender.
An average runner, Arroyo is not going to try to steal often, but is far from a detriment on the base paths.
Outlook
There may not be an All-Star ceiling to dream on with Arroyo, but he is one of the more advanced 18-year-old bats you're going to find while already showing gap to gap power. Arroyo should consistently be a tough hitter to strike out with the ability to hit plenty of doubles and earn his free passes. Arroyo has the offensive upside to develop into an above average regular at second base, but has the fall back as a nice utility piece who grinds out at bats.
9. Emerson Hancock – RHP – (Double-A)
Height/Weight: 6'4, 215 | Bat/Throw: R/R | 1st Round (6), 2020 (SEA) | ETA: 2023
| | | | | |
| --- | --- | --- | --- | --- |
| FASTBALL | CUTTER | CHANGEUP | COMMAND | FV |
| 55/55 | 50/55 | 40/50 | 50/55 | 50 |
Though the stuff has not quite blossomed the way that the Mariners had hoped when they took Hancock sixth overall in 2020, he still has a decent three pitch mix with improved command.
Arsenal
Hancock's fastball is closer to 93-95 MPH than the upper 90s, but it plays above average, especially as his command of it has continued to improve. He pounds the zone with a 71% strike rate while picking up above average whiff numbers. Every once in a while, he will still grab a 97 or 98.
The best secondary offering for Hancock is his cutter in the upper 80s. The pitch is effective against both righties and lefties, which helps him maintain steady splits even when his changeup isn't there.
The changeup has flashed above average for Hancock but there's days where it is totally not there for him. Sitting at 84-86 MPH, the pitch features 8-10 MPH of separation from his heater with decent arm side fade. Hancock has had a better feel for the pitch as the season has progressed, but he has landed the changeup for a strike just 47% of the time on the year.
Outlook
Lacking a true "plus" offering, Hancock's ceiling is limited from what it once was. Though he's unlikely to develop into the frontline starter scouts thought he could become out of Georgia, his improved command of three average or better pitches give him a high probability of sticking in the rotation.
When he is going well, he can tunnel his pitches effectively from his three-quarters release point, allowing it to play up a bit. Hancock seems likely to develop into an average No. 4 starter.
10. Tyler Locklear – 1B – (High-A)
Height/Weight: 6'3, 225 | Bat/Throw: R/R | 2nd Round (58) – 2022 (SEA) | ETA: 2024
| | | | | | |
| --- | --- | --- | --- | --- | --- |
| HIT | RAW POWER | GAME POWER | RUN | FIELD | FV |
| 35/40 | 60/65 | 50/60 | 40/40 | 45/50 | 50 |
Locklear was absolutely mashing through High-A prior to breaking a bone after taking a ball off of the hand. He has big power potential, but there is a lot of pressure on the bat and some concerns as to whether he will hit enough against better competition.
Offense
Starting upright with his hands extended out in front of his body, Locklear wags the bat quite a bit while tipping the barrel prior to his load. His load is not much quieter, featuring a pair of hand pumps as he sinks into his back leg.
The loud moves Locklear features pre-swing can make it difficult to consistently be on time and could lead to issues against more advanced pitching. He is able to get away with the loud moves thanks to his ability to turn the barrel so quickly and his brute strength. He will rarely miss a hanger and crushes pitches middle-away with easy plate coverage.
Posting a 90th percentile exit velocity of 106.5 MPH and a max of 113 MPH, Locklear has easy plus power to all fields. He hedges some of the whiff concern with just a 22% chase rate and a good overall approach.
His hand position at launch paired with moves that are difficult to consistently time have caused Locklear to struggle with velocity, sometimes looking rushed/tied up. He posted just a .690 OPS against fastballs 93+ in 2023 prior to hitting the IL.
The flip side is, Locklear mashed to a near 1.000 OPS in 48 High-A games despite swing inefficiencies and there is no doubting his ability to tap into power in games. If he can clean up his moves, Locklear could develop into a 1B power threat capable of launching plenty of homers.
Defense/Speed
A below average runner, Locklear moves his feet well enough to be a decent defender at first base. Though he is not a threat on the bases, he is not a clogger thanks to his savviness. He was 7 for 7 on stolen base attempts in his 48 High-A games.
Outlook
There's plenty to like when it comes to the power potential Locklear possesses, but it is difficult to project him as an everyday big leaguer with his current swing. With the right adjustments, he could develop into a first base power bat at the highest level, capable of launching 30 homers. Until then, the hit tool projects a notch below average which holds him back from the next future value tier.
The Next Five
11. Felnin Celesten – SS – (CPX)
Evaluators who have been able to see Celesten have highlighted his immense tools as a switch hitting 17-year-old. Obviously, the Mariners saw much of the same, signing him to a $4.7 million bonus in January of this year.
Admittedly, I have not seen the kid play baseball other than a couple videos. There's twitch and athleticism as well as an advanced swing for a 17-year-old, but I have not seen enough to be able to comfortably rank him in the top 10. Once Celesten makes his debut, he could rise up these ranks very quickly.
12. Tai Peete – SS – (CPX)
An impressive athlete who was a legitimate prospect both on the mound and at the plate, the Mariners drafted Peete as a shortstop, dreaming on an exciting combination of power and speed. Peete will still be 17 years old when he makes his professional debut and was one of the more raw prospects in the 2023 class.
His plus arm and athleticism should allow him to make an impact defensively even if he has to move off of shortstop to third base or corner outfield.
13. Lazaro Montes – OF/DH – (CPX)
A gargantuan teenager who stands at 6-foot-4, 210 pounds, Montes signed for $2.5 million in large part to his elite raw power. Strikeouts are an issue as Montes punched out 33% of the time in the DSL last season, but he has cut that number a bit at the complex.
The 18-year-old already does not move very well and is a candidate to be stashed in a RF/DH role, but he has already hit a home run at 118.4 MPH. He will need to cut down on the whiff, but there's special power potential.
14. Taylor Dollard – RHP – (Triple-A)
Dollard was one of the breakout pitching prospects of the year last year, pitching to a 2.25 ERA in 144 IP at Double-A. Unfortunately, Dollard went down with a shoulder issue that required labrum surgery just three starts into his season and will not be back until 2024. When Dollard is right, he pounds the strike zone with a plus slider and sneaky fastball.
15. Isaiah Campbell – RHP – (MLB)
A plus slider and mid 90s fastball paired with above average command has Campbell looking the part of a solid MLB reliever. Campbell's fastball has good carry and can touch 97 mph while landing his slider for a strike roughly 65% of the time. Even when he is not getting whiffs with the slider, it is a ground ball machine.
Other Names to Watch
Prelander Berroa – RHP – (Double-A): It's been another successful year for the 23-year-old right-hander so far, but it has come out of the bullpen this season. Berroa jumped onto the scene with gaudy strikeout numbers in 2021 and turned that into a sub-3.00 ERA over 100 innings last year spanning two organizations (traded from San Francisco for Donovan Walton), but he's still fighting the command issues that he's carried at every stop at the Minor League level. Berroa has ridden an electric upper-90s heater and solid slider to a Major League debut in 2023, and he has the makings of another high-leverage reliever in Seattle.
Zach DeLoach – OF – (Triple-A): DeLoach has been incredibly consistent since the Mariners took him in the second round of the 2020 MLB Draft out of Texas A&M. In just over 300 Minor League games, DeLoach is slashing .274/.379/.443 (.821 OPS) and is enjoying his best offensive season in hitter-friendly Tacoma this season. While he could supply a bit more power than he's showcased in pro ball, DeLoach's advanced approach and ability to hold down a spot in the outfield have him looking like a future big leaguer in some capacity.
Cade Marlowe – OF – (MLB): The 26-year-old Marlowe has grinded his way to a big league debut in the past couple of days after being taken in the 20th round out of the University of West Georgia in 2019. Marlowe has hit at every stop, owning a career .863 Minor League OPS prior to his call-up. The strikeouts are consistently present, but Marlowe offers 20-homer pop and game-changing speed, going 25-29 in the stolen base department with Triple-A Tacoma this season.
Michael Morales – RHP – (Low-A): A high school right-hander from the northeast, the Mariners pried him away from a Vanderbilt commitment with good money in the third round in 2021. Morales struggled mightily in his first full season of pro ball, logging a 5.91 ERA and an opponent batting average of nearly .300 in Low-A last year. In his repeat season at 20 years old, the California League is still getting to Morales, whose low-90s heater and only-decent secondaries have resulted in a 4.80 ERA and 1.37 WHIP through 17 starts this season.
Axel Sanchez – SS – (High-A): The 20-year-old from the Dominican Republic hammered the ball once he got off the Complex last season, slashing .305/.401/.618 in 33 games in Modesto. A lofty assignment to High-A Everett this season has proved to be a mighty challenge, limiting him to a 74 wRC+ and a 29.5% K-rate through 68 games. Sanchez has true staying power at short, but his key to flying up prospect rankings would be a refined approach at the plate and limiting the strikeouts.
Ben Williamson – 3B – (CPX): A four-year player at William & Mary in the newly-named Coastal Athletic Conference (formerly the Colonial), Williamson for nearly a third of the allotted slot value for the 57th overall pick. Williamson mutilated mid-major pitching this past season, slashing .391/.513/.662 with an 8.4% K-rate. Seattle is surely hoping they found something similar to what the Angels saw in first round pick Nolan Schanuel this year.
Teddy McGraw – RHP – (Draft): With as good as Wake Forest was all season long, they were without their Saturday starter with first round ability in McGraw, who threw to a 4.08 ERA in 70.2 IP at Wake in 2022. McGraw is currently sidelined as he recovers from his second UCL reconstruction since 2019, but when he's healthy, he has showcased a mid-to-high 90s fastball and a sweeper/slider that can become a legitimate big league offering. Seattle took a chance on McGraw's health with their third round pick in July's draft.
Walter Ford – RHP – (CPX): Seattle's second round pick last year out of high school in Florida, Ford has a whopping 13.2 IP under his belt in pro ball, allowing 14 hits while punching out 15 and walking six. Ford features a fastball that typically sits in the 90-92 range, along with a developing slider and a fringy changeup. Born in December of 2004, it's too early to tell when a maturing version of Ford looks like.