Seattle Mariners Offseason Outlook
After a strong 90-win season, what is it going to take for the Seattle Mariners to end their now 20-year playoff drought?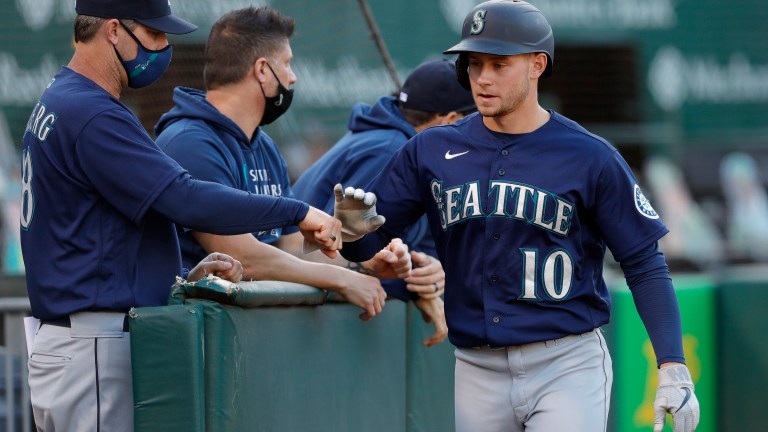 The 2021 Seattle Mariners were absolutely electric. Not because they were setting offensive records or dominating on the mound, because this group of players was simply fun.
A combination of exciting young players, names most people haven't heard of, and ten walk-off wins leading to a thrilling push towards the playoffs caught the baseball world by surprise.  Eclipsing the 90-win mark for the first time since 2003, Seattle finally has a baseball buzz back in the city.
While I am as excited as everyone else, I am cautiously optimistic about this team as it stands today. The Mariners finished bottom-five in average, on-base percentage, and slugging percentage with a -51 run differential. No, these are not perfect stats, but it helps prove my point; 2021 is a one in one hundred season. Luckily, the Mariners have a great prospect pool, payroll flexibility, and an aggressive general manager.
To get back to the 90-win mark, they must add. If the Mariners want to become legit contenders, they might have to win the offseason.
Two Key Acquisitions
One thing is for certain, Mariners General Manager Jerry Dipoto is not afraid of trades. No one is as active in the trade market as Dipoto, and that's good news for Mariners' fans.
Offensively, the 2022 team could elect to bring back most of the 2021 roster, excluding Kyle Seager. Seager has been a rock-solid third basemen since he arrived in Seattle in 2011. However, the Mariners decided to decline his $20 million option, despite a career-high 35 home run season, leaving a huge hole at third base.
Abraham Toro was a pleasant surprise after being acquired from Houston and could be a fine answer to the third base or second base questions. But why settle for fine?
The Mariners are in a situation, financially, where they can drastically improve the team and prove they are more than a fun anecdote in the 2021 season.
First Priority: Acquire an Impact Infielder
Add a legit bat at third and/or second. The Cleveland Guardians star, Jose Ramirez, would be number one on my wish list. Ramirez does literally everything well. He is a switch hitter who could bat third in this lineup, and has a very manageable contract ($12 million in '22 $14 million '23). With that being said, it would take a kings ransom to acquire such a talent.
Matt Chapman from the Oakland Athletics would bring top-notch defense and home run power but after a few lackluster offensive seasons, there is concern that the bat may not return to previous form. Marcus Siemen from the Toronto Blue Jays would be a fun fit if you are willing to give him the years plus money.
New York Mets 2019 All-Star Jeff McNeil would make sense. Under club control through 2024, McNeil would immediately improve the team at second base, while also bringing the versatility to play all over the diamond in a pinch. If the Mets bring back Javier Baez, that would push McNeil to the outfield. After a down-year in New York, involving some controversy with Francisco Lindor, maybe a change of scenery would be good for McNeil and the fit seems perfect.
We could discuss names and fits all day but come spring training, the Mariners must have a new bona fide piece in the middle of their bating order.
Second Priority: Acquire a Frontline Pitcher
Every team goes into the offseason in search of starting pitching and the Mariners are no different. Marco Gonzales is a solid arm who most teams would love to have in their rotation. Logan Gilbert flashed at times and continued to get better in his rookie season. Chris Flexen was a great story and a good pitcher, but relying on him to be anything more than a fifth starter seems risky.
Yusei Kikuchi declined his player option opening a spot in the rotation, as well as $13 million in the books. The Mariners have young talented arms (more on them later) but need a veteran who can come in a help lead this staff. Luckily, the free agent pitching class has many options.
If the Mariners really want to go for it, they should be looking to sign either Kevin Gausman or Robbie Ray. If they don't want to pay for a tier one pitcher, Seattle should at least be in play for someone like Alex Wood, Anthony DeSclafani, or even Jon Gray.
I'm also not ruling out someone like Sonny Gray. A veteran with a manageable deal ($10 million) expiring after this season, which also includes $12 million option for next season. The rotation needs some insurance so you aren't having to rely too heavily on prospects or players returning from injury.
Raise the Roster's Floor
Keep in mind, the 2021 Seattle Mariners were not projected to be a good team. Now that their team is projected to be better, so should their bench and utility players.
Here's what their bench and utility role players looked like last season:
Shed Long – .198/.258/.360 72 wRC+
Dylan Moore – .181/.276/.334 74 wRC+
Jake Bauers – .220/.297/.275 63 wRC+
Taylor Trammel – .160/.256/.359 73 wRC+
Cal Raleigh – .180/.223/.309 47 wRC+
Jose Marmolejos – .160/.262/.311 64 wRC+
I understand some of these players were rookies or did not get largest of sample sizes, but there is clearly room for improvement. A few will likely have better seasons, but if you want to contend, you need to limit the amount of players you hope will improve or breakout.
The easiest way to improve the bench would be acquiring or calling up better players, bumping Toro and Dylan Moore, if still part of the team, to a bench role. If Kyle Lewis can come back and add value, Jake Fraley becomes a useful fourth outfielder. It's hard to say how Taylor Trammell and Evan White fit into the future, especially if Mitch Haniger is back and Ty France remains at first.
Carrying three "catchers" is tough. Luis Torrens doesn't exactly want to catch, but is he good enough to be a designated hitter only? Will the Mariners try him at third?
Figuring out exactly what they want to do at the catcher and designated hitter positions is crucial going into 2022, as they look to add more talent to this roster.
Play the Kids
There's no doubt that Seattle has one of the strongest farm systems in baseball, but how the front office manages the system this offseason will be crucial. They could elect to trade pieces away and acquire proven major league talent or keep their prospects, develop them, and rely on free agency to add to their club.
Three names I want to see given opportunities in 2022 are Julio Rodriquez (#3 overall prospect), George Kirby (#19 overall prospect), and Matt Brash (#92 overall prospect). Brash is the only one currently on the 40-man, but making room on the roster to add top-20 prospects won't be a problem.
Julio Rodriguez is looking like the face of the franchise for years to come. The outfielder will be 21 years-old come Opening Day, but all signs point to him being in the big leagues in 2022. Playing him in center would allow Jarred Kelenic to play left. Playing him in right would push Haniger, if retained, to a designated hitter role. Regardless of where he plays, that bat would be a welcomed addition to a lackluster offense.
George Kirby would boost the rotation immediately. His upper 90's fastball and big curveball resulted in a 10.6 strikeouts per nine in 2021. Even if the Mariners add a veteran starter, there will be room for Kirby to join the rotation. Matt Brash was added to the Mariners roster late last year showing how much confidence they have in the 23 year-old.
If the Mariners want to become perennial contenders, they are going to need develop the kids properly and foster their young core. Seattle should be looking to construct their roster with insurance to avoid putting Kirby, Rodriguez, or other young players in a position where they are the only answers at their respective positions. Giving them some veterans to compete for at-bats with would be a smart move, leaving the door open for their prospects to take over and really improve the ceiling of what this team can be.
I am all about celebrating 90-win seasons with fun teams. I know the fans in Seattle were thrilled about it too. A city longing for a successful baseball team, the Mariners need to see this opportunity, add, and make Seattle a baseball city again.