Rankings
San Francisco Giants Top Prospects For 2024
A pair of prospects who made MLB debuts in 2023 lead the way, but two two-way players provide plenty of intrigue.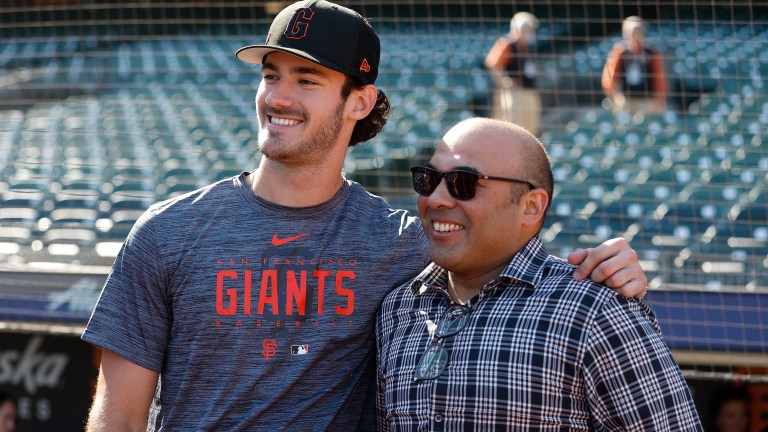 The San Francisco Giants have lacked star power and consistent success since their improbable 107-win season in 2021. However, President of Baseball Operations Farhan Zaidi identified their ace of both the present and future in Logan Webb, inking him to an extension in the spring.
Aside from Webb, Zaidi and the rest of the Giants front office have turned to the draft and their recent International Free Agent signings as a sign of hope, which has resulted in San Francisco owning one of the more unique assortments of prospects in any organization.
1. Marco Luciano – SS – (MLB)
Height/Weight: 6'2″, 190 | Bat/Throw: R/R | IFA: $2.6M (2018) – SF | ETA: 2024
| | | | | | |
| --- | --- | --- | --- | --- | --- |
| HIT | RAW POWER | GAME POWER | RUN | FIELD | FV |
| 30/40 | 60/70 | 50/60 | 40/40 | 45/50 | 55 |
Injuries cut Luciano's 2022 season to just 65 games, but when he was on the field, he flashed the elite bat speed and raw pop that has made him a consensus top 30 prospect in the game at points. 2023 presented a new set of challenges for Luciano, but he ended the season by getting his first taste of the big leagues.
Offense
Starting with an athletic stance, Luciano sinks into his back side with a gathering leg kick and keeps his weight back well. Luciano previously struggled with the consistency of his pre-swing moves, but even in somewhat limited at-bats last season, he looked much smoother with his load and swing.
Possessing some of the most impressive raw power in the minors, Luciano defies his frame by flashing plus-plus raw pop despite weighing less than 200 pounds. Luciano's hands work as well as any Minor League hitter you'll see, generating a ton of whip and violence. His 90th percentile exit velocity of 109 MPH is among the best in the Giants org.
The long levers that help Luciano produce gaudy exit velocities also contribute to his swing and miss issues. He tends to be long to the ball, running a zone contact rate below 75% and a swinging strike rate of 19% against non-fastballs. His patient approach (20% chase rate) helps, but Luciano is likely a fringy hitter at best.
Even if the hit tool is sub par, Luciano has the raw power to launch 30 home runs while walking plenty, but he will need to continue to work on driving the ball in the air with consistency.
Defense/Speed
Luciano is viewed by many as a candidate to move off of shortstop, though the Giants have exclusively played him at short so far in his career, and he has steadily improved with the glove.
Though there's a chance his range will be average at best at the highest level, his actions and footwork have improved enough to profile as an average defender at short. Luciano does have a 70-grade arm which helps his outlook, but could also play well at third base. He's a below-average runner.
Outlook
Whenever a prized international free agent gets off to a great start to their professional career, the hype train typically leaves the station earlier than other prospects. Given his offensive upside and unteachable bat speed, it there's plenty of merit to the excitement around him that has swirled for years.
Perhaps a victim of prospect fatigue, Luciano reached the big leagues prior to his 22nd birthday despite nagging injuries and a cancelled 2020 season. There's a chance he can further clean up the swing-and-miss given his youth, and the fact that he has only played around 300 professional games as this writeup has been completed, but it seems more likely that he will be a power-over-hit guy who can stay on the left side of the infield.
2. Kyle Harrison – LHP – (MLB)
Height/Weight: 6'2″, 200 | Bat/Throw: R/L | 3rd Round (85), 2020 (SF) | ETA: 2024
| | | | | |
| --- | --- | --- | --- | --- |
| FASTBALL | SLIDER | CHANGEUP | COMMAND | FV |
| 70/70 | 50/60 | 50/55 | 30/40 | 55 |
In a 2020 MLB Draft dominated by college arms, the Giants were able to entice prep southpaw Kyle Harrison to forgo his UCLA commitment with a $2.5 million signing bonus. He flew through the minors thanks to his dominant fastball, but stalled in Triple-A prior to his first call-up due to some serious command challenges.
Arsenal
An athletic pitcher with a tough, low release point, Harrison naturally makes for an extremely uncomfortable at bat, but his plus stuff makes things that much harder for opposing hitters. Harrison's plus fastball is his best pitch. It sits 93-95 MPH, topping out at 98 MPH.
The pitch's perceived velocity is closer to the upper-90s thanks to Harrison's ridiculously low vertical release height of 4.95 feet and VAA of -4.0. Already difficult to pick up from his release point, Harrison's fastball features run and sneaky ride. Strangely, Harrison's fastball lost several inches of horizontal movement in 2023.
Harrison's slider gives him the potential for a second plus pitch in the with two-plane break. It sat in the 81-83 range last season with more sweep, but was thrown harder in 2023 with more of a slurvy action. Harrison averaged 12 inches of horizontal break on his slider last year, his slider averaged just 7 inches of horizontal break at a tick less velocity.
The results did not meet previous levels of success from a consistency and whiff standpoint on the pitch in 2023. After landing it for a strike 60% of the time in 2022 with an OPS allowed of .470, Harrison struggled in the early parts of the 2023 season to fill up the zone at the same rate. The pitch became more consistent for him as the year progressed, but he did allow OPS of .860 between the Minor Leagues and Major Leagues on the pitch.
Harrison's changeup flashed above-average in 2022, working in tandem with his fastball to make at-bats extremely difficult on opposite-handed hitters. He mixed it in around 13% of the time last year with a strike rate at 63%.
Prior to his MLB call up, Harrison had phased the pitch out some, only throwing it around 5% of the time and with a ton of inconsistency. He regained a feel for it in the big leagues, doubling his usage and landing it for a strike far more frequently. With about 7 mph of separation from his fastball and impressive arm side fade, Harrison's changeup could give him an above average third offering.
Outlook
Once tracking as the best left-handed pitching prospect in baseball, Harrison showed flashes of that in his MLB debut which was preceded by 65 2/3 innings in Triple-A that looked like he may have taken a step backwards with his command challenges and change in pitch shape.
The 22-year-old seemed to benefit from working with Giants pitching coach Andrew Bailey, cleaning up some of the hiccups that had plagued him in Triple-A prior to his call up. Harrison has flashed the stuff to pick up whiffs in bunches, but the variance of his pitch shapes and command is somewhat curious.
Harrison's regained feel for the changeup (73% strike rate over his last 10 starts) is really encouraging as that pitch was a useful weapon for him in 2022. Assuming he continues on the positive command track that we saw at the end of 2023, Harrison should settle into the middle of the Giants rotation with flashes of more, but also some frustrating stretches of less.
3. Bryce Eldridge – OF/RHP – (Low-A)
Height/Weight: 6'7″, 220 | Bat/Throw: L/R | 1st Round (16) – 2023 (SF) | ETA: 2027
| | | | | | |
| --- | --- | --- | --- | --- | --- |
| HIT | RAW POWER | GAME POWER | RUN | FIELD | FV |
| 35/45 | 55/65 | 40/55 | 40/40 | 40/50 | 55 |
Hitting Scouting Grades
| | | | | | |
| --- | --- | --- | --- | --- | --- |
| FASTBALL | SLIDER | CurvebalL | CHANGEUP | COMMAND | FV |
| 50/60 | 50/55 | 40/50 | 45/55 | 45/55 | 55 |
Pitching Scouting Grades
Offense
Standing at a wiry 6-foot-7 with long levers, Eldridge already generates impressive bat speed and above average exit velocities, but there's even more in the tank. While there is hit-tool concern with any hitter with an NBA wing's build, Eldridge has a quick bat and smooth stroke with pretty good body control already.
Eldridge had no issue catching up to fastballs in his pro debut, posting an OPS above 1.000 against the pitch in his 33 games between the Complex and Low-A. Secondaries understandably gave him trouble, which is generally the case for most prep hitters jumping into full season ball, but even more so for a long-limbed hitter.
Patient in the box, Eldridge ran a chase rate below 20%, walking 21 times through his 33 games. Already flashing exit velocities of 109 MPH, it's easy to envision plus or better power from him as he fills out a bit more, as he already uses his lower half well.
A below-average runner, the Giants have started Eldridge in the outfield defensively, where he is still getting his feet under him but could become a passable defender with a plus arm. He saw a lot of action at first base as an amateur.
Still far from a finished product with so much upside, it's difficult to project exactly what Eldridge can become, but there's no doubt that he has big power upside with already a good feel for the strike zone.
Pitching
A tall right-hander with a smooth delivery, Eldridge's dominance on the mound (as well as hitting .422) helped him win Gatorade Player of the Year for the state of Virginia in his senior year of high school, pitching to a 1.06 ERA with 66 strikeouts in 39 2/3 innings.
Eldridge sits in the low 90s with fastball, running it up to 95-96 MPH with good sinking life from a high release point. Already seeing some velocity gains as he has filled out, it is very possible he could see his heater gain another tick. Even in the low 90s, Eldridge's fastball is a ground ball machine.
His swing-and-miss pitch is an above average slider in the low 80s. He has the tendency to leave it up, but features good sweep when he locates it to his glove side. The pitch really stood out when Eldridge pitched for Team USA, racking up plenty of whiffs out of the bullpen with it to both righties and lefties.
Though he didn't throw either pitch much as an amateur, Eldridge also features a changeup in the mid 80s and curveball in the upper 70s. Both pitches are inconsistent, but his changeup has flashed above average with good arm side fade.
The curveball is fringier, often looking like a slower version of his slider with a shape that is a bit too similar. If he can differentiate the pitch a bit it could be a solid early count offering to steal strikes. His overall athleticism on the mound and repeatability of his delivery give him the potential for above average command.
Outlook
A legitimate two-way prospect, Eldridge should get every opportunity to do both with the Giants. He's more advanced on the mound, but his offensive upside is too exciting to not see through. As a pitcher, Eldridge could develop into a No. 3 starter who blends ground balls and whiffs well, but even if the swing-and-miss stuff does not completely come along, his feel to pitch and heavy fastball give him a good chance to stick as a back-end starter.
Offensively, the range of outcomes are wider due to the hit-tool questions and limited defensive value, but assuming that he is likely still pitching, the defense does not matter much as he would probably DH when he is not pitching.
Eldridge has monstrous upside, but given the limited precedent of successful two-way players, it's fair to question how likely it is that he can reach his ceiling both on the mound and at the plate. A middle rotation arm who also has 30 home run upside is the pipe dream, but there's as wide of a range of outcomes as you're going to find in a prospect.
4. Walker Martin – SS – (CPX)
Height/Weight: 6'2″, 190 | Bat/Throw: R/R | 2nd Round (52) – 2023 (SF) | ETA: 2027
| | | | | | |
| --- | --- | --- | --- | --- | --- |
| HIT | RAW POWER | GAME POWER | RUN | FIELD | FV |
| 45/55 | 50/55 | 40/55 | 60/60 | 45/55 | 55 |
An impressive hitter from the lesser-scouted state of Colorado, Martin stood out in the Area Code Games with his feel to hit and projectable frame. So much so that the Giants shelled out first round money (nearly $3 million) to sign him.
Offense
Lean with long levers, Martin has a simple setup and a smooth, quiet load. Limited hand movement pre-swing with a small leg kick, he controls his lower half impressively already, minimizing any premature forward move by staying coiled in his back side.
A great athlete, Martin possesses explosive rotational power, already showing off above average power to his pull side with room for more. His feel for the barrel stood out in the Area Code Games, showcasing the aforementioned power paired with the adjustability to get to pitches in tough spots or throw his hands at a pitch when he's fooled and shoot it the other way.
Yet to make his pro debut, looks at Martin have been somewhat limited, but he has the goods to hit the ground running in 2024. There's an exciting blend of hit, power and projection to dream on here.
Defense/Speed
A candidate to potentially move to third base, Martin's athleticism and above average arm give him a chance to stick there if he can clean up his actions and footwork. If not, he would likely project as an above average defender at the hot corner. A fringe-plus runner, Martin takes long strides, getting down the line quickly. He should be a factor on the base paths.
Outlook
Looks at Martin have been limited as he has yet to make his pro debut, but he really stood out on the summer circuit, boasting a tantalizing blend of polish and upside. There's some similarities to Padres top prospect Jackson Merrill, though more than a year older on draft day.
Martin has the offensive potential to hit for average while launching more than 20 homers. His athleticism makes a leap with the glove possible, but he should slug enough to project well at the hot corner regardless.
5. Rayner Arias – OF – (DSL)
Height/Weight: 6'2″, 190 | Bat/Throw: R/R | IFA: $2.6M (2018) – (SF) | ETA: 2027
| | | | | | |
| --- | --- | --- | --- | --- | --- |
| HIT | RAW POWER | GAME POWER | RUN | FIELD | FV |
| 45/55 | 50/55 | 45/55 | 50/50 | 40/50 | 55 |
Signing for the second-highest signing bonus of any international free agent in Giants history, Arias grew up around the game (father reached Double-A) and is advanced for his age. He tore up the DSL in 2023.
Offense
Arias starts relaxed and upright with his hands resting at shoulder height before coiling into his back side with minimal hand movement and a modest stride. These moves are easy and repeatable for Arias, helping him see the ball early and consistently be on time.
He has an advanced approach already, rarely expanding the zone with a great feel to hit within it. He showed the ability to turn around velocity as well as get to pitches in difficult spots. Arias already utilizes his lower half well, maintaining tension in his backside throughout his load. His path is efficient while still being geared for lift.
A wiry build at 6-foot-2, he has plenty of room to add muscle, but he already flashes above average pop thanks to his bat speed and effective lower half. Between his feel to hit and power potential, Arias has big offensive upside.
Defense/Speed
An average runner, Arias will likely end up in a corner where his above average arm would play nicely. His instincts and feel for the game will allow his average speed to play up on the bases as well as in the field.
Outlook
Looks at the 17-year-old have been understandably limited, but his brief pro debut was as impressive as could be. His feel for the game separates him from his peers, as does his advanced swing. As Arias fills out, he could develop into an exciting corner outfield bat capable of hitting for both average and power.
6. Carson Whisenhunt – LHP – (Double-A)
Height/Weight: 6'3″, 210 | Bat/Throw: L/L | 2nd Round (66), 2022 (SF) | ETA: 2024
| | | | | |
| --- | --- | --- | --- | --- |
| FASTBALL | Curveball | CHANGEUP | COMMAND | FV |
| 50/55 | 40/50 | 70/70 | 45/55 | 50+ |
Whisenhunt was dominant for much of his first full pro season before going down with an elbow sprain. If healthy, he's one of the better left-handed pitching prospects in the minors.
Arsenal
A three pitch mix that is headlined by one of the best changeups in the Minor Leagues, nearly 90% of the pitches Whisenhunt threw last year were either his 92-95 MPH heater or his plus-plus changeup.
The fastball is average, but has flashed a bit more with decent carry. His velocity fluctuated at times last season before ultimately hitting the IL with an elbow sprain in July. Through his first 10 starts of the season, the fastball averaged 94 MPH, compared to a 92 MPH average over his final six starts.
Whisenhunt's wipeout weapon is his 79-81 MPH changeup that falls out of the sky. Averaging more than 17 inches of horizontal break, he picked up whiffs at a 33% clip with a 45% chase rate and 70% strike rate. Opponents barely hit over .100 against Whisenhunt's change, with only two extra base hits.
Rounding out the arsenal is an upper 70s curveball with good depth. It's more of a slurvy shape. He predominantly throws it to left-handed hitters but struggles to consistently land it for a strike. He didn't give up much contact with his curveball, but he also did not locate it consistently enough, with only a 50% strike rate in 2023. He may need to make a tweak to the pitch to find the strike zone more frequently.
Outlook
Whisenhunt could have easily been a first round pick had his junior season not been wiped out by suspension, and he proved that through his dominance on the mound thus far as a pro. His changeup could pick up ugly swings from big leaguers right now, but it will be important to monitor the development of his curveball.
His overall feel to pitch gives him a good chance of developing into a solid back end of the rotation arm with a bit more upside.
7. Mason Black – RHP – (Triple-A)
Height/Weight: 6'3″, 220 | Bat/Throw: R/R | 3rd Round (85), 2021 (SF) | ETA: 2024
| | | | | | |
| --- | --- | --- | --- | --- | --- |
| FASTBALL | Cutter | Slider | Changeup | COMMAND | FV |
| 60/60 | 50/50 | 55/55 | 30/40 | 40/45 | 50+ |
A third round pick out of Lehigh in 2021, Black really impressed on the Cape, but some command challenges his junior year caused him to slip out of Day 1. While the command is still a bit spotty, Black has enjoyed plenty of success as a pro and is knocking on the door of the big leagues.
Arsenal
A four pitch mix that is headlined by his swing-and-miss fastball, Black generates tough angles for hitters. He has a whippy delivery, staying closed for a long time before his arm whips around from behind him.
Sitting 93-95 MPH, touching 97 MPH, Black's fastball comes from a release height of just 5.3 feet along with decent extension and a flat approach angle which causes it to get on hitters quickly.
A whiff machine at the top of the zone, opponents hit just .160 against his four-seam fastball between Double-A and Triple-A. He will also mix in a two-seam fastball, but it does not play quite as well from the low slot.
Black's best secondary offering is his sweeper in the low 80s. It flashes plus, averages around 14 inches of horizontal break and landed for a strike at a higher rate than any of his other offerings in 2023 (66%). The sharp bite of the pitch, paired with Black's ability to locate it, make it an effective out pitch against both lefties and righties.
Over his final handful of starts in 2023, the right-hander increased the usage of his mid 80s cutter, which is an effective soft-contact inducer when he keeps it away from the middle. He found success with it over the final five starts of the season, upping his usage of the pitch.
Black mixed in a few changeups per start in 2023, but really struggled to land it for a strike before almost completely phasing it out by the end of the season.
Outlook
A decent arsenal that is accentuated by deception, Black has the makings of a No. 4 starter, assuming the command can hover around average. He would likely benefit from phasing out his two-seamer in favor of higher four-seam usage, which would not only help him miss more bats, but also aid his overall command as he fills up the zone with the latter much more consistently.
Black's strong splits against lefties and righties as well as his success in the hitter's paradise that is the PCL last season should have him on track for a big league debut in early 2024.
8. Grant McCray – OF – (High-A)
Height/Weight: 6'2″, 190 | Bat/Throw: L/R | 3rd Round (87) – 2019 (SF) | ETA: 2025
| | | | | | |
| --- | --- | --- | --- | --- | --- |
| HIT | RAW POWER | GAME POWER | RUN | FIELD | FV |
| 30/40 | 50/55 | 40/50 | 70/70 | 55/60 | 50+ |
An exciting combo of speed and power with the ability to stay in center helped McCray break out in 2022, but the hit tool remains in question.
Offense
Starting upright with his feet hardly more than shoulder-width apart, McCray's load features minimal movement and a short stride. McCray's twitchiness and explosive athleticism helps him create good bat speed with minimal effort, producing a 90th percentile exit velocity that is a tick above average at 103 MPH with the ability to leave the yard to all fields when he gets into one.
McCray's power output took a bit of a hit in 2023 as he worked to cut down on the whiff. His swinging strike rate dropped by 2% and his chase rate by 3%, but those figures continued to get better as the season progressed. Over his last 50 games of the season, McCray reached base at a .392 clip while striking out 27% of the time.
There's still work to do in the swing and miss department, but McCray took a step forward last season. Though the moves are minimal, his load tends to be late and rushed, likely contributing to some of his timing issues.
Overall, McCray responded well to High-A in 2023, even improving his numbers against secondary stuff in the second half of the season. The hit tool will likely be fringy at best, but if he can continue to improve his swing decisions there's 20 home run power in there with the ability to get on base.
Defense/Speed
A plus plus runner, McCray offers immense value both in the outfield and on the bases. He covers a ridiculous amount of ground in center with good jumps and elite closing speed. His above average arm is the icing on the cake of a plus defensive profile in center.
On the bases, McCray is a nightmare for pitchers and catchers, stealing 52 bases on 62 tries last season, while easily traveling from first to third on hard hit singles.
Outlook
The questions around the hit tool keep McCray from entering the next Future Value tier, but he has the tools to be an everyday center fielder. That said, his plus defense and elite speed gives him a great chance of becoming a fourth outfielder if the bat does not come along much further. There's some similarities to Trent Grisham, but the Giants are likely hoping he can hit a bit more.
9. Reggie Crawford – 1B/LHP – (Low-A)
Height/Weight: 6'4″, 235 | Bat/Throw: R/R | 1st Round (30), 2022 (SF) | ETA: 2027
| | | | | | |
| --- | --- | --- | --- | --- | --- |
| HIT | RAW POWER | GAME POWER | RUN | FIELD | FV |
| 30/35 | 60/60 | 50/60 | 40/40 | 45/55 | 50 |
Crawford Hitting Scouting Grades
| | | | | |
| --- | --- | --- | --- | --- |
| FASTBALL | Curveball | CHANGEUP | COMMAND | FV |
| 70/70 | 50/60 | 30/45 | 35/45 | 55 |
Crawford Pitching Scouting Grades
Another two-way player in this Giants system, Crawford flashed exciting ability both on the mound and at the plate during his time at UCONN, but had his collegiate career cut short due to Tommy John Surgery. The Giants were so intrigued by his upside that they took him 30th overall.
Offense
A big, powerful hitter, Crawford is an imposing figure at the plate who does not get cheated. At 6-foot-4, 245 pounds, he produces plus exit velocities with little effort, often going the other way with authority.
The challenge for Crawford has been swing and miss, which was even an issue for him in college. There's some stiffness to his swing as well as length, which not only results in more whiff in the zone, but also an approach that is too expansive.
If Crawford can even become a fringy hitter, his easy plus power gives him a chance to be productive, but he will also need to cut down on the chase. Defensively, he has the goods to be a strong defender at first base with soft hands and good actions.
Pitching
Crawford projects better on the mound right now, where he can run his fastball up to 99 MPH, sitting mostly 95-97 MPH in 1-2 inning spurts as he made his return from Tommy John Surgery. It features good carry from a relatively low release point, picking up plenty of whiff at the top of the zone.
Working off of his heater is a slurvy breaking ball in the 82-85 mph range that flashes plus with two-plane break. He picked up a 23% whiff rate and 40% chase rate on the pitch in his 19 innings of work in 2023, landing it for a strike around 62% of the time.
Rounding out his arsenal is a nascent changeup that he struggled to locate. He went to it around 15% of the time, but really struggled to find a feel for it, landing it for a strike at a 44% clip. Coming off of Tommy John Surgery and not needing to throw the changeup much as an amateur make it understandable that the pitch is a work in progress, but he will need to make some major gains for it to be a viable third offering.
His command is fringy, but he is great athlete who should be able to develop into average command.
Outlook
Crawford has long been a tough prospect to peg. His offensive profile is volatile, as is his pitching profile, yet he his trying to do both. He is so talented and projectable that it is worth giving the two-way thing a little more runway, but he will most likely find big league success on the mound.
10. Wade Meckler – OF – (Triple-A)
Height/Weight: 5'10″, 180 | Bat/Throw: L/R | 8th Round (256) – 2022 (SF) | ETA: 2024
| | | | | | |
| --- | --- | --- | --- | --- | --- |
| HIT | RAW POWER | GAME POWER | RUN | FIELD | FV |
| 60/60 | 30/35 | 30/30 | 50/50 | 50/55 | 45+ |
A plus hitter with the ability to play all three outfield spots, Meckler lit the upper minors on fire, earning a big league shot in less than 100 Minor League games.
Offense
Starting slightly open and stacked on his back side while up on the ball of his front foot, Meckler's set up almost puts him right into his launch position.
Featuring minimal pre-swing movement, sees the ball early and makes a lot of contact as well as good swing decisions. He features minimal power, with a max exit velocity of just 103 mph and average exit velocity of 85 mph. Both figures would be among the lowest in MLB.
His contact rates were among some of the best in the Minor Leagues while chasing at just a 16% clip. Meckler has displayed the ability to circumvent bottom of the barrel exit velocities in the minors with his knack for hitting and getting on base, but few hitters succeed in an everyday MLB role with so little impact.
Even a marginal gain in power could help Meckler's overall profile pretty significantly, but his speed should generally help him be a high BABIP guy.
Defense/Speed
A plus runner, Meckler is a solid defender in all three outfield spots with good reads and a fringy arm that could make him best suited for left field. Stolen bases should become a more prominent part of his game as he gets more comfortable being aggressive on the base paths. He stole 13 bags on 17 tries last season.
Outlook
The upside may be limited for Meckler, but his polish and feel for the game stood out as he made his MLB debut hardly a year after being selected in the 8th round. He has a fourth outfielder's profile with a chance to be an average regular, but it seems likely that the Giants have a big leaguer in some capacity in Meckler.
11. Aeverson Arteaga – SS – (High-A)
Height/Weight: 6'1, 190 | Bat/Throw: R/R | IFA: $1M – 2019 (SF) | ETA: 2025
| | | | | | |
| --- | --- | --- | --- | --- | --- |
| HIT | RAW POWER | GAME POWER | RUN | FIELD | FV |
| 35/45 | 50/50 | 40/50 | 50/50 | 55/60 | 45+ |
A fantastic defender with sneaky pop, Arteaga is a high probability big leaguer who will need to hit more to be a regular.
Offense
Previously starting with his hands above his shoulder and active while in his stance, Arteaga now sets up with his bat rested on his shoulder to aid more consistent timing. He still utilizes a toe tap, but no longer from the pidgin-toed front foot position he previously set up with. Arteaga did not make the changes until late in the season, but simplifying things should help him make more consistent contact.
He possesses a decent feel to hit, but is aggressive, chasing 35% of the time. While his overall contact rates are roughly average, but he connects at an above average rate within the zone (85% Z-contact).
Arteaga makes deep contact with gap to gap juice to all fields, but flashes average power when he catches balls a bit more out front and to his pull side. His 31% fly ball rate should help his average raw power convert to average game power with the ability to hit around 15 homers.
Defense/Speed
Though he is just an average runner, Arteaga's first step is impressive on the left side of the infield with smooth hands and a plus arm capable of making throws from different angles. He reads hops well and frequently puts himself in great position to make plays. His plus glove is probably the best in the Giants system. A heady baserunner, Arteaga will opportunistically swipe bags and provides some value on the base paths.
Outlook
Though Arteaga did not make the offensive leap many were hoping to see in his age 20 season, he saw an uptick in his average exit velocity as well as 90th percentile exit velocity (103 mph) while improving his zone contact rate from 79% to 85%.
To reach his average offensive potential, Arteaga will need to cut down on his high chase rates and hit breaking balls better, but 2023 was not the step backwards offensively that his wRC+ may suggest. It will be interesting to see if his adjustments in the box over the last couple weeks of the season could help him take a step forward with the stick in 2024.
Regardless, his glove gives him a strong chance of becoming at least a bench piece at the highest level.
12. Landen Roupp – RHP – (Double-A)
Height/Weight: 6'4″, 220 | Bat/Throw: R/R | 12th Round (356), 2021 (SF) | ETA: 2025
| | | | | | |
| --- | --- | --- | --- | --- | --- |
| FASTBALL | Curveball | SLIDER | Changeup | COMMAND | FV |
| 50/55 | 70/70 | 40/50 | 30/40 | 50/55 | 45+ |
The 25-year-old Roupp was limited to just 10 starts in 2023 due to an undisclosed injury, but impressed with Richmond, allowing just six earned runs while punching out 42 and walking nine in 31.0 IP. Since being drafted out of UNC-Wilmington in 2021, Roupp has logged a 2.40 ERA in 146.1 minor league innings.
Arsenal
Roupp's primary weapon is a devastating curveball in the upper 70s that averages 18 inches of horizontal break and nine inches of vertical break at around 3,000 RPMs. He threw the pitch more than his fastball in 2023 (45% usage), holding opponents to a .130 batting average while landing it for a strike just under 70% of the time.
His two-seam fastball features plenty of arm side run, running in on right-handed hitters as an effective weak contact and ground ball inducer at 93-94 mph. The pitch has some dramatic splits, with left-handed hitters posting a batting average above .300 against it since the start of 2022 while righties have hit just .210.
Roupp will mix in a decent sweeper that flashes average in the upper 70s as well as a below average changeup in the upper 80s.
Outlook
There's a fair amount of reliever risk with Roupp given his curveball dependency and splits, but he has the stuff and command to be a solid swing man who can turn a lineup over once or twice.
Adding a four seam fastball could really help Roupp's chances of sticking in the rotation as his low release point should help the pitch play up well to lefties and mitigate the gap in his splits. With a four seam fastball, Roupp's arsenal would look much like Seth Lugo's.
Not much information was disclosed in regards to Roupp's injury in 2023, but assuming he is healthy by Spring Training, he has a chance to reach the big leagues sometime next season.
13. Hayden Birdsong – RHP – (Double-A)
Height/Weight: 6'4″, 220 | Bat/Throw: R/R | 3rd Round (85), 2021 (SF) | ETA: 2025
| | | | | | |
| --- | --- | --- | --- | --- | --- |
| FASTBALL | Slider | Curveball | Changeup | COMMAND | FV |
| 55/55 | 50/60 | 45/55 | 30/40 | 35/45 | 45 |
A tall right-hander with a low-effort delivery and projectable stuff, Birdsong comes with some reliever risk, but intriguing upside.
Arsenal
Though he features a four pitch mix, Birdsong relied on his fastball heavily in 2023, using around 60% of the time. The pitch sits 94-96 MPH, averaging just under 20 inches of induced vertical break. Despite the heavy reliability, Birdsong held hitters to a .250 batting average with his fastball and a strong 13.5% swinging strike rate.
Working off of his fastball is a pair of breaking balls that flash above average. The slider sits in the low 80s with around 12 inches of horizontal break and a bit more vertical break than a traditional sweeper. It features sharp, late break, making it effective against both lefties and righties. The pitch would likely play closer to plus if he could command it a bit better.
Birdsong's curveball has good depth in the upper 70s with around 15 inches of vertical break. When he locates it towards the bottom of the zone, it is an effective strikeout pitch, but he had the tendency to leave it elevated at times. Opponents hit below .200 against Birdsong's breaking balls with a chase rate of 30%, but he landed the two pitches for a strike just 58% of the time.
Rounding out the arsenal is a changeup in the upper 80s that the right-hander only mixed in a couple times per start. It flashes decent fade and can be a pitch that he mixes in to lefties behind the two breaking balls if he can find a better feel for it, but it is currently below average.
Outlook
A big build with good stuff Birdsong is still getting acclimated to starting, as he mostly was used as a reliever in his collegiate career at Eastern Illinois. The rawness is both intriguing and concerning as there is a chance that Birdsong could wind up back in the bullpen if his secondary command does not improve. But, there is also the exciting thought of what could be if his feel to pitch continues to improve.
14. Joe Whitman – LHP – (Low-A)
Height/Weight: 6'4″, 200 | Bat/Throw: L/L | 2nd Round (69) – 2023 (SF) | ETA: 2026
| | | | | |
| --- | --- | --- | --- | --- |
| FASTBALL | SLIDER | CHANGEUP | COMMAND | FV |
| 50/50 | 50/60 | 35/45 | 50/55 | 45 |
Whitman struggled through his first couple collegiate seasons at Purdue before transferring to Kent State where things clicked for him on the bump. A dominant start on the Cape ahead of the MLB Draft helped bolster his stock as an intriguing, late-blooming southpaw.
Arsenal
A three-pitch mix dominated by his fastball and slider, Whitman sits 91-93 mph with his heater from a three-quarter release. There's some effort in his delivery, but he made massive gains with his overall mechanics in 2023. He touched 96 mph a few times in 2023, seeing his average fastball velocity increase a tick as the season progressed.
His best pitch is his low 80s slider with late break that flashes plus from his three-quarters slot. The late horizontal bite of the pitch makes it effective to hitters from both sides of the plate, often burying under the hands of lefties or sweeping away from righties. Opponents hit well under .200 against the pitch in his 15 collegiate starts last year.
His third offering is a firm changeup that is a work in progress, but has flashed average. His slider and fastball were enough to mow down right-handed hitters in college, but he mixed the change in around 10% of the time to opposite-handed hitters.
Outlook
Potential for a decent three pitch mix with above average command, Whitman has a chance to develop into a No. 4 or No. 5 starter. His plus slider and deceptive release point elevate his floor as a potential left-handed setup man, but he should get plenty of opportunity to prove it as a starter.
Being a late bloomer, it wouldn't be crazy to see the 6-foot-4 southpaw make another leap in 2024, which would really solidify his chances to stick as a starter.
15. Trevor McDonald – RHP – (High-A)
Height/Weight: 6'2″, 185 | Bat/Throw: R/R | 11th Round (326) – 2019 (SF) | ETA: 2025
| | | | | |
| --- | --- | --- | --- | --- |
| FASTBALL | Curveball | CHANGEUP | COMMAND | FV |
| 50/55 | 50/60 | 40/50 | 40/50 | 45 |
A highly-regarded prep arm in the 2019 Draft, the Giants shelled out $800K to sign McDonald away from South Alabama. The 22-year-old right-hander has performed well at each stop thus far, with a 2.66 ERA in 223 professional innings. He got a late start to this year due to an arm issue, but dominated to an ERA of 0.78 in 34 2/3 High-A innings upon returning from the IL.
Arsenal
A solid three pitch mix built for picking up ground balls, McDonald's arsenal features a heavy sinker, a sweeping curve and a changeup that flashes plenty of arm side fade. The fastball sits 93-95 mph with around 16 inches of horizontal run and just 8 inches of vertical break. The bowling-ball action helped him pick up a ground ball rate over 60% on the pitch with low exit velocities.
Working off of his fastball is a low 80s sweeping curveball that flashes plus with two-plane break. His command of the pitch can be inconsistent at time, but he still picks up plenty of chase as well as whiff within the zone. Since the start of 2022, McDonald has picked up a 22% swinging strike rate with the pitch while holding opponents to a .170 batting average.
The third offering for McDonald is an upper 80s changeup that flashes average or a bit better with good arm side fade. It's is go-to weapon against left-handed hitters, who have posted a 17% swinging strike rate against the pitch since the start of 2022.
Outlook
McDonald has reworked his delivery some to increase his likelihood of sticking as a starter, but there's reason to believe that his short arm action may not be conducive to starting.
When on the mound, McDonald has demonstrated the ability to turn a lineup over a couple times as well as get both lefties and righties out consistently with his arsenal, but he will likely need to compile something close to his 2022 inning total of 101 1/3 to fend off a move to the bullpen. Regardless, it looks like the Giants have a big league arm in some capacity with McDonald.
Other Names to Watch
Maui Ahuna – SS – (CPX): Looking like a surefire first round talent after his 2022 season at Kansas, Ahuna's 2023 campaign at Tennessee got off to a delayed start due to NCAA eligibility issues. His "down year" with the Vols dropped his slash line from .396/.479/.634 to .312/.425/.537. The Hawaiian did punch out far more than he did as a Jayhawk, but the high-level defensive shortstop will look to put together a strong debut season in '24 after falling to the fourth round in the 2023 draft.
Vaun Brown – OF – (Double-A): Brown started his age-24 season in Low-A in 2022, but slashed .346/.437/.623 with 23 HR and 44 SB en route to the best season in Minor League Baseball. Injuries plagued his age-25 campaign this past year, limiting him to just 50 games at the Double-A level. Brown will be more than two years older than the average Double-A hitter on Opening Day next spring, but the power/speed combo that made him burst onto the scene in '22 is enough to make him a name to watch.
Carson Seymour – RHP – (Double-A): Seymour started his college career at Dartmouth but was taken by San Francisco in the sixth round in 2021 out of Kansas State. The 24-year-old posted an ERA just a tick under 4.00 across 112.2 IP with Double-A Richmond this past season, but showcased both stuff and command with a 114/43 K/BB ratio. Seymour should provide starting pitching depth in the near future, using a mid-90s sinker to stay in the ballpark.
Adrian Sugastey – C – (High-A): Signed for $525k out of Panama in 2019, Sugastey has a rifle for an arm and a good feel to hit at the plate. He's aggressive and lacks much impact, but he enjoyed a nice leap in the power department in 2023 with improvements behind the dish as well.
Diego Velasquez – MIF – (Low-A): Velasquez turned 20 years old shortly after completing a full season with Low-A San Jose in 2023, slashing .298/.387/.434 as a teenager off the Complex. Power wasn't a big part of Velasquez's game, pumping just eight home runs in a hitter-friendly environment. However, the switch-hitter showcased the speed this season, swiping 23 bags on 29 attempts.
Tyler Fitzgerald – OF – (Triple-A): Though he strikes out a fair amount, Fitzgerald blended his power and speed as effectively as ever last season, launching 22 homers while swiping 32 bags between Double-A and Triple-A prior to earning a big league cameo. His versatility could make him a decent bench piece.
Jairo Pomares – OF – (High-A): Injuries wiped out Pomares' 2023 campaign, but the power-hitting outfield has too much offensive upside to write off. He will need to cut down on the whiff, but his 90th percentile exit velocity of 106 mph paired with the ability to drive the ball in the air with some consistency gives him exciting power potential if he can hit some.