Rankings
Ranking The Top Prospects Dealt At MLB's Trade Deadline
The MLB stars on the move steal the headlines, but "sellers" have a lot to look forward to in these Minor League stars.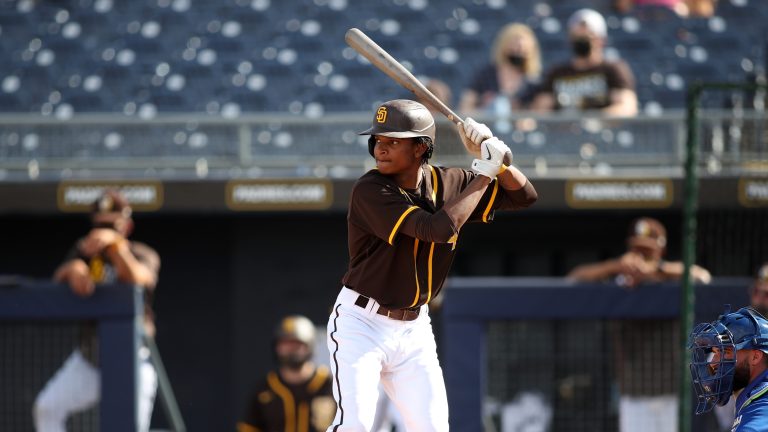 The last few days have been about as eventful as anyone could ever imagine Major League Baseball's Trade Deadline being. We had the most significant trade package of all-time dealt for Juan Soto, a handful of borderline blockbusters, surprising swaps and under the radar moves as well.
As is the case with most trades, plenty of prospects exchanged hands in this year's trade deadline. Many of which are either currently on our top-100 prospect list or have a strong case to earn a spot in our midseason update.
Let's take a look at the top 30 prospects moved at the deadline and how they stack up.
1. C.J. Abrams – SS – Washington Nationals
Preseason Top 100 Rank: 13
Abrams has all the ingredients to be a superstar. Headlined by his 80-grade speed and plus hit tool, the left-handed hitting shortstop has vastly improved his defense and I still believe he can develop into above average power.
Ironically, there are many qualities to Abrams that remind me of a young Trea Turner and the speedy left-handed hitting shortstop will now get consistent lower pressure reps. The Nationals have their shortstop of the future.
2. Noelvi Marte – SS/3B – Cincinnati Reds
Preseason Top 100 Rank: 21
The headliner in the Luis Castillo package, Marte is an exciting bat with an above-average feel to hit and plus power. Seemingly likely to move off of shortstop, Marte's production should easily accommodate a move to third.
After a bit of a slow start to the season, the 20-year-old has been one of the better hitters in High-A, hitting .308/.389/.551 with 10 homers an impressive 0.63 BB/K. That's good for a 162 wRC+. If Marte continues on his track, he could be a high on base guy with 30 homer potential along with some stolen bases mixed in.
3. Robert Hassell III – OF – Washington Nationals
Preseason Top 100 Rank: 24
A contact-oriented center fielder with some power to dream on, Hassell has produced strong numbers through the early stages of his professional career. The first high school bat selected in 2020's Draft, Hassell has proven to be an advanced hitter for a 20-year-old, slashing .301/.388/.469 in 185 professional games.
Hassell is a plus runner who should stick in center and is due for a Double-A promotion soon. Despite producing 10 homers this year, there's some question as to how much power the left-handed hitting outfielder has in the tank. Hassell's 10 homers are encouraging, but his 90th percentile exit velocity is below average and his max exit velocity of 105 mph is a bit underwhelming.
Hassell has the ingredients to be a very solid big leaguer, but his ability to tap into more power will determine his ceiling.
4. James Wood – OF – Washington Nationals
Set to join our soon-to-be-released Top 100 Prospect Update, Wood could not be off to a much better start to his professional career. The 6-foot-7 outfielder was viewed as a high-risk, high reward overslot pick in the second round of last year's draft.
The 19-year-old masher has proven to be much more polished than many scouts had expected both at the plate and in the field. In 50 Low-A games, Wood is hitting .337/.453/.601 with 10 homers and nearly as many free passes as strikeouts.
An above average runner, Wood has looked comfortable in centerfield and has a chance to stay up the middle. Already producing exit velocities as high as 114 mph and a 90th percentile exit velocity of 109.7 mph, the ceiling really is boundless for the teenage outfielder.
5. Logan O'Hoppe – C – Los Angeles Angels
Another new face set to join our top 100 prospect list, O'Hoppe will be doing so as a member of the Los Angeles Angels. The 22-year-old backstop has enjoyed a breakout season, hitting and defending his was to a Triple-A promotion.
O'Hoppe's fast-tracked development and the presence of J.T. Realmuto at the big league level prompted Phillies GM Dave Dombrowski to swap him for Angels 24-year-old center fielder Brandon Marsh.
Hitting .275/.392/.496 with 16 homers and nearly as many walks as strikeouts, O'Hoppe is a well above average bat for the position and is a solid defender. While O'Hoppe could improve a bit in regards to limiting the running game, he is a good receiver and blocker who pitchers like to throw to.
6. Ken Waldichuk – LHP – Oakland Athletics
Preseason Top 100 Rank: 100
The headliner in the Frankie Montas return from the Yankees, Waldichuk has done nothing but solidify himself as a top-100 prospect with his performance this season. The southpaw features a mid-90s fastball, plus changeup and a pair of breaking balls that flash above average from a release point that is difficult to pick up.
Waldichuk's arsenal and deception has helped him strike out more than 36% of batters between Double-A and Triple-A while pitching to a 2.71 ERA. It probably won't be long before the 24-year-old cracks the big league rotation for the A's.
7. Spencer Steer – INF – Cincinnati Reds
Steer made some swing adjustments last season to allow him to tap into more power and it paid off in the form of 24 homers during the 2021 season. The 23-year-old seems have become even more accustomed to his new swing in 2022, already launching 24 bombs in 83 games between Double-A and Triple-A with less swing and miss.
Unlikely to stick at short at the highest level, Steer is still passable at the position and provides versatility all over the infield. We should see the newly acquired Red at Great American Ballpark at some point this season.
8. Edwin Arroyo – SS – Cincinnati Reds
The secondary piece in the Castillo haul, Arroyo is a well-rounded prospect with an impressive glove at short. A switch-hitter, Arroyo demonstrates good bat-to-ball skills from both sides with sneaky pop.
The 18-year-old has really impressive with his offensive production in Low-A, producing a .316/.385/.514 line with 13 homers and 21 stolen bases. Arroyo projects as a plus defensive shortstop with perhaps a bit more offensive upside than many of the teams who let him slip to the second round of the 2021 Draft expected.
9. Esteury Ruiz – OF – Milwaukee Brewers
Arguably the biggest breakout prospect of this season, Ruiz has put up video game numbers in the upper levels this season. On top of his .333/.467/.560 line between Doube-A and Triple-A, Ruiz has added a professional baseball leading 60 stolen bases in just 77 games.
Ruiz is still cleaning up his routes, but should be able to play above average defense at all three outfield spots. The 23-year-old Ruiz has above average power in the tank and is starting to tap into it a bit more. Calling Milwaukee home will also make his 20 homer upside a bit more attainable.
10. Hayden Wesneski – RHP – Chicago Cubs
A surprising get by the Cubs for reliever Scott Effross, Wesneski has followed up a strong 2021 season with more of the same this season at the Triple-A level. Using a pair of fastballs mixed with a wipeout slider that the right-hander will manipulate to a harder cutter at times, Wesneski has really to honed in on the nuances of pitching.
Wesneski's four-seamer and changeup have made major strides this season and have helped each other play up. A four-seamer, two-seamer, cutter, slider and changeup along with above average command give Wesneski a great shot at becoming a quality back end of the rotation starter.
11. Jarlin Susana – RHP – Washington Nationals
The final prospect piece of the Juan Soto package, Susana signed with the Padres for $1.7 million as the top-ranked pitcher 2021-2022's international free agent class. Standing at 6-foot-6, 235 pounds, Susana has a plus plus heater that can touch triple digits and nasty slider in the upper 80s that flashes plus.
Still just 18 years old, Susana has a long way to go in his development, but obviously has a ton of upside to dream on.
12. Jordan Groshans – SS/3B – Miami Marlins
Preseason Top 100 Rank: 94
Likely to be bumped from the top-100 list in the coming weeks, Groshans has been a bit of a disappointment in Triple-A. A hit-over-power prospect, Groshans showed signs of finally tapping into power, launching seven homers in 75 Double-A games last season, but has only left the yard once in 67 Triple-A games this year.
Still just 22 years old in Triple-A, there is still plenty of reason to believe that Groshans can turn into an above average bat. Especially when you consider the fact that he boasts a spectacular .76 BB/K. Likely to move off of shortstop, Groshans will need to tap into more gap to gap power at the very least to accommodate a move to third.
13. Victor Acosta – SS – Cincinnati Reds
An extremely raw prospect with exciting tools, the Padres signed Acosta for $1.8 million during the 2020-2021 international free agent signing period. Like many seven-figure international free agents, there's five tool potential to dream on with the switch-hitting shortstop, but none of that will matter if he cannot hit enough.
14. Ben Brown – RHP – Chicago Cubs
A tall, electric right-hander with a nasty fastball, slider combination, Brown has really dominated in his first full season above rookie ball. The 22-year-old's heater sits 95-97 mph with life while his slider lives in the high 80s.
Improvements with Brown's command have provided more reason for optimism in regards to sticking as a starter and he already boasts two pitches that look like they could be big league plus.
15. Luis Medina – RHP – Oakland Athletics
Medina turns heads with his upper-90s fastball that can touch triple digits along with a nasty curveball with depth, however the 23-year-old just continues to fight command issues. Medina has kept the ERA in check thanks to his ability to get whiffs and keep the ball in the yard, though a 13% walk rate for the second consecutive season at the same level casts a cloud over his long-term rotational outlook.
16. Robert Gasser – LHP – Milwaukee Brewers
Part of the package sent to Milwaukee for Josh Hader, Gasser bursted onto draft radars with a lights-out junior year at Houston, which included seven shutout innings against Ty Madden and the Texas Longhorns.
A velocity bump and built in deception have made Gasser a really intriguing prospect and he has kept that momentum rolling into pro ball. The southpaw's 92-94 mph fastball plays up thanks to his ability to hide the baseball and his slider flashes plus.
Gasser's average changeup has continued to look better and gives him a good shot to stick in the rotation with No. 3 upside.
17. Seth Johnson – RHP – Baltimore Orioles
Acquired from the Rays in the three team deal that sent Trey Mancini to Houston, Johnson was enjoying a phenomenal follow up to last year's dynamite campaign before finding out he will have to undergo Tommy John surgery.
A first round pick by the Rays out of Campbell in 2019, Johnson is an athletic pitcher who is actually a converted Junior College infielder. The fastball is plus with 20 inches of induced vertical break in the upper 90s and if he can command the offering a bit better, it could reach 70 grade territory.
Johnson's slider has the makings of a plus pitch as well, holding opponents to just a 3-for-29 clip with 19 K's this year. Set to miss likely all of next season, Johnson will have to make up for lost time and still needs to find a third pitch, but there's no denying his upside.
18. Enmanuel Valdez – INF – Boston Red Sox
After breaking out with 21 homers in High-A last season, Valdez has followed things up with much better plate discipline, aiding a career-high .410 on base percentage.
Valdez has already eclipsed last year's home run total, already leaving the yard 22 times in 83 games this season. His extremely quick bat allows him to get to difficult pitches while producing above average exit velocities.
The 23-year-old has can play both second base or even the hot corner and his sustained production through the last two seasons lends belief that his bat can profile at both spots.
19. Christian Encarnacion-Strand – INF – Cincinnati Reds
A bat first prospect all the way, Encarnacion-Strand has hit enough to still make himself a valuable prospect. Despite his extremely aggressive approach, Encarnacion-Strand has hit to a .302/.374/.612 clip with a 25 K%.
Most notably, the 22-year-old has crushed 25 homers this season, many of which have traveled a long ways. The former fourth round pick has 70 grade pop and a decent feel to hit, but he'll have to shore up his approach as he faces more advanced competition.
20. Steve Hajjar – LHP – Cincinnati Reds
A big lefty with a solid four pitch mix, Hajjar has racked up the strikeouts in bunches this season in Low-A. His 39% strikeout rate is somewhat hedged by a 14% walk rate, however Hajjar has shown ability to command all four of his offerings when he's on.
The 21-year-old features a low 90s fastball along with an above average slider and changeup as well as an average curve he mixes in.
21. Wilyer Abreu – OF – Boston Red Sox
The second bat sent over to the Red Sox for Christian Vazquez, Abreu has enjoyed a nice all-around season in Double-A. There's more zone whiff than you'd like to see with Abreu, though he has fringe-plus raw power and above average speed.
Abreu hedges his higher whiff rate with plenty of patience at the plate, walking at a 19% mark. The 23-year-old has made a majority of his starts in centerfield where he projects as at least average and offers above average defense in either corner. After struggling to steal bases efficiently last year, Abreu is 23/24 on swipe attempts this season.
22. Chayce McDermott – RHP – Baltimore Orioles
Coming over from the Astros in the Mancini deal, McDermott's stuff is whiff-inducing. Like many other pitchers on this list, the right-hander battles command issues. In 72 innings for the Astros High-A affiliate, McDermott struck out more than 35% of batters, but has handed out free passes at a 13.4% clip.
As a result, McDermott's ERA is inflated to 5.50 this season, however the peripherals point towards some bad batted ball luck. With a mid-90s fastball and a nasty slider, the 2021 fourth round pick has the floor of a solid reliever. His ability to mix in an average curveball and changeup that flashes average give him a chance to stick as a starter if he can overcome the command woes.
23. Antoine Kelly – LHP – Texas Rangers
Surprisingly dealt for reliever Matt Bush, Kelly is an extremely talented arm that earned enough buzz to make the Futures Game roster. Kelly has a mid 90s fastball that can reach 98 mph along with a devastating slider in the 82-84 mph range.
Kelly has battled injuries over the last couple seasons and more likely projects as a swing and miss lefty reliever, but a really good one at that.
24. Nick Frasso – RHP – Los Angeles Dodgers
Swapped in a larger package for starter Mitch White, Frasso has used his electric heater to pound the strike zone and overpower lower level hitters. Sitting 95-97 mph with a ton of arm side run, Frasso can blow it by hitters as well as induce weak contact.
Frasso's slider works well off of his fastball with opposite, late action in the mid 80s. The 6-foot-5, 200 pound righty has not had to use his changeup much, but has shown some feel for it at times. The upside for Frasso is immense thanks to his frame, arm speed and stuff and he is now in the right organization to maximize it all.
25. Jayden Murray – RHP – Houston Astros
Sent along with Trey Mancini to the Astros, Murray has continued to get outs at the upper levels by throwing strikes and garnering just enough swing and miss. Already 25 years old, Murray was a bit of a late bloomer and spoke to Just Baseball about his journey prior to this season.
The right-hander's fastball, like many other Rays prospects, inexplicably misses barrels and his slider is a plus offering. Mixing in a changeup and two-seamer, Murray is a weak contact machine and could be a solid back-end option in a big league rotation.
26. Beck Way – RHP – Kansas City Royals
The best arm sent to Kansas City for Andrew Benintendi, Way has made strides with his command this season. The 22-year-old has cut his walk rate by roughly 5% this season and has shown a better feel for his changeup.
The fastball sits in the mid-90s for Way and his sweeping slider flashes plus, registering a near 50% whiff rate. A fourth round pick with limited collegiate innings under his belt prior to being drafted, Way continues to improve as he gains experience and is a name to follow.
27. Malcolm Nuñez – 3B/1B – Pittsburgh Pirates
Another bat first prospect that has hit enough to carry him, Nuñez boasts above average power with an above average feel to hit that is topped off with a good approach. Just 21 years old and producing in Double-A, Nuñez has hit 17 homers while punching out just 20% of the time.
Likely to move to first base or DH, Nuñez will have to really hit in order to be a valuable prospect, but that is exactly what he has done this year.
28. Clayton Beeter – RHP – New York Yankees
Swapped for Joey Gallo, Beeter has some of the nastiest stuff you'll see, however often times he has little say over where it is going. A 36 K% and 14% walk rate along with 10 home runs surrendered in 51 2/3 innings make Beeter a rare three true outcome pitcher, which is ironic given who he was traded for.
Beeter has a mid 90s fastball that can touch 98 mph with life and a pair of devastating breaking balls that can blend together at times. Right now, Beeter is making just too many non-competitive pitches as well as missing over the middle which is limiting his ability to be effective. He has the upside of a lights out back end reliever if he can hone in on his command even a little bit.
29. Levi Stoudt – RHP – Cincinnati Reds
After a really impressive pro debut last year, Stoudt has taken a bit of a step back in 2022. A 3.31 ERA in 2021 has inflated to a 5.28 ERA this season.
A pretty flat fastball has left Stoudt in a spot where he has to rely on his slider a bit too much, throwing it 46% of the time. If Stoudt can develop a sinker or improve the feel for his changeup, he should induce enough weak contact to project as a back-end of the rotation starter.
30. Cade Povich – LHP – Baltimore Orioles
The headline arm sent from the Twins for Jorge Lopez, Povich lacks a true plus pitch, though he has four offerings he mixes well. The 22-year-old's 92-94 mph heater gets some in zone whiff thanks to the sneaky life it features and his best pitch is his above average slider.
Povich also has an average changeup and curveball that his is comfortable throwing in most counts. If the left-hander's stuff ticks up he could have a bit more upside. At this moment, he looks more like an average No. 4 at best.