News
Pirates Promote Baseball's Most Exciting Prospect: Oneil Cruz
The Pittsburgh Pirates are finally giving their fans what they have been waiting for all year, as they are set to promote top prospect Oneil Cruz.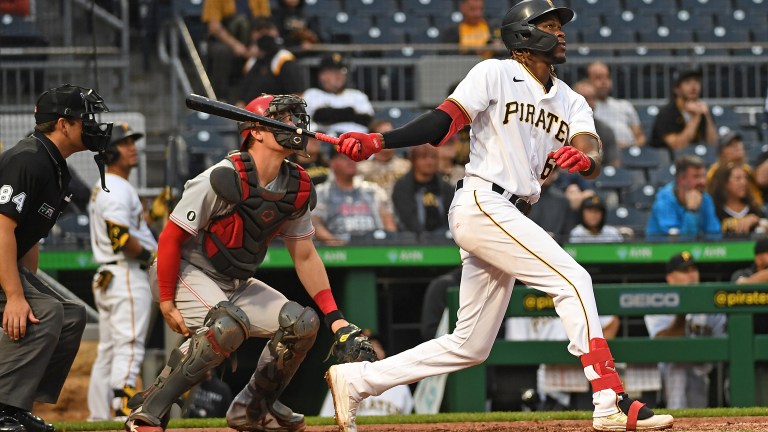 The Pittsburgh Pirates have put the SportsCenter top 10 plays on notice. They have finally called up one of the most anticipated rookies of the 2022 MLB season. Oneil Cruz might be one of the most exciting players to ever play the game, and I'd expect the Pirates viewership to rise exponentially in the next few weeks.

Cruz joins one of the fun young teams in the MLB. Bryan Reynolds, Jack Suwinski, and Ke'Bryan Hayes will be thrilled to have more firepower in the lineup, as this young team's stars start to hit the major leagues. On a day when Jack Suwinski had a hat trick of home runs, more firepower will come.
Cruz has had a rocky start in Triple-A with the Pirates affiliate Indianapolis Indians, but we have seen things that can not be explained come from this bat. Cruz has logged games primarily at shortstop for the Indianapolis Indians, hitting .233/.337/.424 in 2022.
Even with the aggressive struggles in Triple-A this year, the Pirates are excited about the potential they know Cruz has, and everywhere he goes, you can see the potential this 6'7″ frame provides.
When we asked Jack McMullen, the Indianapolis Indians play-by-play announcer, his take on Cruz, he responded with a great quote:
"What [Cruz] can do is different than anyone else can do at the big-league level." McMullen said, "If the stars align, the level of intrigue is like Tatis and Ohtani."
We agree with McMullen here, as even in a short stint at the major league level, his exit velocities were top of the list. You are bound to be speechless when you see a shortstop that looks like vintage Expos Vladdy Sr. and has exit velocities like Stanton. But, for example, he set a Pirates record in his brief cup of coffee in 2021.
Cruz has logged 44 games at shortstop this season in Triple-A and nine games at left field. One of the weak excuses that the Pirates front office have used for keeping Cruz in the minors, past the allotted service time manipulation, was that they wanted to look at him in the outfield.
We did not see a healthy showing of playing time out in the grass, for what it is worth, but what we did see was not great. He will likely play at the captain's spot in '22 for the Bucks, and if the Pirates do move his position, it will probably be down the line.
Here is Derek Shelton confirming that suspicion below.
The 23-year-old will likely get his season debut at home today against the Chicago Cubs. Last year, he spent two games at the major league level and impressed in this short time. The Pirates fans have been begging for Cruz to get the call, and it is now time to see if he can continue to back up the hype.
The Pirate's corresponding move is not clear now, though we know that Cruz is already on the 40-man roster.
Scouting Report
Luckily, we have one of the best prospect evaluators the game has to offer here at JustBaseball.com. Of course, everyone has a take on the potential of Oneil, but here is what our own Aram Leighton has to say in our top 100 prospects list.
11. Oneil Cruz – SS/3B – Pittsburgh Pirates
Age: 23 | Height/Weight: 6'7, 210 | Bat/Throw: L/R | IFA: $950K – 2015 (LAD) | ETA: 2022
| | | | | | |
| --- | --- | --- | --- | --- | --- |
| HIT | RAW POWER | GAME POWER | RUN | FIELD | FV |
| 45/50 | 80/80 | 55/70 | 55/50 | 40/50 | 60 |
We have never seen a player like Oneil Cruz. Tall enough to be an NBA forward, yet somehow still able to play shortstop and produce plenty of contact, Cruz truly is a unicorn. Oh, he has 80-grade raw power too. 
2021 Stats (AA/AAA): (68 G) .310/.375/.594, 17 HR, 48 XBH, 158 wRC+, 22.8 K%, 9.3 BB%
Offense
Very relaxed and loose setup in the box with a minimal lower half move forward with some hand movement as he gets to launch. Cruz utilizes his lower-half extremely well for a player of his size; he stays on his back-side well and uses the natural leverage that his 6-foot-7 frame creates. Extremely long levers create top of the scale bat speed and back spin and Cruz has done a fantastic job keeping his swing as short as those arms will let him.
The raw power is top of the scale and should allow him to do damage to all parts of the ballpark and there is easily 40+ homer pop if he's able to consistently put the ball in the air. He controls the strike zone very well for a 23-year-old in Double-A and he has more feel to hit than you'd think given his size. Cruz has already posted exit velocities as high as 120 miles-per-hour –for reference, that would be the fourth-hardest hit homer of MLB's Statcast era.
His lower half is extremely athletic and he is able to do damage on 'B' swings, especially on hanging breaking pitches. High fastballs may give him a problem once he reaches the Show, however, his athleticism and proclivity to adjust at each level of the minors bodes well for his ability to make adjustments once he reaches the games highest level. His strikeout rates have been around average at each of his stops. His ability to manage at-bats has made it easy for him to hide some of the natural swing-and-miss that comes with his frame. Once Cruz becomes slightly more selective at the plate and continues to develop, he could be a 40-homer threat annually in the big leagues.
Defense/Speed
Despite frequent noise that the 6-foot-7 Cruz would have to move off shortstop, he has consistently proven his critics wrong and it's beginning to look like he will stick there long-term. His huge size gives him more than enough range for the position and his 80-arm should make him a specialist in turning hits in the six hole into outs.
His frame makes it tough for him to come in on slow choppers but his arm is good enough to make up for it and then some. Cruz adds another plus tool in his speed, which is possibly plus-plus once he gets going. It takes him a while to get to his top speed, so stolen bases and infield hits may never be strengths for him. With nobody blocking him from shortstop in Pittsburgh, a move to center or right is unlikely, although Cruz projects as a plus defender at either spot. 
Outlook
Cruz is a unicorn among baseball's top prospects. Nobody has ever played short at his size. And in the fact that two of his tools grade out as 80, you have a player with possibly a top-five ceiling in all the minor leagues. How much Cruz hits will ultimately determine his worth but even if he doesn't, he should provide value with his immense physicality and tools.