Analysis
Now Healthy, Jackson Jobe is Making Up For Lost Time
The Tigers' top pitching prospect discusses the tweaks have him looking like one of the best young arms in the Minor Leagues.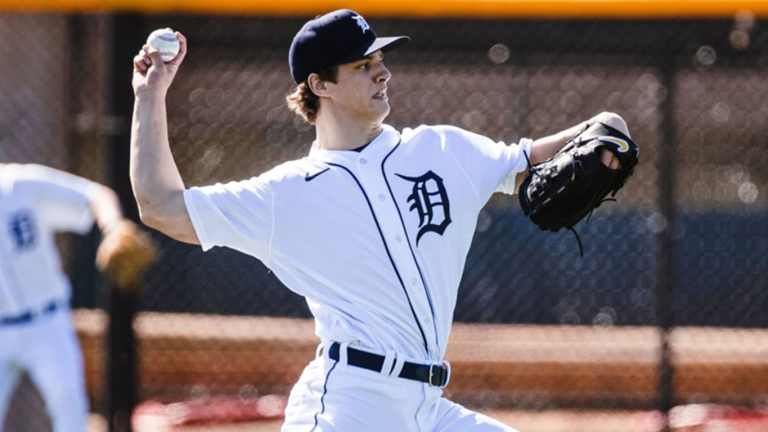 When Jackson Jobe showed up to Spring Training ahead of the 2023 season, the Tigers right-hander was eager to build on an encouraging and educational first professional season. The No. 3 pick in the 2021 draft really impressed through the first couple weeks of camp, with Tigers manager A.J. Hinch saying that he has looked as good as he has as a pro.
Unfortunately, Jobe's momentum would be halted by a back issue midway through March. While the prognosis was optimistic in the grand scheme of things, the Tigers understandably decided to err on the side of caution with their prized pitching prospect by easing him back into action.
Jobe made his return to game action roughly three months after he hit the injured list, and he looked like he was in midseason form.
"I had a lot of time during my build up…throwing bullpens, throwing lives, being able to dive into my mechanics and being able to figure what's happening with my misses. I really dove into all that stuff," Jobe said on The Call Up. "Honestly, [the injury] was a blessing and a curse. I missed some time, but I learned so much about myself as a pitcher that I am going to take with me the rest of my career."
The 21-year-old returned to action on June 17, tossing two perfect innings in the Complex League where he struck out four and sat at 97 MPH with his fastball. He would follow that up with 16 innings at Low-A to finish up his rehab, where he allowed just four earned runs while striking out 20 and walking three.
Jobe continued to average 97 MPH with his fastball–even as he was stretched out further in outings– while continuing to pound the strike zone, something he attributes to both physical growth as well as his mechanical improvements.
"It all points to getting all of my energy and my direction going towards home plate. When you really try to gear up, you tend to pull off," he said. "That was something that happened to me a little bit last year and it ends up affecting all of your pitches."
Paired with his mechanical improvements has been a development of his changeup as well as the addition of a cutter, which has given him potentially four legitimate big league offerings.
Fastball (96-98 MPH)
A plus heater, Jobe has seen his fastball improve in just about every measurable possible. After averaging a hair under 95 MPH with his fastball last season, Jobe now sits at 96.5 MPH, touching 99 MPH.
Shape wise, he is throwing his four-seamer from a lower release height and has gained more than an inch of induced vertical break. The improved velocity and shape has helped Jobe see a roughly 5% jump in zone whiff rate, chase rate, and overall strike rate.
"The vert and the ride were inconsistent last year," he said. "It's been a big focus of mine, playing catch, watching the ball spin. If you're getting a couple inches of carry, it really does show."
The improved whiff rates within the zone bode well for Jobe, as he has the tendency to leave his fastball over the heart of the plate at times. With the way that his fastball command is trending in tandem with the increased life, it should be a plus pitch for him moving forward.
Slider (85-87 MPH)
A 3,000 RPM slider that averages around 13 inches of horizontal break, Jobe really caught the attention of scouts with his ability to spin a plus-plus breaking ball with sharp, late bite. The pitch featured so much sweep that it was hard for Jobe to consistently command at points last season.
Opponents hit just .130 against the offering last season, but because he only landed it for a strike around 58% of the time, hitters would hunt fastball and dare him to locate the breaking ball.
Now running a 70% strike rate on the breaking ball, the swing rate on the pitch has jumped from 39% in 2022 to 46% this season. He's also gone to the pitch far more when behind in the count this season.
"Right now, I'm not up there scared of throwing balls, but last year I feel like I was," Jobe told us in August. "I expect to execute most of my pitches now…It's a chess match."
The blend of movement, command and ability to throw it in any count has made the pitch incredibly effective to hitters on both sides of the plate. Both righties and lefties ran an OPS under .400 against the pitch in 2023.
While the development of Jobe's changeup hedges the necessity for strong splits, the effectiveness of his slider against hitters from both sides on top of the addition of his cutter–two pitches I will get to next–gives him a legitimate four pitch mix to hitters from both sides of the plate. Four potential moves in any spot is quite the advantage in a game of chess.
"I'm able to flip over [first pitch] breaking balls. Double up and things like that, it makes things harder for the hitter and it's a lot easier [for me] when I can command the strike zone."
Changeup (84-86 MPH)
There's been plenty to be impressed with as it pertains to Jobe's gains this season, but the leap he has made with his changeup in 2023 has been a game changer. While the pitch featured decent underlying numbers last year, he only picked up a 55% strike rate with less movement.
This season, Jobe filled up the strike zone with the pitch at a 73% clip while going to it nearly 20% of the time. Not only did he find more consistency with the pitch, but he tweaked his grip to generate more sidespin and arm-side fade. His horizontal approach angle changed from 0.16 in 2022 to 0.49 in 2023, aiding the perceived movement and deception of the pitch.
"It's like a split change, but I try to pronate off of [the pointer finger]. The splitting of the fingers helps me create that spin under 2,000 [RPMs], which gives it a little more depth, and then being able to pronate it and get it some sideways spin helps to get it a little bit of fade."
Like most right-handers, Jobe's changeup is his go-to secondary pitch against lefties, but the combination of improved arm side movement and overall feel for the pitch has helped him weaponize it against righties as well. Hitters in general posted just a .140 batting average with an OPS below .400 and chase rate above 50% against the pitch this season.
Cutter (91-93 MPH)
A new pitch, Jobe unveiled it upon returning from injury this season. It gives him another wrinkle in his arsenal that he will mix in a handful of times per game. It sits in the low 90s with late action that allows him to tie up hitters and induce weak contact.
Jobe picked up a 15% swinging strike rate on the pitch, which is well above average for a cutter, but also mixed in plenty of ground balls. He mixes it in equally against hitters from each side using it effectively to tie up hitters as well as sneaking it in the back door.
"The fastball and the slider has always been the bread and butter. Once I feel like they've shown what they can handle one of those pitches, that's when I'll come in and use the changeup, use the cutter, to get off of the fastball slider sequencing."
Jobe filled up the strike zone 74% of the time with the pitch, often going to it early in counts as well as an effective weapon to climb back into counts when he falls behind.
Outlook for 2024 and Beyond
While his season was shorter than desired, Jobe's time off allowed him to improve across the board in a controlled setting while continuing to build up. His domination across eight High-A starts and one Double-A start gives him a ton of momentum heading into the Arizona Fall League where he will log some more innings.
The 21-year-old right-hander checked about every box you could want to see checked in year two. An uptick in velocity, better pitch shape, improved command and development of his already plus slider and now plus changeup. He even created his own box to check by adding a cutter to the mix to give him an electric four pitch mix.
The right-hander struck out 60 while walking just three in his nine starts despite adjusting the grip of his changeup and adding a new pitch. Athletic with elite makeup, Jobe has frontline potential and could debut at some point next season.
It's clear that the Tigers have one of the best pitching prospects in the game with Jackson Jobe.