Analysis
MLB Prospects Who Should Be On Your Radar
These prospects are making noise in the minors.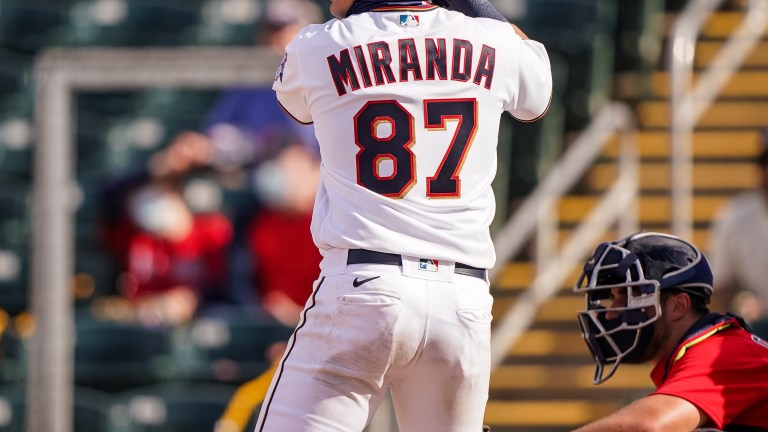 Breakout prospects are one of the few guarantees in professional baseball each season. The unprecedented 600 day layoff between minor league seasons gave players a ton of time to iron out any issues they had in the 2019 season, or add strength in the weight room, among other things.
While it is hard to argue that the minor league season being cancelled was good for the development of players, it was an opportunity for many to reflect on their season prior and build off of that through personal work. I recently sat down with Cardinals prospect Alec Burleson, who said the time off allowed him to bulk up for the first time in his career as a former two-way player.
All of that being said, lets take a look at the players who have made major jumps in 2021.
Jose Miranda – INF – Minnesota Twins
To say Miranda came from nowhere may be a bit much, as he was a second-round pick in 2016, but it is fair to say he was not on many radars heading into this year.
Miranda was drafted out of the Leadership Christian Academy in Guaynabo, Puerto Rico, becoming the school's highest MLB Draft pick ever. Miranda would only hold that record for one year, after the Giants selected top 100 prospect Heliot Ramos 19th overall in 2017's draft.
The first few seasons of Miranda's career were lackluster. The infielder had (and still does to a degree) a very aggressive approach, which caused him to often put balls in play which he could not do much with. His ability to manipulate the barrel and make consistent contact kept the Twins organization confident that Miranda could turn into at least a league-average hitter. After all, heading into this season, Miranda sported a career K-rate hardly over 10%.
The production was limited in 2019 for Miranda, slashing just .248/.299/.348 in High-A. Since then, Miranda put on around 20 pounds, and has seen a power surge at the plate. The newly turned 23-year-old has been one of the best hitters in the entire minor leagues this season, mashing to a line of .352/.410/.624 with 16 homers.
Miranda's incredible performance earned him a promotion to Triple-A, where he homered three times in his debut.
We will have to see if Miranda's offensive explosion will continue into the show, but his high contact rate paired with the added strength make him an interesting prospect for the Twins and worthy of our attention.
Joe Perez – 3B – Houston Astros
A second round pick in 2017, Perez was a two-way prospect who could reach 98 MPH on the gun. Having faced him myself, I can attest that he was a legitimate day one pitching prospect. Unfortunately for Perez, he needed Tommy John surgery ahead of the draft, but the Astros preferred the South Florida native as a hitter anyways, and gave him $1.6 million ($300k over slot) to forgo his University of Miami commitment.
Perez missed his first year of pro ball as he recovered from Tommy John, then made his full-season debut in 2019, understandably struggling to get his feet under him. His bounce back season was delayed with the pandemic, but Perez has come out swinging in 2021.
Still only 21-years-old, Perez boasts plus raw power, which he attains with limited effort at the plate. Perez has already climbed three levels this season, playing a dozen games in Low-A, 25 games in High-A, and now five games in Double-A. In the combined 42 games, Perez is slashing .321/.392/.599, with 10 home runs and a steady 21% K-rate.
The ball just explodes off of Perez's bat, and his barrel lives in the zone. He has shown an improved feel for driving the ball to all fields, which has likely come with the confidence that he can barrel pitches in different locations.
Defensively, Perez is not the most agile, but his plus, plus arm makes up for some of that at third base along with solid actions. Perez could not have had a much better start to his second professional season, and has made up for lost time by playing his way into Double-A. More than three years younger than his competition, it wouldn't be shocking if Perez slows down a bit in Double-A, but at just 21-years-old, Perez went from behind on his development track to ahead of the curb.
Jake Eder – LHP – Miami Marlins
A fourth round pick in the 2020 MLB Draft, Eder is quickly looking like one of the biggest steals in his class. The Marlins have a bit of a pipeline with Vanderbilt, drafting several Commodores through the last couple years, which is unsurprising considering that the Marlins Amateur Scouting Director DJ Svihlik previously served as an assistant on Vanderbilt's coaching staff.
Svihlik undoubtedly knew something about Eder that 29 other teams didn't, because the southpaw is out-pitching nearly all of the pitchers selected in the 103 picks before him. The Marlins were so impressed with Eder through instructs, that the team decided to start him in the Double-A rotation alongside fellow draftee and No. 3 overall pick in the 2020 draft, Max Meyer.
After only making 13 starts in college, Eder has already made 10 starts this season, pitching to a minuscule 1.03 ERA, while striking out 13 batters per nine innings. Eder's ERA is tops in the entire minor leagues for pitchers who have thrown a minimum of 50 IP, and is the only Double-A pitcher to surrender one home run or less on the year.
Eder's best pitch is his wipe-out slider, which is devastating to left-handed hitters and effective enough to back leg right-handed hitters. Lefties are currently hitting .106/.192/.170 against Eder this year with a 50% K-rate. As for righties, they haven't been to great either, slashing .165/.296/.194 with a 31% K-rate.
Eder was silenced the critics who deemed him a bit too inconsistent to be selected in the first couple rounds, thanks to his improved command of his heater. The southpaw will sit 92-94 MPH and occasionally grab a 5 or 6 on the gun, but hides the ball well, allowing it to get in on lefties quickly.
The fastball effectiveness should allow for his average changeup to play up a bit more as he becomes more comfortable throwing it, but there's no denying that Jake Eder has been one of the best pitchers in the minor leagues so far this year.
Spencer Steer – INF – Minnesota Twins
Steer is a guy who can flat out hit. Despite not having a tool that jumps off of the page, Steer's track record of hitting and consistent approach pushed him into the third round of the 2019 MLB Draft. Steer enjoyed a strong career at the University of Oregon, slashing .297/.401/.435 in 163 games, and also hit .304 with 5 homers in the Cape Cod League.
The versatile infielder kept rolling into professional baseball, hitting .280 in his 2019 debut, while walking more than he struck out. Steer showed up in 2021 with a bit of a different set up. Having all the confidence in his ability to consistently make contact, Steer was looking to generate more power (only hit 12 HR in 163 NCAA games).
Steer abandoned the toe-tap and added a controlled leg kick, which has helped him get into his back hip and be more explosive with the lower half. The adjustment has allowed Steer to tap into more juice, already mashing 13 homers in 50 games between High-A and Double-A. The videos below demonstrate the before and after.
When you go from a fringe-average power guy, to a 13 HR guy who is pushing 450 feet on his long balls, it's safe to say the adjustments are working out for Steer. The best part is that the added power has not come at the expense of his best attribute, his hit-tool. Steer has walked 38 times while striking out on just 37 instances, and is slashing .282/.411/.587 between High-A and Double-A.
An above-average defender at second and third base, Steer can even play an average shortstop, if necessary. His defensive versatility, above-average athleticism, and uptick in power give Steer a projection of a super-utility player with a chance to become an above average regular.