List
MLB Futures Game Recap
The prospects who stood out at MLB's Futures game.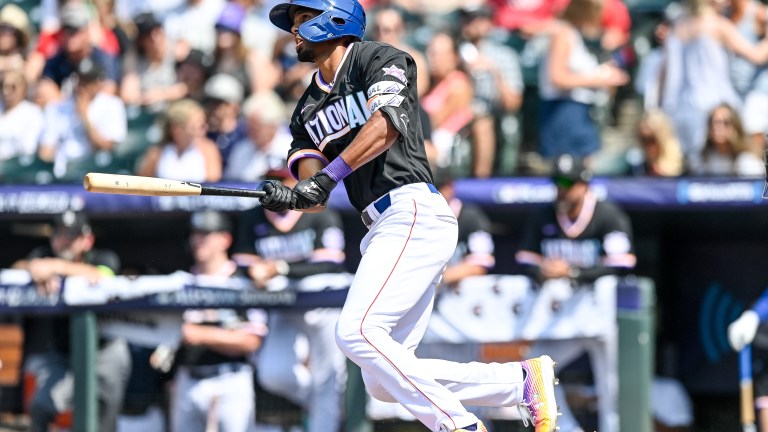 MLB's brightest young stars showcased their talents in the Futures Game at Coors Field yesterday, and it didn't disappoint. It was the first time that public exit velocity and pitch movement data were available on many of these players, which gives us a better picture of their potential. It is worth noting that the Coors Field environment does have an effect on not only batted balls, but pitch movement as well. Nonetheless, let's dive into the standout players and some under the radar guys about to gain more recognition.
Standout Hitters
Bobby Witt Jr. – SS – Royals
There was not a player that stood out more than Bobby Witt Jr. He lead the game off with a 112.7 MPH line-out to left off Matthew Liberatore, which was the hardest hit ball of the day. In Witt's next at-bat, he lined out to right field off Nick Lodolo, this time just a measly 103 MPH off the bat. Witt is a barrel machine, and put his power on display to all fields on Sunday. The 21-year-old is making the case for being the top prospect in baseball, drawing comps to Trevor Story and even Alex Rodriguez.
Brennen Davis – OF – Cubs
Well, maybe there was a player that stood out more than Bobby Witt Jr. You'd be hard pressed to find a bigger riser this season than Davis. He smashed two home runs at 103.5 MPH and 109 MPH (both over 400 feet), and looked calm and collected at the plate. He has four home runs since his promotion to Double-A, and with room to fill out his lanky frame, Davis has not yet reached his massive ceiling. Our own Aram Leighton has compared Davis to Matt Kemp with the power speed combination.
Francisco Alvarez – C – Mets
Alvarez, who is listed at 5'10 and 233 pounds, looks nothing shy of menacing in the box. He controls the bat well, and has a great eye for the zone. His strong legs and core allow him to generate an explosive amount of torque. After taking two strikes to start his lone at bat, he fouled off two more pitches before smashing a line-drive home run to left at 103.7 MPH. Alvarez looks ready to play with the big boys at the young age of 19. If he continues to find barrels he could reach New York sometime next season.
Spencer Torkelson – 1B – Tigers
Torkelson's approach at the plate was just so impressive. He has a quiet, but violent swing with just a short slide step, allowing him to stay back on breaking balls, while possessing the bat speed to catch up to any velocity. Torkelson hits everything hard, as made evident by two batted balls over 95 MPH yesterday including a single at 106.8 MPH. Torkelson is sporting a 159 wRC+ and seven bombs in 85 PA since his promotion to Double-A
Riley Greene – OF – Tigers
Sometimes out-shined by his teammate Spencer Torkelson, Greene shows great contact ability and could be the future lead-off hitter for the Tigers. He smashed two balls over 99 MPH, and made an amazing play in left field. Greene has a chance to stick in center field and would be a plus defender in a corner spot.
Standout Pitchers
Shane Baz – RHP – Rays
Baz made quick work in his one inning, striking out Michael Harris II and Brennan Davis, then retired Ryan Vilade to end the inning. Baz sat 95-96 MPH, topping at 98.5 MPH while averaging 2400 RPM on his fastball. The power righty showcased his plus slider, with sweeping horizontal break, and a changeup with a ton of movement. Hitters were clearly overmatched against Baz, who is statistically the best pitching prospect in the minors right now at the Triple-A level. He will play a big role for the Rays in their playoff race, and can be a frontline starter for the Rays soon.
Nick Lodolo – LHP – Reds
Lodolo has a filthy pitch mix that drives hitters nuts. He throws a hard sinker at 95-97 MPH which moves up to 16 inches horizontally. He also dominates with a sweeping slider at 82-84 MPH with 2700 RPM and 10 inches of horizontal movement. Both the sinker and slider compare to a Taylor Rogers type mix that creates a tunneling nightmare for hitters as they can't decide which way the pitch will move. The difference is, Lodolo projects as a front line starter with amazing command. He is tied with Reid Detmers for the MILB lead in K-BB% (35.6%).
Cade Cavalli – RHP – Nationals
I'm not sure I have ever seen a pitching prospect throw 99-100 MPH with less effort than Cavalli. Batters have an impossible time picking the ball up out of his hand. Cavalli worked one inning, walking two and striking out two without giving up a hit. Cavalli showed an impressively low amount of vertical movement on his fastball, only 11 inches, which creates the "rising" effect and gets chases up in the zone. He was very confident in his changeup as a secondary at 91 MPH with tons of sink that will get whiffs galore. He flashed a slider at 87 and a cutter at 91. looks like the complete package. It will be important for him to limit walks as he progresses, but his stuff is as good as anyone's in baseball.
Reid Detmers – LHP – Angels
There may not a pitching prospect with more pitchability than Detmers, who struck out the only two batters he faced. Detmers worked 93-95 MPH with his fastball and showed confidence in his curveball, slider and changeup. He has four plus pitches and his curveball, which he only threw once, is a plus-plus pitch and compares to Max Fried's curve. Detmers' changeup had 31 inches of drop and only 1300 RPM of spin, which compares to Andrew Heaney's filthy change. He got both K's on the slider, which only has one inch of horizontal movement, but 36 inches of vertical break, which compares to Robbie Ray's filthy slider. Detmers has struck out 43.8% of batters this season in Double-A and projects as a front line starter for the Angels.
Under the Radar
Jeter Downs – SS/2B – Red Sox
It's hard to call Jeter Downs under the radar, but Downs has struggled mightily in Triple-A through the first half of the season. Downs is hitting just .234 with seven homers while striking out at a 29.4% clip. Despite the swing and miss affecting Downs this year, he had some really good at-bats in the Futures Game. He struck out against Cade Cavalli in a nine pitch battle, including four straight upper-90s fastballs that he spoiled with two strikes before swinging over a nasty changeup.
In his last at-bat, Downs roped a double that short hopped the left field wall at 107.7 MPH. Downs has insanely quick hands at the plate, and didn't appear to be too over matched against some of the most over-powering arms in the minors. Look for Downs to potentially get things going in the second half.
Jake Eder – LHP – Marlins
Jake Eder, a college reliever out of Vanderbilt who was taken in the fourth round of the 2020 draft, has been one of the best pitchers in the minors this year. He has a sparkling 1.33 ERA and his striking out 36.5% of batters in Double-A in his first pro season. He showed off a low spin repertoire with a fastball at 95 MPH, a change up at 87 MPH with only 1400 RPM of spin and 29 inches of sink, and a slider at 87 MPH with 44 inches of vertical break and 2500 RPM of spin. It is believable that Eder sticks as a starter with three solid pitches, but he may struggle to get enough whiffs on his fastball. His floor is a high leverage elite lefty reliever that the Marlins desperately need out of their pen. No matter what, an absolute steal for the Marlins in the fourth round last season.
Luis Medina – – RHP – New York Yankees
Medina is a hard throwing righty with a fastball that reached 100.7 MPH with 2600 RPM of spin. The struggle for Medina has been control. He has walked 15.1% of batters this season in Double-A and appeared effectively wild in his outing in the Futures Game. The stuff is out of this world, but there is legit reliever concern. If Medina doesn't find control, he could slot in as a Dellin Betances type in the Yanks bullpen with a plus, plus fastball, curve and change up.