Analysis
Marlins Top Prospect Eury Perez Wows On the Backfields
Miami Marlins prospect notes from the Roger Dean Stadium backfields.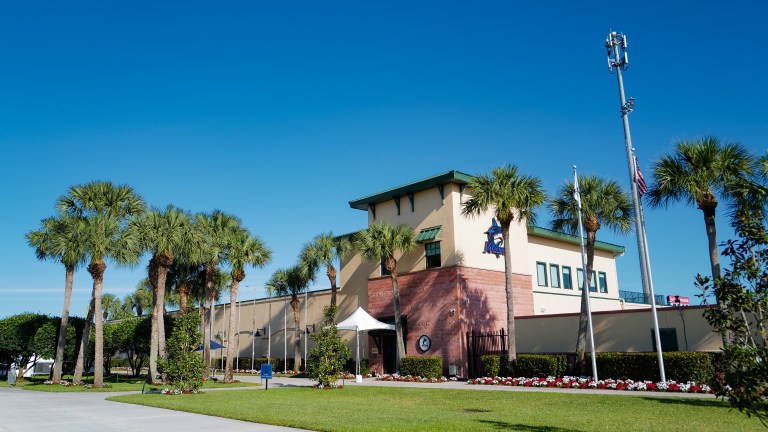 There was a palpable buzz on the backfields at the Roger Dean Complex on Friday afternoon with Marlins top prospect, Eury Perez toeing the slab for an exhibition game with the Washington Nationals.
Once an under-the-radar arm, Perez is now commands the attention of the complex. Not only does he stand out as a lanky 6-foot-8 teenager standing atop the the ten inch tall mound, but his loud stuff is enough to make you stop what you are doing and just watch him throw.
The 18-year-old sat 96-98 mph with his fastball along with high spin, riding life. It's important to note that these exhibition games are often an advantage for the pitchers as they are fresh and have been throwing bullpens to get their arms back into game shape while hitters are a bit rusty, not able to get many live at-bats prior. Still, the quality of Perez's fastball could be seen in the swings made by hitters.
Even in hitter's counts, Perez would garner half-hearted swings on fastballs that got in on batters quickly. Other times, Perez's counterparts would cheat for the fastball, leaving themselves exposed to either of his secondaries.
This was my first time seeing Perez pitch in person and what floored me above all was his ability to repeat his mechanics and feel for both his changeup and breaking ball. Perez's changeup sat 90-91 mph with impressive fade. Working off of a plus plus fastball with riding action, Perez's above-average changeup plays up as you can see in the video below.
Perez leans on his fastball rather heavily, but not out of necessity. Simply put, he can dominate with the fastball. The teenager's ability to use his above-average changeup right-on-right as well keeps hitters honest. Perez is comfortable going to either of his secondaries against hitters from either side of the plate, making him difficult to develop an approach against.
In his three-plus innings of work, Perez showed off his slurvy breaking ball against lefties and righties. Perez commands the breaking ball exceptionally well to his arm side and put that ability on display with several back door breaking balls to lefties. After watching him up close and personal, it wasn't not a surprise at all to see that Perez's splits were pretty darn even last season (righties hit .154 while lefties hit .165 against him).
Typically, tall, young and long-limbed pitchers struggle to repeat their mechanics, but Perez was pretty darn smooth. On a few pitches, Perez leaked open and his arm dragged a bit, but he would correct it and recapture the strike zone on the next offering. One other small nitpick is that I saw Perez slow his arm speed down a hair when throwing his changeup. It wasn't an egregious tip, but advanced hitters will pick up on that. I don't expect it to be an issue.
I don't think I am shattering anyone's earth by saying Perez is one of baseball's best pitching prospects. Frankly, it is hard to justify five pitchers being ranked ahead of this kid given his age, performance and unmatched measurables. My biggest takeaway from today was that barring anything unforeseen, Eury Perez will likely be the youngest Marlin to debut at the big league level since the late Jose Fernandez.
Other Marlins Prospect Notes
Marlins outfield prospect Griffin Conine impressed going 2-for-3 with an opposite field homer and a single. There is no doubting the prolific power of Conine–he has hit 58 homers in his last 188 MiLB games–but the swing-and-miss is the hurdle for the second generation Marlin.
Conine mentioned on The Call Up Podcast how he had been working on smoothing out his load and improving his timing with his lower half. The adjustments Conine has made were visible as his load and pre-swing movements are much more quiet and repeatable.
Conine will presumably start this season in Double-A and offers as much offensive upside as any prospect in the upper minors for the Marlins. The 24-year-old will need those swing adjustments to translate into about a 10% lower strikeout rate to force his way to the big leagues this year.
Another prospect who continues to impress me is catcher Paul McIntosh. Not only has McIntosh impressed me with his approach and pitch recognition, but he did a great job of handling a very lively Eury Perez behind the dish. McIntosh signed as an undrafted free agent with the Marlins out of West Virginia last year and was stellar with the bat in 24 Low-A games.
McIntosh showed off his plus raw power last year, launching six homers in 76 at-bats while only striking out 21% of the time against a 16% walk rate. The burly right-handed hitter posted exit velocities as high as 113 mph last season and with his better than expected approach, McIntosh could turn himself into a legitimate prospect if he can continue to make strides behind the dish.
Arm wise, McIntosh is just fine and his ability to handle Eury Perez gives reason for optimism in his defensive development. The former Mountaineer is absolutely a name to monitor moving forward.