Analysis
Bienvenidos A Miami: Eury Perez is a Marlins Star in the Making
The Marlins have another young phenom in rookie starter Eury Perez, who is quickly becoming an important sports figure in the city of Miami.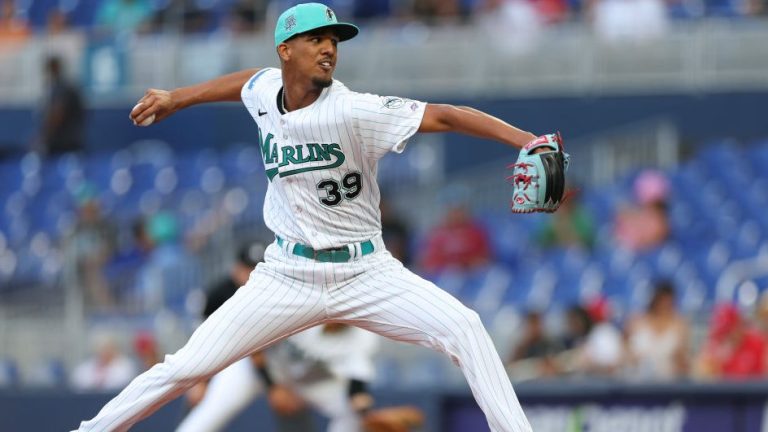 Miami has been a hotbed for exciting sports over the past couple of weeks. Between a Stanley Cup appearance by the Florida Panthers and a trip to the NBA Finals by the Miami Heat, the Marlins have been holding their respective sport.
Currently sitting at eight games above .500, the Fish are dismissing the narrative that they have been "lucky" and continue to come up clutch when it's needed.
Coming into the season, many expected the pitching staff to be the catalyst to a successful season. While they have held their own up to this point, even through injuries, the dominance is not coming from the reigning Cy Young award winner Sandy Alcantara.
After an ascension through the minor leagues at a meteoric pace, Eury Perez has arrived.
A New Hope
Coming off of his best start of the season, where he spun six scoreless innings against the Seattle Mariners, Eury has already made team history. The 20-year-old has posted a 1.80 ERA through his first seven starts of his career.
The Marlins have had their fair share of exciting young pitchers make their debuts for the team throughout the years. Josh Beckett, Livan Hernandez, Dontrelle Willis, and A.J. Burnett come to mind, but the impact that Eury has had on the Marlins fanbase, and the community itself, is mirroring the impact that Jose Fernandez had when he made his debut in 2013.
From his debut start on May 12th, Eury has brought added excitement to a fan base that has been clamoring for another bright, young, star to be the face of this franchise. On a ball club that rosters an exciting player like Jazz Chisholm, and Sandy Alcantara coming off of his career year, Eury has already made his case to be the headliner for the Marlins.
When Jose pitched in his backyard of Little Havana, it was an event separate from the game that was actually ongoing. The excitement that he generated when he took the mound was felt throughout the ballpark. Just seeing his name listed as the probable pitcher of the game brought extra butts into the ballpark.
Eury is already doing that as well.
"Baby Goat" is electric when he takes the mound. You can see a full breakdown of his first start in the article written by Aram here.
While some pitchers have the ability to spin a nice breaking ball every so often, Eury has made it an art.
What's Next for Eury?
The Marlins are currently in a tough spot when it comes to handling Eury throughout the rest of the year. With him on a strict innings limit, there have been rumblings of sending him back down to the Minor Leagues to manage his workload. Even though it might be the logical decision, I am against the notion that it is best for him, or the fans wanting to see him take the mound.
The impact that Eury has on this organization goes beyond baseball.
As someone who was born and raised in Miami, I have only felt this electricity twice before. First was when Miguel Cabrera made his debut in 2003 and the walk-off home run that he had in his first Major League at-bat. The second was, as previously mentioned when Jose made his debut for the team.
Since Eury's name has been mentioned on every Top Prospect list around the different platforms, and he supported the high rankings with dominant performances, the fan base was anxiously awaiting his arrival. I am now, again, feeling the same attachment to Eury that has been void of this organization since the tragedy in 2016.
Last year, the Marlins created the "Sandy's Beach" section. A whole section dedicated to Sandy where you would purchase a ticket package that came with a gameday ticket for Sandy's start, a themed t-shirt, and a K-card that shot up every time he recorded a strikeout.
That was the first time something like that was created since the "Jose's Heroes" section in left field when Jose would make home starts during his time.
With the impact Eury has already had, it would be ideal for the organization to highlight its bright young star. While Sandy's section was well-deserved, he isn't an original Marlin.
Like Jose was, Eury is.
He may only be 20 years old, but he is getting more comfortable with every start he has had. Eury Perez is, already, becoming must-watch TV. I am actively looking forward to every single one of his starts. That is something I haven't had in a long time.
Basketball season is over. Hockey season is over. Football is still months away.
It's Eury's time to shine.