Analysis
Diving Into Eury Pérez's MLB Debut
Just Baseball's No. 4 overall prospect showed glimpses of ace potential that should have Marlins fans salivating in his MLB debut.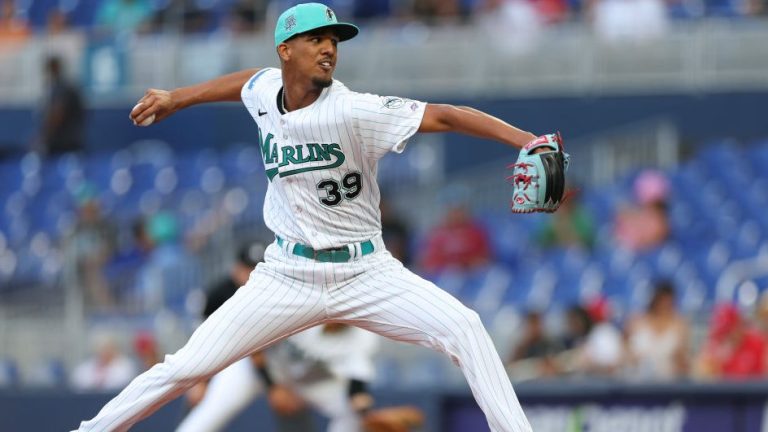 When Eury Pérez fired in a 99 mile-per-hour strike to Jonathan India to kick off the evening at 6:40 PM ET on Friday night, he became the youngest big leaguer in Marlins franchise history. It takes a special talent to break into Major League Baseball 27 days after their 20th birthday, but that's why Just Baseball had him pegged as the No. 1 pitching prospect in baseball heading into the season.
Pérez is a polished arm for his age with a feel for four big league offerings. He predominantly went to his fastball, slider and curveball, surprisingly only mixing in the changeup a few times. I say surprisingly because Pérez was using his changeup around 15% of the time in the minors, but the Reds lineup only featured two lefties. You can read the full writeup on his arsenal and pitch usage here.
Of Pérez's 88 pitches on the night, he threw: 40 fastballs, 26 sliders, 18 curveballs, and 4 changeups. He picked up a total of 16 whiffs: six on each of his breaking balls, and four on fastballs. I'm going to break down how Pérez used each of his pitches in this outing, at which points he seemed most effective, as well as where he made a couple mistakes.
Fastball
97-99 MPH
As I mentioned off of the top, Pérez went right after Jonathan India with a pair of 99 MPH fastballs to kick things off. He was able to get India to softly pop up with a well-located heater that tied him up. As you can see in the clip below, when Pérez elevates his fastball, it's an uphill battle for hitters to get a good swing off against it.
Since the beginning of last year, Pérez has only surrendered 14 home runs in the minor leagues, but 13 of those came against his fastball. Now, that doesn't mean his fastball isn't good; in fact, it's an easy plus pitch (closer to plus plus) both shape and velocity-wise. He has just missed over the heart of the plate a few too many times, something he got away with plenty at the lower levels. More experienced hitters began to realize the only way to beat Pérez may be to hope he misses middle with a heater and ambush it.
Averaging around 20 inches of induced vertical break, his fastball has a ton of carry, which results in more chase at the top of the zone. In Double-A this season, Pérez racked up a 30% chase rate on his fastball.
Now that I set the scene, Pérez is ahead of Nick Senzel 0-2 after striking him out in his first at-bat. Stallings wants a fastball at the top of the zone (or even above it), but he tugged it down towards the middle. As a result, Senzel laced it down the line for a double.
No Reds batter saw more pitches from Pérez than outfielder Jake Fraley. By his third at-bat, Fraley had already seen 15 pitches from the right-hander, including a 10-pitch battle in the third inning that resulted in a walk. Fraley hunted a first pitch fastball and got one over the heart of the plate.
While Pérez technically only throws a four-seam fastball, the movement profile can differ slightly on a pitch-by-pitch basis; some of them run arm-side, some cut and others remain straighter. This could play into the misses middle earlier in counts, as he is expecting the fastball to run towards the arm-side third of the plate or cut towards the glove side, but the ball doesn't always do what he wants.
I showed an example of the fastball running in on a righty with that India pop up, but some of Pérez's heaters with cut action looked like a nightmare for hitters.
On this 2-0 pitch to Spencer Steer, the fastball starts middle and cuts late towards his glove side. you can see the late movement surprise Steer as he pulls off of it.
Steer wasn't the only one surprised by the cut on his fastball. On the very next pitch, Pérez throws another one that starts a bit further out, and Gold Glove catcher Jacob Stallings basically whiffs on it as it hits right off of the edge of his glove. This came after the 2-0 fastball in the video above nearly took Stallings' glove with it. To be clear, this is not an indictment on Stallings; it is a testament to the unpredictability of Pérez's fastball shape at times.
Even when hitters are sitting fastball, they are going to have a really tough time squaring it up if Pérez puts it where he wants to. In the next clip, Pérez is behind 3-1 to nine-hitter Jose Barrero with nobody out. Of course, Barrero is sitting heater here, but there is nothing he can do with this pitch besides pop it up. In this instance, the fastball features a bit of arm-side run and plenty of carry.
All in all, Pérez's fastball control was great. He threw 40 fastballs and landed 29 for strikes (72.5%). It was the command of the fastball that held him back from an even more impressive night. He picked up four whiffs, but there's room for more. He did not pick up a single chase swing on a fastball, but that's because nearly all of his misses were east/west. Fastballs that miss in or away are much easier for hitters to lay off of than at the letters, especially when you consistently feature more than 20 inches of carry.
Slider
86-89 MPH
With so many right-handed hitters in the Reds lineup, Pérez leaned on his slider heavily, a pitch that has been there consistently for him this year in the minors. He only landed 14 of his 26 sliders for a strike, but many of his misses served a purpose. Where this pitch looks like it's headed versus where it ends up…Senzel never had a chance.
Pérez also does a good job of repeating his release point. Remember that Barrero foul pop up on the fastball up and in a few clips ago? Pérez followed that up with a slider that dives just below the zone. Barrero was sped up by the 3-1 fastball, and was likely cheating for it again 3-2. Cheaters never prosper.
Again, even though the strike rate was not totally there with the slider, there were times where Pérez could not have placed the slider any better. His confidence in the pitch was palpable, and you're not going to find a much better example of that than this 2-1 slider to India.
In his six Double-A starts this year, Pérez landed his slider for a strike 67% of the time, and though the strike rate was a bit lower in his MLB debut, he racked up six whiffs on 12 swings. Expect that pitch to continue to be his favorite weapon against righties.
Curveball
79-81 MPH
The curveball was fantastic for Pérez. This has been a fun development this season, as he seems to have tweaked the shape of the pitch a bit in order to further separate it from his slider. Though he only mixed it in a bit over 10% of the time in his six Double-A starts this year, opponents were 1-for-11 with six strikeouts.
Pérez went to his curve 18 times, landing 14 for a strike (78%). Most impressively, a third of the curveballs he threw resulted in a whiff. He did a great job of keeping his curveball down, but even in the few times he left it a bit elevated, the late break and improved depth of the pitch still resulted in whiffs.
The confidence that the 20-year-old has in all of his offerings is remarkable as well. A pitch he generally throws once out of every ten pitches, he goes to again in the same at-bat against Wil Myers in a 3-2 count with a runner on third. Suffices to say: Myers was not expecting it.
Changeup
89-93 MPH
With Henry Ramos and Jake Fraley being the only left-handed hitters in the lineup, Pérez rarely went to his changeup; he threw four in total, and only one for a strike. With how little he threw it, he never really got the chance to gain a feel for it in the game, but there was one great example of what the patented Marlins turbo-change can do: get ground balls.
When it's on, Pérez's changeup is easily his best pitch, which is why it's so impressive that he was able to have success in his MLB debut without really using it. It is worth noting that Pérez has been a bit inconsistent with his feel for it in the early goings of this season, entering racking up just a 57% strike rate in Double-A with the offering. Much like Sandy Alcantara, the changeup was a ground ball machine for Pérez in 2022, where he picked up a 70% ground ball rate when going to it.
What To Look For Next Start
Overall, it was an extremely impressive debut from the best pitching prospect in baseball. I'm sure Pérez would've liked to go a bit deeper into the start, but the Marlins have been very careful with him, hardly letting their top arm eclipse 90 pitches in the minors.
As I've mentioned on our prospect podcast, The Call Up, the two keys to Pérez really hitting the ground running at the big league level will be command of his fastball and feel for his changeup. Even sitting in the upper 90s, fastballs left over the middle will get sent over the wall by MLB hitters.
That said, it is clear that walks won't be a massive issue for the talented 20-year-old, nor will varying his looks to hitters. Already with Sandy Alcantara in the fold, the Marlins may have found one of the few arms that rivals the reigning Cy Young winner in talent; now, it's just a matter of putting it all together.