Analysis
Mark Vientos Called Up, Mets Best Bet to Add Power
Mark Vientos showed all the improvements you could ask for in Triple-A to believe he is ready to be an impact slugger at the MLB level.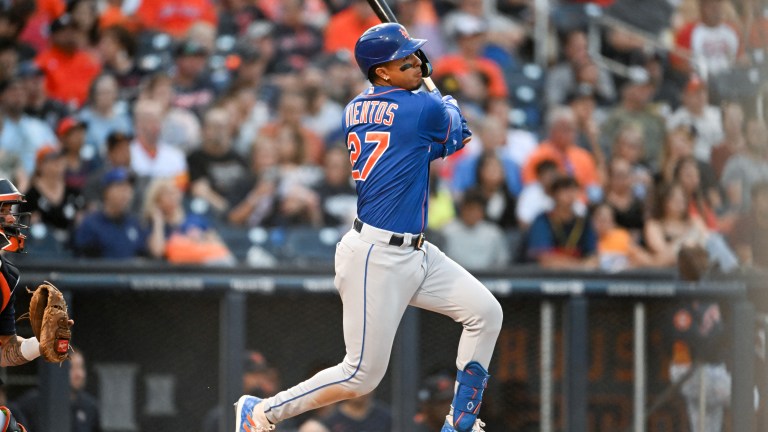 The New York Mets are searching for answers right now. After closing April losing five of their last six games, the Mets are 5-11 to begin May, dropping their series against the Tigers, Rockies, Reds and splitting a four-game set against the Washington Nationals to open the month.
During this run of poor play, the Mets have leaned into their youth, starting top prospects Brett Baty and Francisco Alvarez nearly every day in hopes of providing a spark to an otherwise struggling offense. Even though Alvarez and Baty have been nice additions, the Mets continue to come up short.
With a lineup that is getting less than they expected from veterans like Francisco Lindor, Jeff McNeil, Starling Marte and Mark Canha, the Mets continue to struggle to put runs on the board whenever Pete Alonso isn't hot. While there are many issues with this lineup right now, one of the biggest ones is there inability hit home runs.
As a team, the Mets have 44 home runs, which is the 20th in MLB. Alonso has hit 14 of those home runs, with the rest of the lineup combining to produce just 30 home runs across the board.
Alonso needs a bash brother in the middle of the lineup that can pick up the home run hitting slack when he's going through a slump. The answer to this problem has always been to promote Mark Vientos and according to reports, that is exactly what the Mets have decided to do.
All stats were taken prior to play on May 16th
The Man Who Was Left Behind in Triple-A
Until today, Mark Vientos was going on his second season stuck in Triple-A, but his place in Syracuse was more due to circumstance than to merit at this point. For all intents and purposes, Vientos is as big league ready of a bat as you can find in the minors right now.
He just played his 150th game in Triple-A with over 600 plate appearances at the highest level of the minors and has largely succeeded across the way. Outside of a cup of coffee in the show, Vientos spent all of last year in Triple-A and hit .280/.358/.519, with 24 home runs and a 129 wRC+.
After struggling in his 16-game audition with the Mets last year, Vientos showed up to spring training looking to win a spot on the Opening Day roster, but failed to make the team. Back to Triple-A Vientos went, where he has been tearing the cover off the ball to start his 2023 season.
Through his first 37 games played, Vientos is hitting .331/.416/.676, with 12 home runs, 11 doubles, 35 RBIs and a 167 wRC+. He has cut his strikeout rate from 28.6% last year, down to 20.5% this year, while still walking at a great 11.8% clip.
All of this is to say that Vientos has proven that he has mastered the Triple-A level as a hitter, yet found himself stuck in purgatory waiting for a promotion back to the Mets. Meanwhile, Vientos has to watch Baty and Alvarez get their chances at the big league level, as the fellow top prospects leapfrogged him thanks to their fit on the team defensively.
Alvarez was promoted first, filling the void of the injured starting backstop, Omar Narvaez. Baty on the other hand earned the starting third base job, improving drastically as a defender to the point where he became a clear all-around upgrade over Eduardo Escobar.
Vientos on the other hand profiles more as a first baseman than a third baseman at this point, and it's hard to find time at that position on a roster that features one of the best in baseball with Pete Alonso.
Still, Vientos is the type of bat that forces teams to make tough decision and find a way to get an ill-fitting defender into the lineup. The question the Mets had to ask on Vientos is if his profile is safe enough that they can comfortably expect him to produce all year if they were to open up a roster spot by designated one of their veterans.
Improvements Vientos Has Shown in 2023
If there were a few things concerning about Vientos' profile from last year, setting the defense aside, it would have been his struggles against right-handed pitching and his struggles against breaking balls (which really go hand-and-hand with each other).
That high K-rate from last year was largely due to Vientos' inability to identify breaking balls outside of the zone, which was exposed greatly at the big league level. With the Mets, Vientos went just 1-for-12 in plate appearances that ended with a breaking ball, striking out five times.
There was a recipe to get Vientos out and it was something he had to clean up to be able to have success against big league pitching. If we look at how he performed in Triple-A last year to this year, the biggest change you will notice is his ability to handle breaking balls.
Last year, Mark Vientos hit .150/.209/.242 with a 37.2% strikeout rate against breaking balls. He only walked at a 6.2% clip against breaking ball as well. This year, Vientos is hitting .265/.357/.471 against breaking balls. He has drastically slashed his K rate down to 21.4% and is walking more than twice as frequently against those breaking pitches as well (14.3% BB%).
Looking at individual pitches, Vientos had an OPS of .449 against sliders and .407 against curveballs. This year his OPS against those pitches is .805 and 1.302 against sliders and curveballs respectively.
By being able to identify and spit on breaking balls, Vientos has seen more fastballs and has been having even more success against heaters than he even did last year.
Last season, Vientos saw fastballs 40% of the time and hit .302/.408/.562, with 11 home runs in 201 plate appearances that ended in a fastball. This year, Vientos is seeing fastballs 48% of the time and is hitting .377/.462/.844 with 10 home runs in 91 plate appearances. He has even cut his K rate from 24.4% to 15.4% against fastballs.
Bottom line, Vientos is not getting himself out by chasing breaking balls out of the zone and that allows him more opportunities to attack heaters in the zone and take advantage of his game power. His zone contact is up 5% from last year and his chase rate is down 5%.
Vientos is homering once every 13.4 plate appearances this year, compared to a homering once every 17.8 plate appearances last year. If he were to maintain this pace over 600 plate appearances, he would hit 45 home runs this season.
Across their respective minor league careers, Vientos has hit home runs more frequently than any of the Mets top prospects.
Vientos really is the Mets best bet on the 40-man roster to add significant home run pop to the middle of their lineup. The only problem is how to get him into the starting lineup.
Vientos Should Be the Mets Everyday DH
Right now the Mets are on year two of trying a DH platoon centered around Daniel Vogelbach. They acquired the hefty lefty at last year's deadline and he has since been a net positive for New York in the strong-side of a DH platoon, facing all right-handed pitchers.
Across 87 games played with the Mets dating back to last year, Vogelbach is hitting .255/.390/.416, with a 137 wRC+ that is second-best on the team to only Pete Alonso. Vogelbach draws most of his value with his great eye, having drawn walks at a near 18% clip during his Mets tenure.
Here's the problem though. Vogelbach has hit just eight home runs in nearly 300 plate appearances.
As much as we can point to his wRC+ and on-base percentage and say that Vogelbach is giving the Mets well-above average at-bats, he is not moving the needle as much as Vientos could. He is a player that has too many deficiencies, forcing you to roster other players to make up for them.
Vogelbach does one thing really well. He sees the ball great against right-handed pitchers.
Other than that, he doesn't face lefties, he doesn't field a position and he clogs the bases with his lack of speed. A walk only takes you so far when Vogelbach isn't scoring from first on most doubles and having to carry a designated pinch runner for late-game situations creates the type of roster crunch that keeps Vientos in Triple-A.
This is not to say that Vogelbach is the player that most deserves a DFA on this Mets roster, he is just the player who is most in Vientos' way for playing time.
At bare minimum the Mets should platoon Vogelbach and Vientos at DH, as the 23-year-old represents a big upgrade over Tommy Pham, who has filled that role so far this season. Pham has a .641 OPS and his best days are probable behind him at 35 years old.
Still, if the Mets cut Pham, they would be down to three outfielders on their roster, with Jeff McNeil functioning as both the starting second baseman and the fourth outfielder. The best roster fit would probably be to cut Eduardo Escobar, but he is a vocal leader in that clubhouse and has actually taken well to his limited bench role with Baty starting at third.
Considering the success that Vogelbach has had, the Mets would probably be best-suited keeping his bat on the roster, while cutting into his playing time with Vientos. Whether that means playing a man short in the outfield by letting go of Pham, or moving on from a veteran leader in Escobar, a change had to be made sooner rather than later. At the time of publish, we still don't know who will be the roster causality for promoting Vientos.
Ultimately Mark Vientos is just too good to waste in Triple-A. Luckily the Mets front office has finally realized that and made the move to promote him.