News
New York Mets to Promote Top Third Base Prospect Brett Baty
After being hit hard with injuries at the hot corner, the New York Mets are promoting No. 2 prospect Brett Baty to take over at third base.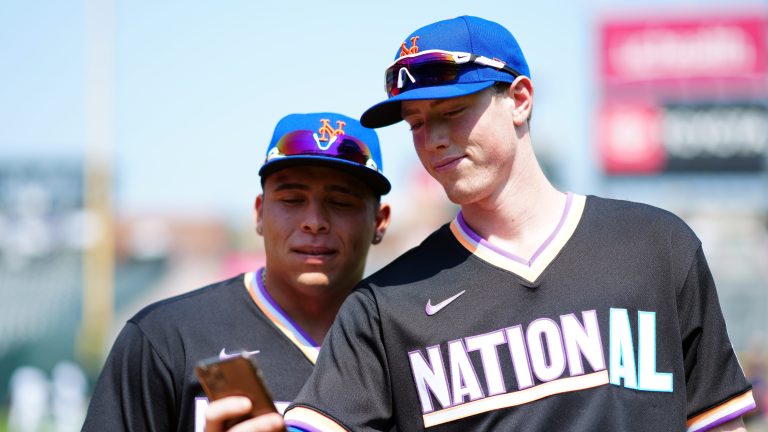 The New York Mets are dipping into the farm to help deal with an injury at the big league level. After losing Luis Guillorme to a groin injury during Sunday's victory over the Phillies, the Mets have decided to promote their top infield prospect to take over the primary duties at the hot corner.
Baty, 22, was drafted by the Mets with the 12th overall pick of the 2019 MLB Draft out of high school. The top-level prep bat has quickly shot through the Mets farm system, playing at every level across his three seasons in professional baseball.
Last year, Baty began the season in High-A, but was promoted to Double-A after playing 51 games where he hit to a .309/.397/.514 slash line with 22 extra-base hits. Baty spent 40 games at Double-A last year and posted a respectable .787 OPS. This year however, Baty became one of the top hitters in the Eastern League of Double-A.
Across 89 games played with the Binghamton Rumble Ponies in 2022, Baty hit .312/.406/.544, with 19 home runs, 22 doubles and 59 RBIs. His 159 wRC+ was the top mark in the entire league, as was his .950 OPS.
A little over a week ago, Baty was finally promoted to Triple-A, where he joined fellow top prospects Francisco Alvarez and Mark Vientos. In his first eight games played at the highest level of the minors, Baty hit .364/.462/.364.
In promoting Baty, the Mets are passing over Vientos, who has spent the entire season in Triple-A and has posted strong numbers with 19 home runs and a 129 wRC+. Ultimately this comes down to a matter of fit though and Baty is a better replacement for what they just lost in Guillorme.
Following the addition of Tyler Naquin, the Mets made the decision to keep Jeff McNeil as the everyday second baseman, instead of juggling him between left field and second like they had all season. This forced Guillorme into more of an everyday role at third base, giving the Mets great infield defense with Francisco Lindor, McNeil and Guillorme.
Eduardo Escobar had lost his everyday role, as he has struggled greatly facing right-handed pitching this year (.588 OPS). Escobar has however fared better against left-handing pitching, which made him the perfect compliment to Guillorme at third base.
With Guillorme out, Baty can now assume the left-handed bats of a third base platoon with Escobar, giving the Mets a much better bat than trying to force feed everyday playing time to Escobar.
In Double-A this year, Baty hit .331/.431/.549, with 15 home runs and a .980 OPS against right-handed pitching. Baty also has a better glove at third base than Vientos, although he is still projected to be average at the position at best, if not slightly below-average.
Escobar was scratched from starting Tuesday night's game and Deven Marrero is set to start in his place, so the Mets are still waiting to officially get Baty to Atlanta, but the top prospect should be in the starting lineup against Jake Odorizzi on Wednesday night.
Scouting Report
Prior to the season, Brett Baty was ranked very highly on our top 100 list, coming in at No. 25. He was the second-best prospect in the Mets system behind catcher Francisco Alvarez. Here is Aram Leighton's pre-season breakdown of Baty as a prospect.
25.Brett Baty – 3B – New York Mets
Age: 22 | Height/Weight: 6'3′, 210 | Bat/Throw: L/R | 1st Round (20), 2019 (NYM) | ETA: 2022
| | | | | | |
| --- | --- | --- | --- | --- | --- |
| HIT | RAW POWER | GAME POWER | RUN | FIELD | FV |
| 45/55 | 55/60 | 45/55 | 30/30 | 45/50 | 60 |
2021 Stats (A+/AA): .292/.382/.473, 12 HR, 35 XBH, 132 wRC+, 25.5 K%, 11.9 BB%
Offense
Very loose and relaxed setup that features a wide base in which he holds the majority of his weight in a coiled back hip. The swing is still a little raw because Baty is inconsistent with his lower half weight transfer; he has a tendency to lose the power in his lower half when he doesn't load correctly. With that being said, Baty features both quickness and bat speed, with the latter being close to elite once he's fully developed. Baty's loudest tool is his raw power to all parts of the field thanks to his immense combination of strength and bat speed.
The power that he flashes to the opposite field is truly unique because of his ability to hit home runs to left field that even right handed hitters have trouble reaching. He deploys the approach of a "fastball masher," as he is aggressive to heaters in all parts of the zone. His pitch recognition is advanced for his age and he has shown an ability to sit back and drive hanging breaking balls as well.
There is some swing-and-miss to his profile, but it could be due to his inconsistent swing mechanics that also produce more ground balls than a player like Baty should be hitting. Baty's swing mechanics hint at untapped upside in his offensive profile and once he shores them up, his advanced approach and physical tools could blend into a middle-of-the-order run producer at the highest level.
Baty's plus raw power can be seen when he hits the ball in the air, but the 22-year-old simply did not do enough of that last season. In 91 games between High-A Brooklyn and Double-A Binghamton, Baty recorded a ground ball rate above 55%.
When Baty did get the ball in the air, it went. Nearly a quarter of his fly balls left the yard in 2021, but for a power hitter, you cannot be hitting the ball on the ground more than half the time.
Defense/Speed
Baty is a physical presence at 6-foot-3, 210 pounds and while he moves well for his size, we don't believe he will be an impact defender at the hot corner. His feet are heavier than most third baseman and while he has soft hands, range will always be a problem due to his size. He has a chance to be average defensively, but that seems to be best case scenario. Baty's plus arm is an asset for him in the field and he moves well enough to deploy in left field in a pinch. First base is his best natural fit, where his soft hands and solid footwork could add up to becoming a plus defender.
Outlook
Baty's profile is driven by his undeniable ability to hit. His plus power potential and strong approach lead me to believe he will be an impact bat in the big leagues in due time. Baty's power to all fields will translate at the highest level if he continues to improve on his ability to get the ball in the air. 30+ home runs with a high on base percentage is the hopeful outcome for Baty, and he has a good chance of achieving it.