Analysis
First Round Sleepers in the 2023 MLB Draft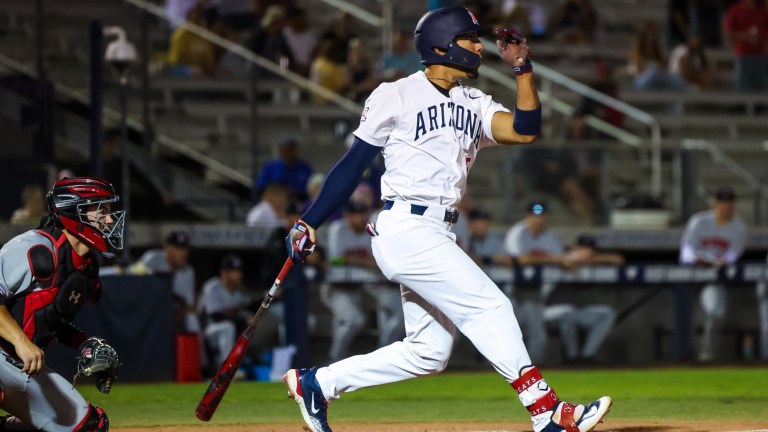 We see it every season — lesser known prospects, usually ranked in the No. 40-70 range by most outlets, get selected much higher than predicted. This is due to a couple of factors, most importantly draft strategy and simply teams being much higher on a player than the industry.
It is common to see teams that have multiple picks in the top couple of rounds go way under slot with their first selection. The Orioles have built a reputation of this with recent picks such as Jackson Holliday ($8.19m, $8.85m pick value) last season and Colton Cowser in 2021 ($4.9m, $6.18m pick value). Last July, the Cubs selected Cade Horton ($4.45m, $5.71m pick value) seventh overall and later drafted prep lefty Jackson Ferris ($3.01m, $1.66m pick value) with the 47th pick after a substantial slide down the board.
This dynamic exercise of moving money around across upward of 25 picks can help teams land bonuses commanding high schoolers later in the draft. Last year the Rangers proved this, surprisingly drafting Kumar Rocker ($5.20m, $7.59m pick value) third overall and then landing Brock Porter ($3.7m, $560.2k pick value), a consensus top 15 pick, in the fourth round.
The second reason can only be explained simply: a team is just higher on a player than everyone else. This has proven successful in recent years, with surprising selections such as Nick Yorke and Anthony Volpe looking promising early on. The most recent example is Xavier Isaac, who was selected by the Rays 29th and paid slot value ($2.55m), despite being outside the top 100 industry-wide.
This list won't include players like Walker Jenkins or Noble Meyer, as we know they are the gems of a stacked prep class. Rather, you will find players that we could see selected much higher than expected. While most should be looked for towards the back half of the first round, in the picks 20-39 range, some have a chance to break into the top 15.
As a side note, when referencing "first round" think picks 1-39, which include the Prospect Promotion Incentive pick and Competitive Balance Round picks.
Pitchers
LHP Joe Whitman, Kent State – Whitman solidified himself as the top college left-handed pitcher in a very thin class this spring after posting a 2.56 ERA over 15 starts, striking out 100 in 81 innings. Whitman is your prototypical "pitchability" college southpaw, with good command of all three of his offerings. His calling card is a sharp two-plane slider in the low-80s that has seen spin rates in the 3,000s. Whitman's fastball is a quality offering as well, which has reached 96 at its peak with good riding life up in the zone. He had generated some buzz heading into his Junior season due to an impressive nine-strikeout performance on the Cape. Watch for a team to take Whitman somewhere in the 25-35 range, where a club will get a high-quality college arm with the potential to save some money.
LHP Cameron Johnson, IMG Academy (FL) – Johnson is a physical 6-foot-5 lefty that has seen his fastball up to 98 recently, giving him tremendous upside as a back-end gem in a stacked prep pitching class. Johnson's breaking ball is a high spin sweeper that sits in the mid-70s but he will need to throw more strikes with all of his offerings in order to be effective. An LSU commit, Johnson has a very real chance of making it to campus, although an over-slot deal in the 28-39 range is a possibility.
LHP Paul Wilson, Lakeridge (OR) – An Oregon native, Paul is the son of long-time big leaguer Trevor Wilson and figures to have a strong commitment to Oregon State. Like previously mentioned Cameron Johnson, the knock on Wilson is his inconsistency in the strike zone. Despite his lack of control, Wilson has an exciting four-pitch mix headlined by a fastball that has been up to 97 with good shape and a slider that has been highly praised by evaluators. He also throws a curveball and changeup that will need more development. Wilson is another guy who could get an over-slot deal in the sandwich picks of round one.
RHP Charlee Soto, Reborn Christian (FL) – Soto has gotten a ton of buzz since his strong spring, making him a possibility to be the second prep righty off the board after Noble Meyer. One of the youngest players in the class, Soto will be just 17 when selected and offers a ton of upside. A big 6-foot-5 frame, Soto has gotten his fastball up to 98 and complements it with a pair of advanced secondaries. First is a devastating changeup that Soto has thrown for strikes consistently and has been in the mid-80s with good shape and fade. The next is a power slider that has recorded good spin rates. He is committed to Central Florida, but should be a first-rounder come Sunday.
RHP Josh Knoth, Patchogue-Medford (NY) – It's hard to find a prep arm with more arrow-up buzz than Knoth has received this spring and summer. The New York native has an advanced mix of three above-average or better offerings, along with a developing changeup and good command of all his pitches. A medium-sized righty, Knoth has been up to 98 with his fastball. His best pitch is a 3,000+ RPM slider that many evaluators think is a top offering in the prep class. An Ole Miss commit, I fully expect a team to sign Knoth away from school in the back end of the first round.
RHP Blake Wolters, Mahomet-Seymour (IL) – Wolters is another advanced right-hander with some powerful stuff and good analytical profiles on his offerings. With a fastball that has produced spin rates in the 2,300+ range, along with a hard slider in the mid-80s. His changeup is still in development, but with a good projectable frame and solid control, watch for Wolters to be selected more highly than originally thought. Wolters is an Arizona commit.
RHP Zander Mueth, Belleville East (IL) – A big 6-foot-6 righty, Mueth features an impressive trio of pitches with a ton of projection. Mueth's fastball has been up to 97 and has got a good amount of swings-and-misses on the offering. The Illinois product has a solid pair of secondaires, including a mid-80s slider with an advanced movement profile and a changeup with solid fade. As with most power prep pitchers, Mueth will have to improve his command and strike-throwing ability at the next level. An Ole Miss commit, Mueth should command a high price tag at the back end of round one or somewhere across round two.
RHP Joey Volchko, Redwood (CA) – Volchko had an impressive senior year in a stacked California prep landscape and blew away scouts with his ability to throw four advanced offerings. An effortful over-the-top delivery, Volchko has gotten the fastball up to 96 and should get into the upper-90s soon. His best pitch is a mid-80s slider with good two-plane movement and swing-and-miss ability. Volchko also throws a curveball and changeup that have both gotten solid reviews about how the offerings could develop. A Stanford recruit, his commitment should be strong and will command a high price tag.
Infielders
1B Nolan Schanuel, Florida Atlantic – Schanuel may be the top mid-major hitter in the class not named Jacob Wilson, taking the crown from previous first-round picks such as Zach Neto and Colton Cowser. Defensively, it is a safe bet that Schanuel will stick at first, but the bat is where he will make his money. The Boca Raton native put up video game-like numbers for Florida Atlantic, posting a .447/.615/.868 line in 2023. It is likely a hit-over-power profile but Schanuel could easily grow into 25+ homer power at the next level. With tremendous pure-hitting ability and a price tag that won't be high, look for a team to take Schanuel much earlier than expected, possibly in the top half of the first round.
1B/C Ralphy Velasquez, Huntington Beach (CA) – It's hard to find more impact potential from a prep bat than there is with Ralphy Velasquez. A physical left-handed swinger, Velasquez has big power and advanced plate skills that make him a popular name among high school bats. It's safe to say that Velasquez will be picked in the first round, but just how high is the question. There are a lot of teams toward the back end who develop high school bats well, including the Rays, Orioles, Cardinals, Guardians, and Padres to just name a few. Defensively, Velasquez will have to get much better behind the plate to stick there, with first base as a likely outcome despite a plus arm. An Arizona State commit, Velasquez should command a higher bonus but should sign due to his popularity among clubs.
1B/3B Gino Groover, NC State – An accomplished hitter, Groover has a career .957 OPS in college, as well as 27 homers and 38 doubles. Groover has done everything you look for in terms of approach, failing to strike out a lot and walking a good amount. Defensively, Groover will likely end up at first base long term, despite playing third more recently. The Georgia native could be picked in the 25-39 range by a team looking for a safe college hitter and shouldn't command an outrageous price tag.
SS Mitch Jebb, Michigan State – Jebb has done nothing but hit since becoming a Michigan State Spartan, slashing .327/.413/.464 in 147 career games. While there may be questions about his impact ability and power output, Jebb is one of the top pure hitters in the college class. He proved many doubters wrong after a monster summer in the Cape Cod League where he posted a .919 OPS. Defensively, Jebb should be able to handle second base just fine, with some possibility of an outfield spot due to his plus speed. It's hard to imagine that Jebb would cost too much due to his profile, with a possibility of him going in the back-end of round one.
SS Adrian Santana, Doral Academy (FL) – Santana is a switch-hitting shortstop who may be the fastest infielder in the class, with run times earning him a 70 grade. With the bat, Santana offers a line-drive approach and quick, smooth swings from both sides. An agile defender, Santana will stick at shortstop at the next level. With maybe the strongest commitment in the class of his hometown Miami Hurricanes, it is safe to say that Santana has a lot of leverage. One situation I believe could happen is the Marlins taking him at 35 for some sort of hometown discount.
SS Sammy Stafura, Panas (NY) – It's hard not to see a lot of Anthony Volpe in Stafura, who may have a more dynamic skillset, with plus running ability and a clean swing from both sides of the dish. The New York native has flown up draft boards thanks to a strong spring and raw power that have some believing in his impact ability. Defensively, Stafura is a lock to stick at shortstop thanks to his advanced actions and abilities up the middle.
SS Cooper Pratt, Magnolia Heights (MS) – Pratt is another high-upside prep shortstop that has the chance to go in the first round. A big 6-foot-4 shortstop with a strong arm, an eventual home of third base is a very real outcome. Pratt is a polished and advanced hitter with good plate skills and average running ability. An Ole Miss commit, the Mississippi native should drive up a high price tag, with the possibility of him going over slot very real.
3B Mac Horvath, North Carolina – Horvath features an exciting set of tools, including a power/speed combination that allowed him to swipe 25 bags and hit the same amount of bombs in 2023. Despite playing a lot of third base in college, Horvath's speed, arm, and athleticism could allow for him to be a plus defender in the outfield. A 22-year-old, Horvath has been draft-eligible in the past and could be a worthwhile savings pick in the back end of the first. He hit for good power with a wood bat in the Cape Cod League.
3B Mike Boeve, Nebraska-Omaha – Boeve has been on my radar for a while, going back to his impressive performance in the Cape Cod League (.275/.403/.333) last summer. As with all small mid-major hitters, there may be some questions regarding just how much he will hit, but it's hard to downplay his .360/.469/.526 slash line at school. Defensively, Boeve could end up at first base if his third base play isn't improved. Watch for a team to save some pool money on Boeve somewhere in the 30-39 range.
Outfielders
RF Chase Davis, Arizona – Davis has steadily risen up draft boards over the past few months due to a strong junior year that saw him slash .362/.489/.742 with 21 homers. One of the cleanest left-handed swings in the class, it's hard not to see some Carlos Gonzalez in Davis. Complimenting his power is maybe the strongest outfield arm in the class, along with a decent bit of athleticism. For my money, Davis should be looked at toward the top of the second tier of college hitters. Looked at as a back-end first-rounder now, watch for Davis to be selected within the top 15 picks.
CF Jonny Farmelo, Westfield (VA) – Farmelo was my inspiration for this list, as it's easy to see a scenario where a back-end team likes him enough to make him their selection. A 70-grade runner, Farmelo is a lock to stick in center with an above-average skill set. A left-handed swinger, the Virginia commit is highly regarded as one of the top pure hitters in the class, with a price tag that may be higher than most.
RF Will Gasparino, Harvard-Westlake (CA) – Gasparino is the definition of physical thanks to a big 6-foot-6 frame, profiling long term in right or center thanks to a big arm and above-average running ability. The son of Dodgers scouting director Billy Gasparino, Will has the baseball bloodlines that some teams crave. A right-handed swinger, Gasparino has good power to all fields with some questions about his approach that can be ironed out in pro ball. A Texas commit, Gasparino should command a higher price tag and could get paid by a saving team in the 30-39 range.
LF Colton Ledbetter, Mississippi State – A mid-major transfer to the Bulldogs last season, Ledbetter proved that he could hit power five pitching, slashing .320/.452/.574 with 11 more walks than strikeouts. Ledbetter also swiped 17 bags, complimenting his well-rounded toolset. Ledbetter is also an analytics darling, with any plate discipline-oriented rate in a good range. Much like the previously mentioned Nolan Schanuel, if a team likes Ledbetter's bat enough, watch for him to be selected in the middle-to-back end of the first.
CF Dillon Head, Homewood-Flossmoor (IL) – Maybe the fastest player in the class not named Enrique Bradfield Jr., Head shows a lot of similarities to the Vanderbilt outfielder, including his athleticism, line-drive approach, and baserunning ability. A hit-over-power projection, Head has a quick left-handed swing and is a good defender in center. He is committed to Clemson, which may allow for an over-slot deal in the 25-39 range.