Analysis
Riley Greene is Really Starting to Show Promise For the Tigers
Since the month of May, former top prospect Riley Greene has started to breakout to look like the center fielder of the future in Detroit.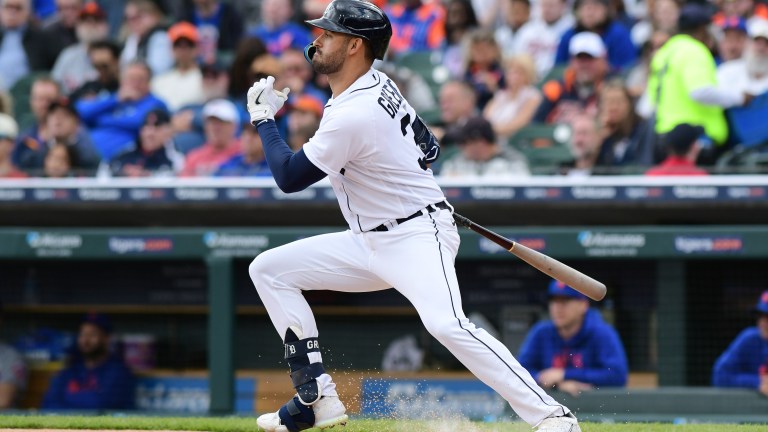 Expectations surrounding Riley Greene, a top-five pick and prospect in baseball, were through the roof last season. Comparisons to Michael Brantley and other great lefty hitters set the bar to a level that was impossible to attain in his rookie campaign. After a decent, but somewhat underwhelming, 2022, Greene is starting to show Tigers fan's just how good he can be.
As the calendar flipped from April to May, the weather got warmer and so did Greene. After slashing .234/.293/.327 with a 32% strikeout rate, Greene has turned it around in May slashing .366/.423/.535 while dropping his strikeouts to 24%. The improved slash line is great, but it's how he's getting those hits with the changes we have seen leads me to believe he's truly turning a corner.
One of the major knocks against Greene to this point in his career has been his inability to consistently lift the ball. In 2022, Greene had a groundball rate of 56%, well above league average. There are few examples of players who can excel hitting the ball into the ground that much.
Players with extreme speed or players who hit 30+ home runs (Vlad Guerrero Jr.) can get away with it at times.
In May, we have seen much needed improvement. I remember watching the May 4th game against the Mets when Greene turned on a Justin Verlander curveball and pulled it into the seats in right field and thinking "that's different than what we have seen".
So, what was different than the norm? Lifting the ball, pull side, and hitting a breaking ball. Three major concerns from last season, all in one situation, that resulted in a home run against the former Tiger and future Hall of Famer Justin Verlander. Although it was one at-bat, it demonstrates the improvements Greene has made this season, particularly in May.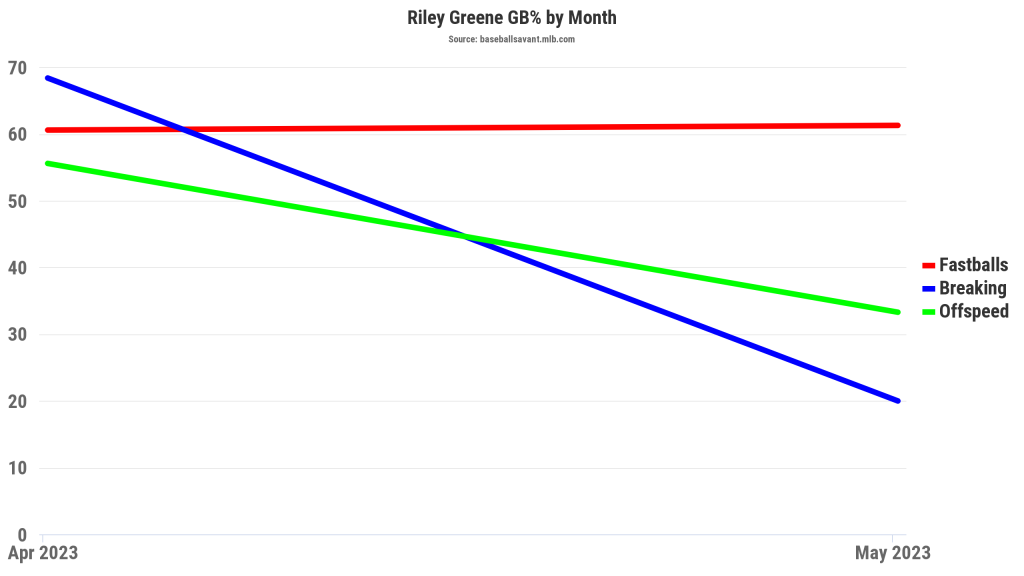 It's not a coincidence that Greene's improved numbers in May correlate with him cutting his groundball rate. After posting a 61.4% rate to begin the season, he's cut that down to 46.2% in May.
While it is still slightly higher than you would like, it's a major step in the right direction. For a player who averages 91 mph off the bat and a 43.4% hard hit rate, you want to see the ball in the air as much as possible. Greene has moved his line drive percentage from 18% in March and April to 34.6% in May resulting in him doubling his extra base hits.
The next positive sign has been Greene's ability to pull the ball more. No, you do not have to be a pull hitter to succeed, but being able to turn on a pitch will lead to more home runs, especially in a ballpark like Comerica. In 2022, Greene's pull rate was 34.7% and in 2023 it sits at 45.1%, 48.1% in May. He's shown power to all fields, which leads me to believe he's not just trying to pull everything, but instead seeing the ball better and taking advantage when he can.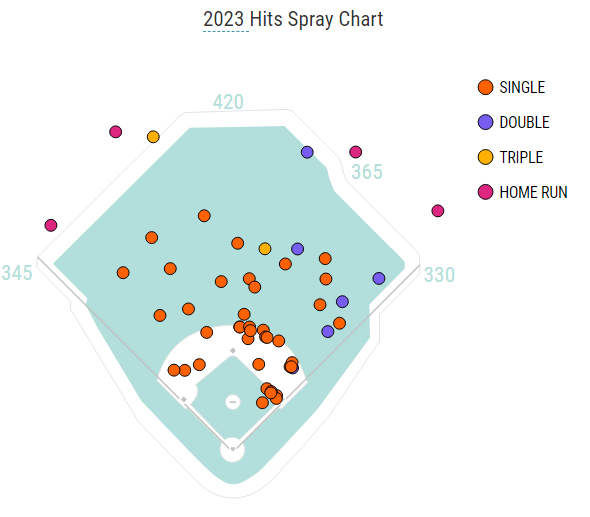 Green struggled with hitting breaking balls last season batting .198 with only one home run and six total extra base hits. So far, he's batting .379 with two home runs and six extra base hits, and it's only only been 58 at-bats. I think most would have settled with even a slight improvement, but this is drastically better. Being able to hit the breaking ball will force pitchers to try to go to a different pitch to put you away, and I like Greene's chance against a fastball with two strikes.
| | | |
| --- | --- | --- |
| | March/April (107 AB) | May (71 AB) |
| AVG | .234 | .366 |
| OBP | .293 | .423 |
| SLG | .327 | .535 |
| OPS | .620 | .958 |
| wRC+ | 74 | 170 |
| GB% | 61.4% | 46.2% |
| Hard Hit % | 31.4% | 36.5% |
| Line Drive % | 18.6% | 34.6% |
It should be noted that Greene is putting up these numbers while only hitting .236 against fastballs. While it might be a slight concern, he did hit .286 off the pitch last season and I doubt he suddenly forgot how to hit velocity. Keep an eye on it, but do not lose sleep.
The player that we are seeing in May looks much more like the top prospect, franchise cornerstone that was drafted fifth overall in 2019. We need to remember, Greene is only 22 years old, an age most players would still be in Single or Double-A.
He's starting to settle in and improve game by game.
I know it's hard to believe with the stretch of awful baseball the Tigers have been on for the past several years, but I think this team is headed in the right direction. General Manager Scott Harris has his work cut out for him, but he knows he has a center fielder to build around.