Analysis
The Future of the Reds Rotation
How do the young arms factor in to the Reds' long-term plans?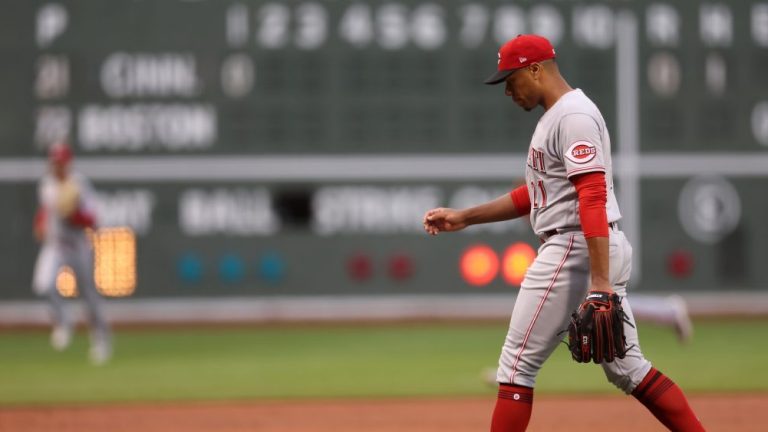 No one expected the Cincinnati Reds to push for a playoff spot in 2022. After trading away talented veterans, it was clear the Reds would be going through growing pains for the next several seasons. Rebuilding teams have two main focuses: development and direction.
The first focus (development) has been on display with Hunter Greene, Nick Lodolo (when healthy), and Graham Ashcraft, who are now fixtures in the rotation.
Direction is always a bit tricky. A team without a plan will certainly fail. If we work off the assumption that 2024 is the first year trending in the right direction, a major question needs to be answered: do you keep or trade Luis Castillo and Tyler Mahle?
Before answering that question, let's get a better understanding of where the rotation currently stands, what the organizational depth looks like, and which prospects could factor into the decision to move on from two established pieces.
Rookies with Upside
Hunter Greene
2022 Stats: 60 IP, 5.10 ERA, 1.30 WHIP, 79 SO
A consensus top-25 prospect, Hunter Greene has already flashed dominance at times through his first 12 starts. Greene has already gone seven innings surrendering one or fewer hits twice this season. He's striking out 30% of batters with the walk numbers trending in the right direction. His reputation is built off the fastball, which ranks in the 99th percentile in velocity. While his 5.10 ERA looks ugly, a 3.62 xERA shows signs of an inevitable drop. For a rookie learning on the fly, Greene has impressed so far.
Greene has plenty of learning and adjustments to make. and he's far from a finished product. His slider usage has increased to 43% while holding batters to a .105 batting average against it. Being able to trust the slider and work off the fastball with it will be the key to Greene's long term success.
The Reds know that Greene is a special talent; he has the talent to develop into an ace for this ball club. No question he will be part of the Reds future rotation, likely near the top. The only concern will be the home run ball in Great American Ball Park.
Nick Lodolo
2022 Stats: 14.2 IP, 5.52 ERA, 1.57 WHIP, 19 SO
The lanky lefty is currently on the injured list (back) after making only three starts in Cincinnati. Since coming to the organization in 2019 as the first pitcher taken in the draft, Lodolo has not logged many innings. When he is pitching, however, expect strikeouts and plus command. Three starts is a tiny sample size, but we saw a pitcher developing rapidly. After his first start, Lodolo became more comfortable attacking the zone more and trusted his pitches to get batters out.

Lodolo relies more on movement than velocity. As you can see from the graphic above, Lodolo's horizontal movement on his sinker and changeup are elite. We often talk about a pitchers ceiling and rarely mention their floor. Lodolo has a high floor and profiles as a "3" at the minimum. While I am bullish on Lodolo, the lack of innings makes me question how soon he can help anchor a rotation. Getting healthy and gaining big league experience is priory number one in 2022.
Graham Ashcraft
2022 Stats: 28.1 IP, 2.22 ERA, 1.02 WHIP, 15 SO
Graham Ashcraft has a beautifully bizarre profile. Elite velocity (95th percentile) but pitches to contact instead of striking out batters. The movement of his cutter , which has been described as a "gyro", allows Ashcraft to miss barrels and drive balls into the ground. Through his first few starts, batters are only barreling 3.2% of balls with an average launch angle of -0.9 degrees. A 58.5% ground ball rate will play well in Great American Ball Park.
While Ashcraft was not in the same prospect discussion as Greene and Lodolo, his upside is still a top-half-of-the-rotation arm. Throwing a 100 mile-per-hour cutter followed by an 85 mile-per-hour slider with crazy movement gives you reason to believe Ashcraft will stick in the majors.
Back of Rotation/Depth
Connor Overton – 24.2 IP, 1.82 ERA, 0.89 WHIP, 10 SO
Mike Minor– 14.2 IP, 7.36 ERA, 1.50 WHIP, 13 SO
Vladimir Gutierrez– 36.2 IP, 7.61 ERA, 1.91 WHIP, 29 SO
Justin Dunn – N/A (Injury)
Connor Overton, a 28-year-old rookie, provided one of the better stories of the 2022 Reds season. A then no-name made four starts for Cincinnati, quickly inserting himself into full-time consideration. Sadly, a back injury has shelved him for the foreseeable future. While Overton is a fun story, he likely profiles as Triple-A depth.
Mike Minor is on a one-year deal and might not make it through this season with the Reds. Gutierrez had his moments in 2021, but 2022 has been a different story. At 26 years old and under team control, Gutierrez will provide depth or possibly an arm out of the bullpen in the future.
The most intriguing name on the list is Justin Dunn. Once a top prospect, Dunn came to Cincinnati via the Seattle deal this past offseason. Dunn has appeared in parts of the past three seasons pitching to the tune of a 3.94 ERA. Dunn is not a top of the rotation pitcher, however, a fifth starter or depth is still needed. Hopefully Dunn comes back healthy and can challenge the other names on this list moving forward.
Prospects
Full breakdown of Just Baseball's top 10 prospects in the Reds System.
Andrew Abbot (AA) – 31 IP, 3.19 ERA, 1.16 WHIP, 39 SO
Brandon Williamson (AA) – 57.2 IP, 4.06 ERA, 1.47 WHIP, 60 SO
Bryce Bonnin (High A) -25 IP, 2.52 ERA, 0.92 WHIP, 28 SO
Joe Boyle (High A) – 42.2 IP, 0.84 ERA, 0.96 WHIP, 65 SO
Connor Phillips (High A) – 54 IP, 3.17 ERA, 1.06 WHIP, 78 SO
Chase Petty (Low A) – 37 IP, 3.65 ERA, 1.13 WHIP, 38 SO
Fans of rebuild teams love to talk prospects. A glimpse into the future and what the team can be is usually more interesting than the product on the field. Luckily, the Reds have several talented arms. Williamson checks in at #54 on Just Baseballs Top 100, while Abbott, Phillips, and Petty also have top-100 upside. Phillips, better known as the PTBNL in the Seattle trade, has potential to rise up prospect list. His movement looks looks like it will play at any level, but walks have been a major concern.
Of course, not all prospects will pan out. Abbott and Williamson are the closest to the big leagues and likely appear within the next year. If you are the Reds, you are happy if one or two eventually become legit contributors.
What to do with Castillo and Mahle?
Luis Castillo – 3.33 ERA, 1.87 WHIP (Free Agent After 2023)
Tyler Mahle – 4.46 ERA, 1.23 WHIP (Free Agent After 2023)
Now that we have painted a picture of the organizations options going forward, it's time for the big question: what should the Reds do with Luis Castillo and Tyler Mahle?
Cincinnati does not typically give out big deals to starting pitchers. Homer Bailey's six year deal worth 105 million dollars was the last big deal for a starter, and it was a complete disaster. A small market team like Cincinati cannot afford to miss on sizable contracts. Castillo and Mahle have the track record that will lead them to multi-year deals with substantial pay increases. A rebuilding team does not usually lock up a pitcher over 30 years old (Castillo) for several years.
The time to move Castillo is now. Cincinnati botched their last rebuild and cannot repeat this time around. With team control for 2022, Castillo is more than a rental, which will drive up his price. A return of two top prospects and perhaps a young MLB-ready piece would do wonders for this organization.
Mahle is a couple years younger and will hit free agency at 29 years old. A case can be made for an extension, as the Reds will need a veteran in the rotation. Mahle would likely command several years, and I think the Reds will explore other veteran options. The glaring issue with Mahle are his home versus road splits. In 51 career starts at Great American Ball Park, his ERA sits at 5.08 compared to his 3.73 road ERA. Big money and length to a pitcher who struggles in the team's home ball park seems risky for the Reds.
Moving Mahle would also fetch a nice return. The Reds have a strong farm, and adding to it is always a good idea. Get more talent and play the percentages of who will turn out. With plenty of holes to fill, you need to capitalize on these two pitchers value and team control. Signing a veteran to fill out the rotation after gaining a better understanding on the current prospects is much easier than navigating long term deals. Fans will not like moving two established pitchers, but this rebuild cannot afford expensive mistakes.