Analysis
Could These Minor League Players Bring Back the Stolen Base?
For years it seemed like the stolen base was dead, as teams have moved away from swiping bags. Could these minor league players change that?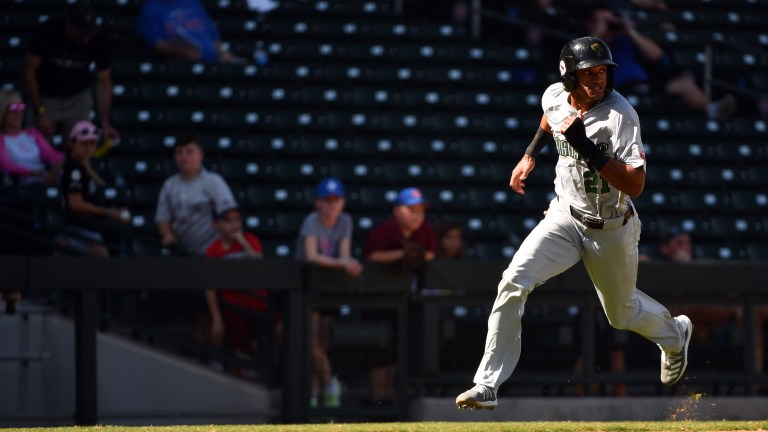 Over a 55-year stretch between 1959 and 2014, there were only eight seasons in which no player reached 50 stolen bases.
In the not-so-distant past, multiple players would steal 50 bags each season, and it wasn't so long ago that Rickey Henderson would steal 100+ bags in a season. And that's just the leaders.
How has the league as a whole declined in stolen bases?
In 1959, the MLB had a combined 853 stolen bases. That number gradually increased every year until reaching its peak in 1987 when the league combined for 3,585 stolen bases. But something changed. The stolen base numbers steadily declined over time. Since 2015, the combined total has never come within 1000 stolen bags of its 1987 peak. So what gives? Why have players stopped stealing?
Why have players stopped stealing?
There are several reasons for the decline in stolen bases over the last 40 plus years. First up – injuries.
The most common way for a player to get hurt playing baseball is base stealing. Barreling full-speed into a base head-first seriously puts your fingers and wrists on the line. And let's face it, fingers and wrists are vitally important when it comes to swinging a bat. Organizations may not like to risk the health of their players in this manner.
Another culprit for the decline in stolen bases is the development of analytics and technology. Back when baserunning kings Rickey Henderson and Vince Coleman were screeching into second and third, there was no instant replay. They could run full-force into the bag, potentially sliding off the bag during the action of stealing. No big deal – they didn't need to maintain control through the steal and they would still be called safe.
Today players need to maintain contact with the base all the way through the steal – a much harder task to accomplish. Lots of players actually have to slow down to make sure they can keep their body in control while stealing. As a result, players have become less efficient at making it 90 feet to the next base.
Analytics will tell you that if a player is stealing bases at less than an 80% clip, they are actually not efficient towards winning games. Nowadays, it is much harder to efficiently steal bases than it was 40 years ago. One of baseball's best base stealers, Jazz Chisholm Jr., has attempted to steal 17 bases through 60 games played, successfully stealing on just 12 of those attempts. Chisholm has a 73% success rate over the last two seasons and therefore has surprisingly been detrimental to the Marlins on the base paths.
Lastly, catchers today have improved their abilities in throwing runners out. Pop times have continued to decrease over the years while catcher arm strength has increased. The average pop time in 2015 was 2.02 seconds. In 2022, the average pop time has decreased to 1.98 seconds and J.T. Realmuto has posted the lowest pop time in Statcast history, releasing the ball in 1.82 seconds.
One thing that has stayed consistent through the history of the stolen base is that a player's decisions made on the base paths are centered around what the organization buys into. If the ball club prioritizes stealing bases, they will be a lot more aggressive on the base paths.
Vince Coleman is a perfect example. Coleman led the NL in stolen bases every year of his career with the Cardinals, stealing over 100 bags in three of those five seasons. The Cardinals used Coleman entirely for his base stealing ability and made their primary focus getting him to third each time he got on base.
This was a winning strategy for the Cardinals. Coleman stole 100+ bases in each of his first three seasons, and the Cardinals made the World Series twice. However, in his sixth year in the league, he joined the Mets. While he was still an incredible base stealer, he was never able to eclipse just 40 bases with the Mets.
Rickey Henderson had a very similar story.
In his rookie year, Henderson joined a terrible Athletics team that finished second-worst in the MLB. In his sophomore campaign, he stole 100 bags, making the A's immediately contenders finishing second in the AL west. The A's would go on to be in two World Series, winning one of them, with Henderson. And for the several stints Henderson spent away from the As, he stole less and less bases.
Is Base Stealing Making a Comeback?
While it may seem like the excitement of stealing bags at a high volume is a thing of the past, a couple of ball clubs have given us hope that we could see somewhat of a revival of base stealing.
Here are some teams that could bring back the stolen base over the next couple of years with the speedy prospects they currently have stashed away in the minors.
San Diego Padres
The Padres have stashed in their organizations the two players who may just bring the steal back.
On top of that, the addition of Fernando Tatis Jr. has already given them a guy who loves to steal bags. Tatis became the fastest player to reach 50 home runs and 50 stolen bases in a career. It took him 223 games. Now with future stars Max Ferguson and Esteury Ruiz likely joining the Padres by 2024, we could see them become the kings of the basepath.
What Ferguson and Ruiz have been able to do this year at the minor league level is nothing short of spectacular. Ferguson recently stole his 50th and 51st base in his 64th game, putting him on pace for 105 stolen bases for the year. Ruiz has 49 stolen bags in 67 games, putting him on pace for 104 stolen bases. (Note that Ruiz's season is 10 games longer than Ferguson as they play in different levels of the minors).
The last time that any minor league player has stolen 100 bases was when Billy Hamilton broke the record for stealing 155 bases in 2012. In fact, if both Ferguson and Ruiz can hit their pace, they will become the fourth and fifth minor league players to ever reach 100 stolen bases.
But the Padres are not the only organization buying into stealing bags.
Texas Rangers
The Texas Rangers added Marcus Semien, who finished in the top 25 for stolen bags last season with the Blue Jays during a breakout year. He currently ranks 13th with 12 so far on the year. His teammate, Adolis Garcia, has also been active on basepaths this season totaling 11 stolen bags, good enough for 15th in the league.
The Rangers organization has two speedy outfielders working their way through the minors. Bubba Thompson and Marcus Smith have stolen 36 and 28 bases respectively. If Thompson and Smith were able to join Garcia in the next few years in the outfield, we could see the Rangers focus more on stealing bases and earning runs by advancing the runner through small ball.
In fact, during the 2022 season the Texas Rangers led the MLB in stolen bags. For that reason, I think it's likely they are trying to create a young core of guys who will make pitchers sweat over base runners.
Colorado Rockies
The last team that I believe could adopt this strategy is the Colorado Rockies. This may come as a surprise to some, given how rare it is that fans see a successful steal from the Rockies. They rank second -to-last in stolen bases with just 14, good for just .18 steals per game. On top of that, they have been caught stealing 12 times – meaning they are only successful on 54% of attempts.
It doesn't make a whole lot of sense for the Rockies to become a base stealing team. Littered with big hitters like C.J Cron, Charlie Blackmon, and Brendan Rodgers, the Rockies don't exactly play small ball. It makes sense for them to look for big hitters considering they play 81 games per year at high altitude and are towards the top of the league in total home runs by stadium every year.
That being said, the Rockies currently have three players in the minors who love to steal bags. All three of them have 28+ stolen bases on the season, putting each of them in the top-20 in all of minor league ball.
Zac Veen is the number one prospect in the Rockies organization and is expected to make his debut next season. He has stolen 28 bases in 66 games and has the potential to be every pitcher and catcher's worst nightmare.
While the Rockies don't steal often, they do have some speedy players on the team. Using Baseball Savant, we can simulate a race between any set of players running 90 feet. Garret Hampson has only stolen two bases in 33 games, yet is dead-even racing with stolen base leaders Julio Rodriguez, Tommy Edman, and Jorge Mateo. The same holds true with Sam Hilliard, who only has two stolen bags in 41 games.
If both Braiden Ward and Eddy Diaz, who have 37 and 28 stolen bases respectively, can work their way into the majors, the Rockies will look a lot different than they do now. They will most certainly have an emphasis on speed, and it will be interesting to see how they rearrange their team.
There are several teams in the minors who have speed in their system. However, the Padres, Rangers, and Rockies are the most interesting. There is real potential for any of these teams to become incredibly productive in run scoring.
This is especially true of the Padres, who have the only two players in all of the minor leagues to not only have 50 stolen bases but to be on pace for 100+. This is a style of baseball that fans haven't seen in 40 years, but many would be happy to see a return to high steals in just a couple of years.