Analysis
Behind the Seams Prospects Corner: Q&A with Samad Taylor
On the latest Behind the Seams Prospects Corner, Kansas City Royals top prospect Samad Taylor joins the show.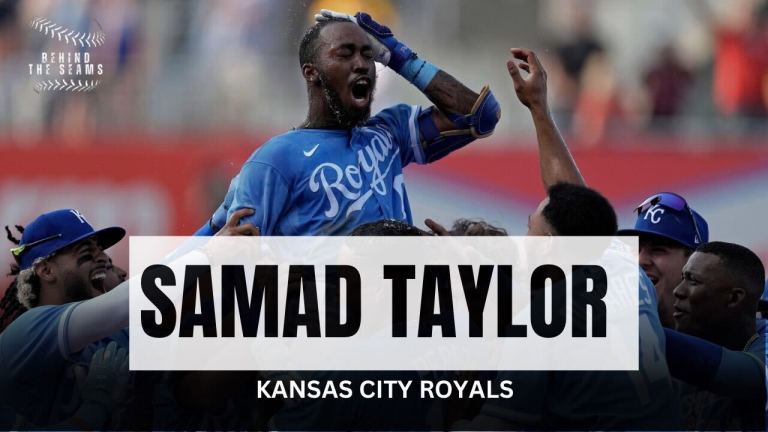 Welcome to the Behind the Seams Prospects Corner! A bi-weekly article and podcast featuring interviews with some of your favorite prospects in baseball. We hope to bring you a behind-the-scenes look into the stories that go beyond who the player is on the field. We will be sharing stories of players overcoming adversity, dealing with mental battles, and life events that truly make these individuals who they are as human beings.
24-year-old Kansas City Royals top prospect Samad Taylor was acquired by the Royals in a trade last year that sent Whit Merrifield to the Toronto Blue Jays. The former 10th round pick of the Cleveland Guardians skillset has turned enough heads that he was selected to play in the Arizona Fall League this past offseason, but he struggled to produce in that top prospects league.
Prior to the season, the Royals were smart and protected Taylor by adding him to the 40-man roster so he wouldn't be eligible to be snagged in the Rule 5 Draft.
Since the start of the 2023 season, Taylor has been white hot in Triple-A. He is slashing .309/.411/.463 with an .874 OPS, six home runs, 39 RBI, and 38 stolen bases. His exit velos aren't the highest, but his 90th percentile exit velos look very good.
He is a bit of a swiss army knife who can play multiple positions and provides plus speed to be a threat on the base paths. All of this led to him being called up to the majors and led to one of the most memorable debuts as Taylor walked it off against the Angels for his first big league hit.
In the latest Prospects Corner Q&A, I sat down with Samad to learn a bit more about who he is as a player and the things that make him the human being outside of the game.
Jared: For the fans out there, just give a little background on yourself and kind of how you got to where you are?
Taylor: I'm from Corona, California. I was drafted in 2016 by the Cleveland Indians and I was traded in 2017 to the Toronto Blue Jays. Went through every level with the Blue Jays from Bluefield, WV to rookie ball to Vancouver New Hampshire for Double-A, to Triple-A Buffalo. I'm still here fighting and got traded August 1st or 2nd to the Kansas City Royals and now I am here with the Kansas City Royals and I had the opportunity to be put on the 40-man roster and compete for a spot.
Jared: You mentioned being added to the 40-man roster. Take us into what that moment was like and that feeling when you finally got that call saying "Hey we are adding you to the 40-man"
Taylor: It was a relief off my back for sure. It had been a moment I've been waiting for and when it happened at the time I was in the (Arizona) Fall League and I was coming off an injury. So I knew it was up in the air. Didn't know what was going to happen. They called "Hey we are protecting you" and it was like immediate relief. They put me on and I have no complaints and called my family and called my girlfriend and let everybody know. Told my agent and now we are here.
Jared: You mentioned another experience in the Arizona Fall League. Talk about the level of competition there and just having the opportunity to be around those guys every single day.
Taylor: It was a blessing. Just being around guys that you know are at some point will be in the big leagues if they are in the big leagues for a day or if they are in the big leagues 15 years, but you know you're competing with the best of the best in the baseball world that we are in and it's just what are you going to do to not necessarily separate yourself from everybody else. Because everybody's good. What are you going to do to make your game flawless and the ins and outs of the game you gotta find your way in and you see every aspect of the game with different routines and the way that everybody went about the game from being in different organizations.It was neat. I personally feel like just taking certain things from certain people, seeing something new everyday, that was the biggest thing.
Jared: Transitioning into another question here. What we like to focus on the Beyond Baseball podcast is the human beings behind the numbers and the performances on the field. What are some of the passions you have away from the game? What are the things that make you and drive you every single day outside of baseball?
Taylor: Number one the lord. Family. I'm big big big big with family. My family is my backbone, my family has been through every obstacle that I go through. Hate to say it video games. Video games is a big one. Eating. I love trying new food and listening to music and being around my boys. It doesn't even matter if it is in baseball or if it's away from the game. I just love being around my boys and if it's me being around my boys chopping the mess or playing video games or shooting pool or whatever I just love being with my boys and spending time with my boys.
Jared: What would you say is your favorite video game and also favorite type of food?
Taylor: Favorite type of food… if I'm cooking it, favorite type of food is chicken. Chicken/rice, can't go wrong with it. And then favorite video game would be Call of Duty and I have to say the old war zone. I'm not big on this new one, but it would have to be 100% Call of Duty.
Jared: As you get into the 2023 season, what are some of your goals going into this year?
Taylor: Just be a better version of myself everyday. That's my main goal. I'm not real big on numbers goals just on if you're trying to chase number goals you are selling yourself short. Your putting too much stress on yourself. The numbers side of it isn't what I want to look at but just try to be the best version of myself everyday and bring something of my game to the field every single day. You're not going to hit everyday. You're not going to play great defense everyday but I'm going to do something great everyday to put my team in a situation to win.
Anyway I can just bring joy to the game and just have fun. Anyways I can put my team in a situation to win, I can't complain after that. Whatever happens after that, happens. If I look up and I am hitting .220 and we just won a World Series, I'm happy. I've done everything I can to to put myself and help my team win and we are winning so I'm not going to sit here and be like "oh well I want to hit .300". I mean, yeah, it is going to be nice to hit .300, but let's be realistic.
Certain things you can control. Be a good person, play hard, and do things right. Control what you can control. There are other things you can;t control. I can't control where the ball goes after it leaves my bat. I can't control where pitch goes after it leaves my hand like control what you can control and whatever else you can't control, let it be.
Jared: What would be that one piece of advice you have for the next generation of athletes?
Taylor: Chase your dream and don't let anybody tell you that you can't do it. I'm 5'8, 160lbs. When I signed I was 5'7, 140lbs and I've gotten to where I've gotten to and me personally, a lot of people told me I would never get to the point I'm at. And I just put my head down and said "no you're wrong" and I'm going to prove you wrong. To all the youngins that are coming up and anything in life, it doesn't have to be baseball, just whatever is, whatever your dream is, whatever your goal is, just chase your dream and chase it to the fullest. Don't cut corners with it. Chase it. And don't give up on it until your dream is achieved.