Analysis
Kansas City Royals Trade Deadline Guide
The Kansas City Royals aren't buying at this years trade deadline, but after already dealing Aroldis Chapman, they don't have much left to sell.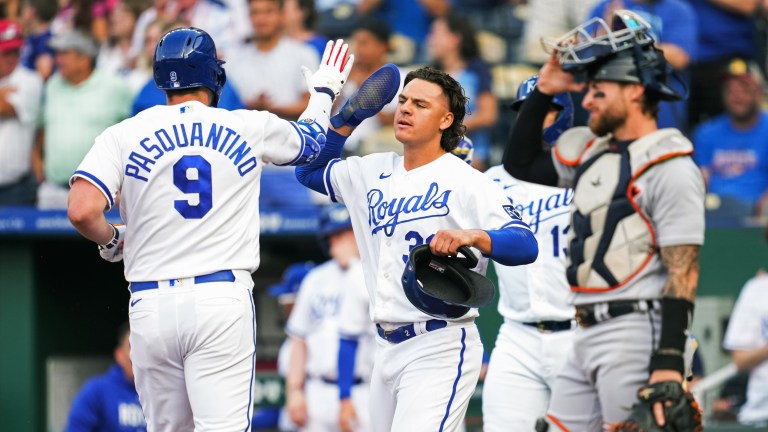 Well before the first half of the season came to a close, it is a well-known fact that the Kansas City Royals will be sellers. On June 15th, they were on pace to lose 119 games this season. The Royals finished the first half 26-65, 19.5 games out of first.
It has become a season that many Royals fans already want to forget and rightfully so. The team is still in a long, drawn-out rebuilding process which has been frustrating. Through a lot of downs of the season, there has been some positivity. J.J Picollo is in his first year as General Manger and has implemented some changes that have helped.
First, the Royals have completely revamped their pitching development. Anne Rogers of MLB.com highlighted in a recent article on how their new focused approach has made significant strides in the development of their minor league arms.
On top of that, Picollo made some decent minor signings this offseason that could lead (and already have) to some prospect returns without breaking the bank. 
Even though he wasn't GM at the time, Picollo. was also the lead of many of the trade decisions at last year's deadline which led to a pretty good haul of young talent. The likes of Drew Waters, Samad Taylor, Chandler Champlain, and others helped bolster the Royals farm system that took a massive hit with the graduations of Vinnie Pasquantino, MJ Melendez, Michael Massey, and others.
Not all the trades were perfect, for example the Royals got Luke Weaver for Emmanuel Rivera.
2022 Kansas City Royals Trade Deadline Trades
Royals Received
Royals Sent
Team
Wyatt Mills, Will Fleming
Carlos Santana
Seattle Mariners
Drew Waters, CJ Alexander, Andrew Hoffmann
2022 MLB Draft Pick #35
Atlanta Braves
Jonatan Bernal
Foster Griffin
Toronto Blue Jays
Chandler Champlain, T.J. Sikkema, Beck Way
Andrew Benintendi
New York Yankees
Emmanuel Rivera
Luke Weaver
Arizona Diamondbacks
Samad Taylor, Max Castillo
Whit Merrifield
Toronto Blue Jays
As we start to look at the 2023 MLB Trade Deadline, it is obvious the Royals don't have pieces like Whit Merrifield or Andrew Benintendi this year. The Royals worked early this year trading arguably one of their best trade chips Aroldis Chapman to the Texas Rangers in exchange for left hander Cole Ragans and outfielder Roni Cabrera. 
The Royals are likely far from done as they have a few other pieces who might be on the move. So lets take a dive into who else could be moved at this years deadline.
2023 Royals Trade Deadline Candidates
Player
Position
2023
2024
2025
2026
2027
Brad Keller
RHP
$5,775,000 (Arb 3)
UFA
Scott Barlow
RHP
$2,400,000 (Arb 2)
Arb 3
Nick Lopez
INF
$3,700,000 (Arb 2)
Arb 3
Arb 4
UFA
Matt Duffy
INF
$1,500,000
UFA
Taylor Clarke
RHP
$1,025,000 (Arb 1)
Arb 2
Arb 3
UFA
Edward Olivares
OF
$740,750 (Pre-Arb)
Arb 1
Arb 2
Arb 3
UFA
You'll notice I didn't even mention Salvador Perez's name. Rumors started to build early that the recently named Team Captain could be on the move, but J.J. Picollo shot those down. You have to appreciate the transparency on the situation from J.J. as well.
Most Royals fans are clamoring for Salvy to be traded, but even for a team who isn't competing, it is truly hard to trade the heart of your locker room. Someone who has meant so much to this organization for so many years.
Reliever Options
The common theme among bad teams is that they look to move their reliever options. As mentioned earlier, the Royals have already moved Aroldis Chapman. I originally had Amir Garrett and Josh Staumont as a possible trade options, but the Royals decided to designate Amir for assignment and Staumont recently landed on the 60-day IL. They would have likely been a relatively small return anyway unless paired with another piece.
That leaves the Royals basically with Scott Barlow and Brad Keller as possible trade options. Maybe Taylor Clarke, if a team wanted to grab him cheap. Barlow will likely be the most sought after arm in the Royals bullpen as he has been a reliable arm for many years for Kansas City.
Barlow is a bit younger, with an extra year of control compared to Chapman, so there could be a chance to get a better prospect back. To realize maximize the return for Barlow, they'd likely have to add on a younger bat like Nicky Lopez or someone else.
On June 12th, it looked like Taylor Clarke was making himself a legitimate trade option for the Royals. He was throwing extremely well and then all of a sudden he had a major melt down.
Since that date, Clarke has a 16.62 ERA giving up 16 earned runs in 8.2 innings pitched, along with five home runs. Not what you want to see if your the Royals front office or a Royals fan.
Usually a bad week wouldn't deter teams from making a trade for a guy like Clarke, but this near three-week span of bad games ballooned his ERA to 5.97. There is a long a shot maybe a team trades for him as a depth piece, but expectations for a significant return should be tampered.
Position Player Depth
The only other resources that the Royals really have to trade are depth positions players. For instance, they signed Matt Duffy this offseason to a minor league deal and he ended up making the team. He's been quietly productive for the Royals, but hasn't done much to blow you away.
There is a chance a team might look to acquire Duffy for depth for the long stretch. The return would most likely only be cash considerations or a long shot prospect for the 32-year-old who would only be a rental.
What the Royals decide to do with infielder Nicky Lopez has me the most curious. The Royals have two more years of control left on the former Gold Glove finalist. Lopez hits arbitration next year so the time to move him might be now. He has always been an incredible glove up the middle and has provided them with much-needed infield depth.
But the emergence of Maikel Garcia leaves you to wonder where he might fit. Not only that, the Royals have other infielders like Nick Loftin and Samad Taylor fighting for a roster spot or playing time. The Braves, Astros, and Giants are all in need of some type of infielder to help them down the stretch.
When we talk about the issue of roster crunches the other name that comes to mind is outfielder Edward Olivares. There was always a ton of promise and upside with Olivares, but the issue with him is his inability to play the outfield. The bat hasn't produced enough to justify putting him out there.
With MJ Melendez, Kyle Isbel, Drew Waters, and the bulk of outfielders waiting in the wings, it doesn't leave much more room for Olivares. The question is if there is an actual home for him with another team. I imagine the Royals will try to move him at the deadline, but if they can't find a buyer there is a good chance he is DFA'd after that.
Prospects on the Move?
That leaves the final question on whether the Royals will move any prospects at the deadline that they have depth in. Guys like Nick Loftin or Tucker Bradley present options that could possibly sweeten a deal if they move Scott Barlow.
Nick Loftin has been hot in Triple-A and has the versatility to play all over the field. He's slashing .297/.365/.508 with a .873 OPS. He's got a great blend of pop and speed, which may have teams extremely interested. With Bobby Witt Jr. at shortstop, Maikel Garcia at third base, and Michael Massey at second, they could have the flexibility to move Loftin.
In my personal opinion, I think they hold on moving any young guys. With where the teams is at right now, it would be hard to see someone like Loftin on the move unless it really nets them a return they love.
If they trade the older depth pieces, it may open up playing time for guys like Loftin to show what they got. I'd imagine any trades of younger guys would likely happen in the offseason and not at the deadline.
Conclusion
To sum it up, don't expect a ton of fireworks this trade deadline. The Royals just don't have the capital to really even get a haul close to the 2022 season. They have even less after DFA'ing Amir Garrett and with Staumont getting hurt.
I imagine the biggest return we see is for someone like Scott Barlow. Many fans will still likely be disappointed with that trade expecting a bigger return, but Barlow just doesn't have the years of control left that would make him as valuable as previous deadlines.
Ultimately fans will have to temper their expectations. The Royals will likely be making moves but it won't be anything super exciting unless we get a major surprise. I know, the rebuild is frustrating for many, but this is where things stand. Piccolo is in year one. He needs time to leave his mark and the trade deadline is another additional step in this process.