Podcast
Behind the Seams Prospects Corner: Dylan Beavers and Jud Fabian
On our latest Behind the Seams Prospects Corner episode, we are joined by two prospects in the Baltimore Orioles farm system.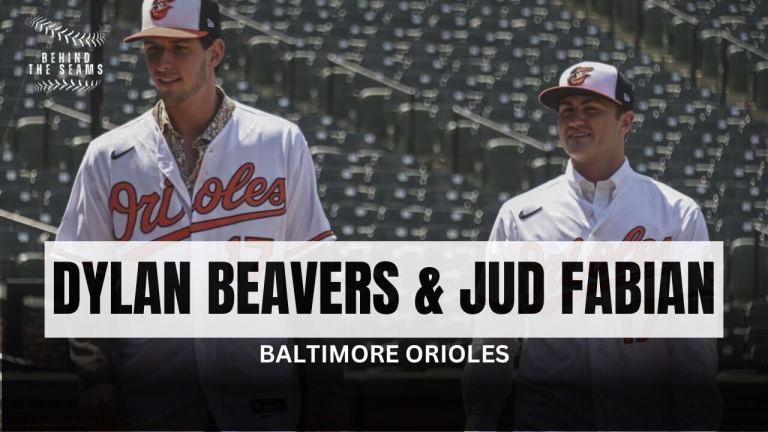 Welcome to the Behind the Seams Prospects Corner! A bi-weekly podcast and Q&A article featuring interviews with some of your favorite prospects in baseball.
We hope to bring you a behind-the-scenes look into the stories that go beyond who the player is on the field. We will be sharing stories of players overcoming adversity, dealing with mental battles, passions away from the game, and life events that truly make these individuals who they are as human beings. This week, we were joined by a pair of prospects in the Orioles farm system.
Dylan Beavers and Jud Fabian are part of the big wave of college bats making their way through the Baltimore Orioles minor league system. Beavers and Fabian were both taken in competitive balance rounds of the 2022 MLB draft. Beavers was taken 33rd overall in CB-A and Fabian was taken 67th overall in CB-B. The two college bats had a lot of hype around them coming into the 2023 season.
Dylan Beavers spent his college days at the University of California. Originally recruited to Cal as a pitcher, Beavers' talent at the plate and on the field was too hard to pass up. After his freshman year, Beavers quickly transitioned to the outfield and became a position player only. When you watch Beavers, he gives you a Christian Yelich type feel as he is a tall and lanky athlete.
Jud Fabian was a highly-touted prospect out of Florida. He even graduated early from high school to enroll at the University of Florida. Fabian was originally taken by the Red Sox in the second round of the 2021 MLB draft, but opted to go back to Florida to have the opportunity to play a year of college ball with his brother and continue to improve his craft.
It paid off for Fabian, as he saw significant improvements in his hit tool. Fabian has been so impressive in his professional debut that he has already made it up to Double-A.
For the first episode of Prospects Corner, I sit down with Dylan and Jud to learn a bit more about their stories and dive into how their first season of professional baseball is going.
Jared: What's been the biggest adjustment for you guys as you have gone from the college game to the pros?
Beavers: Probably the main difference is just playing everyday as opposed to three to four times a week. I'd say like the arms you see are more consistently good as opposed to seeing a few good arms a week. Every arm is pretty good. So those are kind of the two big differences
Fabian: I have to agree with that. It's the same kind of level of playing (each day). You're traveling a lot more on bus. At Florida, we traveled mostly everywhere on a plane so getting used to that…also trying to keep your body right is the biggest difference I've noticed from college to professional baseball.
Jared: What's been the longest bus ride so far?
Fabian: We went to Winston-Salem which is like seven and a half hours.
Jared: What has been the biggest "a'ha" moment for you guys? Now that you have made it to professional baseball and you're like "This is it. I'm chasing my dream."
Fabian: For me, it's like I get to do this everyday. If I have a bad game, say on Wednesday, I know that Thursday, Friday, Saturday, and Sunday I'll have another opportunity at it…getting to play everyday is like alright, I'm finally playing professional baseball and you know one bad day doesn't effect my play at all.
Beavers: You're there, your at the field everyday and it's kind of all we are doing now. So you're at the field for nine, ten hours a day and that is kind of what your schedule revolves around. It's your job now so it's exciting you get to basically put all of your focus and energy towards one thing.
Jared: What has it been like to have guys like Max Wagner, Nolan McLean, Maxwell Costes.. All of these guys who have been at the college level.. What has it been like in terms of helping develop connection and having each other to help through the journey of professional baseball?
Fabian: It's been fun getting to know those guys and being able to experience this for the first time together. We all went down to Sarasota right after the draft and kind of got to meet each other and get to know how everyone's doing, but it definitely helps having someone who's been to college as well and kind of share their experiences and how they go about their day and be able to kind of grow up in professional baseball with them,
Beavers: For me, it's cool getting to hear from the others guys who were, especially guys from different conferences like the SEC, ACC guys, how different their experience playing college baseball was than mine. That's definitely been the most interesting part. At the end of the day we all kind of played similar level of college baseball and it's nice having them there to kind of go through it with.
Jared: Dylan a question for you. You were recruited to Cal as a pitcher. Talk about that transition of having to go from pitching to hitting and do you miss being on the mound?
Beavers: I threw hard in high school and I always knew I wanted to hit. I knew I had more tools that could be of value. Being a hitter, playing everyday is what I always wanted to do. Pitching was kind of just a way to get me to where I could showcase my hitting. After my freshman year, they never asked me to pitch again. All I did was play outfield so, yeah, I'm glad I don't have to pitch anymore. I never really enjoyed it all that much. I like hitting a lot better.
Jared: Jud going into your story a little bit, you were taken by the Red Sox the year before but decided to go back to Florida to have that opportunity to play college with your brother…tell us about what went in to that decision and what made it so important have that opportunity to play with your brother at the collegiate level?
Fabian: It was a rough junior year and I ended up getting picked by the Red Sox and you know things didn't work out. I had a talk with my family and we basically decided look me and Deric we've kind of dreamt of this our whole lives of wanting to play collegiate baseball with each other and we had the opportunity to do that. I said you know what this is the best opportunity we are going to have so i'm going to take it and it was one of the best decisions I ever made going back to college.
Jared: How did you grow your game the most and grow as a person spending that extra year at Florida?
Fabian: Basically it just helped me mature and become a better person rather than a baseball player. I felt like I took a great step off the field and that helped my game on the field. Just having him around (Deric) he kept me honest on the field and off the field. He's not afraid to say anything to me when I'm going bad or doing good. Keeping me level headed. It really helped both off the field and on the field aspects. It was a great year.
Jared: What was the 2022 MLB Draft process like for both of you?
Fabian: It was a long waiting process for me. It was kind of two years in the making. My junior year when I got drafted by the Red Sox I was actually going to go to the Orioles with the next pick so it was kind of two years in the making and I got a call from my agent that said you're going to the Orioles right at this pick and it was kind of like a dream come true. I got to spend it with family to which made it even better. Long time coming. It was just a really great night.
Beavers: It was definitely a stressful time. It was hard not to be stressed because I had no idea where I'd end up falling, what team, what pick. I was definitely a little bit stressed, anxious leading up to it. But then when I got my named called and figured out where I was going it was a relief. Kind of just eye opening and gave me an opportunity to see how far I had come. So it was definitely a blessing. Being able hear that, not many people get that opportunity. It was a really cool experience.
Jared: What are the aspects of your game you are looking to improve on this year?
Beavers: Definitely hitting. Adapting to the pitching as we are consistently facing harder velo, better shapes, more accurate offspeed pitches. Developing as a hitter is one of the main things. Just getting ABs and getting feedback from what I'm doing which I think the Orioles do a good job of, developing hitters. The other main thing coming into this season for me was defense. I want to improve on defense and Jud's not too bad at defense so I learn a lot of stuff from him. I definitely feel I have improved on my defensive play half way through the year.
Fabian: For me, it's basically been getting a little better on the pitch selection side. I was kind of a chaser in college. Chased a bunch of pitches out of the zone. The Orioles do this thing where they put a bucket and a med ball behind home plate and if it's going to hit the medball, swing. If it's not then take it because it is not a pitch you can drive. So I've been working really hard on pitch selection this year. Talking to all the other guys about what their mindset is going up to the plate to. I know Beavs is very patient as well so I have been talking his ear off trying to get what he kind of thinks when he goes up to the plate and it's really helped me throughout this year become a better pitch selector and drive more balls in the zone.
Jared: What are some of the passions you have away from baseball that help you have that separator when you get off the field?
Beavers: Coming into pro ball I didn't have a ton of hobbies because a lot of time spent in college is baseball and school. I'd say just hanging out with my teammates in college is mostly what I did in my spare time. Lately I've been trying to pick up hobbies. When we were in Florida I kind of started fishing. Jud started to help me out with that. Preston Johnson too. I know he is from our draft class. He's a big fisher so I got into fishing a little bit. I also got a guitar too so been trying to work on that.
Fabian: I'm an outdoors guy being from Florida. I just kind of love being outdoors. Hunting, fishing, whatever it is. In Sarasota me and Beavs would always try to go fish a little pond during spring training. Didn't work most of the time but caught a few fish.
Jared: If you had one piece of advice for guys who might be going through the same journey you are trying to make it to pro ball, what would that one piece of advice be?
Fabian: I'd say just take every day, enjoy it. It's a very long season and it's already gone by quick. I would just tell guys to enjoy every second of it. You may never get this chance to play the game again so just treat every day like it could be your last and enjoy it. Because not one day is going to make our break your season. It's a long season no matter what level you're at so just enjoy every day of it.
Beavers: When you're going to play a game, just be confident it makes the game a lot more enjoyable. If you're doubting yourself when you're out there on the field it's stressful and not very fun. You're not going to get the results you want so just be confident in the work and preparation you've done and just go out and compete and have fun.