Feature
Behind the Seams: The Untold Human Side Stories of Players
Introducing the newest podcast for Just Baseball Media, Behind the Seams. A show providing insight into the human element of the game.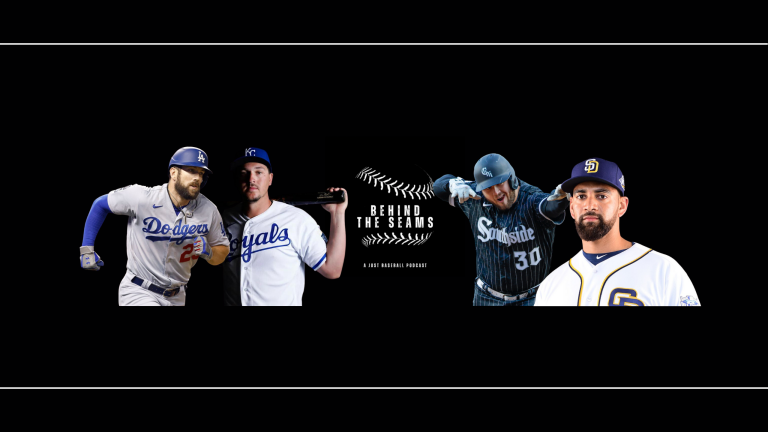 Twenty-six individuals make up a Major League Baseball team. Twenty-six individuals with unique personalities, stories, cultures, and upbringings.
When we watch these 26 players play for the teams we love, we become impressed with the talent the players bring to the field, the personalities they bring to the clubhouse. The players who make up our favorite teams are some of the main reasons we are fans in the first place. 
We get obsessed with box scores, statistics, and underlying data that tell how good the players on our team are. That showcases our expectations for how good the team is expected to be.
We often judge players based on their performances on the field. We hold players on a pedestal when they perform to our expectations, but also will point to individual performances to blame them if a team is struggling. What gets lost in our expectations of players on the field is the human side of who they are. 
I began writing by doing prospect analysis. Constantly trying to find who the next big breakout prospect might be. Analyzing players with countless video footage, data, and stats. I quickly started to realize that something was missing. The human element was not there.
The stories of how some of these players had to overcome so much adversity, whether it was battles with mental health, long journeys through the minor leagues, or trying to balance baseball and raising a family, seemed to remain untold. 
That led me to start writing about the human side of the game. In my first article with Prospects Live, I interviewed 10-year big leaguer Tyson Ross and former Los Angeles Angels reliever Ty Buttrey to focus on one topic… lost identity. As I stated earlier, we often judge or love/hate a player based on their performances, and both Tyson and Ty felt their identity became baseball. They lost who they were in the game itself. 
"I had to embrace my identity as more than a ballplayer as an adult. Baseball is what I do, not who I am," Tyson said. "It becomes tough because everyone you know is proud of what you have achieved and how far you have come, and sometimes they are more interested in you, the athlete more so than you as the person."
Birth of Beyond Baseball
I quickly realized there needed to be a way for the players to share their stories with their own voices. I felt I only could capture so much from writing about their experiences. The one way I felt we could share these stories from the players perspective was through a podcast. Thus Caleb Mezzy and I created the Beyond Baseball podcast with Prospects Live.
Whether it was sharing stories about how Tyson Ross found a passion for museums and art because it reminded him of pitching, how Vinnie Pasquantino worked as a cook at a burger joint during the 2020 COVID-19 season, how having a family changed Devin Mesoraco's perspective on life, or how Matt Gage played for five major league teams and played in three foreign leagues before making his major league debut in 2022, we found a way for the players to share their stories through their own voices.
Our goal with the podcast was to provide a space where players could come on and feel comfortable talking about the stories that go beyond the game of baseball. The stories that truly make them the incredible human beings they are each and every single day. We wrapped up season one and were able to kick off season two with Jake Burger of the Chicago White Sox. We had an incredible and open conversation about his battles with mental health, being diagnosed with PTSD, and how he is now using his story to help others and raise awareness around mental health.
Relaunch with Just Baseball
We are excited to bring you these incredible stories to Just Baseball. Behind the Seams may have a new name, but we will aim to continue to provide that safe space for players to come on and share all the stories and journeys they have had that make them the unique individuals that they are. We hope that opening you up to the human side of the players that play this game you love will help grow a stronger connection between both the fans and players.
Behind the Seams will be an opportunity for fans to hear from the players themselves about how they got to where they are today, how they overcame adversity and struggles that many of us can relate to, and the passions and things they have away from the game that make them whole people. The players on the teams that we love are more than just baseball players. We hope you will join us on this journey as we aim to bring you a different side of this beautiful game that we all love.
Follow and Subscribe to Behind the Seams on your favorite social media sites! 
Spotify: https://open.spotify.com/show/0gPSkeBgnFoTHFtAVkyV03
Instagram: @behindtheseams_pod
TikTok: @behindtheseamspod