Analysis
Baseball's Next Top Prospect
Wander Franco kept the seat warm for two years, whose turn is it next on the throne?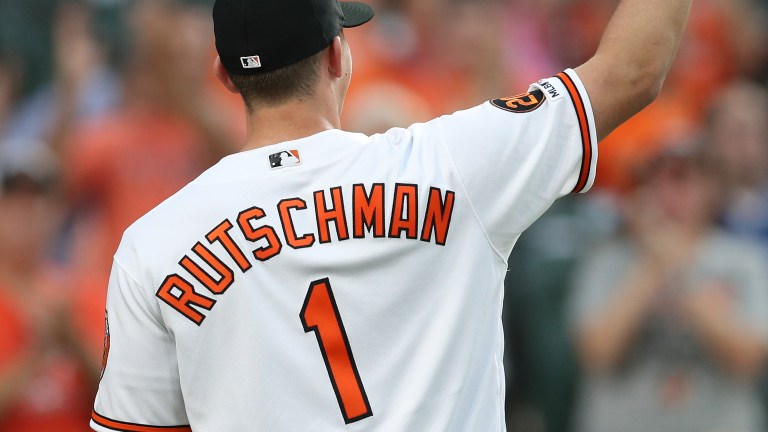 As Wander Franco presumably graduates from the top prospect lists in the coming weeks, his more than two year stronghold on the top overall ranking will be relinquished. That opens the door for a few different names to overtake the premiere spot on top 100 lists.
For the sake of transparency, Adley Rutschmann will be our No. 1 prospect in our post-draft Top 100 list, but I am still going to make the case for the players who I believe are worthy of consideration for the top designation.
Adley Rutschman – Catcher – Baltimore Orioles
After telling you Adley is No. 1, I have to start with him. There really isn't much to dislike about the former top overall selection in the 2019 MLB Draft. He is a switch-hitting catcher with a plus hit tool, plus raw power and a premium defender.
This season, Rutschman is hitting .287/.426/.520 with 11 HR and a 157 wRC+ in Double-A. The Orioles future backstop has also walked more than he has struck out (40/35 BB-K), and has over a .400 on base percentage from both sides of the plate.
Rutschman is a great receiver, and has gunned down 33% of base stealers. Not only is Adley Rutschman my top overall prospect the second Wander Franco graduates, but I think he can become one of the best catchers in baseball pretty soon. His patience at the plate, power from both sides and Gold Glove caliber defense is enviable.
Julio Rodriguez – Outfield – Seattle Mariners
J-Rod was no doubt the next best option behind Adley Rutschman. The 20-year-old recently earned a promotion to Double-A, after continuing to demolish High-A pitching. Similarly to Wander Franco, Rodriguez is a wunderkind who has never been affected by the fact that he is significantly younger than his competition.
As an 18-year-old in 2019, J-Rod slashed .326/.390/.540 between Low and High-A, despite being four years younger than his competition. Naturally, Rodriguez has been even better in 2021. In 28 High-A games, Rodriguez hit .325/.410/.581 with six homers and a whopping 171 wRC+.
Rodriguez is a rare blend of hit-tool and power that gives him a great chance to tap into a great deal of his limitless potential.
| | |
| --- | --- |
| Wander Franco MILB Career (214 G) | Julio Rodriguez MILB Career (174 G) |
| .332/.398/.536, 27 HR, 95 XBH | .323/.398/.543, 23 HR, 86 XBH |
The former No. 1 overall prospect's minor league numbers aren't far off from Julio Rodriguez's
Spencer Torkelson – 1B/3B – Detroit Tigers
After a slow start to his professional career, 2020's first-overall selection made High-A Central his personal launch pad, until the Tigers elevated him to Double-A. Torkelson hit .312/.440/.569 in High-A, with half of his hits going for extra bases.
Having only played 12 games since his promotion, Tork is still adjusting to Double-A pitching. But the former Arizona State Sun Devil has shown an incredible ability to feel out pitching and attack the right pitches. After all, he is used to being pitched around.
Torkelson broke Barry Bonds' freshman home run record at Arizona State, and since then, he has been the most feared hitter on nearly every field he steps on. The 21-year-old Torkelson has already launched three homers in his dozen Double-A games, and sports an impressively low 17% K-rate. His swing is simple, repeatable, and powerful, somewhat reminiscent of Nelson Cruz.
While he has exceeded my expectations at third base so far, I still find it unlikely that Torkelson ends up anywhere other than first base. Regardless, Tork's prolific power to all fields should give him a chance to be one of the most feared hitters in the Big Leagues, dwarfing a massive Comerica Park in a way that only Miguel Cabrera in his prime could.
Bobby Witt Jr. – Shortstop – Kansas City Royals
The only thing holding Bobby Witt Jr. from leap frogging the guys above him in this article is track record. 2020 did not allow for Witt to showcase his 5-tool potential. Coming into this season, we hadn't seen much of Bobby Witt Jr. outside of a high school setting and a lackluster, brief rookie-ball debut.
Witt has been well worth the wait for Royals fans and prospect nerds like myself. He has every tool in the shed and has put them on display in Double-A for the Royals, slashing .286/.354/.551 with 12 HR, 13 SB, and premium defense at short. He also had a homer taken away from him because he allegedly did not touch home plate, but it was pretty clear that he did.
Think Trevor Story with a better glove, that is legitimately within reason for Bobby Witt Jr. Aside from the hit-tool, which I would put a 50-grade on, it truly is 60s across the board for him, with a 70 on his raw power. After all, Witt has already produced 450-foot homers with 112+ MPH exit velos. Oh yeah, and he just turned 21-years-old a week ago.
Grayson Rodriguez – RHP – Baltimore Orioles
Grayson Rodriguez is the top pitching prospect in baseball, and it really is not even that close anymore. A 2018 first-rounder, Rodriguez's numbers have been patently absurd this year. In ten starts between High-A and Double-A, Rodriguez boasts a 1.69 ERA, while striking out 76 in 48 innings (14.25 K/9).
His stuff is otherworldly, his fastball sits 96-98 MPH (2500 RPMs), and is a 70-grade pitch. The changeup already flashes plus and he also features an 88-90 MPH cutter, 82-84 MPH slider with late bite, and a curveball which has good shape and gives him a fourth viable offering.
Rodriguez sports the best swinging strike percentage in the minor leagues at 21.6%. On top of the nasty stuff, G-Rod's command is impressive as well. The 21-year-old right-hander owns the second-best K-BB% in the minors (35.8%), trailing only Shane Baz of the Rays.
Even if MacKenzie Gore didn't hit a developmental wall, I would probably give Grayson Rodriguez the nod at the top of the pitching prospect leaderboards. His deep bag of stuff and impressive ability to command it is just too rare. On top of all of that, his velocity has steadily risen as the season has endured in his career.
There really is no ceiling on this kid.