Rankings
Baltimore Orioles Top Prospects: End of Season Update
With arguably the best farm system in baseball, Baltimore seems primed to continue ascending to true contention after a surprisingly strong 2022.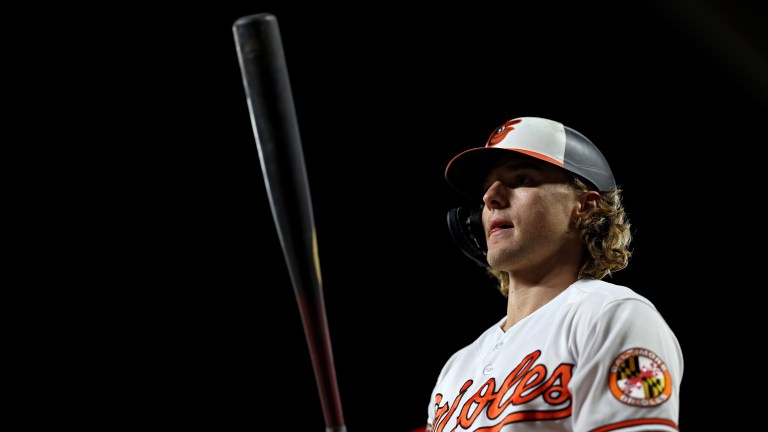 Even after graduating Adley Rutschman, the Baltimore Orioles possess one of baseball's most elite farm systems. Led by a slew of near-MLB ready bats and the top pitching prospect in the game, the future is extremely bright in Baltimore.
1. Gunnar Henderson – SS – (MLB)
Height/Weight: 6'3″, 210 | Bat/Throw: L/R | 2nd Round (42), 2019 (BAL) | ETA: 2023
| | | | | | |
| --- | --- | --- | --- | --- | --- |
| HIT | RAW POWER | GAME POWER | RUN | FIELD | FV |
| 50/55 | 60/65 | 55/60 | 55/55 | 45/50 | 65+ |
Henderson has done everything possible to improve his stock over the last two seasons. Seeing gains in just about every tool while demonstrating a veteran's maturity at the plate, it is easy to see how the 21-year-old has become one of baseball's best prospects.
Offense
A simple upright setup with relaxed hands, Henderson utilizes a small gathering leg kick to get into his back side and does a really good job of staying there. Aside from a slight stretch backwards, Henderson doesn't feature much hand movement with his load, allowing him to repeat his moves and timing.
Henderson has continued to add strength since joining the Orioles organization, producing exit velocities as high as 112 MPH and home runs as long as 480 feet this season. The simplicity of his swing and easy power has helped Henderson consistently tap into his exciting raw pop in games with potentially even more in the tank.
Great plate discipline and body control help Henderson remain productive against all pitch types, and he uses the entire field impressively. He could probably benefit from getting the ball in the air a bit more (47% ground ball rate), though Henderson's ability to hit the ball hard to all fields and above average speed should have him routinely above average in the BABIP department.
A patient hitter, Henderson has maintained a chase rate below 20% all season and should consistently get on base at an impressive clip. After really struggling through his first couple seasons left-on-left, Henderson has looked much more comfortable against lefties in the upper minors this year. There's still room for improvement with Henderson's splits, but when you crush righties to an OPS over 1.000, a .740 OPS vs. lefties is more than tolerable.
Defense/Speed
Long viewed as a candidate to move to third due to his size, Henderson still moves extremely well and has looked the part of an everyday shortstop. Henderson's smooth actions and plus arm are complemented by impressive quickness for a 6-foot-3, 210 pound guy.
Though we have seen Henderson move around the diamond in Triple-A and at the MLB level, that is more a testament to Henderson's natural fielding ability and versatility than an inability to stick at shortstop. The 21-year-old has all of the physical goods and the instincts to be a big league average shortstop now, but also offers the ability to move all over the infield.
A well above average runner, Henderson was 22-for-25 on stolen base attempts in the upper minors this season and should be a threat for 15-20 stolen bases annually.
Outlook
Five tool potential with a relatively high floor, Henderson is one of baseball's best prospects for a reason. After dominating Double-A, Henderson entered Triple-A as the level's youngest player and continued his torrid production. The 21-year-old's game was polished enough for the Orioles to see him as an asset to their playoff push, earning a September call up for the American League Wild Card hopefuls.
Henderson's skillset is similar to that of Bobby Witt Jr.'s with perhaps slightly less loud tools and a more advanced approach. The Orioles will have a decision to make in regards to how they want their infield to shake out, but it is safe to assume that Henderson will be holding down the left side of their infield for the foreseeable future.
There's perennial All-Star upside with Henderson who has enough power to swat more than 30 homers while getting on base at a high clip and adding value on the base paths.
2. Grayson Rodriguez – RHP – (Triple-A)
Height/Weight: 6'5″, 225 | Bat/Throw: R/R | 1st Round (11), 2018 (BAL) | ETA: 2022
| | | | | | | |
| --- | --- | --- | --- | --- | --- | --- |
| FASTBALL | SLIDER | CURVEBALL | CHANGEUP | Cutter | COMMAND | FV |
| 70/70 | 60/60 | 55/60 | 70/80 | 50/55 | 50/55 | 70 |
The best pitching prospect in baseball really does not have a weakness on the mound. A big body with three easily plus pitches and good command make it easy to see why Rodriguez is the most impressive arm in the minors.
Arsenal
Since Rodriguez has arrived to professional baseball, he has done nothing shy of dominating. Since 2018, the 22-year-old has pitched to a 2.41 ERA across every minor league level while striking out 406 in 283 1/3 innings.
Rodriguez throws from a high ¾ arm slot with consistent, medium-effort mechanics and tons of arm speed. Rodriguez's repertoire starts with his mid-to-upper 90's fastball with jump. He commands the pitch well, getting whiffs at the top of the zone while working east west effectively too. The big right-hander has been able to sustain at least mid-90's velocity deep into starts.
The high velocity, riding fastball pairs with Rodriguez's screwball of a changeup at 83-85 mph to make hitters extremely uncomfortable. Rodriguez has a phenomenal feel for his change, throwing it for strikes to both lefties and righties in any count. An easy plus plus pitch, the 12 inches of horizontal break, the pitch fades away from lefties, inducing plenty of weak contact while also diving in and under the hands of righties.
Rodriguez also features a plus slider with sharp, late bite in the low 80's that he manipulates and locates with ease. Opponents posted just a .496 OPS against the pitch this season. While Rodriguez uses his slider more than twice as much as his curveball, he has made some adjustments with the shape of the pitch, flashing plus with more depth and downward break.
Rounding out Rodriguez's arsenal is an 89-91 mph cutter that he will mix in to get weak contact and provide a fourth speed for the hitter to worry about.
Outlook
There's no minor league pitcher with bag of pitches as deep and as nasty as G-Rod. The different looks he can give hitters at 6-foot-5 makes at-bats miserable to say the least.
A fastball with ride, changeup with big arm-side fade, a hammer curveball that dives out of the strike zone and a cutter as a taste-breaker leaves hitters worrying about four different directions and speeds. He commands his entire arsenal so well that it breaches the unfair territory. The Orioles very well could have their ace as they head towards building a contender at Camden.
3. Colton Cowser – OF – (Triple-A)
Height/Weight: 6'3″, 195 | Bat/Throw: L/R | 1st Round (5), 2021 (BAL) | ETA: 2023
| | | | | | |
| --- | --- | --- | --- | --- | --- |
| HIT | RAW POWER | GAME POWER | RUN | FIELD | FV |
| 50/55 | 55/60 | 45/55 | 55/55 | 45/55 | 60 |
Great contact skills and developing power with a projectable/athletic frame give Cowser an exciting combination of a solid floor and intriguing upside.
Offense
Upright stance from the left side and a simple swing geared for line drive contact, Cowser's limited movement allows him to be on time and repeat his swing. A great athlete, Cowser's lower half adjustability and impressive feel for the barrel help him put good swings on tough pitches and use the whole field.
One of the most polished hitter's in the 2021 draft, some scouts wondered how much power would be in the tank for Cowser with a swing that is more geared for consistent contact. Cowser has answered those questions this season with 17 homers across three levels. With a max exit velocity of 113 MPH this season and 90th percentile EV of 103.6 MPH, Cowser is already producing above-average impact and has room to fill out more.
With the added power has come a bit more whiff than expected, but Cowser hedges that with a great approach. Just a 17% chase rate has helped Cowser walk at a 15% clip and his natural feel to hit still shines through. Cowser has had to adjust to aggressive assignments and should settle into a strikeout rate closer to 20% than 30%.
Cowser has struggled against lefties this season which is something to monitor, though his ridiculous numbers against righties and ability to draw free passes against lefties helps quell the splits concern. Again, Cowser is too good of a hitter to have gaping splits longterm.
Defense/Speed
An above-average runner, Cowser covers plenty of ground in center field with long strides and solid closing speed. He has seen action in all three outfield spots, but the majority of Cowser's starts have come in center this season. Solid reads and instincts along with an above average arm give him a great chance to stick in center, but if he moves to a corner he could profile as a fringe plus defender.
Cowser stole plenty of bases in the lower levels, but struggled to find the same success in Double and Triple-A. He adds value on the bases, though will probably never be more than the occasional base stealer.
Outlook
Every farm system needs a Colton Cowser. In the volatile world of prospects, Cowser offers a rare level of safety while still providing enough projection to get excited about. The uptick in power and comfort in center field pushes Cowser's ceiling higher, but Orioles fans should feel really confident in the fact that they have at least an above average regular in Cowser. There's shades of Kyle Tucker in his game.
4. Jackson Holliday – SS – (Low-A)
Height/Weight: 6'1″, 175 | Bat/Throw: L/R | 1st Round (1) – 2022 | ETA: 2026
| | | | | | |
| --- | --- | --- | --- | --- | --- |
| HIT | RAW POWER | GAME POWER | RUN | FIELD | FV |
| 50/60 | 45/55 | 40/55 | 60/60 | 45/55 | 60 |
The son of MLB All-Star Matt Holliday and the No. 1 selection in the 2022 Draft, Holliday has five-tool potential and looked great in his brief debut season.
Offense
Holliday is an advanced hitter for his age with a smooth swing from the left side and comfort driving the ball to all fields. Starting upright, Holliday utilizes a slow leg kick to get into his lower half, but repeats it well and has looked comfortable with his timing.
The athleticism of Holliday is more than evident in the batter's box, as he shows off impressive lower-half adjustability, helping him still get off good swings even when he is a bit fooled our out front. Much like his father, Holliday is a patient hitter who does not strike out much and will work plenty of free passes.
Holliday's barrel lives in the zone and even in the limited action we saw from him in his 2022 debut, the 18-year-old swung through few pitches. The impact is not totally there yet for Holliday, but he has a big frame and room to add more muscle which could help him develop above average or even plus power. Holliday projects as a plus hitter.
Defense/Speed
A plus runner with plenty of lateral quickness and range, Holliday has a great chance to stick at shortstop. He is already demonstrating smooth actions, good instincts and soft hands to go with a plus arm. Holliday should blossom into an above average defender at short. His plus speed should make him a consistent threat to steal bases.
Outlook
It's easy to see why Holliday was the No. 1 pick in the 2022 Draft. He has already shown a feel to hit with tools and physical projection to dream on. Arguably the most advanced prep prospect in his class, Holliday has a chance to climb the minors relatively quickly thanks to his polish and approach to the game.
How much power he taps into will be a determinant in just how absurdly high his ceiling is, but Holliday's instincts, natural hitting ability, physical projection and bloodlines have Holliday looking like a potential All-Star shortstop for the Orioles.
5. DL Hall – LHP – (MLB)
Height/Weight: 6'2″, 195 | Bat/Throw: L/R | 1st Round (21), 2017 (BAL) | ETA: 2022
| | | | | | |
| --- | --- | --- | --- | --- | --- |
| FASTBALL | SLIDER | CURVEBALL | CHANGEUP | COMMAND | FV |
| 70/70 | 60/60 | 50/55 | 55/55 | 35/40 | 55 |
Arguably possessing the nastiest stuff of any left-handed prospect in baseball, it is all about command and health for Hall. On pace for a career-high mark for innings this season, Hall has at least made major strides in regards to the latter this year.
Arsenal
Hall is a very athletic and whippy athlete who gets great extension and features big time arm speed. The fastball is the calling card for Hall, as the 6-foot-2 lefty routinely sits in the mid-to-upper 90's with ride.
Hall's command of the heater is fringe average with a tendency to miss arm-side due to the heavy run he produces when he flies open too early. Hall has trouble consistently locating it to his glove side, something he will need to shore up in order to reach his ceiling.
The second plus offering for Hall is his slider with late bite in the mid 80's. The southpaw leans on the pitch much more frequently in left-on-left matchups, holding them to a .487 OPS on the pitch.
The changeup gives Hall another comfortably above-average secondary pitch in the mid 80's that features lots of arm-side run and some sink. He throws the pitch with good arm speed, creating lots of deception, making it his go-to secondary against right-handed hitters. The change has the ability to miss bats, however, it specializes in inducing soft contact.
Hall also has a slurvy breaking ball that features 10-4 break in the low 80's. His two breaking balls had the tendency to blend together earlier in his career, but he has focused on distinguishing the two offerings. Hall's curveball lacks the tightness of his slider and is a bit more of a hittable pitch, but is still an above-average secondary that he will use to steal strikes.
Outlook
Hall saw his 2021 season cut short due to a stress reaction in his elbow, but has returned looking as good as ever this season. Though command has remained a struggle for Hall, he has continued to punch out hitters at one of the highest marks in the minors (36.6%).
The Orioles promoted Hall to pitch out of their bullpen as they tried to make a playoff push, but it was also probably to limit his innings a bit as he is on his way to a career-high mark coming off of an injury.
Hall's repertoire is as impressive as anyones and he is clearly the second-best pitching prospect in the Orioles farm system. The raw movement on his pitches is great. However, he will have to continue to make strides with his command in order to reach his No. 3 ceiling. As we are already seeing, Hall has a comfortable fall back as a nasty reliever.
6. Jordan Westburg – SS – (Triple-A)
Height/Weight: 6'2″, 205 | Bat/Throw: R/R | 1st Round (30), 2020 (BAL) | ETA: 2023
| | | | | | |
| --- | --- | --- | --- | --- | --- |
| HIT | RAW POWER | GAME POWER | RUN | FIELD | FV |
| 40/50 | 50/55 | 45/55 | 55/55 | 40/45 | 50+ |
Westburg followed up a strong 2021 season with an even bigger 2022 in Triple-A. The former first rounder should be a part of the Orioles 2023 plans.
Offense
A crouched stance with a quiet load and short stride, Westburg keeps things simple in the box. Westburg is quick to the ball which allows him to catch up to velocity and avoid cheating. His swing at times can be a bit flat, but he has started to lift the ball with more consistency.
Westburg hits the ball hard and by cutting his ground ball rate by 8% this season, he has seen a major jump in the power department. After hitting 15 homers last season, Westburg launched 27 more in 2022 between Double-A and Triple-A.
Though he's just an average hitter, Westburg's ability to drive the ball to all fields and advanced plate discipline reinforce the belief that he will be able to hit enough at the highest level. Westburg has above average raw power and his ability to get into it consistently in games this season bodes well for his longterm outlook. It's hard to poke a hole in Westburg's offensive game.
Defense/Speed
An above average runner, Westburg has enough athleticism and a good enough arm to stick at shortstop defensively. With multiple shortstops at the big league level for the Orioles, Westburg has seen action at third base and second base this season. He would project as a well above average defender at either spot.
Westburg improved his efficiency as a base stealer this season, going 12-for-15 on stolen base attempts. He is quick enough to steal a handful of bases annually at the highest level.
Outlook
Average or better tools across the board and consecutive productive seasons make it difficult to find a deficiency in Westburgs's profile. He has hedged swing and miss concerns with a career-low strikeout rate in Triple-A while producing his best power numbers.
Westburg has the potential to provide a steady bat with 20-25 homers in the tank and defensive value all over the infield.
7. Connor Norby – 2B – (Triple-A)
Height/Weight: 5'10″, 190 | Bat/Throw: R/R | 2nd Round (41), 2020 (BAL) | ETA: 2023
| | | | | | |
| --- | --- | --- | --- | --- | --- |
| HIT | RAW POWER | GAME POWER | RUN | FIELD | FV |
| 50/55 | 50/55 | 50/55 | 50/50 | 45/50 | 50+ |
A track record of hitting at ECU topped off with a power breakout in his junior season shot Norby into early round consideration. He has kept the power trend going in his first full pro season, launching 28 homers in 118 games across High-A, Double-A and Triple-A.
Offense
Swings don't come much simpler than Connor Norby's. His coach at East Carolina, Cliff Godwin, preaches quiet pre-swing moves with the no stride approach in two strike counts. The philosophy does not work for everyone, but for talented hitters like Burleson and Norby (as well as various MLB examples), it has been a big reason why they have both been able to reach Triple-A in their first full season.
Much like Burleson, Norby has been able to still tap into above average raw power with limited movement and his feel to hit allows him to squeeze out every bit of that power in games. Does a great job of hunting pitches he can do damage with early in counts before relying on his natural feel to hit and ability to spray the ball all over when he has two strikes.
Low ground ball rates and above average exit velocities have helped Norby launch 28 homers this season, but for a guy with limited physical imposition, it is really impressive how he is able to leave the yard foul pole to foul pole.
Defense/Speed
Another good athlete, but not a burner, Norby brings above average speed to the table and excellent footwork/actions at second base. He has good hands and an average arm. He should be an above average defender at the position.
I don't expect Norby to be a huge base stealer, but he moves well enough on the base paths to provide some value in that regard. He stole 16 bases on 22 tries this year.
Outlook
Norby is a well rounded player who gets the most out of his above average tools. Climbing three levels in one season is impressive enough, but Norby has seen his production improve at each stop while his strikeout rate was dwindled.
Having just turned 22 years old, Norby is on a fast track to the big leagues. He'll likely begin next season in Triple-A with a chance at an early season promotion. The Orioles have played Norby in the outfield some due to their crowded infield organizationally. The reality is, if Norby keeps hitting like this, they will have to find a spot for him at Camden Yards.
8. Coby Mayo – 3B – (Double-A)
Height/Weight: 6'5″, 190 | Bat/Throw: R/R | 4th Round (103), 2020 (BAL) | ETA: 2024
| | | | | | |
| --- | --- | --- | --- | --- | --- |
| HIT | RAW POWER | GAME POWER | RUN | FIELD | FV |
| 40/55 | 50/60 | 35/55 | 50/40 | 45/50 | 50+ |
A popular breakout candidate, Mayo did not quite have the year many had hoped in 2022, but he still put up above average numbers despite aggressive assignments.
Offense
Huge frame, long levers, yet a surprisingly controlled swing, Mayo impressed with his feel to hit the second he entered pro ball. Despite his 6-foot-5 frame, Mayo's swing is compact and efficient helping him punish fastballs to a .952 OPS last season. The 20-year-old struggled to recognize more advanced spin, causing his strikeout rate to jump from 21.5% in High-A to 34.5% in Double-A. His advanced swing, above average contact rates and impressive athleticism for his size hedges any longterm whiff concern.
Mayo already has flashed plus power and has plenty more room to fill out. His 90th percentile exit velocity of 104.5 mph is comfortably above average and posted exit velocities as high as 112 mph last year.
It's easy to understand why the O's were willing to go well over slot for the teenager; his simple hitting mechanics follow suit with what the organization looks for, but he also has massive upside with his huge frame and athleticism. As Mayo continues to mature physically and at the plate, it's easy to dream on 30+ home run upside.
Defense/Speed
Mayo moves really well for his size and has a plus arm at third base. There are some who believe that Mayo could end up moving to a corner outfield spot where his arm will play well and he would be more than nimble enough to be an above average defender. For now, the O's are continuing to get Mayo reps at third, where he showed improvement with his actions as the year went on as well as decent footwork.
Outlook
It is still relatively early in the development of Mayo, so there's still a wide range of outcomes, especially with the profile that Mayo has physically. Mayo has a similar upside to Ryan Mouncastle, but Mayo has a better feel to hit at this stage and is a more athletic defender. Like many young high school draftees, Mayo's breakout could come a year after expected.

9. Kyle Stowers – OF – (MLB)
Height/Weight: 6'3″, 205 | Bat/Throw: R/R | 2nd Round (CBB – 103), 2019 (BAL) | ETA: 2022
| | | | | | |
| --- | --- | --- | --- | --- | --- |
| HIT | RAW POWER | GAME POWER | RUN | FIELD | FV |
| 40/45 | 60/60 | 50/55 | 50/50 | 45/50 | 50 |
Stowers simplified his swing, and in turn saw his whiff rates decline to the lowest of his career while maintaining his plus pop. A big year in Triple-A earned him a big league promotion where he more than held his own for 34 games.
Offense
Once very upright with a big leg kick, Stowers adjusted his set up to have a bit more of a bend in his legs and a more subtle load. At 6-foot-3, 205 pounds with above average bat speed, Stowers is till able to produce plus exit velocities with ease and was more consistent with his timing.
As a result, Stowers saw his zone contact rate jump by six percent while his strikeout rate dropped by more than five percent. There likely will always be some swing and miss in Stowers' game, but his high slugging on contact and ability to hit lefties help offset those issues.
Tied with Ryan Mountcastle for the best 90th percentile exit velocity in the organization, Stowers more consistently tapped into his pop in games by lifting the ball more frequently. He smacked a career-best 59 extra base hits in 129 games between Triple-A and MLB last year.
Defense/Speed
An average runner, Stowers uses his long strides to cover ground in the outfield. While he lacks the speed to be an impactful big league centerfielder, Stowers takes efficient routes and moves well enough to play all three outfield spots if needed (he made 42 starts in center in Triple-A last season). His plus arm in addition to the solid jumps he gets give him above average potential in either corner.
Outlook
Stowers forced his way into the Orioles' plans with a big year in 2022 and has a chance to crack their 2023 Opening Day outfield. While he may not have the upside of some of the talented hitters ranked ahead of him in the loaded Orioles system, it's hard to deny what Stowers showed at both the Triple-A and MLB level given his tangible adjustments in the box.
At the absolute worst, Stowers is an average defender in either corner and his batted ball data speaks for itself in regards to his power. Ultimately, whether Stowers reaches his ceiling of an above average regular hinges on his hit-tool. There's plenty of reason to feel good about the progress he has shown in that regard.
10. Heston Kjerstad – OF – (High-A)
Height/Weight: 6'3, 205 | Bat/Throw: R/R | 1st Round (2), 2020 (BAL) | ETA: 2024
| | | | | | |
| --- | --- | --- | --- | --- | --- |
| HIT | RAW POWER | GAME POWER | RUN | FIELD | FV |
| 40/50 | 50/65 | 50/55 | 50/50 | 45/50 | 50 |
The second overall pick in 2020, health issues delayed Kjerstad's professional debut to 2022. It was great to see Kjerstad back on the baseball field and he showed plenty of flashes of the exciting offensive force he can be.
Offense
It appears as though Kjerstad has a lot of moving parts to his swing but when you boil it down, his load and swing are repeatable for him. Kjerstad uses a loose, rotational bat waggle, similar to Houston's Jeremy Peña, which helps him get slotted. His leg kick is less pronounced than it was in his collegiate days at Arkansas as well.
Kjerstad dominated Low-A pitching for 22 games before earning a promotion to High-A, where he struggled a bit. The 23-year-old's last game action was in early 2020 at Arkansas prior to the season being shut down due to COVID-19 which is important to note when looking at his High-A challenges.
Perhaps still getting his feet under him, Kjerstad struggled with a lack of discipline at the plate, chasing 30% of the time and specifically expanding the zone on fastballs frequently. He also flashed some of the easy plus power that sold the Orioles in 2020 with a pair of 110 mph homers during the season. There is likely even more power in the tank as Kjerstad gets his body back into game shape after his challenges with Myocarditis (inflammation of the heart, which he developed after a COVID-19 case).
Kjerstad continued to show off the power in the Arizona Fall League, but whiffs remained an issue there as well. Seeing Kjerstad get back to consistently generating brute force is extremely encouraging and he will just need to get more at bats as he continues to make up for lost time. There's 30+ homer upside if he can hit enough.
Defense/Speed
Though he is a below average runner, Kjerstad moves well enough in the outfield to make the plays he needs to make and has a plus arm to supplement things. He has a true right fielder's profile and should be an average defender there.
Outlook
Putting a definitive projection on Kjerstad at this point wouldn't be fair to him. Still with only 65 pro games under his belt + the Fall League Kjerstad has barely had an opportunity to develop. Patience will be key as Kjerstad will likely have to tackle an aggressive assignment next year, but with his talent and now a steady track record of the Orioles developing their hitting prospects, there is plenty of reason to be optimistic.
Other Names to Watch
Seth Johnson – RHP – (High-A): Acquired in the three team Trey Mancini trade from the Rays, Johnson has as much upside as any pitching prospect in the Orioles' system not named Rodriguez or Hall. He will likely miss all of 2023 due to Tommy John surgery which is why the Rays may have been more willing to part with him, but before he went down he flashed an upper 90s heater with life (70 grade) with a wipeout slider.
Dylan Beavers – OF – (High-A): Beavers boasted some of the loudest tools of the college crop in last year's draft, enticing the O's to nab him with the 33rd overall pick. The left handed hitting outfielder has the potential for a rare plus power and speed combination, but will need to smooth things out with his swing a bit.
Joey Ortiz – SS – (Triple-A): It was a tale of two halves for Ortiz. He went nuclear from July 1 onward, slashing .352/.416/.610 in 74 games. Ortiz is easily one of the most underrated prospects in this system, boasting a combination of above average power and an above average feel to hit. With staying power at shortstop as well, Ortiz is a strong 2023 start away from jumping inside the Orioles' top 10 prospect list.
Hudson Haskin – OF – (Double-A): Haskin enjoyed a power breakout in Double-A last season launching 15 homers and 41 extra base hits in 109 games. A good athlete who can play all three outfield spots, Haskin has not received the attention he deserves since being selected in the second round in 2020.
Jud Fabian – OF – (High-A): Once viewed as a top 10 pick candidate, swing and miss concern caused Fabian to fall to the Red Sox in the second round of the 2021 MLB Draft but opted to return to the University of Florida. Fabian didn't do enough to quell whiff concerns in his last college season, though he continued to showed off his plus power and athleticism.
The newly-turned 22-year-old fell even further last year, eventually getting nabbed by the Orioles with the 67th overall pick. Fabian demolished Low-A pitching but struggled in a limited sample in High-A. He's as polarizing of a prospect as you'll find in this system.
Chayce McDermott – RHP – (Double-A): Acquired alongside Seth Johnson in the Trey Mancini trade, McDermott's surface level stats were not pretty last season. Despite a 5.56 ERA between High-A and Double-A, the 24-year-old has the floor of a tough reliever with his mid 90s fastball and plus slider.