Analysis
Arizona Fall League Check In: Who's Performing?
A look at the Arizona Fall League prospects who are off to great starts and what is working for them.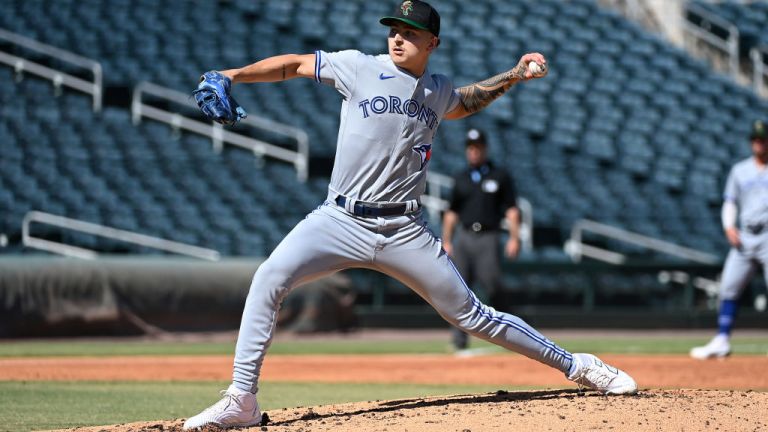 Now about 10 games into the Arizona Fall League season, many of the top arms have made at least three starts while hitters have pushed towards the 50 plate appearance mark. Several of the top-rated prospects in the league have impressed from the jump, but it's important to key in on some of the specifics and underlying data to get a good idea on how things are going from a development standpoint…that's why this league exists after all!
While several of names below are Top 100 prospects or close to it, several others have stood out with their starts in Arizona as they either look to make up for lost time, build off of a hot finish to the regular season or both.
Kyle Manzardo – 1B – Guardians
While 2023 was a bit of a rollercoaster for Manzardo, he finished on a high note and has carried that momentum into the Fall League. One of the best hitters in the Minor Leagues over the last couple seasons, Manzardo had enjoyed a great start to the Triple-A season before a rough June was followed by an IL stint.
During his time on the IL, Manzardo was traded to the Guardians in exchange for Aaron Civale at the trade deadline, but didn't return to action until August 24th. From that point onward, Manzardo was a force, closing out the season with a .938 OPS over his final 21 games, including six home runs and nearly as many walks as strikeouts.
A candidate to break camp with the Guardians next season, the team likely wanted to keep Manzardo's hot streak going and get him a full season's worth of at bats despite him being much more polished than the majority of his competition.
Through his first 10 games, the 23-year-old has continued to mash, posting an OPS of 1.126 with five homers and four doubles. It's no secret the ball flies in Arizona and an uptick in power output form Manzardo was somewhat expected, but coming off of a partially dislocated shoulder, it is encouraging to see him consistently hitting the ball hard.
Manzardo has produced 11 batted balls above 100 mph including a 107 mph homer that traveled 471 feet. Again, I know the ball carries further out there, but 471 feet is a poke anywhere.
Since returning from the IL in late August, Manzardo has launched 11 homers in 31 games between Triple-A and the AFL, with 23 extra base hits and an OPS over 1.000.
James Triantos – 2B – Cubs
A second round pick in 2021, Triantos has always been a hit-over-power prospect, evident by his .284/.350/.412 line as a pro. He rarely whiffed in 2023, running a strikeout rate just under 11% and a zone contact rate of 90%.
With a slugging percentage below .400 in High-A and defensive limitations, the Cubs are likely looking for Triantos to get into some more power and find a steady defensive home. He has been unstoppable thus far offensively, picking up 20 hits through his first 11 games, seven of which for extra bases.
Though a small sample, he is hitting the ball in the air more frequently through his first 50 plate appearances and already flashed his highest exit velocity of the year at 106 mph.
Defensively, Triantos has seen action all over the diamond making starts at second base, third base, centerfield and left field. I am looking forward to some live looks on the defensive side of things as he searches for his most comfortable spot.
Jakob Marsee – OF – Padres
The perfect leadoff hitter for High-A Fort Wayne, Marsee reached base at a .413 clip in the regular season while racking up 125 hits in 129 games. He can absolutely fly, swiping 46 bags on 55 tries and has done more of the same thus far in the AFL.
Through 11 games, Marsee has compiled 19 hits, 9 for extra bases, with an on base percentage of .536 and seven stolen bases in as many tries. A 6th round selection in 2022 out of Central Michigan, Marsee looks like an outfield piece who could climb quickly thanks to his defensive ability as well. With a continued strong showing in the AFL, the always aggressive Padres could consider a call up next season despite only 16 games played above High-A.
Sterlin Thompson – 2B – Rockies
The 31st overall selection in the 2022 Draft, Thompson has swung it well at every stop as a pro, sporting a 129 wRC+ in 120 games. Much like Marsee, Thompson is patient and makes plenty of contact, helping him to a .549 OBP through his first 11 games with more walks than strikeouts.
Featuring a flat swing geared for line drives, Thompson has sprayed liners all over the field while playing all over the place defensively as well. He has seen action at right field, left field and second base already.
Ricky Tiedemann – LHP – Blue Jays
There's no questioning Tiedemann's ability. When healthy, he has been dominant, but health has been elusive for the Blue Jays top prospect. After returning to action in mid-August, the southpaw slowly built his workload up through the end of the season.
In his first AFL start, Tiedemann eclipsed his highest pitch total in more than a year (77) while tossing five innings of one-run ball. He has followed up that performance with two more quality outings, giving him 12 innings of four-run ball with 18 strikeouts and five walks.
The velocity has been encouraging overall from the 21-year-old, sitting in the mid-90s through the early innings of his starts and mostly holding his velocity into his fourth and fifth innings of work. There were a few 92's mixed in later in his outings, but he would then bounce back with another 95.
Tiedemann's fastball command could be a bit better, but most of his misses have been up late in starts which could very well be some fatigue as he endures more up-downs than he has in over a year as well as cumulative pitches. Similar to his occasional fastballs at a lower velocity, Tiedemann seems lock back in and execute the next pitch well.
He has weaponized his slider more through his three outings, mixing it in around 40% of the time, but the changeup has looked good in spurts too.
Jackson Jobe – RHP – Tigers
After getting a late start to the season due to a back issue, Jobe made up for lost time by dominating High-A competition before earning a Double-A cameo where he tossed six shutout to close out the regular season.
Having only thrown 62 innings in 2023, the Tigers sent their top pitching prospect out to Arizona to keep building up his workload while reinforcing some of the mechanical adjustments he made that had him throwing as well as any pitcher in the minors after he returned from the IL.
Through three AFL starts, it has been more of the same for the 21-year-old and No. 3 overall selection in 2021, allowing just three earned runs in 12 innings with 12 punch outs and three walks.
As he pushes towards his 2022 innings mark of 77 1/3 innings, Jobe has not only maintained his velocity, but has actually seen it bump up a half tick from his regular season average, sitting at 97 mph through his three starts.
His changeup continues to standout, dominating hitters from both sides of the plate and providing a different look from his double plus sweeper. Jobe checked in as the No. 24 overall prospect on our Top 100 End of Season Update.
Tekoah Roby – RHP – Cardinals
While the surface numbers may not be pretty, Roby's stuff has been impressive in Arizona. The 22-year-old right-hander battled a shoulder issue that caused him to miss nearly three months of action during which time he was sent from Texas to St. Louis in the Jordan Montgomery trade.
Upon returning from the IL, Roby made five starts at Double-A, pitching to a 3.38 ERA while striking out 23 and walking just four in 16 innings. As he has built back up, Roby has mostly pitched in three and four inning spurts where his fastball has looked lively.
Through his three starts–one of which has a blowup while the other two were dominant–Roby has averaged 95.5 mph on his fastball with good carry. He has punched out 11 batters in 6 2/3 innings with his trio of quality secondaries working off of the heater.
His curveball at 79-81 mph, slider at 85-87 mph and changeup at 81-83 mph have all flashed above average or better in addition to his fastball.
Ike Buxton – RHP – Marlins
An under-the-radar arm for the Marlins, Buxton pitched to a 2.45 ERA in 77 innings mostly at Low-A and High-A this season. The right-hander was selected in the 15th round out of Lipscomb in 2022 and has seen his stuff tick up since.
Like many pitchers in the Marlins organization, Buxton gets plenty of ground balls and features a hard changeup that looks like a plus pitch. Opposing hitters put the ball on the ground 61% of the time in his 20 starts, helping him surrender only four homers and 14 extra base hits on the season.
Command has been a challenge at times for the 23-year-old, walking 13% of batters while filling up the strike zone at just a 59% mark. He has been a bit better in the strike department through his first three AFL starts, phasing out the slider in favor of his sinker, changeup and four seam fastball.
Though he was a pitch to contact guy for most of the year, Buxton has struck out 16 through his 13 2/3 innings. With the increased whiff has come some more homers, already giving up three long balls after just four all regular season, but that is to be expected as he starts to use the top third of the zone more.