Interview
A Conversation With Joey Wiemer: The Hottest Prospect in Baseball
A one on one conversation with the hottest hitter in professional baseball.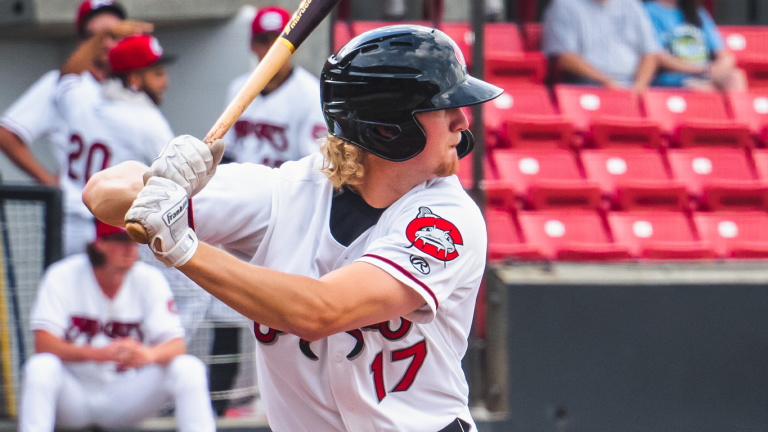 There quite literally is not a human being in professional baseball swinging it better right now than Joey Wiemer of the Milwaukee Brewers. A fourth round pick in 2020, Wiemer has enjoyed an incredible start to his professional career slashing .287/.398/.519 with 17 HR, 31 XBH, and 23 SB.
After producing just a .640 OPS through his first month of the season, Wiemer's power started to slowly emerge. He hit two homers in May, three in June, four in July, and then August happened. Video game numbers wouldn't really do Wiemer justice because hitting .490 with 8 homers in 13 games is something I couldn't even do in MLB the Show, but Wiemer has done it in High-A.
At 6-foot-5, 215 pounds, Wiemer has always had a ton of raw power, but he had struggled to tap into it in his collegiate career. In three seasons at the University of Cincinnati, Wiemer hit just 12 homers in 122 games. He has nearly matched that in figure in the last two weeks.
"I was hitting the ball really hard, but I was hitting a ton of ground balls," Wiemer said. "I am more in my back hip, back knee. A little more pre-loaded and it's taken away head movement. Ever since that slight adjustment, I've been on it pretty well."
Wiemer has an unorthodox set up and violent swing that draws comparisons to Hunter Pence. The crazy thing is, Wiemer actually has more raw power. His most recent home run came at the expense of impressive Dodgers pitching prospect Clayton Beeter, traveling 448 feet and 111 MPH off the bat.
Believe it or not, the swing you see above is a more tame version of what Wiemer's swing used to look like. When I saw him in the Cape Cod League, Wiemer's swing had a lot of moving parts, though he made it work thanks to his athleticism and quick hands. Now, he uses more of a toe tap rather than the aggressive leg kick he used to deploy. The gather from Wiemer's toe tap allows him to stay in his back hip in that pre-loaded spot mentioned earlier.
The 2020 layoff was a huge obstacle for many prospects, but for the players selected in the 2020 MLB Draft immediately had their development placed in their own hands due to COVID restrictions. Wiemer opted to go play for the Birmingham-Bloomfield Beavers of the United Shore League.
"Going out and playing Indy ball was huge for me post college," the outfielder said. "Even when I started this toe tap, I was more upright in my stance. This lower half load has helped me stay more on plane through the ball and to get the ball in the air."
Going out and playing in an environment where there is not as much pressure to succeed is the perfect time to work on the adjustments you are making as a player. While acknowledging that there were times where he thought he'd "go crazy" in Indy ball due to his struggles there, the 24 games he played for the Beavers were instrumental in his 2021 breakout.
To further the Hunter Pence comparison, Wiemer is an above average runner who plays like his hair is on fire. He jumps back and forth on the bases, lays out for anything he has a chance at, and is not afraid to get creative with his slides.
With the new stolen base rules through the lower levels of the Minor Leagues, it is hard to determine which steal figures are indicative of base running ability. For Wiemer, stolen bases have always been a part of his game. He swiped 35 bags in 122 collegiate games as well as eight more in the Cape Cod League. So far this season, Wiemer is 23 for 28 on steal attempts.
"I am really comfortable stealing. We were super big on running at Cincinnati," the 22-year-old said. "I'm not very surprised by my stolen bases right now. I feel like that's something I will have continued success with."
Wiemer's athleticism makes its way into the outfield where he is an above average defender in either corner. Up over 90 MPH on the mound in high school, Wiemer has the arm for right field and enough speed to fill in up the middle when needed. Ultimately, the 6-foot-5 outfielder will likely end up in a corner, but the fact that he has been able to make 22 starts this year in center field is a testament to his athleticism and versatility.
As we head down the final stretch of the season, Wiemer is focused on staying the course. He acknowledged that the game of baseball has a way of humbling you really quickly.
"Hitting is like 99 percent mental," he said. "My goal is to treat every game the same. Not letting a day slip away from me right now because I had a good day last week."
Listen to the full interview with Wiemer below: