Analysis
2023 MLB Mock Draft 2.0
LSU outfielder Dylan Crews has long been considered the shoe-in with the first overall pick. However, chatter continues to build around the Pirates' plans.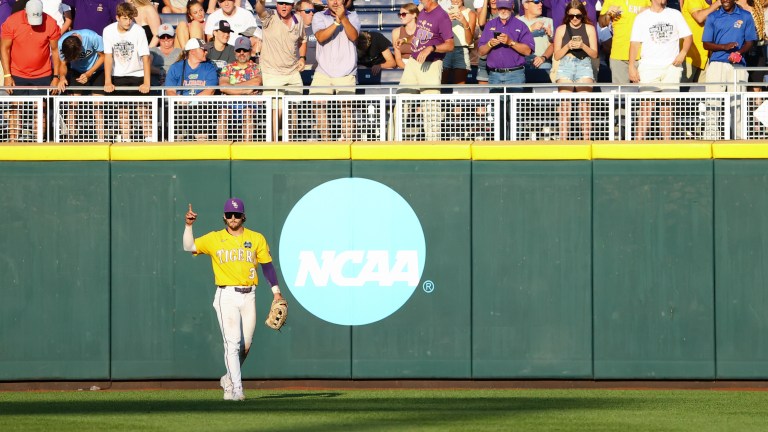 The 2023 MLB Draft's first two rounds will take place on Sunday, July 9 at 7:00 p.m. EST at Lumen Field, the home of the Seattle Seahawks. The remainder of the 20-round draft will take place over the next two days, with selections concluding on Tuesday, July 11.
Since LSU outfielder Dylan Crews stepped foot on campus in Baton Rouge in the fall of 2020, many expected him to be Sharpie'ed in as the number one overall pick in 2023. However, recent reports and questions surrounding Crews' "signability" at a mammoth slot value of just over $9.7 million have some thinking that Ben Cherington and the Pittsburgh Pirates could be looking elsewhere with the top pick. Could they go with a generational starting pitching talent, another elite college bat, or a high-ceiling high school outfielder?
1. Pittsburgh Pirates – OF Wyatt Langford, Florida
Height: 6-1 | Weight: 225 lbs. | B-T: R-R | Age: 21 | Class: Junior | Slot: $9,721,000
We had long been confident that the first pick would be Dylan Crews, but there is some serious validity to the Pirates' willingness to pivot to Langford. Crews comes with the baggage of having Scott Boras as his agent that the Pirates may want to avoid, and Langford proved to be closer to Crews than many believed to be possible both from a statistical standpoint as well as from the prospect evaluation perspective.
Langford is extremely strong, but not stiff and gets into his plus power with ease in games. His run times are routinely plus despite his large frame. It's a rare blend of power and feel to hit with sneaky athleticism that should allow him to play a really strong corner. The Pirates had no problem going underslot with the No. 1 pick when they took Henry Davis in 2021, and they could very well do the same thing here. It says a lot about what Langford did to escalate his draft stock this year to make it justifiable to pass on Crews.
2. Washington Nationals – RHP Paul Skenes, LSU
Height: 6-6 | Weight: 235 lbs. | B-T: R-R | Age: 21 | Class: Junior | Slot: $8,998,500
Skenes solidified himself as one of the most dominant college arms we have ever seen with his incredible College World Series performance on his way to leading LSU, along with Dylan Crews, to a national championship.
A 6-foot-6 righty with impressive athleticism on the mound as a former two-way player, Skenes repeats his low-effort delivery with ease. The fastball averaged 98-99 MPH all year, routinely touching triple digits. Skenes complements his double-plus heater with a big league slider and a changeup that kept looking better as the year went on. He should be the favorite to reach the MLB-level first out of this draft class.
3. Detroit Tigers – OF Dylan Crews, LSU
Height: 6-1 | Weight: 205 lbs. | B-T: R-R | Age: 21 | Class: Junior | Slot: $8,341,700
Crews is one of the safest prospects we have seen in some time while still providing All-Star upside. The second he signs, he will be a top 15 prospect in the game, but a high price tag could cause him to slip a couple spots similar to the way Austin Martin–a Boras client–did in 2020.
His swing decisions are already elite, as are his exit velocities, and the contact rates are above average. He'll have no problem sticking in center as well. The Tigers have the blessing of presumably being able to take whichever elite college bat the Pirates don't. Crews at pick No. 3 should be seen as a momentous win for the Tigers.
4. Texas Rangers – OF Walker Jenkins, South Brunswick (NC)
Height: 6-3 | Weight: 210 lbs. | B-T: L-R | Age: 18 | Commitment: North Carolina | Slot: $7,698,000
The best prep prospect in the draft, the Rangers may not have a chance to snag Jenkins at pick No. 4 if there was not such a clear top three college prospects with unbelievable track records. Jenkins is an extremely advanced hitter who is already flashing above average power with a ton of power projection in his frame. A borderline plus runner who looks comfortable up the middle, Jenkins has a shot to stick in centerfield, but would play a great corner if he slows down a couple steps.
5. Minnesota Twins – C Kyle Teel, Virginia
Height: 6-1 | Weight: 190 lbs. | B-T: L-R | Age: 21 | Class: Junior | Slot: $7,139,700
The Twins could go several different directions here, but with what we believe to be a clear top four prospects, the five spot could be a chance to mount some savings while taking the best catcher in the draft. There's some moving parts to his swing, but Teel really put things together offensively this season, hitting .415 with 12 homers and just a 12% strikeout rate. Teel is an athletic catcher with a good arm and solid receiving skills.
6. Oakland Athletics – OF Chase Davis, Arizona
Height: 6-1 | Weight: 216 lbs. | B-T: L-R | Age: 21 | Class: Junior | Slot: $6,634,000
Every year we see a big-savings pick in the top 10, and the A's could take a prospect who some within the industry believe to be a top five college bat in the draft. The A's also own picks No. 39 and 41, where the savings could be spread across to add a high-priced prep prospect, which the back end of the first round is expected to be littered with.
Boasting plus power with the ability to drive the ball to all fields, Davis' swing is a carbon copy of former All-Star outfielder Carlos González. There were some contact concerns prior to his junior season, but Davis answered the call by slashing his strikeout rate to 14% and upping his contact rate to 80%. He also boasts an elite arm from the corner outfield.
7. Cincinnati Reds – RHP Rhett Lowder, Wake Forest
Height: 6-2 | Weight: 200 lbs. | B-T: R-R | Age: 21 | Class: Junior | Slot: $6,275,200
Lowder made his closing argument as the second best college arm in the draft by going toe-to-toe with Paul Skenes in a winner-take-all semifinal game in Omaha. There's some concerns about fastball quality that are a bit overblown; at 93-95 MPH, with the occasional 97 MPH in the tank, Lowder pounds the strike zone with the heater, featuring some good late run that has allowed him to rack up an above average ground ball rate.
The slider and changeup are both above average pitches that he lands for a strike with ridiculous frequency for an amateur pitcher. Lowder's strike rate of 71% across his entire arsenal is one of the better marks in college baseball and he also punched out 31% of hitters. The Reds may even be able to save a bit with this selection as well with Lowder likely to climb extremely quick.
8. Kansas City Royals – OF Max Clark, Franklin Community (IN)
Height: 6-1 | Weight: 190 lbs. | B-T: L-L | Age: 18 | Commitment: Vanderbilt | Slot: $5,980,100
This would be a bit of a surprise as Clark has mostly been floated as a top five pick, but the top four selections seem like a slam dunk and then a couple need-based/savings picks can cause a player like Clark to slide–it happens every year. The rebuilding Royals would be thrilled for the best player available to fall into their lap who happened to play his high school baseball less than 500 miles away in Franklin, Indiana.
Clark has a remarkable feel to hit for a prep bat along with consistently posting 70-grade run times and home-to-first times. He projects as an impactful defender in center with his wheels and easy plus arm. The power could be fringy, but many evaluators are confident that he can tap into at least average juice.
9. Colorado Rockies – RHP Chase Dollander, Tennessee
Height: 6-2 | Weight: 200 lbs. | B-T: R-R | Age: 21 | Class: Junior | Slot: $5,716,900
The Rockies have made it clear that they would like to take an arm with the ninth selection, and Dollander is the best pitcher on the board. Though the results were not great this season for the hard-throwing right-hander, teams have been more keen on drafting the arm over the results than ever, and they don't come much more talented than Dollander.
The fastball averages 96 MPH, touching 99 MPH with life. His upper 80s slider flashes plus as does his changeup at a similar speed. Dollander will mix in an upper 70s curve that is a viable fourth offering as well. The step backwards in the command department this year was disappointing from Dollander but is likely not enough to deter the pitching-hungry Rockies.
10. Miami Marlins – SS Matt Shaw, Maryland
Height: 5-11 | Weight: 185 lbs. | B-T: R-R | Age: 21 | Class: Junior | Slot: $5,475,300
The Marlins could go several different directions here, but it almost all roads point towards a college bat. The Marlins have been linked to Shaw plenty over the last month or so and if they feel like he is right on par with Jacob Gonzalez, Tommy Troy and others, they could snag the Maryland product for a discount.
There have been few farm systems with a more dramatic fall from grace over the last couple years than Miami's and with pick No. 35 and No. 42 in their back pocket, the Marlins could apply the Shaw savings to pick up a first-round caliber prep bat with a high price tag in order to inject as much talent into a depleted system as possible.
11. Los Angeles Angels – RHP Noble Meyer, Jesuit (OR)
Height: 6-5 | Weight: 185 lbs. | B-T: R-R | Age: 18 | Commitment: Oregon | Slot: $5,253,000
The Angels have prioritized college prospects who they expect to climb quickly over the last couple seasons, and most of those players are a part of the Angels' big league efforts right now. They could do the same thing with right-hander Hurston Waldrep, but it also may be difficult to pass on the top prep arm in this draft.
Meyer could very well be the best player available for the Angels with a plus heater that sits in the low-to-mid 90s with more in the tank. His slider already looks like a plus pitch with a changeup that has flashed potential. He is extremely smooth and controlled for a 6-foot-5, 18-year-old thanks to impressive on-mound athleticism providing optimism for above average command.
12. Arizona Diamondbacks – RHP Hurston Waldrep, Florida
Height: 6-2 | Weight: 210 lbs. | B-T: R-R | Age: 21 | Class: Junior | Slot: $5,043,800
Waldrep is somewhat of a polarizing prospect for a college arm, but he features a mid-90s fastball and diabolical splitter that could probably play in the big leagues now. The fastball shape is underwhelming, which has resulted in low whiff rates on the heater despite how hard he throws it. His breaking balls have been inconsistent at times, but have flashed above average or better in spurts.
There will surely be a team that feels like they can unlock Waldrep, and with the Diamondbacks reportedly focused on pitching, they could take a shot here.
13. Chicago Cubs – SS Arjun Nimmala, Strawberry Crest (FL)
Height: 6-1 | Weight: 170 lbs. | B-T: R-R | Age: 17 | Commitment: Florida State | Slot: $4,848,500
Nimmala has enjoyed plenty of helium of late thanks to his frame-defying juice that he has continued to tap into on the field more frequently. One of the younger prepsters in his class, Nimmala will be 17 years old on draft day but has a great feel for the game both in the box and at shortstop.
The fact that he is already surprising evaluators with his juice and has plenty of projection in his lanky frame, the Cubs could fall in love with the upside here.
14. Boston Red Sox – 2B Tommy Troy, Stanford
Height: 5-10 | Weight: 197 lbs. | B-T: R-R | Age: 21 | Class: Junior | Slot: $4,663,100
Troy has done nothing but hit for Stanford the past two years, putting up a 1.014 OPS over 162 career games. Last season, he hit 17 homers and swiped the same amount of bags while striking out just 42 times. The Bay Area native was named the best pro prospect in the Cape Cod League last summer after a .319/.386/.531 slash in 127 plate appearances. The Red Sox have gone high school heavy when it comes to bats recently, but if Troy is here, he's the prototypical safe college hitter with a good bit of upside.
15. Chicago White Sox – 3B Brayden Taylor, TCU
Height: 6-1 | Weight: 180 lbs. | B-T: L-R | Age: 21 | Class: Junior | Slot: $4,488,600
It is easy to fall in love with Taylor's sweet swing from the left side, and there's a decent chance a team ahead of the White Sox could. Should the draft shake out this way, it would be hard to imagine Taylor falling beyond 15. Taylor's feel to hit is impressive, driving the ball to all fields with a smooth ease along with a great feel for the strike zone.
The power presently looks average, but he has decently long levers with some more room for strength within his frame. He should have no issue sticking at third, but could play a solid second base as well.
16. San Francisco Giants – SS Jacob Wilson, Grand Canyon
Height: 6-3 | Weight: 190 lbs. | B-T: R-R | Age: 21 | Class: Junior | Slot: $4,326,600
One of the most impressive performers in college baseball from a statistical standpoint, there's some concern about how much impact Wilson will be able to provide, but it is hard to argue against his .412/.461/.635 line, even if it is in the WAC. Wilson struck out just five times all year and is a solid defender. A team may fall in love the the high floor a bit earlier, but his well below average exit velocities could cause him to slide a bit.
17. Baltimore Orioles – SS Colin Houck, Parkview (GA)
Height: 6-2 | Weight: 190 lbs. | B-T: R-R | Age: 18 | Commitment: Mississippi State | Slot: $4,169,700
Above average tools across the board and a great chance to stick at shortstop, a lot of teams have fallen in love with Houck's relatively high floor for a prep shortstop with still plenty to dream on. The Orioles already have one of baseball's deepest farm systems and do not have the urgency or pressure to take an advanced college bat. Taking what many teams view as the best player available in the middle of the first round makes all of the sense in the world.
18. Milwaukee Brewers – SS Jacob Gonzalez, Ole Miss
Height: 6-2 | Weight: 200 lbs. | B-T: L-R | Age: 21 | Class: Junior | Slot: $4,021,400
Gonzalez has been rumored to be an option as high as the Twins at pick No. 5, but if the Twins go another route, he could slide a little bit. The plus hit tool is the calling card for Gonzalez who sported an 85% contact rate and 90% zone contact rate in the SEC. There's some questions about how much power Gonzalez will hit for after as his exit velocities leave a bit to be desired and his swing/setup are very unique.
His smooth actions and above average arm give him a great chance to stick on the left side of the infield and he earns high marks for his baseball instincts. Sal Frelick slipped a bit due to impact concerns, and the Brewers were happy to grab him in the middle of the first round in 2021. This could be another situation where the Brewers snag one of the highest floor bats in the draft at a spot many did not think they could.
19. Tampa Bay Rays – 3B Aidan Miller, Mitchell (FL)
Height: 6-0 | Weight: 170 lbs. | B-T: R-R | Age: 19 | Commitment: Arkansas | Slot: $3,880,100
Early returns indicate that the Rays have enjoyed success drafting prep power bats the last two years with Carson Williams and Xavier Isaac, and the Rays would likely be thrilled to grab one of the most impressive power bats in the prep class here in Aidan Miller.
Miller has some moving parts to his swing, but generates ridiculous bat speed and has had no issues with timing against elite competition. Though he's a bit older than his high school peers, Miller's plus power potential paired with a solid feel to hit and rifle for an arm make him an exciting corner option with considerable upside.
20. Toronto Blue Jays – 3B Yohandy Morales, Miami
Height: 6-4 | Weight: 215 lbs. | B-T: R-R | Age: 21 | Class: Junior | Slot: $3,746,000
There were few collegiate hitters more impressive this season than Morales, who slashed .408/.475/.713 with 20 HR for the Hurricanes this year. Morales is a big man at 6-foot-4, 215 pounds with long levers that helped him produce exit velocities as high as 112 MPH. He's an aggressive hitter with some length to his swing, but it is hard to argue against his results.
Still wiry strong with room for more muscle on his frame, there's plus plus juice to dream on here. Between the upside and the track record, Morales fits the bill of what the Jays are looking for this year after going the pitching route the last two years.
21. St. Louis Cardinals – 1B/RHP Bryce Eldridge, Madison (VA)
Height: 6-7 | Weight: 220 lbs. | B-T: L-R | Age: 18 | Commitment: Alabama | Slot: $3,618,200
The Cardinals have found a lot of success in selecting two-way players, even if they dropped one of the two in pro ball. Jordan Walker, Masyn Winn and Alec Burleson were all legitimate two-way players/prospects as amateurs, and some teams really like the athleticism and feel for the body that comes with those types of prospects.
Unlike the aforementioned three, Eldridge will likely get a chance to do both at the professional level, boasting plus raw power at the plate and a fastball that can get up to 96 MPH on the mound. At 6-foot-7, 220 pounds Eldridge can get a bit long to the ball and comes with some swing and miss concerns, but his intrigue on both sides of the ball should entice a Cardinals organization that has seen plenty of success drafting from the prep ranks.
22. Seattle Mariners – OF Enrique Bradfield Jr., Vanderbilt
Height: 6-1 | Weight: 170 lbs. | B-T: L-L | Age: 21 | Class: Junior | Slot: $3,496,600
Once considered a potential top 10 pick, the speedy Bradfield struggled in his junior season, hitting just .279 with an .839 OPS while being thrown out a career-high seven times on the base paths. There is of course a lot to love with Bradfield as well, starting with his 80 grade wheels and elite defensive ability in center.
The power is well below average, but there's belief that Bradfield can add plenty of strength to his long frame. This is probably the floor for Bradfield as the Mariners–who have three picks in the first round–have plenty of wiggle room when it comes to their draft strategy and would likely be thrilled to land Bradfield here.
23. Cleveland Guardians – 1B Nolan Schanuel, Florida Atlantic
Height: 6-3 | Weight: 195 lbs. | B-T: L-R | Age: 21 | Class: Junior | Slot: $3,380,900
Schanuel put up video game numbers in his three seasons at FAU, capped off by a season where he walked 71 times against just 14 strikeouts (not a typo). While Schanuel did not face as stiff of competition as many of the other collegiate options in the first round, he launched seven homers in his six games against Miami and Florida. The power ultimately may be closer to above average than plus, but Schanuel has the looks of a plus hitter at the plate with an elite approach.
The Guardians went with an FCS bat last year in Chase DeLauter and they should have no issue straying from the pristine conferences with Schanuel here as several teams picking shortly after should be in on him as well including the Yankees.
24. Atlanta Braves – LHP Thomas White, Phillips Academy (MA)
Height: 6-5 | Weight: 210 lbs. | B-T: L-L | Age: 18 | Commitment: Vanderbilt | Slot: $3,270,500
The best southpaw in the draft, White is one of those guys that just about every team seems to have relatively high on their board but maybe not at the top of it. The Braves have gone the pitching route seven of the last eight years, and in a relatively thin draft pitching wise, it would be surprising to see the Braves pass on the opportunity to take the top LHP in the draft.
White is tall at 6-foot-5 with a loose arm and a fastball that can reach 96 MPH. He already has a good feel for his curveball and changeup and his delivery is smooth and repeatable.
25. San Diego Padres – 1B/C Ralphy Velazquez, Huntington Beach (CA)
Height: 6-2 | Weight: 220 lbs. | B-T: L-R | Age: 18 | Commitment: Arizona State | Slot: $3,165,400
A physically mature high school bat with the potential for above average hit and plus power, Velazquez would likely be off of the board earlier if he did not come with defensive questions behind the dish. He may not stick at catcher, but he has the potential to be a special bat and the Padres have done a great job at identifying some of the best prep bats in recent drafts.
26. New York Yankees – SS Sammy Stafura, Panas (NY)
Height: 6-0 | Weight: 180 lbs. | B-T: R-R | Age: 18 | Commitment: Clemson | Slot: $3,065,000
Stafura has enjoyed as much helium to his draft stock as anybody, pushing his way into first round consideration. He has reportedly impressed in his private workouts and the Yankees have seen plenty of him. Stafura posts elite run times, projects as an impactful defender at short and continues to look more impressive at the plate. The Yankees could take another talented young shortstop in their own backyard much like they did with Anthony Volpe with the 30th pick in 2019.
27. Philadelphia Phillies – RHP Charlee Soto, Reborn Christian (FL)
Height: 6-5 | Weight: 210 lbs. | B-T: S-R | Age: 17 | Commitment: Central Florida | Slot: $2,968,800
The Phillies have done well in recent drafts taking high-upside prep arms like Andrew Painter and Mick Abel; Charlee Soto is cut from a similar cloth. The 6-foot-5 righty has some effort in his delivery, but can run his fastball up to 98 MPH with life and has impressed with his secondaries which happen to check many data thresholds as well.
28. Houston Astros – SS Walker Martin, Eaton (CO)
Height: 6-2 | Weight: 188 lbs. | B-T: L-R | Age: 19 | Commitment: Arkansas | Slot: $2,880,700
A smooth swing from the left side, Martin impressed scouts with his feel to hit despite playing his high school baseball in the dead zone for baseball prospects that is Colorado. Martin offers average or better tools across the board with room for projection.
Prospect Promotion Incentive Picks
29. Seattle Mariners – C/RHP Blake Mitchell, Sinton (TX)
Height: 6-1 | Weight: 192 lbs. | B-T: L-R | Age: 18 | Commitment: LSU | Slot: $2,800,700
The top high school catcher in the draft, Mitchell is a legitimate pitching prospect as well, boasting a fastball up to 96 MPH which of course translates to a plus plus arm behind the dish. Some evaluators have some concern about the hit tool, but he already is tapping into above average power with room for a bit more. His strong approach helps hedge some whiff concerns and he has the goods to be a strong defender at catcher.
Competitive Balance Round A
30. Seattle Mariners – SS Kevin McGonigle, Monsignor Bonner (PA)
Height: 5-11 | Weight: 185 lbs. | B-T: L-R | Age: 18 | Commitment: Auburn | Slot: $2,732,500
It would likely be extremely difficult to sign both McGonigle and Mitchell, but the Mariners have a lot of money to work with and could get creative in the latter parts of the draft. McGonigle really won scouts over with his performance for Team USA, showcasing the potential for a plus hit tool with solid complementary tools. There's some questions around how much power he will hit for, but his game is reminiscent to the team's first round selection last year in Cole Young which is a good thing.
31. Tampa Bay Rays – OF Colton Ledbetter, Mississippi State
Height: 6-2 | Weight: 205 lbs. | B-T: L-R | Age: 21 | Class: Junior | Slot: $2,670,600
Ledbetter made a smooth transition from Samford to Mississippi State posting an OPS over 1.000 with underlying data that is even more impressive. After going with the higher-ceiling option who will likely command the full sot value in Aidan Miller, Ledbetter is a higher floor bat who the Rays may be able to save a few bucks on as well. His 90% zone contact rate was extremely impressive for his first year in the SEC and the approach is strong.
32. New York Mets – RHP Josh Knoth, Patchogue-Medford (NY)
Height: 6-1 | Weight: 190 lbs. | B-T: R-R | Age: 17 | Commitment: Ole Miss | Slot: $2,607,500
The Mets lucked out in 2022, being able to have two top-half first round picks due to failing to sign Kumar Rocker in 2021. The Mets seem to just take the best player available, with no concrete patterns of college or prep early in drafts.
A medium-sized righty, Knoth has been the talk of the northeast this spring, with many evaluators labeling him with a big up arrow. Knoth will take some money to sign away from a likely strong commitment to Ole Miss, and the Mets should be able to do it given this is their first selection.
33. Milwaukee Brewers – 3B Brock Wilken, Wake Forest
Height: 6-4 | Weight: 225 lbs. | B-T: R-R | Age: 21 | Class: Junior | Slot: $2,543,800
A big dude with massive power that he gets into consistently in games, Wilken launched 71 home runs in his 173 games at Wake Forest. There's some whiff concerns with Wilken, especially against spin, but his prolific power should be enough for a team to take a shot at him in the compensation round and what better team than the one that just took a hitter of the opposite end of the spectrum with their first selection.
Last year, the Brewers went with the safe bat in Eric Brown Jr. then swung for the fences with 6-foot-7 flame thrower Jacob Misiorowski with their second selection. Perhaps they follow the same mold here.
34. Minnesota Twins – SS Colt Emerson, Glenn (OH)
Height: 6-0 | Weight: 185 lbs. | B-T: L-R | Age: 18 | Commitment: Auburn | Slot: $2,481,400
Despite some trendy college picks in the past couple of drafts, the Twins seem to always be attracted to hit-tool-oriented prep shortstops. A couple that comes to mind are Noah Miller, Keoni Cavaco, and of course, Royce Lewis.
If Emerson is still available here, the Twins are getting a dynamic player with good plate skills and the chance to stick up the middle. In this scenario, with drafting Kyle Teel at five, the Twins may have enough room to pay Emerson slightly over slot to avoid him going to school.
35. Miami Marlins – LHP Cameron Johnson, IMG Academy (FL)
Height: 6-5 | Weight: 230 lbs. | B-T: L-L | Age: 18 | Commitment: LSU | Slot: $2,420,900
The Marlins, in this scenario, would likely save some money if they take Matt Shaw at ten, and should directly use the allocated funds on a high schooler here. Johnson is an exciting left-handed arm who will have to refine his pitch ability and strike-throwing to maximize his value. For our money, there are few teams better than Miami at developing pitching, with a ton of high-upside prep arms projecting to be on the board at 35.
36. Los Angeles Dodgers – OF Jonny Farmelo, Westfield (VA)
Height: 6-2 | Weight: 205 lbs. | B-T: L-R | Age: 18 | Commitment: Virginia | Slot: $2,362,700
As we inch closer to the draft, there hasn't been a name thrown around with more potential upside than Farmelo, who should command at least slot due to a likely strong commitment to Virginia. The Dodgers would be the perfect organization for Farmelo, as they have proven to be a player development machine no matter the profile.
For Los Angeles, this will be their first selection, making Farmelo the perfect high-upside/high-risk pick. Of course, the Dodgers probably won't be looking to save here, affirming that they will be willing to pay a young high schooler.
37. Detroit Tigers – RHP Brandon Sproat, Florida
Height: 6-3 | Weight: 210 lbs. | B-T: R-R | Age: 22 | Class: Senior | Slot: $2,309,500
A talented arm whose stat line and stuff don't quite match up, Sproat can touch triple digits with his fastball along with a changeup that flashes plus and a pair of decent breaking balls. Command issues plagued Sproat along with a fastball that lacks desired shape despite the high velocity.
After presumably giving Crews the full slot value or more, Sproat could be a money saving pick for the Tigers. Tigers President Scott Harris went college-heavy in his first draft last year, and I expect him to do the same this time around.
38. Cincinnati Reds – OF Jack Hurley, Virginia Tech
Height: 6-0 | Weight: 185 lbs. | B-T: L-R | Age: 21 | Class: Junior | Slot: $2,255,100
Hurley brings an exciting blend of speed and power to the table and has continued to make strides with his feel to hit. With the Reds snagging a high-floor arm with their first selection, it could make sense to go after a toolsy college bat or a prep bat. Hurley will likely be an easier sign than many of the prep options still on the board and an outfielder who has a strong chance to stick in center is an organizational need for the Reds.
39. Oakland Athletics – OF Dillon Head, Homewood-Flossmoor (IL)
Height: 5-11 | Weight: 180 lbs. | B-T: L-L | Age: 18 | Commitment: Clemson | Slot: $2,202,500
If the Athletics go under slot with their sixth pick, fully expect them to take a high schooler here, who they can sign away from school with their savings. Just last year, Oakland was able to sign prep outfielder Henry Bolte away from school in round two. Head seems like a profile that the A's would be attracted to, as they have gone prep heavy early in past drafts, as well as Head likely being the best available here.