Analysis
Zac Gallen is Quietly Becoming One the Best Pitchers in Baseball
As he chases history with a 41.1 scoreless innings streak, Zac Gallen is leading the way for the next era of Diamondbacks baseball.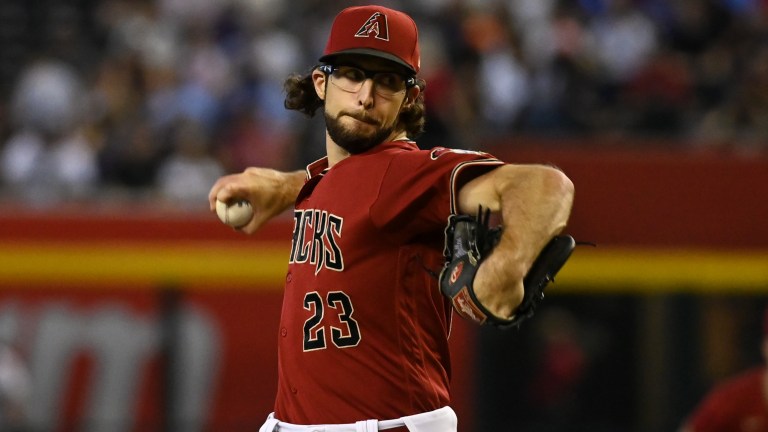 Arizona Diamondbacks ace Zac Gallen has been named the NL Player of the Week.
In the midst of a 41.1-inning scoreless streak, Gallen went 2-0 in two starts last week, throwing 14 innings while striking out 14 and only allowing four hits and two walks.
With his streak, Gallen joined an elite list of pitchers in MLB history. Becoming just the fourth pitcher to throw six-straight scoreless starts of at least six innings. The other three pitchers to do so were Don Drysdale (1968), Orel Hershiser (1988) and Zack Greinke (2015). 
His 41.1 innings currently rank as the eighth-longest scoreless streak in MLB history and the second-longest streak in Diamondbacks history. Hershiser set the MLB record in 1988 with 59 scoreless and Brandon Webb set the D-backs record in 2007 with 42 scoreless innings of his own. 
Going forward, Gallen's next start should come on the road against the Colorado Rockies, and while anything can happen at Coors Field, Gallen did shut out the Rockies during his streak, going seven innings with six strikeouts and only three baserunners allowed on August 13th. 
He will continue to be tested down the stretch as the Diamondbacks have the toughest remaining schedule with series remaining against the Dodgers, Padres, Giants, Astros and Brewers.
Regardless of how the remainder of his season goes, Gallen has elevated himself into the elite of NL pitchers.
He ranks ninth in the National League in fWAR (3.5) — tied with reigning Cy Young winner Corbin Burnes — third in ERA (2.42), sixth in FIP (3.08) and first in WHIP (0.92).
What Has Made Gallen So Successful?
Despite actually seeing his K% drop to career-low 25.6%, Gallen has done a great job of preventing good contact and has been forcing groundballs at a career-best rate.
He is generating ground balls 48.5 percent of the time and has the lowest average launch angle allowed in his career (10.3 degrees).
This could be a result of Gallen throwing his offspeed stuff more in 2022. After using his four-seam fastball 53.6% of the time just a year ago, he has dropped that number to 48.1% this season. He has specifically increased how much he's throwing his curveball (+7.6% usage) and cutter (+6% usage).
Both of those pitches have been great for Gallen this season, but it's his curveball that has maybe been his best pitch.
His curveball only allows a .175 average against and has the best whiff rate (32.9%) of any of his pitches. The pitch fares just as well amongst the expected stats, allowing just a .191 xBA, .255 xSLG and .207 xwOBA.
By Baseball Savant's run value calculations, Gallen's curveball is tied for the most valuable in MLB for that pitch type. With a -10 run value, he matches Adam Wainwright and Shane McClanahan's curveballs at the top of the league.
While the curveball has been extremely effective for Gallen, his fastball has once again been a valuable pitch for the 27-year-old. It has a -14 run value of its own and has held hitters to a .168 average, .286 slugging and .257 wOBA. 
Through his four seasons in the majors, Gallen has never allowed higher than a .218 average on his fastball and the pitch has always generated a negative run value.
Gallen's Future
With three more years of team control, Gallen should be right in the middle of the Diamondbacks shift to become contenders in the NL West.
With the team already making moves to call up top prospects in recent years like Corbin Carroll, Alek Thomas and Daulton Varsho, ideally, they will start to win more games and push for playoff appearances.
One thing Arizona's system does lack is top-end pitching. So if Gallen can prove to be an ace in what will always be one of the toughest divisions in baseball, the Diamondbacks need to hold onto him as they transition to a team going for it.
As he enters his first year of arbitration this offseason, could we see Arizona try and lock him up for the foreseeable future?
If he continues to pitch the way he has throughout his career, it may be wise for the team to try and sign him to a deal that secures him at the top of the rotation before he gets the chance to hit free agency in 2026.
One recent 27-year-old starter to get an extension — albeit a few more years into their career — was José Berríos with the Toronto Blue Jays.
Berríos got seven years and $131 million and while Gallen has more years of arbitration to buy out, he has arguably been better through the start of his career than Berrios was. A similar deal would get the Diamondbacks a reliable arm to pencil in their rotation until he is 34.
Regardless of his future, Gallen is presently one of the best starting pitchers in baseball and has been one of the lone bright spots from the Diamondbacks pitching staff this season.
All stats courtesy FanGraphs and Baseball Savant from before play on September 7th.