Analysis
The Driving Force Behind the Arizona Diamondbacks' Surprising Start
The Diamondbacks have been one of the true surprises of the MLB season, and the rotation tandem of Zac Gallen and Merrill Kelly is largely responsible.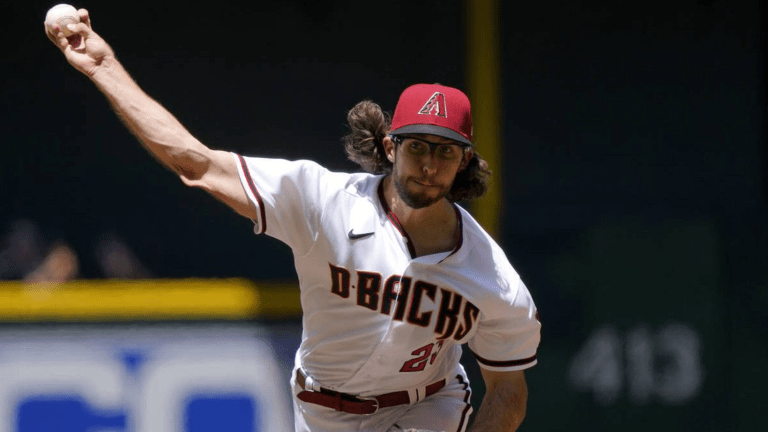 Who had the Arizona Diamondbacks tied for a playoff spot one-fifth of the way through the season?
Coming off a 110-loss campaign in 2021, Arizona was fully expected to once again compete for one of the worst records in the sport. Instead, the D-Backs are off to a 17-14 start despite facing the league's most difficult schedule thus far, having the third worst bullpen ERA (4.54) and ranking just 22nd in runs scored.
So how have they done it?
The snakes are currently second in starting pitching ERA (2.34) and seventh in FIP (3.43). Notably, Zac Gallen and Merrill Kelly have emerged as one of the best rotation tandems in baseball.
Emerging Ace?
In a trade that's looking more and more like a true win-win, Zac Gallen was acquired from the Miami Marlins in exchange for Jazz Chisholm at the 2019 trade deadline. While Chisholm is staking his claim as the face of franchise in Miami, Gallen is developing into a true front-line arm.
Now in his fourth big league season, Gallen has flashed that ability in the past, posting a 3.46 ERA over 273.1 innings from 2019-2021, but struggles with inconsistency and health kept it from materializing.
Through five starts in 2022, that hasn't been a concern. The 26-year-old righty owns a microscopic 0.95 ERA and 0.71 WHIP. He's also currently tied for ninth among all pitchers in fWAR (1.0), and his 3.7% walk rate is 10th among the 135 pitchers who have thrown at least 20 innings this season. What makes Gallen's production even more impressive is that three of his starts have come against the two best teams in the National League (Los Angeles Dodgers and New York Mets).
Gallen has a dominant one-two punch with his four-seam fastball and cutter. He throws the four-seam over half the time, and hitters have struggled to a .167 batting average and .204 slugging percentage against the pitch. Both offerings rank within Baseball Savant's top 25 in run value, making Gallen the only pitcher in baseball with two different pitches ranked that highly.
The 33-Year-Old Breakout
It's been a long journey for Merrill Kelly to get where he's at today. Selected in the eighth round of the 2010 MLB Draft by the Tampa Bay Rays, Kelly logged 527.1 Minor League innings, and pitched for four years in the Korean Baseball Organization (KBO), before making his MLB debut for Arizona in 2019 at the age of 30. For the next three seasons, Kelly was a serviceable, "innings-eater" type that posted a 4.27 ERA in 64 starts.
However, that has all changed in the early going of 2022. Through 37 innings this year, Kelly has a 1.22 ERA and 1.03 WHIP. Kelly has been even better than Gallen in fWAR, right now tied for third among hurlers (1.2).
Last Friday, he reached new heights when he came within one out of a registering the first complete game of his career against the Colorado Rockies. The veteran righty isn't overpowering, averaging just 92.4 MPH on his four-seam fastball and sinker.
Instead, Kelly relies a deep pitch repertoire to keep hitters off balance, with five different offerings that he uses at least 12% of the time. His best pitch is a changeup that is limiting hitters to a .179 batting average, .231 slugging percentage and 30.4% whiff rate. The biggest adjustment for Kelly from last year is more reliance on that changeup, which he's throwing 6% more often in 2022.
On the Horizon
The schedule gets much more favorable for Arizona in the coming weeks. Nineteen of the D-Backs' next 33 games come against teams that rank in the bottom half of baseball in runs scored. That presents an opportunity for Gallen and Kelly to keep their dominant starts going through at least the first half of the season.
In a division as loaded as the NL West (all five teams are currently at least two games over .500), Arizona will need their two horses to keep rolling all the way through the stretch run.