Analysis
World Series Preview: Arizona Diamondbacks vs. Texas Rangers
The World Series begins tonight, featuring the unlikely matchup of the Texas Rangers going up against the Arizona Diamondbacks.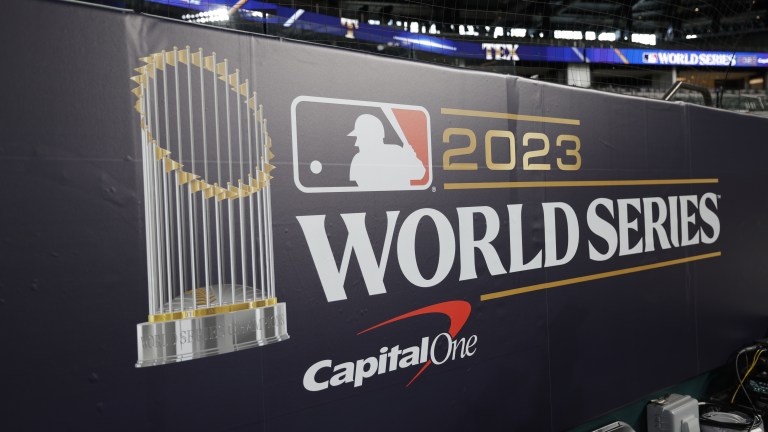 The World Series finally begins later tonight, with a great matchup in place between two upstart teams who ended playoff droughts this season, only to end up winning pennants.
Each team has a similar identity as well. Great lineups offensively, mixed with quality veterans who are now getting the chance to shine on the biggest stage, and young talented former top prospects who are becoming stars in front of our eyes.
Both of these teams feature two starters who have been carrying them all October, with third starters that have incredible upside to shine on this big stage. They also have managers who have found a way to always be pressing the right button with their bullpen.
Let's take a look at what is sure to be a great series in this preview of the Fall Classic!
The Season Series: Diamondbacks Won 3-1
There isn't much head-to-head experience between these two teams, as they play in opposite leagues, although they did meet twice this year for a pair of two-game sets.
The Diamondbacks got the best of the Rangers in these matchups taking three of the four contests.
May 2-3 in Texas (Series Split)
May 2: TEX 6, ARI 4
May 3: ARI 12, TEX 7
The first series played between these teams was at the beginning of the year in May.
At the time, the Rangers had won 17 of their first 28 games played and were leading their division. The Diamondbacks were 16-13, having shown that they weren't the same losing team from last year, but by no means some juggernaut.
Zac Gallen started the first game of the series against the Rangers and was spotted a two-run lead in the first inning, as the D-backs jumped all over Jon Gray for the Rangers. They tacked on a run apiece in the second and third innings, giving Gallen a comfortable 4-1 lead.
Gallen cruised through the first four innings, allowing just the one earned run, but then got ambushed in the bottom of the fifth. The Rangers tagged him for four hits and two more runs, cutting their deficit to just one run. The D-backs turned the game over to the bullpen after that and ended up losing by a score of 6-4.
The second game of that series was a slugfest, with rookie Brandon Pfaadt serving up four home runs and seven runs to the Rangers without making it out of the fifth inning. That was actually Pfaadt's MLB debut and the Rangers spoiled it in a big way.
Luckily for Pfaadt, his teammates picked him up, piling on 12 runs with six coming against Rangers starter Andrew Heaney. Pfaadt is going to have a chance to get some payback in the World Series.
August 21-22 in Arizona (ARI Sweeps)
August 21: ARI 4, TEX 3
August 22: ARI 6, TEX 3
In the second regular season matchup between these teams, the Diamondbacks were able to host a sweep for their fans. Still, looking over what could matter previewing the World Series, Jordan Montgomery absolutely carved up the Diamondbacks in the first game of this series.
Montgomery pitched eight scoreless innings, allowing just four hits and one walk with six strikeouts. On the other side, the Diamondbacks went with an opener of Joe Mantiply and Scott McGough through the first two innings before Slade Cecconi delivered five bulk innings.
The Rangers took a 1-0 lead into the ninth inning, but Aroldis Chapman failed to get the save.
The then-Rangers closer gave up a game-tying home run to Ketel Marte, which sent the game into extras. After neither team scored in the 10th, with Paul Sewald pitching a 1-2-3 inning and Chapman staying on to work around the ghost runner in the bottom half, the floodgates opened in the 11th.
Kevin Ginkel pitched the 11th for Arizona and gave up two runs on a double to Nathaniel Lowe, but ended up getting the win thanks to the Diamondbacks' bats.
With two outs and the ghost runner still on second, the Rangers intentionally walked Marte, only to watch Geraldo Perdomo and Tommy Pham each double. Pham's double scored both Marte and Perdomo to walk things off with a 4-3 score.
In game two of the series, the Diamondbacks jumped all over Jon Gray, scoring five runs over the first four innings. This spotted their ace Zac Gallen a lead, which he ran with. Gallen allowed just one run and struck out 11 over six innings pitched. Arizona won 6-3.
Projected Pitching Matchups
ALCS Game One: Zac Gallen vs. Nathan Eovaldi
Friday, October 27th, 8:03 P.M. ET
The first matchup of this series has been announced, with Diamondbacks ace Zac Gallen set to take the ball against one of the best postseason performers in recent memory in Nathan Eovaldi.
Based on what we have seen the last few weeks, the Rangers have a clear edge here.
In four playoff starts, Eovaldi has pitched to a 2.42 ERA across this run to the World Series. He has gone at least six innings each time and all have been quality starts as he has not allowed more than three runs.
Eovaldi and Max Scherzer are the only starting pitchers who bring World Series experience with them to this matchup. Eovaldi was excellent back in 2018, helping the Red Sox win the World Series as a relief ace who pitched eight innings across three appearances and allowed just one run.
With that said, it will be his first World Series start. So we will see how he fares against a pesky D-backs team that will be running early and often if they can get on base.
Meanwhile Gallen is looking for a bit of redemption in this outing, as he did not have a great NLCS. Pitching against a tough Phillies team, Gallen allowed nine runs across 11 innings and lost both matchups against Zack Wheeler. When asked about getting the Game 1 nod, Gallen said he is determined to "pull my weight" in this matchup.
Still, he now has a 5.24 ERA in four playoff starts and the task is not going to get easier against a dangerous Rangers lineup.
ALCS Game Two: Merrill Kelly vs. Jordan Montgomery
Saturday, October 28th, 8:03 P.M. ET
In the playoffs so far, you can make an argument that these two pitchers have been the real aces for their respective teams. Jordan Montgomery got the Game 1 nod in both the Wild Card round and the ALCS when available and has been simply spectacular up to this point.
A free agent after this series, Montgomery is pitching himself into a very lucrative contract as he has 2.16 ERA across 25 playoff innings pitched. Montgomery won't be available for Game 1 because he came on in relief for the Rangers Game 7 victory over the Houston Astros, where the left-hander actually earned the win for pitching 2 1/3 scoreless piggy-backing off Max Scherzer.
Now for the Diamondbacks, Merrill Kelly came through with the biggest win in their last series, pitching the pivotal Game 6 with Arizona facing elimination in Philadelphia. Kelly struck out eight in five innings of work and allowed just one run to help force a Game 7. He is currently sporting a 2.65 ERA across 17 innings in his first taste of playoff baseball.
The Rangers have an edge with this pitching matchup based on how good Montgomery has been, but Kelly has shown the ability to rise to the occasion.
ALCS Game Three: Brandon Pfaadt vs. Max Scherzer
Monday, October 30th, 8:03 P.M. ET
This is a matchup so good that we are planning on writing an entire feature article on it ahead of the pivotal Game 3 matchup.
Max Scherzer has the edge on national name recognition, but Brandon Pfaadt has been making a name for himself this October. The Diamondbacks rookie pitched to a 5.72 ERA during the regular season and has shaved three runs off that in the postseason.
After allowing three runs in 2 2/3 innings in the Wild Card round, Pfaadt has found something and has given up just two runs over his last three starts. Pfaadt got the nod in Game 7 against the Phillies and did just enough, pitching four innings and allowing those two runs.
Don't expect the D-backs to trust the rookie to face the lineup more than twice and pitch much deeper than the fifth inning, but he has still proven to be vital to their success in this run, particularly now that we are into the seven-game series.
On the other side, Scherzer was tasked with being the Game 3 and Game 7 starter in the ALCS and did not have nearly the same success, pitching to an ERA over 9.00.
Now to be fair to the future Hall of Famer, it is not easy coming off an injury that had you out for over a month and immediately jumping into the ALCS. With that said, that makes Scherzer the x-factor of all x-factors, as he could make-or-break this series for the Rangers.
Back in 2019, Scherzer dealt with a back injury as the Washington Nationals squared off against the Houston Astros in the World Series. Despite being banged up, Scherzer made two starts and pitched five innings with two earned runs allowed each time.
If this series goes seven, like that one did, the Rangers will sign up for two five-inning, two-earned run starts in a heartbeat from Scherzer.
ALCS Game Four: Bullpen Game
Tuesday, October 31st, 8:03 P.M. ET
This game is going to be bananas.
Refer to the bullpen section below for what happens here, because that is essentially what it will be for both teams. The Rangers have more bulk inning options with traditional starters like Andrew Heaney and Dane Dunning being able to go, but neither team will have a set gameplan in place.
ALCS Game Five (If necessary): Nathan Eovaldi vs. Zac Gallen
Wednesday, November 1st, 8:03 P.M. ET
A rematch of Game 1. Not much to add here, but it is fair to note that the D-backs don't want to face Eovaldi in an elimination game. He was on the mound for both of the Rangers first two series-clinching victories in this playoff run.
ALCS Game Six (If necessary): Merrill Kelly vs. Jordan Montgomery
Friday, November 3rd, 8:03 P.M. ET
Jordan Montgomery pitching a Game 6 at home feels like a recipe for success for the Rangers, but you would have said the same thing in the NLCS with Aaron Nola and the Phillies before Kelly got the better of them.
ALCS Game Seven (If necessary): Brandon Pfaadt vs. Max Scherzer
Saturday, November 4th, 8:03 P.M. ET
Again we get back to this crazy matchup of a pitcher at the beginning of his career vs. the legend making what could be his last trip to the biggest stage. This would be absolute theater.
Lineup Comparison
The best offensive team in the American League is set to take on a lineup that may not look on par on paper but has caught fire in the postseason.
The Rangers' path to victory in the postseason was through their firepower at the plate and they have done just that while the Diamondbacks' crafty run-heavy approach has gotten it done for them every time it seemed unlikely in October.
| | | | | | | | | |
| --- | --- | --- | --- | --- | --- | --- | --- | --- |
| TEAM | AVG | OBP | SLG | OPS | wRC+ | HR | BB | SB |
| Diamondbacks | .250 | .322 | .408 | .730 | 97 | 166 | 540 | 166 |
| Rangers | .263 | .337 | .452 | .789 | 114 | 233 | 599 | 79 |
Via FanGraphs
Texas has the most dynamic lineup in October with a balanced mix of veteran superstars and young budding talent. Corey Seager was one of the best hitters in baseball this season and Adolis Garcia is coming off of one the best postseason series ever as he cranked five home runs in the final four games against Houston.
Meanwhile, Evan Carter is one of the brightest young hitters in baseball and Josh Jung's immense power has been on display in spurts throughout the AL playoffs.
The Rangers have gotten additional production from Mitch Garver, Leody Tavares, Jonah Heim, and others as well. This doesn't even factor in Marcus Semien who has been cold in the playoffs but was one of their leaders all season long.
This lineup is the deepest in the league and is quite possibly their biggest difference-maker on paper.
On the other side, Arizona's offense was smack in the middle of the field during much of the regular season but has elevated to a whole new level in October led by Ketel Marte's excellence. The NLCS MVP has an OPS of just under 1.000 in the postseason and has been getting things started for Arizona.
Aside from a slow first half of the NLCS, Corbin Carroll has been the superstar we all know he is and finished off the NLCS by driving in or scoring all four Arizona runs to take down the Phillies once and for all.
Gabriel Moreno and Alek Thomas are two more young Dbacks that have come through many times during Arizona's magical run. Thomas has made it happen with power and Moreno has done a little bit of everything at the plate in order to propel the offense.
Arizona has gotten minimal production in October from veterans Christian Walker and Tommy Pham yet they're still finding a way. There's a chance in which the offense actually improves if these two are able to get back on track in the World Series. Another factor for Arizona has been their base-stealing ability with 16 stolen bases through their 12 playoff games.
Texas has the offensive advantage but it's much closer than regular-season numbers indicate as it's clear this Diamondbacks team is playing at an entirely different level than they did in the regular season.
If Arizona is able to maintain pace with the power of Texas, they could have a shot to pull off another huge upset with their young bats.
Bullpen Comparison
Entering October, both teams had serious concerns in the bullpen with uncertainty around who could bridge the gap between the starters and the end of the games.
One of the biggest storylines in the postseason has been the breakout of a core trio of relievers on both sides of this series. The depth of the bullpen was a huge concern for both but it essentially hasn't mattered with three bullpen arms leading the charge and a few others stepping up in spots when needed.
Rangers Bullpen
| | | | | | | |
| --- | --- | --- | --- | --- | --- | --- |
| PITCHER | IP | K/9 | BB/9 | ERA | FIP | XFIP |
| Aroldis Chapman | 58.1 | 15.89 | 5.55 | 3.09 | 2.52 | 2.59 |
| Will Smith | 57.1 | 8.63 | 2.67 | 4.40 | 3.36 | 4.30 |
| José Leclerc | 57.0 | 10.58 | 4.42 | 2.68 | 3.63 | 4.72 |
| Josh Sborz | 52.1 | 11.35 | 2.92 | 5.50 | 3.75 | 3.19 |
| Chris Stratton | 82.2 | 8.82 | 2.72 | 3.92 | 3.54 | 4.36 |
| Brock Burke | 59.2 | 7.84 | 1.36 | 4.37 | 4.90 | 4.12 |
Regular season stats, via FanGraphs
The Rangers have turned to Jose Leclerc in almost every close situation while relying on Josh Sborz for most mid-inning crucial situations. Aroldis Chapman has been their third go-to option but hasn't been deployed in the toughest spots like he often was earlier in the season.
Nobody else has needed to throw even six innings out of the bullpen with the excellent production from this core group, but rookie Cody Bradford has stepped up with just one run allowed in his three big appearances.
It's worth monitoring who could be utilized beyond that group. At this point, the Rangers will likely remain dependent on that group of arms but Will Smith could be one veteran pitcher deployed if needed in the World Series.
The Rangers also have a group of natural starters that will all be options if they need length out of any relief spots in the series.
Diamondbacks Bullpen
| | | | | | | | |
| --- | --- | --- | --- | --- | --- | --- | --- |
| PITCHER | IP | K/9 | BB/9 | GB% | ERA | FIP | XFIP |
| Paul Sewald | 60.2 | 11.87 | 3.56 | 32.1% | 3.12 | 3.57 | 3.76 |
| Kevin Ginkel | 65.1 | 9.64 | 3.17 | 50.3% | 2.48 | 2.86 | 3.60 |
| Andrew Saalfrank | 10.1 | 5.23 | 3.48 | 71.0% | 0.00 | 3.26 | 3.74 |
| Ryan Thompson | 30.2 | 6.16 | 3.38 | 60.0% | 3.82 | 4.33 | 4.41 |
| Bryce Jarvis | 23.2 | 4.56 | 3.42 | 44.3% | 3.04 | 5.03 | 5.27 |
| Joe Mantiply | 39.0 | 6.46 | 2.08 | 53.8% | 4.62 | 3.85 | 4.21 |
| Miguel Castro | 64.2 | 8.35 | 3.48 | 43.8% | 4.31 | 4.31 | 4.26 |
Regular season stats, via FanGraphs
The Diamondbacks were determined to add to their bullpen at the deadline when they acquired Paul Sewald in exchange for two quality hitters. This move has made paid off and then some as Sewald has converted all six save opportunities in October without allowing a single run.
Two other relievers with over 100 career games under their belt have made names for themselves this postseason and the Diamondbacks honestly wouldn't be here without them.
Kevin Ginkel has utilized his disgusting slider to throw nine innings of shutout ball with 13 strikeouts as the set-up man for Sewald during the playoffs. Furthermore, Submariner Ryan Thompson has logged 10.2 innings of work for the Diamondbacks and has been the primary option in every key early-game situation.
This group of relievers has been simply special for Arizona and others have put together good moments as well. Veteran Joe Mantiply and rookie Andrew Saalfrank have been steady at times but have been far from the level of the primary three options.
Neither team is supposed to have a strong bullpen yet both have been pivotal to the success of their team. This feels like one area where the Diamondbacks have the edge because of just how dominant their duo of Sewald and Ginkel has been but Leclerc and Sborz have the ability to be just as good.
Series Prediction
On paper, the Texas Rangers should win the World Series. They were significantly better in the regular season, particularly offensively and they have taken down some giants on this run to the World Series. In the first two rounds, the Rangers beat two teams that collectively won 200 games.
They then went on to beat the defending champs, who are their biggest rival, that absolutely owned them in the regular season to win the AL West on a head-to-head tiebreaker.
Now all that stands in their way of their first World Series championship is this 84-win 'Cinderella Story' of the Arizona Diamondbacks. If we have learned anything up to this point, it is that we cannot count out the Snakes.
Our prediction really hinges on how long this series goes.
If the series ends in six games, we believe it is because Jordan Montgomery is delivering the Rangers a title in that pivotal Game 6. But if the Diamondbacks can push this thing to seven, there is something about the magic that seems to be on their side where we think Brandon Pfaadt, Corbin Carroll and company can get the job done in another Game 7.
Still, we will play it on the safe side for our official predicition.
Rangers win in six.