Analysis
Javier Baez Is Playing His Best Baseball In Years
Javier Baez has been closer to 2015 Yoenis Cespedes for the Mets than some may think.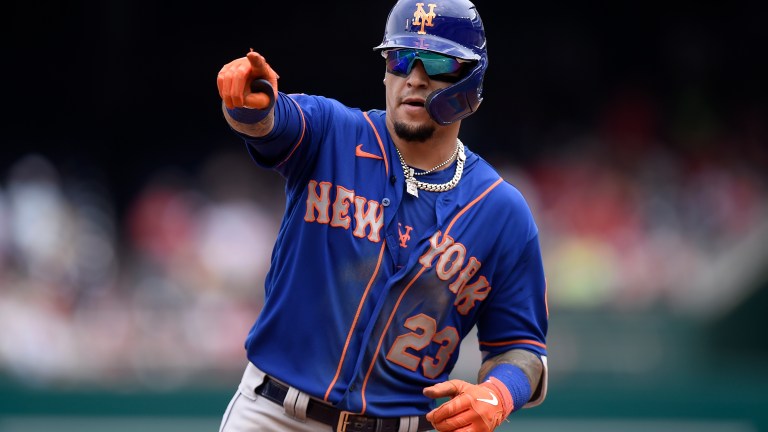 When people think back to the 2015 New York Mets, they remember Yoenis Cespedes putting the team on his back and carrying them to their first NL East division title since 2006.
But what if I told you that Javier Baez has been nearly as good this year, as Cespedes was back in 2015?
Baez has been an electrifying player for the Mets, living up to the "El Mago" nickname with his dazzling defense and tag-defying wizardry on the base paths. All while giving the Mets a legitimate second power source, in a lineup that has been devoid of one outside of Pete Alonso all season.
Yet through his first few months with the team, Baez is most-known for postgame comments that alienated him to Mets fans, rather than his play on the field.
Despite the bad first impression, Baez has done nothing but produce. In fact, since coming off the IL on August 22nd, Baez is hitting .346/.407/.667. His 189 wRC+ is the sixth-best mark during that span and his 1.3 fWAR is tied for the second-best mark in baseball behind only Bryce Harper.
Comparing his overall numbers as a trade deadline rental to that of Cespedes 11 years ago, Baez is actually producing at a similar clip.
After being acquired for Michael Fulmer and Luis Cessa at the 11th hour of the deadline, Cespedes hit .287/.337/.604, with 17 home runs, 35 extra-base hits and 44 RBI. The then 29-year-old quickly ingratiated himself to fans, blowing kissing to the crowd after every home run, all while the team went on a 20-8 run in August.
Things could not be more different for Baez, as the team went from holding first place in the NL East for months before his arrival, to falling out of playoff contention entirely with a 9-19 record in August. But looking at their stats, Baez and Cespedes are more similar than the narrative around their additions would suggest.
When it comes to Weighted Run Created Plus (wRC+), Baez's 152 wRC+ is mere points off from the 156 wRC+ mark that Cespedes posted in 2015. Both players changed positions after the trade, with Cespedes shifting into centerfield for the first time in his career, while Baez shifted from shortstop back over to second base.
Defensively there is no question which player is better, as Baez has posted 4 DRS in just over 150 innings at second base, while Cespedes was worth -6 DRS in 312.1 innings in centerfield.
Looking at the whole picture though, Cespedes was worth a 2.6 fWAR in 2015, while Baez is currently at 1.4 with 17 games left to play. It is unlikely that Baez will eclipse the production that Cespedes put up in 2015, but the perception of who they have been as players is largely shaped by the team's success around them.
Contrary to public belief, Cespedes did not do it all himself in 2015. Instead, the Mets got incredible performances top-to-bottom during their stretch-run to win the division. In fact, Cespedes wasn't even the team's best player, as Curtis Granderson's 3.2 second-half fWAR has gone completely forgotten.
Here were some of the other standout performers during the Mets run to win the NL East in 2015:
Along with the great offensive production, the Mets rotation was lights outs, as Matt Harvey (2.19 ERA), Jacob deGrom (3.14 ERA) and Noah Syndergaard (3.35 ERA), formed the best trio of flame-throwing starters we had seen in a long time.
Cespedes may as well have been the straw that stirred the drink, but to think he won the NL East himself is revisionist history. It takes more than one superstar to win a baseball game, otherwise Juan Soto would still have the Nationals in contention now.
Javier Baez has been an excellent trade deadline addition for the Mets, even if the result of the season is a third place finish and another year without a playoff berth.
Since the deadline, the Mets are 18th in runs scored and their 4.20 team ERA ranks 14th. The shortcomings of the roster as a whole shouldn't fall on Baez's shoulders simply because he was the major piece the team added at the deadline.
Instead it is more fair to compare his production to his counterparts that were dealt at the deadline.
There is an argument to be made that Baez has been the best player that changed teams at the deadline, but unless the Mets go on a surprising run to get into the playoffs, no one will remember it that way.
And just like in 2015, the Mets will have decision to make this offseason when it comes to their superstar deadline addition. This time the outcry from fans might not be as loud to resign him, but that shouldn't stop the Mets from pulling the trigger on another season with Baez.
When Cespedes hit the open market after his standout performance, he was surprised to find the market was not there for him to cash in on the nine-figure contract he was expecting. The Mets wisely signed Cespedes to a three-year, $75 million deal, with an opt-out after the first season.
The incentive for Cespedes to sign the contract was a $10 million signing bonus and a year one salary of $27.5 million. After putting together a great year in 2016, Cespedes was able to exercise his opt-out to reset his market the following offseason.
As Baez is getting closer to hitting free agency, this type of contract structure actually makes a lot of sense for a player that is about to hit a very crowded market at his position. Regardless of whether he returns though, Baez has done all the Mets could have asked from him up to this point.