Analysis
Why Ichiro Suzuki Should Have Never Won the 2001 AL MVP
In 2001, voters were so swept up in Ichiro Suzuki's sensational debut season that they failed to see who really deserved the AL MVP award.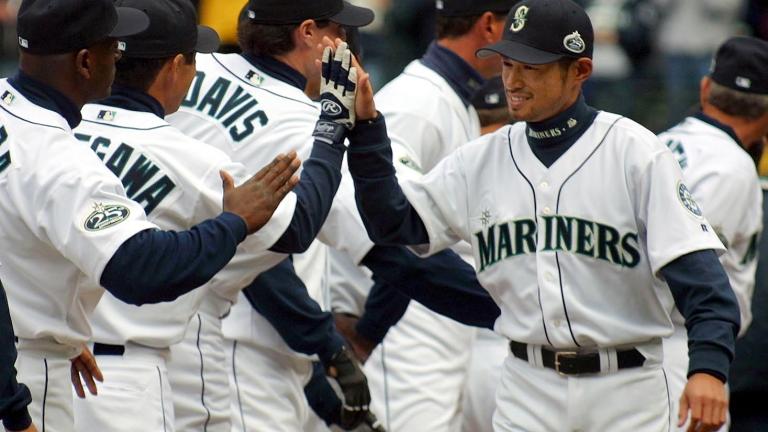 This is a hot take that I have admittedly had in the holster for some time and has long-been an inside joke behind closed doors in Just Baseball group chats.
"When is Fink going to release to the world his horrible slander of the great Ichiro Suzuki?"
Well the waiting game is finally over, today is the day where I lambast against one of the most likeable international superstars this game has ever had.
It is not a popular stance to take, but I must do my due diligence as a historian and point out that it was absolutely ridiculous for Ichiro to win the MVP Award back in 2001.
There is an Ichiro was overrated article that I could have wrote, but even I can't put my name on that one in good conscious.
Let's take you back in time 22 years ago to just after the turn of the century.
The late 1990s and early 2000s in Major League Baseball were defined by one thing. Steroids. Performance enhancing drugs were all the rage back then, as we saw them on full display in 1999, when Mark McGwire and Sammy Sosa chased down Roger Maris' in a steroid-fueled home run race.
There was something going on in the shadows that led to this incredible outpour of offense, but most baseball fans were happy to just enjoy the fireworks.
Thus leads us to the absolutely absurd collection of seasons we saw put together in 2001. A year where a whopping 55 players finished with an OPS higher than eventual MVP Ichiro Suzuki's .838 mark. The five names above Ichiro on that list are laughable by the way: Paul Konerko (.856), Mark Grace (.852), Jeremy Burnitz (.851), Doug Mientkiewicz (.851) and Corey Koskie (.850).
Troy Glaus hit 41 home runs in 2001. Not pertinent to this article, just a funny stat.
Fifty-five players finished with an OPS of .850 or above. To put that into context, there were only 16 players who accomplished that feat last season.
In the National League, Barry Bonds was two Sammy Sosa votes away from being the unanimous MVP, garnering 98% of the first place votes. Bonds hit .328/.515/.863, with a record-setting 73 home runs and a 235 wRC+. Statistically, this is the greatest individual season in MLB history.
Meanwhile in the American League, there was a slugger by the name of Jason Giambi, who was the reigning 2000 AL MVP, posting an even better campaign in 2001.
Why Jason Giambi Should Have Won the 2001 MVP
We all remember Moneyball, where Brad Pitt (ie. Billy Beane) had to rebuild the Oakland Athletics after losing Giambi and Johnny Damon. As you may recall from the movie, losing Damon was a good thing according to Jonah Hill, instead it was finding a way to recreate the on-base machine that was Giambi with an aggregate of players.
Giambi was an offense one to himself during his last two seasons in Oakland. The man had a two-full calendar year run where he got on base better than a .475 clip. In 2001, Giambi's last year with Oakland, he hit .342/.477/.660, with 38 home runs, two triples, and a league-leading 47 doubles.
That was good for 87 extra-base hits, 37 more than the 50 Ichiro accumulated in Seattle.
While not to the degree of Bonds, who was feared to the point where he posted an absurd 26.7% walk rate, Giambi was the second-most feared hitter in the game with a 19.2% BB%. Pair that walk rate with a strikeout rate of just 12.4% and you have a real special hitter.
To be fair to Ichiro, this is one of the few stats he performed better in 2001, 7.2% K%.
Look at Wins Above Replacement and you will find Giambi topped the American League according to both fWAR and bWAR with an identical 9.2 mark. Ichiro on the other hand trailed behind, worth only 6.0 fWAR and 7.7 bWAR.
Ichiro won a batting title and led the American League with 242 hits, but Giambi still reach base 331 times, compared to Ichiro at 282. All while hitting an additional 30 home runs and driving in 120.
Giambi's league-leading OPS of 1.137 was nearly 300 points better than Ichiro's and if you look at OPS+ and wRC+, he trounces him in those departments as well with a 199 OPS+ and a 193 wRC+, compared to 126 and 124 marks from Suzuki.
There is only one logical argument to make for Ichiro winning the American League MVP in 2001 and it is narrative-based to what was such a special year in Seattle.
Why Ichiro Suzuki Won the 2001 AL MVP
To this day, no team has ever won more games in a season than the 2001 Seattle Mariners, who hold that record along with the 1906 Chicago Cubs at 116 wins.
Ichiro Suzuki was a global sensation that year, making the transition from NPB to MLB smoother than anyone ever has, instantly sparking the best team in baseball. The Mariners were an absolute wagon and Ichiro was the catalyst and table-setter leading off that potent lineup.
Four Mariners started the All-Star game that year, with John Olerud and Brett Bone sharing the right side of the infield and Edgar Martinez being the DH. Ichiro batted leadoff and started in center field, while fellow Mariners outfielder Mike Cameron made the All-Star team as a reserve.
Similar to this year, the 2001 MLB All-Star Game took place in Seattle, which could partially explain the five All-Star position players, along with the three Mariners pitchers who made the team as well.
Looking over the statistical seasons that were put up in that Seattle starting lineup, it is no surprise how many games they won. You can make an argument that Ichiro wasn't even the best player in the Mariners lineup, and instead that was Brett Boone.
The 32-year-old second baseman hit .331/.372/.578, with 37 home runs, three triples and 37 doubles. Boone led the American League with 141 RBIs, while also amassing 206 hits and 118 runs scored. His OPS was over 100 points better than Ichiro at .950.
Boone didn't even lead that team in OPS though, as Edgar Martinez posted the best mark with a .966 OPS, albeit in 133 games. The future Hall of Famer hit .306/.423/.543, with the fourth-best wRC+ in the American League with his 157 mark.
If you can make an argument that a player was the third-best hitter on his team, can you really call that same player the league MVP?
Yes, Suzuki brought way more to the game than just his bat. He brought immense speed to the basepaths and was an incredible defender out in right field. There is no debating if he was more valuable than DH-only Martinez on the 2001 Mariners.
Referring back to Wins Above Replacement though, you will find Boone's 8.8 bWAR and 7.8 fWAR were both well-ahead of Ichiro and were the second-best marks in the American League behind the aforementioned Giambi.
Boone actually finished third in the AL MVP voting that year, receiving seven first place votes compared to Ichiro's 11 and Giambi's eight. While you could debate who the most valuable player was on the 116-win Mariners, but you could not do the same with the 102-win Oakland A's.
The only other 100-win team in baseball featured an undoubted most valuable player, the same game guy who won the league award in 2000. Back to Moneyball, the second star of the Athletics was Damon, who posted a .687 OPS from the leadoff spot.
Despite what the movie well tell you, Eric Chavez and Miguel Tejada were actually the second and third-best players on the A's and to their credit, each posted 30-HR, 100-RBI seasons in 2001. Still, a lineup of Chavez, Tejada and Damon is a far cry from what Ichiro was working with having a future Hall of Famer and top-3 MVP candidate on his side.
Powering the poverty-riddled Oakland Athletics to 102 wins, combined with the best stats in the league, should have been enough to make Giambi MVP. Voter fatigue is real and it is understandable why Giambi would not get to receive the award two years running. Especially playing in such a small market like Oakland, where very few people were watching his games.
You can also say they got it right, as Giambi is not exactly the type of character MLB wants us to remember, compared to more well-respected future Hall of Famers like Ichiro.
That doesn't make it suck any less though if you are Jason Giambi, who could have been one of the few players in baseball who have earned the distinction of winning back-to-back MVPs.
The list of players in MLB history who have accomplished that feat is just 13, with Bonds starting his own stretch of doing so in 2001, his first of a record four-consecutive MVP from 2001 to 2004.
Giambi could have etched his place in history, but instead it went to Ichiro, who was essentially given every award in 2001. It would have been enough to send Ichiro home after his first season with the Rookie of the Year, Gold Glove, Silver Slugger and a batting title before calling it a day.
Instead, we were all so swept up in the sensation that was Ichiro Suzuki, that we forget to take a minute to canvas the league and see who was really the 2001 AL Most Valuable Player.