Feature
How Elly De La Cruz's Start Compares to Other Rookie Phenoms
Rookie Elly De La Cruz is taking the league by storm, both in performance and popularity. Here are some past rookies who had a similar impact.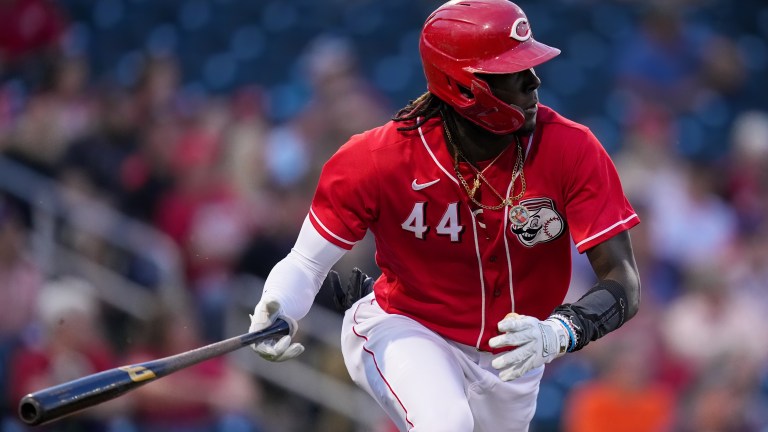 In a little over a month, Elly De La Cruz hasn't just sparked the Cincinnati Reds. It's a full-blown fireworks show.
Since his call-up on June 6, the Reds have gone 23-8 and took over first place in the NL Central. The major leagues are now fully aware of the 21-year-old, 6-foot-5 infielder.
That doesn't mean they know how to stop them yet. The Brewers especially, who witnessed the incredible Run DLC circle the bases solely on stolen bases.
Spectacular? No question. The best? That's harder to judge, but it's worth considering him against others who rapidly captivated the baseball world.
Joe DiMaggio – 1936
A foot injury was the only reason he was out of the lineup until May 3. Once he was healthy, there would be no reason to take him out. DiMaggio was batting third ahead of Lou Gehrig. No pressure. And after producing two singles and a triple over six at-bats, no worries.
He slashed .323/.352/.576 with 44 doubles, 15 triples, and 29 home runs over the remainder of the season. The Yankees won another AL pennant, and facing the cross-town rival Giants in the World Series, DiMaggio delivered three doubles, drove in three runs, and hit .346 in a six-game victory.
Willie McCovey – 1959
He needed only 52 games to be the unanimous NL Rookie of the Year. McCovey came to the Giants in late July and batted .354 with 13 homer runs and 38 RBIs in less than a third of the season. His debut was especially notable, going 4-for-4 with two triples off fellow Hall of Famer Robin Roberts.
Starting on August 17 and ending on September 10, McCovey went on a 22-game hitting streak. He was so good he outperformed legendary teammate Willie Mays with an OPS of 1.085. Ever since top rookies were honored in 1947, no other player has won it without making at least 100 appearances.
Mark Fidrych – 1976
He was even more entertaining than he was good. I mean, how often do you see a pitcher talk to the baseball? Called "The Bird," Fidrych's quirks added color to his unexpected performance.
A non-roster invite out of spring training, it wasn't until a month into the season for his legend to begin. From his first start on May 15, a two-hit complete game victory, through July 3, he was a winner in nine of 10 decisions. By the All-Star Game, which he started for the American League, he was a national celebrity.
Fidrych led the majors with a 2.34 ERA and won Rookie of the Year, but injuries derailed any hopes for sustained success.
Fernando Valenzuela – 1981*
Technically this shouldn't count because he began his career in 1980. But we'll make an exception for "Fernandomania," which captivated the Los Angeles area. His first full season was unlike any other. Going on to win Rookie of the Year, Cy Young, and the World Series, Valenzuela began with eight complete games, an 8-0 record, a 0.50 ERA, and 68 strikeouts over 72 innings while holding opponents to a .172/.225/.212 slash line.
Dwight Gooden – 1984
"Dr. K" '84 in some respects was a lot like Fernando '81. His starts at Shea Stadium were events. His strikeouts were marked in the left field rafters and became known as the "K Corner." He didn't get off to the same incredible start, but it began to click in June when he posted a 1.99 ERA.
Gooden, at age 19, became the youngest All-Star. And in his first inning in the Midsummer Classic, he struck out the side. Doc didn't win the Cy Young but came awfully close. He set the rookie record for strikeouts and set the stage for a remarkable 1985.
Hideo Nomo – 1995
He was a little of Fidrych, Fernando, and Ichiro. Arguably, Nomo was the first player from Japan to quickly make it big in major-league competition. The 26-year-old limited the San Francisco Giants and Barry Bonds to just one hit in his debut and he was just getting started in many respects.
Nomo earned the start in the All-Star Game with opponents hitting just .158 against him. The month of June had plenty to do with it. He pitched into the ninth inning in each outing, compiling a 0.89 ERA with 60 strikeouts.
Ichiro Suzuki – 2001
In a homer-happy era, Ichiro was a revelation. He wasn't a rookie in the professional sense, but that doesn't diminish the impact. That impact was felt instantly.
Ichiro recorded a hit in 16 of the Mariners' first 17 games (on his way to a league-leading 242). His ability to disrupt pitchers at bat and on the bases was a throwback. His right-field defense was on display in Oakland, when he nailed Terrance Long trying to get to third.
Not only was he the top rookie, but he was the AL MVP — becoming the second player to achieve both honors in the same year. He got nine more 200-hit seasons and will cruise into the Hall of Fame. His influence on Japanese baseball in the majors is transcendent.
Albert Pujols – 2001
Both Rookies of the Year in '01 came out of the gates blazing. Like Ichiro, Pujols' initial days were a sign of things to come in some respect. He stood out with a 23-game hitting streak in April. But unlike his prime and later years, he was defensively versatile. He played at four different positions.
Pujols finished the year ranked in the top 10 in multiple National League categories: WAR, OPS, batting average, runs batted in and games played. He also ended up with a fourth-place finish in the NL MVP voting.
Francisco Rodriguez – 2002
He made five appearances out of the bullpen as a 20-year-old from September 18 through September 27. He struck out 13, allowed three hits, and never gave up a run. Is that good? "K-Rod" was born and the Anaheim Angels had themselves a weapon for the postseason.
His dominance carried over into October. Rodriguez finally allowed a run (he was human, apparently), but his two months of numbers were remarkable: 24.1 innings, 13 hits, four earned runs, seven walks, and 41 strikeouts.
All that and he got a World Series ring before he could legally drink champagne.
Yasiel Puig – 2013
June was the month of Puig. He led off his initial big-league game on June 3 and got his first hit five pitches later. He ended that night by initiating a spectacular double play from the outfield. The next night, he homered. An inning later, he homered again. Two days after that, a grand slam. The next night, a game-tying home run.
For the month, Puig led all major leaguers with a .463 average, 44 hits, and a .713 slugging percentage. He joined Joe DiMaggio as the only other player to record at least 40 hits and four homers in their debut month.
Shohei Ohtani – 2018
He was immediately hyped as the next Babe Ruth. And somehow he's exceeded it.
North America's first brush with his two-way brilliance was immediately eye-popping. Adjusting to the states, opposing major-league pitchers, and opposing major-league hitters at once, it wasn't long before he was breaking new ground.
On April 8, he was perfect for 6.1 innings. Injuries sidelined him from the mound for 11 weeks, but he still managed to set records. Ohtani joined the Babe as the only other with 10 pitching appearances and 20 homers in a single season. On September 7, he broke the major-league record for homers by a Japanese rookie.