Analysis
Who's Better in 2023, Mets or Phillies?
One of these teams won 101 games last season, the other went to the World Series. Who's better suited to win the NL East in 2023?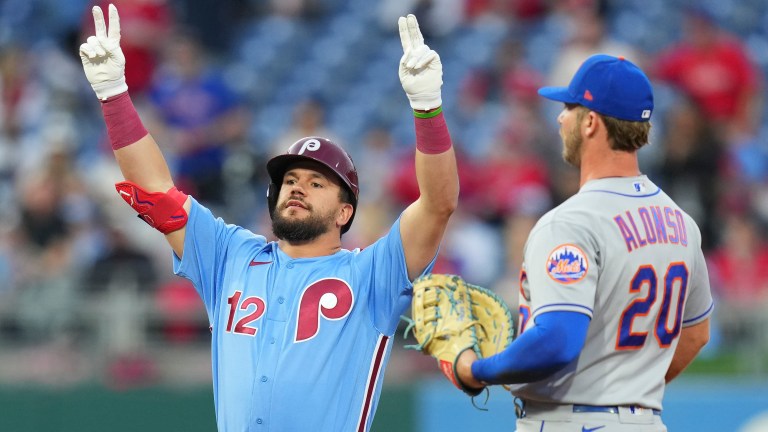 Spring training is nearly upon us, which will lead most baseball fans to take a look at their favorite team's division and wonder who is in the best position to make it out on top this year.
Over the coming weeks, we will be exploring this specific topic two teams at a time for all the contenders in baseball on my new show, Who's Better Baseball, a podcast that aims to answer a simple question in each episode: who's better at baseball?
We begin this exercise in the division I am most familiar with, the National League East.
Our first two teams up finished behind the Atlanta Braves last season, ceding the division to their rival for the fifth-consecutive time. The Mets nearly got over the hump, finishing with an identical 101-61 record, only to lose the division on a head-to-head tiebreaker they lost in the final weekend of the regular season.
The Phillies, on the other hand, finished 14 games behind the Mets and Braves, but ended their season last, making a deep run in October to the World Series.
The point of today's exercise is to take a deep dive into each of these teams' rosters and see how they stack up to one another. Then the reader can decide who they think is better prepared for this upcoming season: the New York Mets or the Philadelphia Phillies.
Who Has the Better Starting Lineup?
The Philadelphia Phillies showed they had plenty of thump in their lineup when the lights shined the brightest last year, as Bryce Harper led a lineup of sluggers to an NL pennant. That core only got stronger this offseason with no major subtractions and the addition of one of the best shortstops in baseball, Trea Turner.
For the Mets, their lineup is mostly unchanged, although re-signing Brandon Nimmo in free agency was a key piece to their offseason. New York hopes that top prospects Brett Baty and Francisco Alvarez can put them over the top at some point during the 2023 campaign, but for now, we are looking at an identical lineup to the one the Mets lost with in the Wild Card round.
| | |
| --- | --- |
| Mets Projected Lineup | Phillies Projected Lineup |
| 1. Brandon Nimmo – CF | 1. Trea Turner – SS |
| 2. Starling Marte – RF | 2. Kyle Schwarber – DH |
| 3. Francisco Lindor – SS | 3. J.T. Realmuto – C |
| 4. Pete Alonso – 1B | 4. Bryce Harper – RF |
| 5. Jeff McNeil – 2B | 5. Rhys Hoskins – 1B |
| 6. Daniel Vogelbach – DH | 6. Nick Castellanos – LF |
| 7. Mark Canha – LF | 7. Alec Bohm – 3B |
| 8. Eduardo Escobar – 3B | 8. Bryson Stott – SS |
| 9. Omar Narvaez – C | 9. Brandon Marsh – CF |
First Five
While everyone wants their lineup to be strong 1 through 9, the first five hitters are usually the greatest telltale sign of how good a team can be. If you can't put together a collection of five quality big league hitters (we're looking at you out in Washington), you can't hope to contend across a full Major League Baseball season.
In this instance, both teams are filled with high-paid superstars, giving each a potent first five atop the lineup.
Now if we replaced the injured Bryce Harper with Darick Hall, as the Phillies will have to do for the first few months of the season, this exercise would have been a lot less interesting, so we are looking at their best possible lineup when healthy.
With that said, Harper is the best player of the bunch, while Trea Turner and J.T. Realmuto make the Phillies incredibly strong up the middle at arguably the two most important defensive positions on the field. Throw in a guy who hit 46 bombs last season and another who hit six more in the playoffs and you have an incredibly tough top five.
Looking at the Mets' side, you have three guys who made the All-Star team last year (Starling Marte, Pete Alonso and Jeff McNeil) paired with the guy who led MLB shortstops in fWAR (Francisco Lindor) and a center fielder who just got paid $162 million off a 5.4-fWAR season.
The Phillies have more power for sure, but the Mets have five guys who get on base at a high clip. Last year, the Mets team wRC+ of 116 was 10 points higher than Philadelphia's, but things could change this year when you factor in Turner.
Here is one last note I will leave you with before we move on though.
If you give the Phillies 2021 MVP Bryce Harper and add up the 2022 fWAR of Turner, Realmuto, Schwarber and Hoskins, they'd combine to produce an fWAR of 24.2. The Mets' first five combined to post 25.0 fWAR last season. Exactly five wins apiece on average.
Final Four
Once we move beyond the first five, teams can differentiate themselves with how much production they receive from the bottom of the lineup. With these teams, the final four of each lineup could not be any more different.
The Phillies are all about the youth here. Bryson Stott shifts from shortstop over to second base, getting ready to begin his sophomore season. Alec Bohm could be primed for a breakout campaign over at third base, after showing flashes of great play throughout 2022. This could be the year the 26-year-old puts it all together, and the Phillies really need him to.
Then you have a high-floor player in Brandon Marsh, because no matter what happens with the bat, he is going to win them ball games with his fantastic glove patrolling center field. The worst part of this final four could be the one that hits sixth in the lineup, as Nick Castellanos is coming off a career-worst season.
For the Mets, Omar Narvaez assumes the defensive-first catching duties of James McCann, as he is likely to enter a more traditional platoon with the incumbent Tomas Nido. Meanwhile, Eduardo Escobar and Mark Canha are both set to return for their age-34 seasons, where they will be starting at third base and left field respectively on Opening Day.
If either of these veterans gets off to a slow start, they could soon find themselves replaced by top-100 prospect Brett Baty, who could play either position if he hits his way into the lineup. Another place Baty could find some at-bats is at DH, but only if Daniel Vogelbach falls off after posting a 144 wRC+ in a Mets uniform last season.
Luis Guillorme gives the Mets some great depth as a utility infielder, while Tommy Pham looks to bring some pop to the fourth outfielder role. Darin Ruf is currently slated as the final piece of the Mets bench, as he looks to flush an awful stretch that closed his 2022 season.
The Phillies bench certainly brings more inexperience, with Josh Harrison being the only vet on a bench that includes defensive whiz Edmundo Sosa and backup catcher Garrett Stubbs. Dalton Guthrie is projected to grab the last spot on the Philly bench after an impressive 14-game stretch last season.
Between these two teams, the Mets have the better overall depth when you factor in what could be available to them from their farm system. The Phillies farm will play a role in the pitching department this season, but with Stott and Guthrie, they have graduated their best position players.
New York, on the other hand, could see top-100 prospects Francisco Alvarez, Baty and Mark Vientos all play roles at the big league level.
Who's Got the Better Rotation?
When we evaluate starting rotations ahead of the season, it is important to realize almost every team is going to go beyond their first five starters. Injuries happen. Rare is it that a team can take their Opening Day rotation and carry that throughout the year without hiccups.
Here is the projected rotation depth chart for both of these teams, 1 through 7:
| | |
| --- | --- |
| Mets Projected Rotation | Phillies Projected Rotation |
| 1. Max Scherzer | 1. Aaron Nola |
| 2. Justin Verlander | 2. Zack Wheeler |
| 3. Kodai Senga | 3. Ranger Suárez |
| 4. Jose Quintana | 4. Taijuan Walker |
| 5. Carlos Carrasco | 5. Bailey Falter |
| 6. David Peterson | 6. Andrew Painter |
| 7. Tylor Megill | 7. Cristopher Sánchez |
The names atop these rotations are jaw-dropping, with a pair of Cy Young contenders atop each one. In fairness to all their greatness, we can call that a wash, but the deeper you go, the more things seem to favor the Mets.
Ranger Suárez is a great no. 3 starter, who really showed himself well in the playoffs. There is every chance he posts a better season than Kodai Senga this year, but the unknown works in the Mets' favor. Senga has frontline starter potential, we just haven't gotten the chance to see if the stuff translates yet. If it does, the Mets' three-headed monster of Scherzer, Verlander and Senga has a chance to become the best in the game.
Jose Quintana and Carlos Carrasco have a far longer track record than Taijuan Walker and Bailey Falter and are coming off better seasons too. David Peterson and Tylor Megill give the Mets great depth, as well.
For the Phillies, the big x-factor is their no. 1 prospect, Andrew Painter.
If given the opportunity, Painter could take this Phillies rotation to another dimension, although that could be a tall task for a soon-to-be 20-year-old.
Who's Got the Better Bullpen?
One of the most important parts of any offseason for contending teams is building a bullpen. Relievers are often on short-term deals, so roster turnover can put teams in the position the Mets found themselves in come free agency, when essentially their entire pen hit the open market at the same time.
The Mets acted quickly, signing All-Star closer Edwin Díaz to the first nine-figure contract given to a reliever in MLB history. Throughout the offseason, the Mets signed veterans Adam Ottavino and David Robertson, while trading for veterans like Brooks Raley and Jeff Brigham.
The Phillies on the other hand made a big swing by trading for Tigers closer Gregory Soto, to pair with Seranthony Domínguez and José Alvarado at the back-end of the pen. Philadelphia also added Craig Kimbrel and Matt Strahm in free agency.
New York has certainly been more diligent at adding depth with minor league signings and waiver claims, but when we compare these bullpens prior to the season, the focus should really be on who is holding onto leads late in games.
| | |
| --- | --- |
| Mets Late Inning Bullpen Options | Phillies Late Inning Bullpen Options |
| 1. Edwin Díaz: 1.31 ERA, 1.04 xFIP | 1. Seranthony Domínguez: 3.00 ERA, 3.26 xFIP |
| 2. Adam Ottavino: 2.06 ERA, 2.79 xFIP | 2. José Alvarado: 3.18 ERA, 2.16 xFIP |
| 3. David Robertson: 2.40 ERA, 3.71 xFIP | 3. Gregory Soto: 3.28 ERA, 4.59 xFIP |
| 4. Brooks Raley: 2.68 ERA, 3.28 xFIP | 4. Craig Kimbrel: 3.75 ERA, 4.04 xFIP |
| 5. Drew Smith: 3.33 ERA, 3.72 xFIP | 5. Andrew Belatti: 3.31 ERA, 3.37 xFIP |
2022 Stats
Edwin Díaz is the best closer in baseball and Ottavino was a damn-good setup man. Domínguez and Alvarado were great for the Phillies in the postseason, but I have a hard time putting them ahead of the Mets' top two.
From there you look at the new faces brought in this offseason, and I happen to like what the Mets did more. Robertson proved his dependability in Philadelphia last season, and Brooks Raley showed in Tampa that he can be devastating from the left side.
On the other hand, Craig Kimbrel might not have much left in the tank, and Soto has some real regression risk going from the friendly confines of Comerica to the more hitter-friendly Citizens Bank Park. Last year, Soto gave up just 0.30 HR/9, as his HR/FB was an unsustainable 3.4%.
More home runs are going to fly against Soto this year, and with all the traffic he allows on the bases (5.07 BB/9), that could make for some crooked numbers hung at the worst of times.
Who's Better: the Mets or the Phillies?
Alright, it is verdict time!
While I am sure all Phillies fans reading this have already dismissed me for bias, I truly believe the answer is the New York Mets.
Simply put, the Mets just have more depth across the board. They can better deal with injury throughout a long 162-game season, with seven viable starting pitchers and a very deep bullpen. Their lineup doesn't stack up to the Phillies on their best day offensively, but the Mets have more guys that factor into the mix that are above-average contributors.
If Ranger Suárez continues his ascent and Andrew Painter has debuted and is a problem for opposing lineups by season's end, the Phillies are the last team anyone wants to face in the playoffs.
With that said, these two teams are really exactly where they were last season. The Mets are the team better suited to rival the Atlanta Braves for the NL East crown, but the Phillies are a dangerous team come October.