Analysis
Who Should Win the National League Gold Glove Awards?
With less than one week left to play, which players are in line to win each Gold Glove in the National League this season?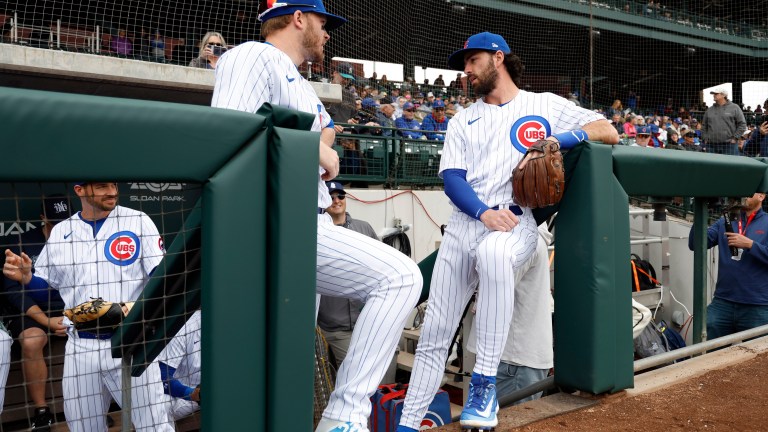 The MLB regular season is coming to a close this week, and that means award season is officially on the horizon. Fellow writers at Just Baseball have already put out guides on which players are in line to win the Silver Slugger Award in both the National League and the American League.
Now, it's time to turn our attention to who have been the best defenders in the sport in 2023, starting with the National League. Like narrowing down who the best hitters have been at each position, picking and choosing which defenders have stood out among the rest is no easy task as there are so many qualified players.
When evaluating the defensive value of a player, there is an element to balancing both how their defensive metrics grade out, as well as how their defensive performance impacts the game. Some positions were easier to choose than others, and some have a couple of names who appear equally as qualified to win the Gold Glove Award at that respective position.
Let's dive into who should be the Gold Glove winners in 2023.
First Base: Christian Walker (ARI)
After walking away with his first Gold Glove Award in 2022, Christian Walker is making a strong case to win the award again this season. The nine-year veteran leads MLB first baseman with 12 Outs Above Average (OAA) while ranking amongst the top of the National League in various other defensive metrics as well.
Among qualified first basemen, Walker's nine Defensive Runs Saved (DRS) are the second-most among National League first basemen, and he ranks second in the NL in Ultimate Zone Rating (UZR). UZR is a defensive metric used to put a run value on defense by quantifying how many runs a player saved or gave up through their defense.
It uses several different defensive performance metrics to put a number on a player's defensive value, thus making it easier to compare the defensive performance of players at the same position.
Relatedly, Walker leads the National League in FanGraphs' Defensive Runs Above Average category (DEF), which is their way of putting a positional adjustment on the UZR calculation. Walker has been an all-around great defender yet again this season, and he has evolved his game both offensively and defensively in his last two seasons with Arizona. He brings tremendous value with his glove as well, and he is putting together a 2023 season that is worthy of back-to-back Gold Glove Awards.
Second Base: Bryson Stott (PHI) or Nico Hoerner (CHC)
The second base position easily gave me the most trouble in the National League. There have been several players who have played Gold Glove caliber defense all season long, and it was extremely challenging to narrow down the list to just a few names.
The two players I feel have been most deserving of the award are Bryston Stott and Nico Hoerner, and I truly believe an equivalent argument could be made for either of these two defenders.
Stott shifted from shortstop to second base after the Phillies signed Trea Turner in the offseason, and it was a seamless transition for Stott.
In terms of outs above average, Stott's 15 OAA has the slight advantage over Hoerner's total of 13 OAA. Additionally, Stott's 4.0 ultimate zone rating is the best in the National League at the position and is a noticable advantage over Hoerner's UZR of 0.9.
However, Hoerner leads the National League with 13 defensive runs saved, which is more than double of Stott's DRS of 5. Both players are posting impressive fielding percentages (99.2% for Stott, 99% for Hoerner) and they have been two of the more dynamic defenders at the position this season.
Bryson Stott may have the slight edge over Nico Hoerner in terms of the defensive metrics, but it's completely understandable if you believe Hoerner should take home the hardware.
Third Base: Ke'Bryan Hayes (PIT) or Ryan McMahon (COL)
Since debuting back in 2013, Nolan Arenado has won the Gold Glove Award in the National League each of the last 10 seasons. However, it appears Arenado's historic Gold Glove streak may be coming to an end this year.
Instead, both Ke'Bryan Hayes and Ryan McMahon are making strong cases to take home their first Gold Glove Award this year.
McMahon has been a finalist for this award for the past two seasons, and I anticipate him being a finalist for a third year running in 2023. He leads National League third basemen in ultimate zone rating (6.2) while posting the second-most defensive runs saved (16) and the third-most outs above average (11). He has continued to flash his leather at the hot corner for the Rockies and could be in line to finally take home a Gold Glove Award.
It won't come without resistance, however, as Ke'Bryan Hayes is putting together a Gold Glove caliber campaign for the Pittsburgh Pirates. Ever since debuting back in 2020, Hayes has been one of the best defenders in the entire sport. He has continued to flash one of the premier gloves at the hot corner in 2023, and his play has been more than deserving of his first Gold Glove Award.
This season, Hayes leads Major League Baseball in OAA (17) and runs prevented (13) to go along with an impressive fielding percentage of 98.6%. In the National League, Hayes leads the position in DEF (14.7) while also pacing third basemen in DRS with 22.
While he is third in the NL with a 2.6 UZR, which is noticeably lower than McMahon's UZR of 6.2, Hayes continues to show the league why he is one of the most talented defenders in baseball yet again this season.
Shortstop: Dansby Swanson (CHC)
Dansby Swanson has established himself as one of the best defenders at the shortstop position for the past couple of years, and after seven seasons with the Atlanta Braves, he finally took home his first Gold Glove Award last season.
Now with the Chicago Cubs, Swanson hasn't missed a beat and has continued to demonstrate his defensive prowess as he makes a push to win back-to-back Gold Glove Awards.
He leads MLB shortstops in OAA with 18 to go along with an impressive fielding percentage of 98%. In the National League, Swanson leads the position in FanGraphs' DEF rating, as well as posting the most DRS with 15. He ranks third in the NL in UZR, and he has been the catalyst for strong Chicago Cubs' defense this year.
Willy Adames and Ezequiel Tovar will likely be in consideration for this award as well, and while both of these players have played well enough to merit a Gold Glove Award this season, I believe the strongest case can be made for Dansby Swanson when looking at the overall numbers.
Left Field: Ian Happ (CHC)
The left field position gave me trouble due to the lack of any one particular standout defender. There were several names under consideration for this award at this position, including Christian Yelich, Eddie Rosario, and Bryan Reynolds.
Christian Yelich leads all qualified left fielders with four OAA, Eddie Rosario leads the position in the National League with three DRS, and Bryan Reynolds, despite not leading in any one particular category, is posting strong defensive metrics across the board making a well-rounded overall case for the award.
However, I give the slight edge to Chicago Cubs' left fielder Ian Happ, who happened to win this award last year. Happ's big statistical advance comes in the form of his impressive Ultimate Zone Rating.
Happ has a UZR of 12.1, meaning, statistically, he is 12.1 runs better than the average left fielder according to UZR's calculation. His UZR is the most among NL left fielders, with the next closest left fielder being Bryan Reynolds with a UZR of 1.2.
Because of this stark statistical advantage, I give the nod to Happ winning back-to-back Gold Glove Awards in 2023.
Center Field: Brenton Doyle (COL)
In his first big league season, Brenton Doyle has made a significant impact with his defense in center field, flashing some of the best outfield defense in the sport in 2023.
Doyle is the leader by a landslide in nearly every major defensive statistical category. He leads all qualified MLB outfielders in OAA with 15, and he has done it with his arm, with his speed, and with his natural feel for the center field position.
Going back to Ultimate Zone Rating, Doyle leads all center fielders with a UZR of 22.6, with the next closest center fielder being Michael Harris II with a UZR of 4.9. Doyle's DEF rating sits at a whopping 21.2, which is the highest in the National League among all outfielders.
Given these impressive metrics, it's no surprise to see Doyle leading NL center fielders with 17 defensive runs saved. He's put together an impressive season in center field for the Colorado Rockies, and his play should warrant a Gold Glove Award this season.
Right Field: Fernando Tatis Jr. (SDP)
The 2023 season was a reminder to fans that Fernando Tatis Jr. is still one of the most freakishly-gifted athletes in the sport. After previously residing at shortstop for most of his young big league career, Tatis' transition to the outfield this season was a roaring success.
Tatis continues to demonstrate some of the best range, speed, and arm strength in baseball, and it has translated to defensive success this season. Tatis is putting up 10 OAA thus far, which is the most in baseball among qualified right fielders, and he is at the top of the National League leaderboard in several defensive metrics, and it's not particularly close.
| Player | DEF | UZR | DRS |
| --- | --- | --- | --- |
| Fernando Tatis Jr. | 9.7 | 12.4 | 27 |
| Seiya Suzuki | -1.7 | 1.6 | 3 |
| Jesùs Sanchez | -4.0 | -5.1 | 3 |
| Michael Conforto | -4.3 | -3.0 | -3 |
| Lane Thomas | -10.1 | -6.4 | 1 |
| Ronald Acuña Jr. | -12.6 | -2.7 | 0 |
Among NL Right Fielders – Min. 700 Innings
Simply put, Tatis has been a stud this season in the outfield. He has the third-best UZR among all qualified NL outfielders, and his performance this season is deserving of his first Gold Glove Award of his career.
Catcher: Patrick Bailey (SFG)
The 13th overall pick in the 2020 draft was promoted to San Francisco's big league roster in the middle of May, and he has thrived behind the dish in his rookie season. However, the decision doesn't come without some debate as there have been several names deserving to be in the Gold Glove conversation this season.
Among those who should also be in consideration for this award is budding New York Mets' catcher Francisco Alvarez, who is also in his first full season in the major leagues. Additionally, Milwaukee Brewers' catcher William Contreras, who entered the season grading out as one of the worst defensive catchers in baseball, has improved his defensive performance in such a way that he should warrant some consideration for a Gold Glove Award this season.
Each of these three catchers bring their own unique strengths to the catcher position, and a strong case could be made for any of the names in this trio.
| Catcher | Catcher Framing Runs (NL Rank) | Blocks Above Average (NL Rank) | Caught Stealing Above Average (NL Rank) | Pop Time (NL Rank) | DEF (NL Rank) | DRS (NL Rank) |
| --- | --- | --- | --- | --- | --- | --- |
| Patrick Bailey | 16 (1st) | -10 (31st) | 5 (2nd) | 1.87 (2nd) | 25.0 (1st) | 11 (2nd) |
| William Contreras | 7 (3rd) | 6 (5th) | -2 (19th) | 1.95 (17th) | 20.7 (2nd) | 5 (7th) |
| Francisco Alvarez | 10 (2nd) | -1 (16th) | -3 (23rd) | 1.94 (15th) | 18.6 (3rd) | 6 (6th) |
Stats Courtesy of Baseball Savant and FanGraphs
There are a plethora of metrics that one can use to evaluate a catcher's defensive performance. The table above looks at numerous categories that attempt to capture defensive performance metrics along with the value that they bring behind the dish.
While his blocking metrics sits near the bottom of the National League, Patrick Bailey has been the most well-rounded defensive catcher this season by the metrics.
Bailey has been the best pitch framers in baseball this year to go along with an MLB-leading strike rate of 53.1%. He has been elite in throwing runners out on the base paths thanks to his spectacular pop time, and it has translated to him being one of the more valuable defensive catchers in the National League. I give the nod to Bailey earning his first Gold Glove Award of his career this season.
Utility: Ha-Seong Kim (SDG) or Tommy Edman (STL)
This position was rather challenging to narrow down due to the award being so new. Last season was the first year in which a Gold Glove was given to a utility player, and it was an awesome evolution to the Gold Glove Award.
Utility players hold tremendous value for their ball clubs by plugging into multiple positions and bringing great defense to those various different spots on the field. When looking at players who fit this description, Ha-Seong Kim and Tommy Edman stand out as two players who have done just that this season.
Kim has primarily resided at second base this season, and he has played the position tremendously. In the National League, he ranks in the top-five in the four categories highlighted in the table. In addition to his great defense at second base, Kim brings above average defense to the hot corner as well as the shortstop position.
| Defensive Metrics: Ha-Seong Kim | Second Base (102 Games) | Shortstop (19 Games) | Third Base (32 Games) |
| --- | --- | --- | --- |
| DEF | 4.7 | 0.9 | 2.3 |
| UZR | 2.5 | 0.0 | 0.5 |
| DRS | 9 | 3 | 3 |
| OAA | 6 | 0 | 3 |
Stats Courtesy of FanGraphs
As seen in the table above, Kim has three or more defensive runs saved at each of his three positions. The Padres have been able to move him all around the diamond, and Kim has brought enormous value with his glove this season and has made a strong case to win his first Gold Glove Award.
However, bringing elite defense to multiple positions is something Tommy Edman has been doing ever since he made his MLB debut with the Cardinals back in 2019. Not only does he have the ability to play all over the diamond, but Edman can bring great defense to the outfield as well.
| Defensive Metrics: Tommy Edman | Second Base (47 Games) | Shortstop (48 Games) | Center Field (41 Games) | Right Field (8 Games) |
| --- | --- | --- | --- | --- |
| DEF | -1.7 | 4.6 | 2.2 | 0.9 |
| UZR | -1.4 | 0.5 | 0.6 | 0.3 |
| DRS | -3 | 1 | 1 | 1 |
| OAA | -3 | 4 | 5 | 1 |
Stats Courtesy of FanGraphs
In his first four seasons of his big league career, Edman brought superb defense to the second base position. So, it was a little surprising to see his metrics grading out so low at that position this season. Nonetheless, Edman has picked up the slack in his other positions, posting a positive UZR at shortstop, center field, and right field.
Edman won the Gold Glove Award at second base back in 2021, and his play in 2023 has been strong enough to warrant consideration for a second one this season.
Pitcher: Jesus Luzardo (MIA), Zach Wheeler (PHI), Merrill Kelly (ARI)
Max Fried has won a Gold Glove each of the last three seasons, but with him spending an extended amount of time on the shelf this season, there will be a new pitcher to claim the award in 2023.
Predicting a Gold Glove winner for the pitcher position is rather challenging due to the lack of fielding data available. However, using a combination of pitching performance and various different statistical databases, I took a shot at predicting three pitchers who could be most deserving.
In order to qualify for this award, all pitchers must have pitched in at least 138 innings by the ball club's 138th game. Therefore, the names listed below are some of those who qualify.
| Pitcher | ERA | SDI (NL Rank) | Total Runs Saved (NL Rank) |
| --- | --- | --- | --- |
| Jesus Luzardo | 3.64 | 2.7 (1st) | 7 (1st) |
| Zach Wheeler | 3.73 | 2.1 (4th) | 4 (2nd) |
| Merrill Kelly | 3.38 | 0.7 (10th) | 2 (4th) |
TRS courtesy of Sports Info Solutions
The SABR Defensive Index, or the SDI, is a statistical index that aggregates copious amounts of defensive data to provide a measure of the number of runs saved by a player's defensive performance. The index takes into consideration several key factors, such as arm strength, arm accuracy, and range, just to name a few.
Thus, the index plays a large role in Rawlings Gold Glove Award selection process. The above names are those who grade out well in the SDI along and also sit near the top of the leaderboard in terms of total runs saved, per Sports Info Solutions. All three of these pitchers have put together strong statistical seasons as well as bringing strong defense to the mound.
In the meantime, we have until November to speculate and debate over which players have been the most deserving of the Gold Glove Awards this season.