Analysis
Who Should Win the First Utility Player Gold Gloves?
Rawlings has announced that starting this year, they will award the top utility player in each league with a Gold Glove.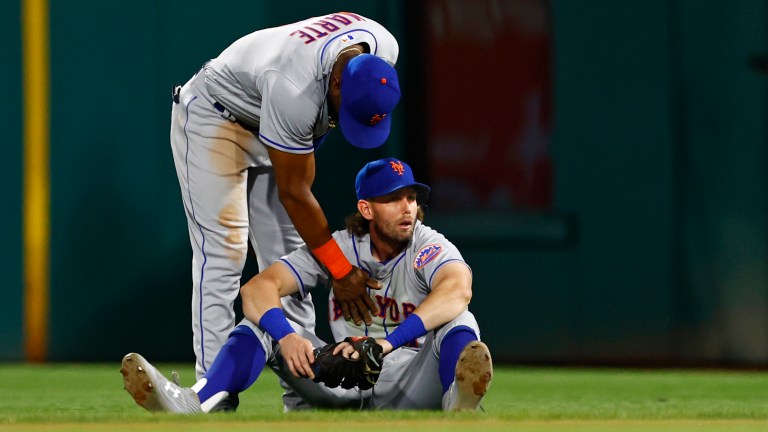 Versatility is a very powerful tool in the game of baseball today. If a player can field multiple positions, they become infinitely more valuable to their clubs, giving their manager plenty of options to play with when filling out a lineup card.
For years, we watched players like Ben Zobrist thrive in utility or "super-utility" roles, without getting nearly enough recognition for the defense they have provided at multiple positions. With players moving around the diamond more than ever in today's game, Rawlings has decided it is time to acknowledge the stellar defense of the most versatile defenders in the league.
Introducing, the utilityman Gold Glove Award!
The best part about Rawlings decision to add a Gold Glove for utility players is that they are making this addition beginning this season. With that in mind, let's take a look around the league and see who could qualify to become the inaugural recipients of this new award.
National League Candidates
St. Louis Cardinals, Tommy Edman – 2B, SS, 3B
2022 Stats: 9 OAA and 14 DRS at 2B, 9 OAA and 6 DRS at SS
One way or another, Tommy Edman deserves some Gold for his play defensively this season. Last year, Edman won the Gold Glove for his play at second base.
This year, Edman has basically split time between second base and shortstop, while also making appearances at third base, right field and center field.
Edman could conceivably win the Gold Glove at either position (second or short), but has a much better chance to repeat at second base with the great everyday shortstops in the National League like Dansby Swanson, Francisco Lindor, Nico Hoerner.
If they want to though, Rawlings could award Edman with the first utility player Gold Glove, rewarding the versatility he has brought to the Cardinals, giving them an ability to unlock different lineup combinations.
New York Mets, Jeff McNeil – 2B, LF, RF
2022 Stats: 7 OAA and 2 DRS at 2B, 2 OAA and 1 DRS in LF
When it comes to the Outs Above Average leaderboard among NL players, Jeff McNeil is second to only Tommy Edman for his play at second base this season. Either player could win either award and in a lot of respects they both should earn hardware one way or another.
McNeil has started 87 games at second base this year, with an additional 33 starts coming in the outfield. He is one of the rare players in the game that can play elite defense whether in the dirt or the grass and deserves to be rewarded as such.
If the decision was up to me, I'd probably reward Edman the Gold Glove at second base and give McNeil the new utility man award, but it could really go either way.
Honorable Mention: Luis Guillorme, New York Mets
While we are on the Mets, this is a great time to shoutout one of McNeil's teammates, Luis Guillorme. When McNeil was playing left field this year, it was usually to get Guillorme's glove in the field at second base.
Guillorme has received playing time at every infield position except first base and has graded out as a plus defender in each spot as well. He also makes some of the flashiest plays you will find anywhere today.
Honorable Mention: Edmundo Sosa, St. Louis Cardinals
Edumundo Sosa has only played 76 games this season between the Cardinals and the Phillies, but his defensive impact is undeniable. St. Louis ultimately gave up on Sosa when they dealt him to Philly and that change of scenery has worked out wonderfully for the 26-year-old.
Sosa has posted a 183 OPS+ since the trade and is giving the Phillies elite defense on the left side of the infield. The only knock on Sosa is his lack of playing time. Otherwise, his 8 OAA pops out, as he has been one of the best defensive infielders in baseball when on the diamond.
Honorable Mention: Jace Peterson, Milwaukee Brewers
Once primarily a second baseman, Jace Peterson has barely played his natural position this year and has instead gotten most of his reps over at the hot corner. He has also recorded starts at first base, left field and right field, while playing four innings back over at second. His 7 OAA at third base is an impressive mark, but he is probably a longshot to win the award.
American League Candidates
DJ LeMahieu, New York Yankees – 3B, 2B, 1B
2022 Stats: 4 OAA and 8 DRS at 3B, 2 OAA and 3 DRS at 1B, 2 OAA and 0 DRs at 2B
DJ LeMahieu is probably the most-deserving candidate from the American League to win the award, as he has given the Yankees plus defense, while consistently cycling between three different positions in the infield.
LeMahieu's best and primary position has been third base this year, where he can really showcase his arm to make some incredible plays.
Still, when placed on the right side of the infield at first or second base, LeMahieu continues to add value to the Yankees with his glove. Factor in a bounce back season offensively and you can really make the case that he has been the best Yankees position player not named Aaron Judge.
Isaac Parades, Tampa Bay Rays – 2B, 3B, 1B
2022 Stats: 3 OAA and 2 DRS at 2B, 2 OAA and 5 DRS at 3B, 1 OAA and -2 DRS at 1B
The Tampa Bay Rays got their hands on Isaac Parades this year and he is looking like a great find for them, who could serve a utility role long-term. Like LeMahieu, Parades has played every position in the infield but shortstop and has handled all of them well.
Considering he hasn't played nearly as many games as LeMahieu, Parades is unlikely to actually win the award, but he should at least be a finalist.
Honorable Mention: Whit Merrifield, Kansas City Royals
How many utilityman Gold Gloves would Whit Merrifield have if this award was in existence for the entirety of his career?
Merrifield has played all over the diamond with second base, center field and right field being his primary positions. This year, OAA (4 combined) still grades the 33-year-old as a plus defender, but DRS does not (-7 combined).
Honorable Mention: Mauricio Dubon and Aledmys Diaz, Houston Astros
Maurcio Dubon and Aledmys Diaz are a pair of Swiss Army knives that are at Dusty Baker's disposal in Houston, with each having played six different positions this year. Dubon has played everywhere except pitcher, first base and catcher, while Diaz has played everywhere but pitcher, center field and catcher.
Regardless of who ultimately wins the award, it is great that Rawlings has finally made this change. Rewarding the top utility players in the sport is long overdue and will be a great addition to award season moving forward.