Analysis
Who Should Start the All-Star Game in the Outfield?
Ronald Acuña Jr. has already secured his spot in the All-Star starting lineup, but who will join him on the outfield grass at T-Mobile Park?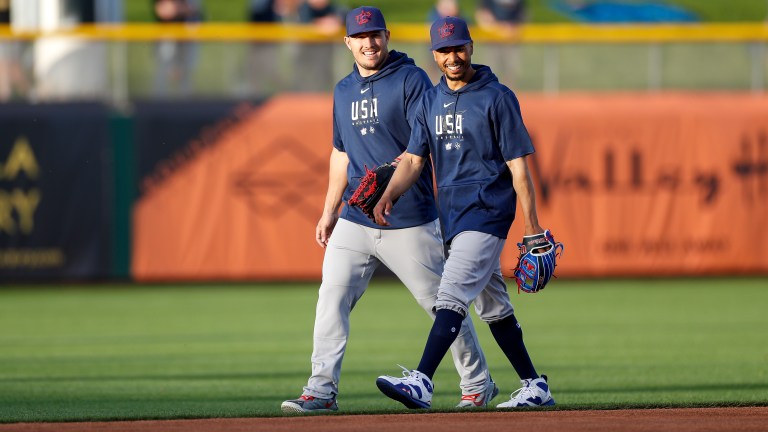 When the first phase of All-Star voting wrapped up last week, Shohei Ohtani and Ronald Acuña Jr. came out on top. As the leading vote-getters in each league, they both earned a ticket to this year's Midsummer Classic at T-Mobile Park.
Ohtani will be the starting DH for the American League, while Acuña nabbed one of three spots in the National League outfield.
Phase 2 of voting is now underway for the remaining 16 positions. Six finalists are competing for three starting spots in the AL outfield, while four are duking it out to join Acuña on the NL side.
Fan balloting draws to a close at noon ET on Thursday, June 29, and the 2023 All-Star starters will be announced on ESPN at seven o'clock that evening. With 48 hours (or fewer) remaining to cast your votes, here's a quick breakdown of both outfield races to help guide your decision.
National League
The Contenders
Mookie Betts: 339 PA, 19 HR, .258/.354/.512, 136 wRC+
Corbin Carroll: 313 PA, 16 HR, .290/.369/.558, 147 wRC+
Lourdes Gurriel Jr.: 279 PA, 11 HR, .275/.326/.484, 117 wRC+
Michael Harris II: 210 PA, 6 HR, .260/.314/.417, 96 wRC+
With no disrespect to Gurriel and Harris, this shouldn't be a difficult decision. Betts and Carroll are the deserving All-Star starters.
Harris has picked up steam in June, but his dreadful performance over the first two months of the season is clearly reflected in his numbers. His .731 OPS isn't All-Star caliber, no matter how great he is in center field.
Gurriel is having a terrific year, but a recent slump has brought his numbers down. More to the point, even a tremendous breakout season for Gurriel doesn't put him on the same level as Betts and Carroll – they're just that good.
Carroll ranks third among NL outfielders in wRC+, while Betts ranks fifth. They're both skilled baserunners (Carroll especially) and versatile defenders. Thanks to their all-around skill sets, they each rank among the top five NL outfielders in all three versions of Wins Above Replacement.
The only NL outfielders who could give Betts and Carroll a run for their money are Acuña, Juan Soto, and Fernando Tatis Jr. However, Acuña is already packing his bags for Seattle, while Soto and Tatis failed to garner enough support in the first phase of voting.
Final Prediction
The starting outfielders for the NL All-Star team should be Ronald Acuña Jr., Corbin Carroll, and Mookie Betts.
The starting outfielders for the NL All-Star team will be Ronald Acuña Jr., Corbin Carroll, and Mookie Betts.
Acuña is already in, Betts hasn't missed an All-Star Game in eight years, and Carroll is a rookie sensation. Betts and Carroll shouldn't have any trouble earning the votes they deserve.
---
American League
The Contenders
Yordan Alvarez: 242 PA, 17 HR, .277/.388/.589, 167 wRC+
Randy Arozarena: 331 PA, 14 HR, .292/.405/.485, 157 wRC+
Adolis García: 333 PA, 18 HR, .258/.327/.492, 124 wRC+
Aaron Judge: 213 PA, 19 HR, .291/.404/.674, 188 wRC+
Kevin Kiermaier: 215 PA, 4 HR, .276/.332/.444, 115 wRC+
Mike Trout: 333 PA, 17 HR, .253/.363/.480, 133 wRC+
The competition is closer on the Junior Circuit. No one's spot is secure, and all six candidates have a case to start the All-Star Game.
Arozarena leads the group in batting average and OBP. Judge has a commanding lead in slugging percentage and isolated power. Alvarez is the second-best hitter and the only one with power that can compare to Judge.
Kiermaier is the best defensive outfielder in baseball, and finally, García and Trout are the most complete athletes; they hit well, field well, and add extra value on the bases.
Wins Above Replacement isn't the be-all and end-all, but it's apparent from all three versions of WAR that there isn't a clear favorite in this race:
| | | | |
| --- | --- | --- | --- |
| Player | fWAR | bWAR | WARP |
| Randy Arozarena | 2.8 | 2.8 | 2.0 |
| Aaron Judge | 2.8 | 2.3 | 1.3 |
| Adolis García | 2.7 | 2.6 | 2.4 |
| Mike Trout | 2.7 | 2.5 | 2.0 |
| Yordan Alvarez | 2.3 | 2.0 | 1.9 |
| Kevin Kiermaier | 1.8 | 2.8 | 1.1 |
fWAR via FanGraphs, bWAR via Baseball Reference, WARP via Baseball Prospectus
However, one piece of the puzzle is left, putting three of these names ahead of the rest: playing time. Trout, Arozarena, and García have all played at least 75 games this season. They've all taken at least 330 plate appearances.
Judge and Alvarez are way off the pace because of injuries, while Kiermaier takes more rest days and bats at the bottom of the Blue Jays' lineup. It's beyond impressive what Judge, Alvarez, and Kiermaier have managed to do in limited playing time, but the playing time gap will only continue to grow over the next two weeks.
Judge tore a ligament in his toe and won't be coming off the injured list anytime soon. Even if he is elected to the All-Star team, he won't be able to play. Alvarez should be back before Judge, but his timeline is still hazy. Meanwhile, the Blue Jays will continue to play it safe with Kiermaier, who has a lengthy injury history of his own.
Trout, Arozarena, and García have produced all year, and they should continue to do so over the next two weeks. That's enough to give them the edge in this close competition.
Final Prediction
The starting outfielders for the AL All-Stars should be Mike Trout, Randy Arozarena, and Adolis García.
The starting outfielders for the AL All-Stars will be Mike Trout, Aaron Judge, and Randy Arozarena.
Judge, Alvarez, and Kiermaier are all having excellent seasons, but the playing time gap between those three and Trout/Arozarena/García is just too wide. However, Judge's star power and the Yankees' fanbase could get him elected over the less well-known García.