Analysis
Who Should Be the Starting DH for the NL All-Star Team?
Bryce Harper and J.D. Martinez are duking it out for a spot on the All-Star squad, while the most deserving candidate was left behind.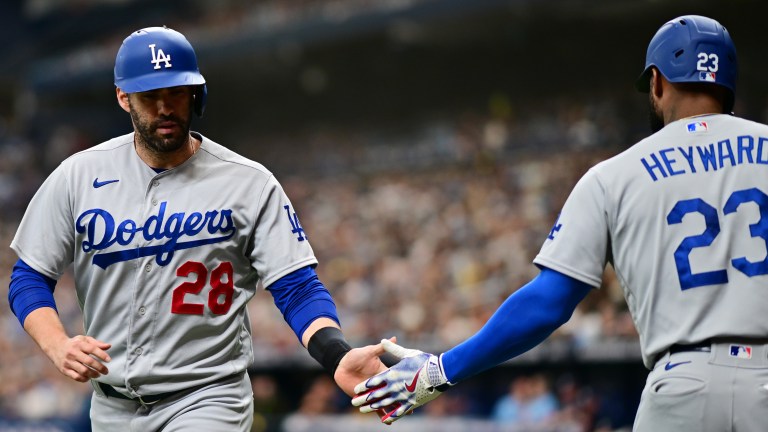 Let's get one thing straight: The most deserving designated hitter in the National League is no longer on the ballot.
Jorge Soler should be the starting DH for the NL All-Star team. In 75 games, he has hit 21 home runs, third-most in the National League. His .869 OPS ranks 12th among qualified NL batters and first among designated hitters. He also ranks first at his position in wRC+ and FanGraphs WAR.
Unfortunately, the most deserving players don't always come out on top in fan voting, especially when they're up against bigger stars in bigger markets. Soler has been the best DH in the National League, but it was Bryce Harper and J.D. Martinez who earned the necessary votes to advance to Phase 2 of All-Star balloting.
In fairness to Harper and Martinez, they have both played DH more regularly than Soler. While the Marlins' slugger has spent 18 games in right field, Martinez has only spent 12 innings in the outfield and Harper has only played DH. However, Soler shouldn't be penalized for his defensive versatility; DH is his primary position, and it's where he was listed on the ballot.
Unfortunately, no amount of bellyaching on my part is going to put Soler back on the ballot, so it's time to cut my losses. The starting DH for the NL All-Star team is going to be one of Harper or Martinez – let's talk about who deserves it more.
The Case for Bryce Harper
2023 Stats: 200 PA, 3 HR, 17 RBI, 5 SB, .286/.390/.399, 115 wRC+, 0.6 fWAR
The most impressive thing Bryce Harper has done this year is take the field.
That's not a dig about his underwhelming numbers; it's an acknowledgment of how remarkable it is that he's swinging the bat at all.
Harper underwent Tommy John surgery last November. At the time, the Phillies were optimistic he could return after the All-Star break. Fast forward seven months and Harper is in the running to start the All-Star Game. No MLB player has ever returned from TJS so quickly.
Furthermore, Harper isn't just playing – he's playing well. His .390 on-base percentage ranks 10th in the National League (min. 200 PA). His .373 xwOBA ranks in the 90th percentile, and his 15% walk rate ranks in the 95th.
Unfortunately, that's the extent of the case I can make for the Phillies' DH. His 2023 season makes for a remarkable story, but as far as the numbers go, his performance hasn't been All-Star worthy. Harper's 115 wRC+ is his worst since 2016, and his 0.6 fWAR ranks seventh among NL designated hitters.
If you're of the opinion that the All-Star Game should celebrate the biggest stars and the best stories in the sport, then Harper is a shoo-in. But if you think the All-Star team should comprise the best players from the first half of the season, Harper falls short.
The Case for J.D. Martinez
2023 Stats: 259 PA, 16 HR, 48 RBI, 0 SB, .254/.301/.555, 125 wRC+, 0.8 fWAR
J.D. Martinez has bounced all the way back from a dreadful second half in 2022.
The slugger is on pace for 34 home runs and 101 RBIs, while posting an .856 OPS and 125 wRC+. His .555 slugging percentage and .301 isolated power rank third among qualified NL batters, and his 16 home runs are tied for eighth.
Martinez is a true DH in the classic sense: He strikes out a ton and won't get many base hits, but man, oh man, can that guy crush a baseball. His 92.7-mph average exit velocity ranks in the 94th percentile, and his 17.3% barrel rate ranks in the 95th. His xwOBA on contact hasn't been this high since 2017.
If Jorge Soler can't be the starting DH for the NL All-Stars, Martinez is a respectable second choice.
Final Prediction
The starting DH for the NL All-Star team should be Jorge Soler J.D. Martinez.
The starting DH for the NL All-Star team will be J.D. Martinez.
It's a testament to Bryce Harper's star power that he advanced to Phase 2 at all. He's having a down year compared to his own lofty standards, and his late starts means his counting stats are well off the pace.
Martinez has the edge in hits, home runs, RBI, OPS, wRC+, and fWAR. He's on his way to his sixth career All-Star appearance.
---
Phase 2 of All-Star voting began on Monday, June 26 and runs until Thursday, June 29. You can cast your ballot on MLB.com.