Analysis
Who Should Start the All-Star Game at Shortstop?
We are less than a month away from the 2023 All-Star Game, so it's time to debate who should be starting at shortstop in both the AL and NL.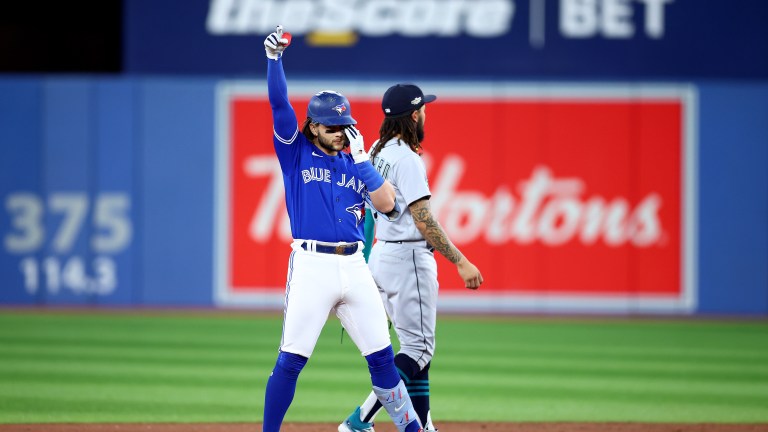 We are less than a month away from the 2023 All-Star Game in Seattle, and the first wave of All-Star voting was released on Monday. As is yearly tradition, it's exciting to speculate and debate about who has played well-enough to earn starting roles for their respective league.
One positional race that will be intriguing to track will be the shortstop position. Both the American League and the National League will come down to the wire for who will earn the starting nod. However, they are two completely different conversations.
In the American League, the conversation will boil down to two, maybe three, stars who are posting some of the best numbers in the entire sport and are in the midst of a spectacular 2023 season.
In the National League, it is a much more wide-open discussion with the abundance of superstars who are off to a slow start. There is a case to be made for several players who are putting together a great start to 2023, who might not have been expected to be in this conversation at the beginning of the season.
Let's look at who should be starting at shortstop in Seattle on July 11th, starting with the American League.
American League
Who should start at shortstop in the American League has become a star-studded debate, and I believe there are two names worthy for the role.
Honorable Mention: Corey Seager has been phenomenal thus far in 2023, and he's doing it on the best offense in baseball. However, he has half as many games played this season as the two names that will be discussed.
Had he not missed over a month of the season with a hamstring strain, Seager would surly make this a three-man race. With that being said, he still deserves credit for the outstanding season that he's putting together, and it's illustrated by the number of votes he is receiving from fans.
| Rank (Fan Votes) | Player Name | fWAR (AL SS Rank) |
| --- | --- | --- |
| 1 (775,221) | Bo Bichette | 2.5 (2nd) |
| 2 (376,659) | Corey Seager | 1.8 (3rd) |
| 3 (226,629) | Wander Franco | 3.2 (1st) |
| 4 (172,258) | Jeremy Pena | 1.4 (4th) |
Via MLB.Com as of June 12th
Bo Bichette – Toronto Blue Jays
Bo Bichette is off to a tremendous start this season and has emerged as one of the top shortstops in the game. He is a special offensive talent, and he is doing it at one of the premier positions in the sport. Bichette has been one of the best offensive shortstops in the league, posting numbers that are among some of the best in MLB.
He already has 94 hits in 309 plate appearances on the year, which is the most in all of baseball. Bichette is slashing .319/.350/.508 thus far for an OPS of .858, and he leads all qualified shortstops in baseball with a wRC+ of 137.
Bichette is pacing shortstops in multiple offensive categories. He has 14 home runs and 43 RBIs on the season, and both are the most among MLB shortstops.
Amongst the qualified shortstops, Bichette leads the position in batting average, slugging percentage, OPS, and wOBA. He has been elite offensively this season, hitting for both power and contact while cutting his strikeout rate.
Bichette has an impressive hard hit rate of 46.4% to go along with a barrel rate of 10%, which is his highest since the 2020 season. He is making some of the most impactful contact of his young career, and it is translating to success at the plate this season.
The most noteworthy improvement Bichette has made is slashing his strikeout rate. It currently sits at 17% which is a career-low by a wide margin and down over five percent from 2022. This helps illustrate why Bichette has been so efficient at the plate; he's putting the ball in play more often, and he's doing it with high-quality contact.
There is no denying that Bichette brings a special-skillset to the plate. He is posting his best numbers since his rookie year back in 2019, and he has been one of the best hitters in baseball this season. But, there was never a question about Bichette's offensive ability. Instead, he has historically been criticized for his poor defense.
However, he has made strides in that area of his game this season. He has a defensive runs above average rating (Def) of 1.1 to go with 2 defensive runs saved (DRS). He has also limited his errors this season while posting a career-high fielding percentage. It might not be elite defense, but it's an incredibly valuable improvement for his game.
Bichette has an fWAR of 2.5, which is the second-best among MLB shortstops. His offensive talent alone is making a case for him to be the starting shortstop in the American League, and that's why he is the top vote-getter at the position in the AL thus far.
Wander Franco – Tampa Bay Rays
If it weren't for Bichette's hot start at the plate this season, Wander Franco would be a shoo-in to start at shortstop for the American League. Franco has not only been one of the best offensive shortstops this season, but he also brings elite defense to one of the most demanding positions in the sport for the best team in baseball.
His fWAR of 3.2 wins leads all shortstops and is tied for the second-best mark in baseball amongst positional players. Wander Franco is putting it all together this season and has been a major contributor to Tampa Bay's sensational start. Franco's outstanding hit tool coupled with his elite approach is why he has been arguably the best shortstop in baseball.
Franco is slashing .295/.354/.477 for an OPS of .831 in his 285 plate appearances this season. His wRC+ of 133 is the second-best among qualified shortstops, only behind Bo Bichette. He has 75 hits on the year, including eight homers to go with a whopping 19 doubles, which is the most among all shortstops.
Since debuting with the Rays back in 2021, Franco has been one of the best in the league at limiting strikeouts, and that trend has continued this season. His impeccable strikeout rate of 12.3% is in the 94th percentile.
With that in mind, it's no surprise to see his bat-to-ball numbers among the top in MLB.
His whiff rate of just 12.5% is in the 99th percentile, and he has an incredible zone contact rate of 92.7% (for reference, the league-average this season is 82%). He is putting the ball in play frequently, and he has made improvements to his quality of contact as well. His barrel rate sits at 6.7% and his hard hit rate sits at 37.9%, both up 2.1% from last season.
Not only has Franco shinned at the plate, but he also makes significant impacts on the basepaths in the field. He already has 22 stolen bases this year, which is more than double what he had in his first two Major League seasons combined. Additionally, Franco is in the 100th percentile in Outs Above Average and leads all shortstops with 10 defensive runs saved.
At just 22 years old, Tampa Bay has a budding superstar in Wander Franco. His offensive efficiency coupled with his elite defense at such a premier position has made for a rock-solid case to be the AL starting shortstop. If he maintains this level of play, he should be in the AL MVP conversation come years-end.
National League
The starting shortstop position in the National League is completely up for grabs. Dissimilar to the American League, there are numerous superstars who have underperformed thus far in 2023, including Francisco Lindor, Xander Bogaerts, and Trea Turner.
Despite being near the top of the list in terms of fan vote totals, I do not believe their play has warranted the starting spot for this year's All-Star Game. Instead, it has opened the door for some less-marquee players who are putting together a great first-third of the MLB season.
| Rank (Fan Votes) | Player Name | fWAR (NL SS Rank) |
| --- | --- | --- |
| 1 (406,509) | Orlando Arcia | 1.6 (4th) |
| 2 (302,051) | Francisco Lindor | 1.5 (5th) |
| 3 (209,144) | Xander Bogaerts | 1.9 (3rd) |
| 4 (200,152) | Matt McLain | 1.0 (7th) |
| 5 (197,569) | Dansby Swanson | 2.4 (1st) |
| 6 (155,033) | Trea Turner | 1.1 (6th) |
| 7 (140,098) | Chris Taylor | 0.9 (9th) |
| 8 (128,477) | Geraldo Perdomo | 2.1 (2nd) |
fWAR ranking excludes Thairo Estrada as he qualifies primarily as a second baseman
Orlando Arcia – Atlanta Braves
Orlando Arcia has been one of the best stories in baseball this season, putting together a complete career turnaround in Atlanta. Once a top prospect in baseball, Arcia debuted with the Milwaukee Brewers back in 2016. However, he has failed to find his footing in the Majors- especially offensively.
His career slash line sits at .248/.301/.376 with a career OPS of .678 and wRC+ of just 78. His inability to be even a league-average hitter has contributed to his lack of success in the big leagues. However, he has been an entirely different player thus far in 2023.
The 28-year-old is putting together the best season of his eight-year career, and he's doing it with the best team in the National League. He is smashing his career numbers and setting career-highs in almost every offensive category. Arcia has earned his role with the Braves, and he now finds himself as the top vote-getter to start at shortstop in the National League.
This season, Arcia is hitting .331 on the season with an OPS of .853 in his 180 plate appearances. He is posting a career-high batting average, on-base percentage, and slugging percentage and by a substantial margin.
Not only is Arcia posting some of his best offensive statistics of his career, but he is making the best-quality contact of his career as well. His hard hit rate of 45.6% is a career-high, and his barrel rate of 8% is also the highest of his career.
It has been, by far, the most productive season at the plate for Arcia, illustrated by his 131 wRC+, which is second-best among NL shortstops (min 180 PA). Additionally, he's continued to be a reliable defender.
Arcia has a fielding percentage of .985, and he sits in the 87th percentile in Outs Above Average. He went from a player being phased out of the league to being a contributor with both his bat and his glove.
Arcia already has an fWAR of 1.6 wins through 45 games this season. In his 642 Major League games prior to this season, Arcia accumulated an fWAR of just 2.3 wins.
Heading into the season, it was anticipated the Braves would roll with young shortstop Vaughn Grissom after parting ways with Dansby Swanson in the offseason. Instead, Arcia seized the opportunity and it has paid off for both himself and Atlanta. He is putting up the best numbers of his career, proving to a quality shortstop for a contending team. Arcia has yet to make an All-Star Game in his eight seasons in the Majors, and it's looking like that drought will end this season.
Dansby Swanson – Chicago Cubs
After earning his first All-Star bid of his career last season with Atlanta, the 29-year-old shortstop found a new home in the offseason. The Chicago Cubs signed Dansby Swanson to a lucrative seven-year, $177 million deal in the offseason, and thus far he is playing like the best shortstop signed in what was a star-studded shortstop free agency group.
For Swanson, the conversation starts with the value he provides in the field, as he has established himself as one of the best defensive shortstops in MLB. He brings immense value to the Cubs with his glove, ranking in the 100th percentile in Outs Above Average. He also has the third-best Defensive Runs Above Average (DEF) in all of baseball at 10.6, and leads all NL shortstops with 9 defensive runs saved.
While Swanson's real value lies in his defense, he has also managed to put together a solid year at the plate in 2023. He is slashing .259/.348/.396 for a 107 wRC+ in 290 plate appearances. While his offensive numbers might not blow you way when compared to other shortstops, Swanson brings a dependable bat to the top of Chicago's lineup.
He has continued to generate high-quality contact, something he was so successful at a year ago. He's sporting a career-high barrel rate of 12.4% and an above-average hard hit rate of 43%. Swanson has 21 extra-base hits this season, including six homers, 13 doubles, and two triples. In addition to his quality contact, Swanson has improved his disciple at the plate as well.
He is posting a career high walk rate this season at 11.8%, which is up nearly five percent from 2022. Swanson has also managed to cut his strikeout rate, going from 26.1% last season to 23.3% in 2023. Additionally, his chase rate of 22.4% sits in the 84th percentile this year.
If Swanson can continue to become more efficient offensively and maintain his elite level of defense, his floor as a player will continue to rise. Swanson will look to make back-to-back All-Star appearances for the first time in his career, and he might be the most-deserving to start at shortstop for the National League.
Geraldo Perdomo – Arizona Diamondbacks
Geraldo Perdomo could be the biggest individual surprise in baseball this season. He might not have the name recognition as some of the other players discussed, but he has certainly put together a productive season thus far.
As of the June 12th voting check-in, Perdomo finds himself in eighth among NL shortstops. However, his 2.0 fWAR is the second-best among NL shortstops. He deserves to be in this conversation as he has been a contributor for one of the best teams in the National League this season.
The 23-year-old has put together quite the year. In his 180 plate appearances, Perdomo is hitting .285, while getting on base at a .386 clip. Putting up an OPS of .850, he has demonstrated a disciplined approach at the plate, patiently waiting for the right pitch to attack.
Perdomo cut his strikeout rate by over two percent from 2022, down to 18.3% this season. He also managed to improve his walk rate to 12.2% this season, up two percent from last year.
However, his quality of contact doesn't pop off the page as he ranks in the bottom 5% in baseball in barrel rate and hard hit rate. That being said, his offensive efficiency isn't a product of impactful contact, but more so a fantastic approach.
His success is exemplified by his elite chase rate of 17.5%, which is in the top 5% of baseball. He has also done a great job at making contact when he gets the pitch he is looking for. His zone contact rate of 87.9% is well-above league average, and his whiff rate of 18.1% sits in the 93rd percentile.
Perdomo currently has the highest wRC+ among National League shortstops at 132 and the second-highest fWAR at 2.1 wins (min 180 PA). While it isn't the most flashy name, Perdomo brings value with both his bat and his glove. He is more than worthy of being in the discussion for starting at the shortstop position for the National League in the 2023 All-Star Game.
The conversation regarding who should start at shortstop in the American League is a star-studded affair. It will likely come down to an entertaining two-man battle between some of the league's best in Bo Bichette and Wander Franco. However, in the National League, the discussion has much-less star power. Yet, there are several players who have played well enough to earn the starting spot.
Phase 1 of this year's All-Star voting ends on Thursday June 22nd, so there is one week left to cast your vote for who you think should be representing the starting shortstop positions in Seattle on July 11th.