Analysis
Could Yordan Alvarez's Injury Cost Houston Astros the AL West?
Outside of Yordan Alvarez, the Astros offense has disappointed in 2023. Could losing Alvarez to an oblique injury cost them the AL West.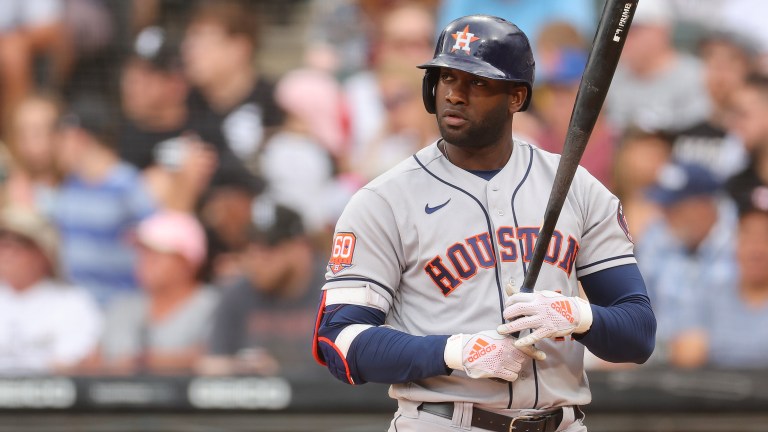 On June 8, the Houston Astros were 36-27 with a 77.8% chance of reaching the postseason, according to FanGraphs.
But with one swing in their game against the Toronto Blue Jays, their fortunes for the 2023 season may have shifted.
Fast forward two weeks and the Astros have gone just 5-8 and have lost series to the Cleveland Guardians and Cincinnati Reds. Their playoff odds have dropped to 57.3% and they sit just a 0.5 game ahead of the Los Angeles Angels and 5.5 games behind the upstart Texas Rangers.
Yordan Alvarez left that game with oblique discomfort and would eventually end up on the 10-day IL with a strained oblique. On the 14th, Astros GM Dana Brown said the 25-year-old would be out for four weeks.
With Alvarez in the lineup, Houston has gone 33-24 in 2023 and just 8-11 without him. 
Division winners in five of the past six seasons — the exception being a shortened 2020 — the Astros look to be at risk of not taking the AL West crown in a full campaign for the first time since 2016.
The Astros' Offense Hasn't Gotten it Done
Despite losing the reigning AL Cy Young winner Justin Verlander to free agency and Luis Garcia, Lance McCullers Jr. and Jose Urquidy hitting the IL, Houston still owns the best ERA across MLB.
While they have dominated on the mound, the Astros' bats have been around league average, holding just a 99 wRC+ and slashing .246/.315/.400.
| | | | | |
| --- | --- | --- | --- | --- |
| | Kyle Tucker | Jose Altuve | Jose Abreu | Alex Bregman |
| Career wRC+ | 127 | 128 | 129 | 137 |
| 2023 wRC+ | 117 | 121 | 63 | 109 |
Some key members of Houston's lineup haven't performed up to their career norms.
Luckily for Houston, it has one of the best hitters in the league with Alvarez. Voted in as an All-Star finalist on Thursday, the big lefty is tied for second with Shohei Ohtani in wRC+ for all hitters with 200 or more plate appearances.
He also ranks top-20 in walk rate, ISO, OBP, slugging and wOBA.
For any team, losing that type of hitter for any period of time would be catastrophic, but for the Astros, who have already been struggling offensively, Alvarez's time on the IL could mark the end of their reign atop the AL West.
How Can Houston Make Up Ground?
A large part of Houston's playoff odds sitting a little bit more likely than the result of a coin flip and their division title odds coming in at below 25% is the intensity of this year's postseason race in the American League.
Save for the albatross that has been the AL Central, you could make a case that nine AL teams are vying for five playoff bids.
Zooming into the West, the aforementioned Rangers have made life more difficult for the Astros. Owners of the third-best record in baseball and the best run differential, they look like true contenders.
Meanwhile, the Angels have been playing better, going 11-8 so far this month and have gained 3.5 games on Houston while they've been without Alvarez so far.
The Astros have lots of runway to improve their odds and they'll get their shot at making up ground on Texas, with 10 head-to-head games remaining. Along with so many games against their division rival, Houston has the sixth-easiest schedule in MLB based on the winning percentage of their remaining opponents.
While they will have to beat the teams in front of them, they still have 20 games remaining against the A's, Royals, Tigers and Rockies.
A Look Ahead to the Deadline
While the schedule does appear to get softer going forward, if Houston has intentions of extending its division championship streak, it may need to add some bats at the deadline to boost the lackluster offense.
Last week, Jon Morosi of MLB Network reported that the Astros are looking to add a left-handed hitter, identifying Corey Dickerson of the Washington Nationals as a piece that could fit if they do try to make a move.
Without Alvarez and Michael Brantley — who is yet to return from shoulder surgery — Houston's lineup consistently features Kyle Tucker as its only lefty.
Dickerson would be a solid addition, but he's far from the only bat that would make sense for the Astros to trade for.
| | | | | | | | | | |
| --- | --- | --- | --- | --- | --- | --- | --- | --- | --- |
| | Games Played | AVG | OBP | SLG | wRC+ | HR | wOBA | BB% | K% |
| Corey Dickerson | 25 | .260 | .304 | .397 | 88 | 2 | .305 | 6.3 | 16.5 |
| Seth Brown | 36 | .190 | .258 | .331 | 68 | 4 | .261 | 8.3 | 34.8 |
| Ryan McMahon | 74 | .269 | .352 | .468 | 115 | 12 | .34 | 11.1 | 30.6 |
Some mid-level left-handed bats that could come available at the trade deadline.
They could stay in-division and make a move for Seth Brown of the A's, who has struggled this season but has a track record as a righty-masher and could be a part of a platoon, whether it be at first base or in the outfield.
Another potential target could be Ryan McMahon of the Colorado Rockies, who is having a career-best season at the plate. While he isn't as clean as a fit in Houston, positionally as Brown, he is having a better year and would be a longer-term addition.
None of these three would provide a star-level addition, but adding a potential contributor to the lower half of the lineup and getting better production from its stars is likely the blueprint for improvement in Houston.
No matter what direction the Astros decide to go, they are going to need to figure out how to start winning more games until Alvarez can make his return — or else they run the risk of missing out on another AL West banner.
All stats courtesy FanGraphs and from before play on June 23.