Analysis
Bo Bichette Has Emerged as One of the Top Shortstops in the Game
Blue Jays shortstop Bo Bichette has had a strong start to the season that should see him suit up for the All-Star Game later this summer.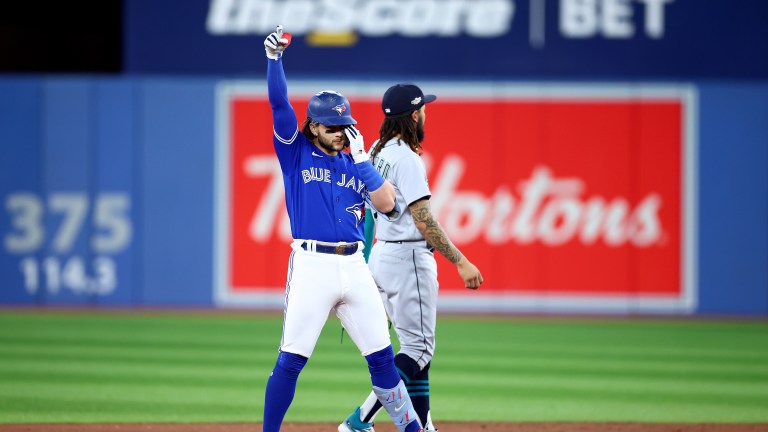 At one of the most demanding positions in baseball, Blue Jays shortstop Bo Bichette continues to find ways to contribute on both sides of the ball. The bat has always been on display, evidenced by how he's led the American League in hits two seasons in a row, but now the defense is starting to come into its own, despite being one of his biggest shortcomings since his debut season.
Drafted by the Blue Jays in the second round of the 2016 MLB Draft, Bichette entered the 2023 season with four years of experience under his belt and a three-year contract with $33.6 million guaranteed, a deal that buys out his arbitration years but will still see him become free agent eligible following the 2025 season (the same time as teammate Vladimir Guerrero Jr.).
So far this year, Bichette has put up strong numbers, leading MLB in hits entering Monday with 91 and pacing the AL in batting average (.317) and total bases (146). Bichette also leads the Blue Jays in slugging (.509), home runs (14), OPS (.858), and OPS+ (139) while playing in every single game so far this season, with all but one of those games coming at shortstop.
Bo Bichette Is off to a Hot Start for the Blue Jays
Bichette's .321 xBA sits in the 98th percentile, per Baseball Savant, while Bichette has been averaging a 91.9-mph average exit velocity, good enough for the 86th percentile. So far this year, the righty batter has been mashing the four-seam fastball, as he owns a .429 average against the offering while generating a 63.6 hard-hit rate on opposing pitchers' fastballs, producing a +8 run value.
Defensively, Bichette has made tremendous strides in what was an area of weakness throughout his first four campaigns. So far in 2023, the Jays shortstop has just five errors and boasts a .977 fielding percentage from the left side of second base, good enough for 2 DRS.
While he doesn't possess an overpowering arm, sitting around the low 80s and just below the 30th percentile, Bichette has been more accurate to first base this year and is making the routine plays, which bodes well considering the 25-year-old was starting to lose the faith of the Jays' fanbase; fans were beginning to wonder whether he could handle the position or if a move to the right side of second base was needed.
Comparing Bichette to Other MLB Shortstops
Compared to other shortstops across the majors, Bichette ranks first in batting average (.317), slugging (.509), home runs (14), and wRC+ (1439), while sitting tied with Francisco Lindor for the lead in RBIs (43). He also sits second in fWAR (2.6) behind only Wander Franco and ranks third in OBP with a .349 mark.
Fielding-wise, the Orlando, Florida product ranks in the middle of the pack in terms of fielding percentage (10th), DRS (12th), and OAA (16th), which are major strides forward considering he finished with 23 errors last year, second-most among MLB shortstops.
With the ability to shoot the ball to the opposite field, Bichette has quickly found himself in the conversation as one of the top shortstops this campaign, rivaled only by his counterpart down in Tampa, Wander Franco.
Both players are likely heading to Seattle later this summer for the All-Star Game, and either player has a good chance of starting the Midsummer Classic as well, with Bichette currently leading the ballot totals for the position.
With guaranteed money in his pocket and playing for a Blue Jays squad looking to win their first postseason game since 2016, Bo Bichette is proving to be one of the key cogs in the Toronto machine this year.