Analysis
Wander Franco is Putting It All Together Leading the Rays
The once highly-touted prospect has lived up to the hype this season and helped lead the Tampa Bay Rays to their remarkable start.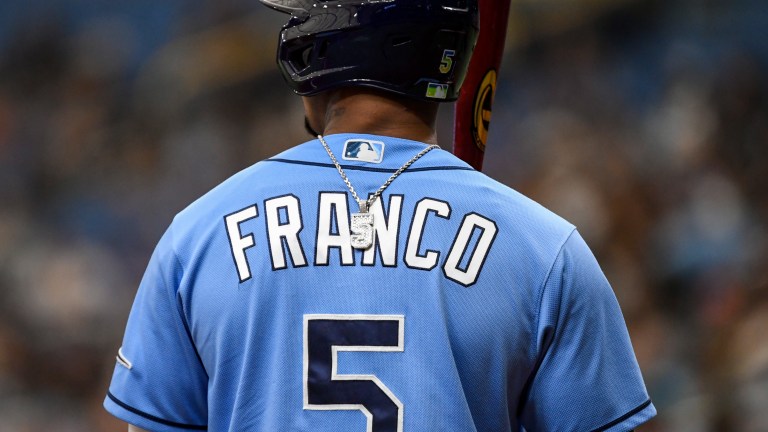 At just 22 years old Wander Franco is cementing himself as one of the brightest young stars in MLB, and is living up to the lofty projections and expectations that had his name towards the top of prospect lists from the time he was 18 years old.
After a midseason call-up in 2021 saw Franco play just 70 games, and an injury-marred 2022 limited him to just 83 games, the young star is showing just how dominant he can be when afforded the opportunity to play everyday.
Through the first games of the season, Franco is slashing an impressive .301/.354/.521. These numbers should continue to climb, too, as the youngster is in the top 84th percentile of baseball in K%, and 95th percentile in whiff rate; he is going to continue to put the ball in play at an amazing rate, which will only help his offensive numbers.
Franco's label as a true five-tool player has played itself out at the MLB level this season, as he has already launched seven home runs, 15 doubles, and swiped 12 bases. Again, Franco's underlying numbers indicate that this production is sustainable, as his sprint speed, hard hit percentage, barrel percentage, and maximum exit velocity are all above league average.
In his first season, Franco hit seven home runs across 308 plate appearances. Last year, he hit six over 344. This season, Franco has been able to match his season-high in just 178 plate appearances, as he is consistently tapping into his power. Suddenly, Franco is looking like a sure-bet to hit 20 home runs, and provided with good health, he may even push for 30.
Perhaps most impressive, though, is Franco's defensive prowess. He is in the 98th percentile in Outs Above Average while playing the premiere defensive position. With the shift banned, fans are now able to see Franco's incredible range on display each and every night he takes the field.
His combination of offensive and defensive production has helped Franco accumulate an impressive 2.4 bWAR on the young season, putting him on pace for an absurd 9.72 bWAR season. 
With Franco leading the charge, the Rays have become the best team in baseball to start 2023. They are currently a remarkable 20 games over .500 after just 42 games played and feature the best lineup in all of baseball.
The Rays lead the league in batting average, on-base percentage and slugging, while posting a team wRC+ that is 24 points higher than any other team at 141. Tampa's cumulative fWAR for their batters is currently sitting at 14.1. The next-best team in the Texas Rangers at 8.4.
Franco does not account for all of those wins above replacement, but he is leading the team and the league with his 2.2 fWAR.
In many ways, Franco was a victim to his own expectations as limited playing time due to service time manipulation and injuries prevented him from finding his footing at the big league level, and his lofty projections made his 13 home runs and 10 steals through his first 153 games feel pedestrian.
Now, though, with more than a full season of games under his belt, Franco is showing the baseball world that it is time to believe the hype.