Analysis
White Sox Trade Pieces: A Discussion
Elijah Evans and Clay Snowden talk Dylan Cease, Liam Hendriks, and all the other trade candidates the White Sox have at their disposal.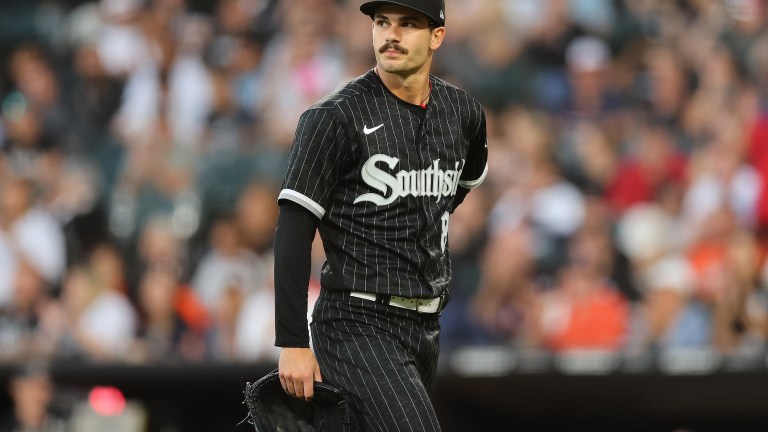 The Chicago White Sox are currently experiencing a worst-case scenario to start the 2023 season following a season that many thought couldn't get worse in 2022.
They've fallen to 19-29 and are looking closer to a rebuild every day, and they probably should head in that direction (as I detailed here). The long rebuild heading into the past few seasons helped Chicago stockpile ample young talent, but it just hasn't come together for a magnitude of reasons.
With the team faltering, it feels like an appropriate time to look at the pieces the White Sox have that could become available on the trade market and what teams might look to add their services in the coming months. It often feels tedious and boring at times to just go through players and their fit, so I decided to ask Just Baseball writer Clay Snowden to join me for a discussion piece rather than just write a simple trade destinations article.
The way we're gonna do this is by going one player at a time and having a dialogue about the player, teams that could be an option in a trade, and what a return for the given player could look like.
So, let's get into the players Chicago could be moving by August 1st. While there are other players that could realistically be moved, these are the ones that could net Chicago some real return in my eyes.
Lucas Giolito, SP
Contract status: Free agent after 2023
Clay: Giolito feels like he's as good as gone. Sure, the White Sox would love to keep him around, but I do not think it makes sense in their team life cycle. He's young enough to extend, which also makes him attractive to acquiring teams. He's making $10.4 million this season, which is below market value for someone of his caliber.
Giolito's down 2022 season is looking more and more like an outlier with each start he makes. With the starting pitching trade market lacking top-of-the-rotation arms, Gio will be one of the more coveted options. The White Sox cannot afford to botch this deadline and miss out on strengthening a farm system that is the bottom half of the league. Keep one of Dylan Cease or Lucas Giolitto…and more on that later.
Elijah: Coming into the season, Giolito's value was lower than ever, and it seemed the White Sox were not going to get much from him. However, he's turned things around from last season as you mentioned, Clay. He's got a track record of being a reliable arm in three of the past four seasons, and while his style of pitching likely prevents him from being an elite starter, plenty of teams could use a guy like Lucas. He could instantly become a top starter on a few teams planning to contend this year. *cough cough* Cardinals.
With him being a rental, the White Sox aren't going to get a haul for Giolito, but a starter of his age that can be relied upon for a mid-to-high 3s ERA is going to have demand. I can see the White Sox getting one solid prospect in the top 20 of a system with another flier piece. What do you think a return may look like, Clay?
Clay: I actually think the return will be better. The market for starters is looking bleak. Eduardo Rodriguez is likely to be one of the top arms available, and I view him in a similar tier. Last season Tyler Mahle (note: an extra year of control) brought back three prospects, including a system top 10 and Christian Encarnacion-Strand. Jose Quintana returned a system top 10 and Johan Oviedo. With the number of injuries and underperformance around starters, there's a great opportunity to capitalize on Gio's market.
Elijah: That would be the best-case scenario for the White Sox. They don't seem inclined to re-sign Giolito at this point, and his value was lower than ever just a few months ago. Taking advantage of the market and getting a system top 10 plus a quality young player would be an excellent outcome for Chicago. This seems like probably the most obvious trade that will happen, and it just comes down to finding the best trade partner.
Kendall Graveman, RP & Joe Kelly, RP
Contract Status: Under contract for $8 million in 2024 (Graveman), Club option of $9.5 million for 2024 (Kelly)
Clay: Solid bullpen arms with a track record like Graveman are always in demand. We have seen a slight dip in velocity, especially with his secondaries, but at 32 years old, there's no reason to think you are buying the decline. Graveman, with $8 million on the books in '24, might not fit every team. Someone will be interested, and the return isn't likely to be too steep.
Joe Kelly has had a fantastic career. The issue has been health. I view Kelly as a rental with injury risk making his return pretty pedestrian. If he can stay healthy until the All-Star break and continue this hot start, someone will come calling.
Elijah: I don't see these two as being pieces that will seriously change the farm system in any way, but relief pitchers will always be in demand in July. Graveman has been okay this year, while Kelly has looked much better than last season. If you asked me this question a few months ago, I would've said Kelly wouldn't get any trade value back, but he might actually, as he's looked sharp this year.
Both of these players likely can fetch one mid-level prospect, but that's honestly a big win for the White Sox. These two will not be part of the next wave in Chicago, so there's no reason not to get a prospect for each that could potentially become a piece down the road.
Tim Anderson, SS
Contract Status: Club option of $14 million for 2024
Clay: As of today, it's hard to find a scenario that makes sense for both teams to become a trade partner for Anderson. Who's in contention and in need of a shortstop? Not a move the Guardians or Marlins will make. Angels or Red Sox? The Yankees aren't likely to send Anthony Volpe down. Honestly, I think the Angels could be interested. Ohtani contract year, they want to win and see if they can convivence him to stay. They are a team that should be overly aggressive.
Elijah: Clay! You're forgetting two of the best teams in the league with a clear hole at shortstop. I'm going to be bold here and say that at this point, I EXPECT Tim Anderson to be playing in either a Braves or Dodgers jersey come August 2nd. Between the off-field tensions, the need for an extension in the near future, and the status of the team, he seems to be one of the most likely stars to be dealt this summer.
Anderson is having a shaky season since returning from his injury that seems like it may still be bothering him at this point. If he can get himself back on track in the next two months, the White Sox can get a package for an All-Star caliber shortstop with a year and a half of affordable control. Especially when you consider the two teams I mentioned that will likely be willing to go all-in this year and have obvious holes at shortstop right now.
Clay: You aren't a Miguel Rojas believer?! Make that two of us. The Dodgers do make a lot of sense, and obviously, they are not scared to make the splash trade. Whoever trades for him is going to pick up the option, which is why I think the Braves are not as clean of a fit. They really like Orlando Arcia, which I find puzzling, and just extended Vaughn Grissom. With Atlanta's starting pitching injuries and questions in left, I think they target those positions before making a splash move at short. Left will be easier, and cheaper, to acquire.
Elijah: Maybe I should have said that I expect him to be playing in Los Angeles by August…
You make a good point about the Braves, I just see them as a team that is willing to go all-in this season and wouldn't hesitate if given the chance. But ultimately, I do think the Dodgers make the most sense as Anderson would elevate their lineup to another level without forcing them to change their long-term plans. With the White Sox in desperate need of catching help in their farm system, could Diego Cartaya or Dalton Rushing be in play? I think this could become a reality come the trade deadline.
Reynaldo López, RP
Contract Status: Free agent after 2023
Clay: Lopez has some funky numbers this season, mostly due to a few short outings (less than an inning) where things went sideways. Last year's numbers were a bit of an outlier due to a ridiculous 1.5% home run to fly ball percentage. He's sitting at 26%, up from a career 11% average. Teams will still be interested, but I think the return would be lower than most White Sox fans anticipate.
Elijah: López is realistically somewhere between his last season self and the version of him we've seen this year, as you alluded to. He's not one of the best relievers in the league like last season, but his stuff is naturally excellent and has the ability to be shutdown at times. If he can begin to throw better in the next few months, I'd expect many teams to look into him as a bullpen option. His versatility helps as well, as he's shown he's capable of throwing in different roles.
A rental relief arm isn't garnering a huge return, but unless the White Sox plan on extending him, they should move him for a prospect.
Liam Hendriks, CP
Contract Status: Club option of $15 million for 2024
Clay: I think I can speak for everyone when I say we are rooting for the Liam Hendricks return. Battling back from cancer is a remarkable feat, regardless of your occupation. Hendricks will need to get some innings under his belt to show where he is before teams consider him an option. Not all of these relief options we have discussed will get traded, but if Hendricks is back to normal, he becomes the most attractive option.
Elijah: This is the fourth reliever we've talked about, so this bullpen could look entirely different at the end of the season if the White Sox begin a fire sale. As you said, Liam's health is the biggest victory for him this season no matter what happens from here. But if he's able to get back into his peak form, he could find himself closing games in the playoffs this October.
There will be A LOT of teams interested in Hendriks for their playoff run if he becomes available, and he would net much more than the other bullpen arms. Adding a true elite closer is not easy during the season, and plenty of teams would package two quality young pieces in order to acquire Hendriks for the purpose of October.
Clay: A couple of high-leverage relief pitchers acquired last deadline returned:
Raisel Iglesias for Jesse Chavez and Tucker Davidson
Jorge Lopez for Cade Povich, Juan Rojas, Yennier Cano, and Juan Nunez
Josh Hader for Taylor Rogers, Robert Gasser, Esteury Ruiz, and Dinelson Lamet
This could be an opportunity for Chicago to take the chance on a few lottery ticket prospects, leaning more into quantity than one high-level prospect. There are questions that need to be answered before Hendricks can truly be considered for a trade, so a value is more difficult to gauge.
Elijah: Those returns are pretty strong, all things considered. The value is definitely hard to gauge, but with another year of control, I can see a deal maybe one step down from the Hader one. I think at least a high-level prospect could be available for Hendriks, but I don't mind the idea of getting a few upside projects that could become something like Yennier Cano has this season in Baltimore.
While his value is murky right now, I expect Liam to quickly reestablish it when he returns this coming week.
Dylan Cease, SP
Contract Status: Two more years of arbitration
Clay: Oh boy, here we go. Cease has been the best pitcher for the White Sox the past two years and was one of the best in baseball last season. The numbers aren't as sexy right now, but I think teams would still pay a similar price for him. With two years of control left, the return has a chance to really change the White Sox farm system. But, I think they hold on. Chicago needs some change, and a full rebuild seems a bit extreme. Between now and the deadline I could change my mind, but I think Cease is part of the core that sees this through.
Elijah: This is one that nearly crushes my soul as a huge Dylan Cease fan and someone that has always believed he would be a top-end pitcher in this league. I'm not putting too much stock into Cease's season to this point, and with the control he has left, he would easily become the top asset on the market this summer. I have been resisting the idea of trading Cease the whole season, but there is part of me that has started to see the appeal.
Cease is young enough and has the team control to be a part of the future, but ultimately, what are the chances he signs an extension with the team? Fairly low considering the spending habits of the White Sox and the money that Cease and his agent Scott Boras will likely demand. Given that, it's worth considering maximizing Cease's value with two and a half years left for a franchise-altering package of talent. While my heart says no way, I think it has to be at least considered when looking at the future of this team. Let's talk about what a return could be like because it has the potential to be one of the bigger packages we've seen for a pitcher.
Clay: A deal of this caliber can be difficult to pull off at a deadline, but we tend to see one every year. Even if he's not traded at the deadline, an offseason trade is still on the table when more teams might be available to trade with. Luis Castillo, with one year of team control, was traded for two top-100 prospects and two minor-league arms.
Considering the additional year of control, I think a similar to slightly better return is in the cards. Baltimore and St. Louis have the prospects and the need, but we can never count out the big market teams as well.
Elijah: Very good point. This deal may be better off done in the offseason, and I could be getting over-ambitious, but some teams are inclined to overpay for a player that can put them over the top come October. Cease is the type of arm that will slot right into one of the first two games of a playoff team's rotation and give them a greatly improved chance of making a run.
Castillo is a good comparison, but I honestly think Cease garners even more of a return. The Cardinals feel like the most obvious fit, but there are a number of teams that could make the move given their assets but feel less likely to do so. It will ultimately come down to how desperate other teams are for starting pitching and whether or not the White Sox believe the packages on the table are better than something they can get done in the winter.
As much as it hurts from the perspective of a White Sox fan, I think the idea of trading him makes more sense the more I think about it. He's the only player on this list with the potential to bring back a franchise-altering return.