Analysis
The Orioles Have Their Bullpen to Thank for Hot Start
The Orioles are off to a hot start, in large part due to their bullpen. How far can this group of relievers carry the team?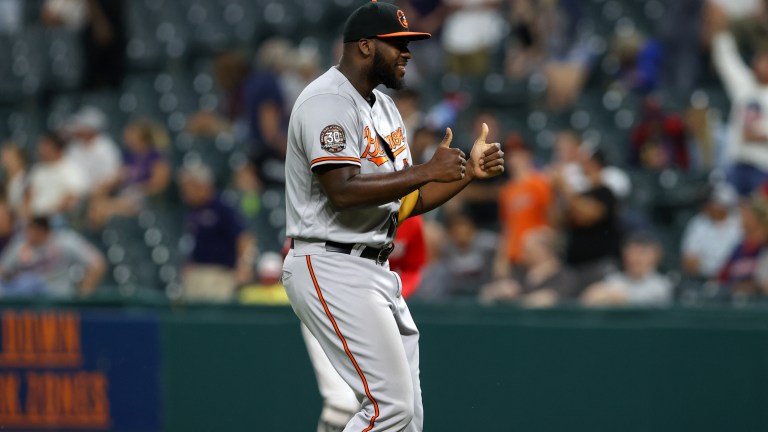 The Baltimore Orioles are off to an incredible start this season. Their 20-9 record is the second best in all of baseball. While there are numerous reasons for this, including a hot offense with production from unexpected places, the number one reason for this strong start has been having one of the best bullpens in baseball.
When I wrote up the 2023 season preview on the Baltimore Orioles, I mentioned that the strength of this team was going to be its bullpen. Even then, I had no idea that the bullpen was going to be this good. I mentioned that Cionel Pérez was going to be one of the better set-up men in baseball, and I was wrong. Pérez has been underwhelming, but where he has fallen short, Yennier Cano has stepped up.
The Orioles have received a subpar performance thus far from their starting rotation. Due to the starting pitching leaving a lot to be desired, the team has relied heavily on their bullpen. Therefore, while it might be up for debate which team has the best bullpen in baseball, there is no debate as to which team has the most valuable bullpen in baseball. That team is the Baltimore Orioles – come take a dive into how they got there.
Stats updated as of Tuesday, May 2, before Mike Baumann's difficult inning in Kansas City.
Stats as a Unit
Before diving into individual performers, I want to examine the bullpen as a whole and how it stacks up against the rest of the league. The stats that the unit has put up makes it clear just how valuable this bullpen has been to this team's success.
Earned Run Average (ERA) is the standard unit of measurement when it comes to determining quality of pitching. The Orioles bullpen has a 2.78 ERA in 2023, which is the best in baseball.
On top of leading the league in ERA, they are sixth in innings pitched with 110. As I stated earlier, the team's starting pitching has left quite a bit to be desired. This is not a bullpen that is coming into games during the seventh inning with a three-run lead. They are carrying a significant amount of the pitching load and entering games in high-leverage situations.
The Orioles' bullpen has been credited with more wins than any other bullpen in baseball (10). They are one of only three teams with a bullpen that has more wins than the starting rotation (the other two being Cincinnati and Miami).
Last but not least, no bullpen in baseball has accumulated more fWAR than the Baltimore Orioles. With 2.1 fWAR, the Orioles are clear of the Reds and Mariners by 0.3 fWAR. To put in perspective just how valuable the bullpen has been, Orioles starters have only accumulated only 1.3 fWAR this season.
Anyone can get really nitpicky about who has the best bullpen in baseball. You can look at the statistics and drum up an argument for a number of teams. However, it is really hard to make an argument that the Orioles do not have the most valuable bullpen in baseball. The Orioles have been able to go 15-2 when leading after the fifth inning. With a starting rotation that averages five innings per start, they have needed a shutdown bullpen.
Individual Performances
There are numerous individuals in this bullpen that have been outstanding this year. With that said, there have also been some arms that have struggled. With those struggling arms, the Orioles have done a good job hiding them in this deep bullpen.
Rough Patches
To be blunt, these arms have been less than remarkable. I will try not to spend too much time on them, but I would be remiss not to mention them at all.
Austin Voth and Keegan Akin have both been borderline atrocious this season. Voth has thrown 14.2 innings and given up nine earned runs, which is not good, but the Orioles have avoided using him in high-leverage situations. Akin, on the other hand, has only thrown six innings and for good reason. With a WHIP near two, it is hard to justify putting him on the mound if you can avoid it.
Cionel Pérez was a nice surprise last season and became one of the better arms in this bullpen. He has been a surprise again this season but in the other direction. With an ERA over five in ten innings pitched, it is starting to look like last year may have been a fluke. When looking at his Baseball Savant page, it is really hard to explain his regression outside of a loss of command. His pitches are either not competitive or over the middle and getting crushed. Last season Pérez walked just over three per nine. Now, Pérez is walking close to seven per nine. That number has to get better, and hopefully, Pérez can get back on track.
Félix Bautista
Now to get into the players in this bullpen that have been outstanding. Starting with the best pitcher in the 'pen.
Last year, Félix Bautista established himself as one of the best closers in all of baseball, and this year is no different. The only thing that Bautista has struggled with this season has been a little bit of command, but it hasn't mattered. Bautista looks untouchable and possibly even better than last year.
His patented splitter looks borderline untouchable, posting the third highest whiff rate of any pitch in baseball. If he can't get you to swing and miss at the splitter, then he has no issue blowing a fastball by you. Bautista has a 1.32 ERA in 13.2 innings and is currently fifth in baseball with five saves as well.
Bautista's current 162-game pace is a little ludicrous. If he keeps this pace up, Bautista will finish with 79 innings pitched. His current strikeout rate would lead him to 145 strikeouts. It is asking a lot to have your star closer throw nearly 80 innings, so expect his usage to drop slightly. Still, he is one of the best closers in baseball.
Mike Baumann
One of the bigger surprises in the bullpen this year has been Mike Baumann. In a couple of short stints in the majors, Baumann has been less than amazing. Mainly a starter in the minors, he has made the transition to the bullpen, and it looks like he has found a home there.
This year in 15.2 innings, Baumann has amassed a 1.15 ERA. He has not been protected from high-leverage situations this season and oftentimes feels like the first arm out of the pen when a starter is knocked out early.
His four-seam fastball and curveball have been lights out this year. He throws those two pitches a combined 75% of the time. They are inducing .105 and .071 batting averages, respectively. Baumann has been an integral part of this team's success early on.
Bryan Baker
Bryan Baker was a solid arm for the Orioles last season and has continued to build upon that this year. In just over 14 innings pitched, he has a 1.88 ERA and six holds. The six holds are tied for the seventh most in baseball and currently the most on the team.
With a good fastball and two strong secondary pitches, Baker has been one of the more consistent arms in this bullpen over the last two seasons. So far this season, he has excelled at limiting hard contact as well as racking up strikeouts at a 35% clip. His expected batting average against of .139 is sixth in baseball among qualified pitchers on Baseball Savant. The Orioles can take comfort with an arm as consistent as Baker's in their pen.
Danny Coulombe
Danny Coulombe is quickly turning into one of the best offseason acquisitions for the Orioles. Coulombe was acquired from the Minnesota Twins for cash after not making the team. He has quickly become one of the most important pieces in this bullpen.
Coulombe has only thrown 10.2 innings, but he has a 0.88 ERA, which is currently the second lowest in the bullpen. While Coulombe has been tough on everyone he has faced, he has been exceptionally tough on lefties. Lefties are currently hitting .100/.182/.100 against him. The Orioles have exploited this and use Coulombe in situations where he is going to face primarily left-handed bats.
The Orioles have carved out a role for Coulombe, and he is currently excelling in it. I expect having a lefty specialist as dominant as Coulombe has been will come in handy throughout the season.
Yennier Cano
I saved my favorite for last. I admittedly wanted to write an entire article on Yennier Cano, but this entire bullpen deserved recognition. With that said, this dude is the truth!
The Orioles acquired Cano in 2022 from the Minnesota Twins as one of four players to come over for closer Jorge López. It is safe to say that the Orioles are happy with the deal thus far, because Cano is literally untouchable this year. In 11 innings, Cano has yet to give up a hit, a run, or even a walk. He is the only qualified reliever yet to allow a hit and one of three that has yet to allow a free pass. Cano has only allowed one player to reach base; it was on a hit-by-pitch.
Cano is not a strikeout artist, but he is excelling in other ways. With two dominant pitches, he has been nearly impossible to square up this season. He throws his sinker just under 60% of the time and his changeup over 23% of the time. The sinker is good and has been his best pitch as far as run value, but the changeup is what makes him special. Posting insane vertical movement on both pitches has made him exceptionally tough.
It looks like the Orioles have found something special with Cano. A one-two punch of Cano in the eighth and Bautista in the ninth is going to be D-Wade and LeBron in Miami levels of exciting.
Moving Forward
The Orioles have had a great bullpen so far this season. The question is whether or not it can sustain this amount of success. Right now, I think the answer is yes and no. Bear with me.
The Orioles starting rotation is putting an incredible amount of stress on this bullpen. Relying on your bullpen to throw four innings per game on average is not a system that will lead to prolonged success (unless you are the Rays). Throwing that many innings is going to make it a lot harder to hide arms like Akin and Voth. With that being said, Dillon Tate and Mychal Givens have started rehab assignments. Tate and Givens both should be above-average bullpen arms, and with those two returning, maybe this bullpen really can shoulder a large chunk of the pitching load.
The other question is if the relievers who are currently succeeding can continue to do so at the same level. It would be pretty unreasonable not to expect at least a little regression. Even with someone like Bautista, a 79-inning pace is a lot to ask. The Orioles have also had a pretty light schedule so far as well. Playing the Athletics, the Nationals, and the Tigers (twice!) has certainly helped with the bullpen's success.
Remember that 15-2 record when leading after five innings that I mentioned earlier? That number is important. Even if this bullpen sees some regression, the fact of the matter is that they just have to hold leads. Baseball is a team sport, and so far, the offense and bullpen for the Orioles have complemented each other nicely. Despite a 5.28 ERA from the starters, the offense is still managing to give leads to the bullpen. If the 'pen can continue to hang onto those leads, they are going to be just fine.
May is going to be a huge test for both this team and the bullpen. With series against the Blue Jays, Rangers, Angels, and Braves, this bullpen is going to be tested. If they come out of May unscathed, then the Orioles truly have something special with this bullpen.