Analysis
Spring Training Battles to Watch for Final Blue Jays Roster Spots
After a busy offseason, the Blue Jays have limited spots on the active roster that will need to be decided this Spring Training.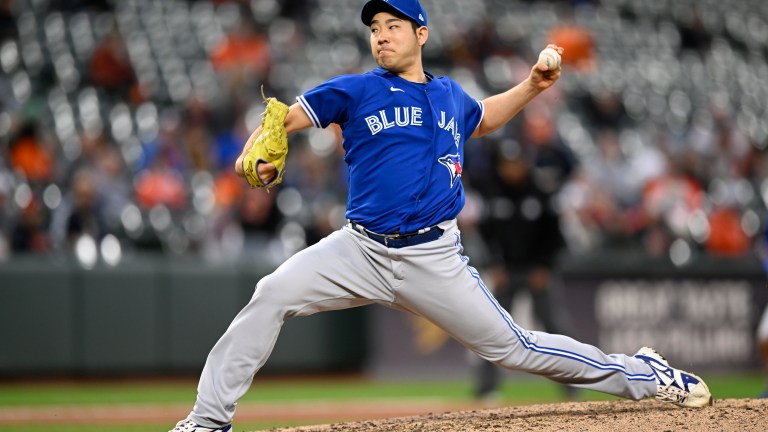 The Toronto Blue Jays were one of the more exciting teams this offseason, trading away both veterans and prospects in the form of Teoscar Hernández (Mariners) and Lourdes Gurriel Jr./Gabriel Moreno (Diamondbacks) while shoring up some holes in the rotation.
Adding reliever Erik Swanson provides some much-needed firepower in the bullpen (while also adding a pitching prospect in Adam Macko) while acquiring Daulton Varsho from Arizona adds a power lefty bat the Jays needed while also improving the defense on a revamped Rogers Centre outfield wall.
With those trades and the additions of CF Kevin Kiermaier, 1B Brandon Belt, RHP Chris Bassitt, and RHP Chad Green, the Blue Jays have one of the deepest rosters they have assembled dating back to 2015 and 2016. With an established young core in place and a pitching staff that seems pretty shored up, there are only a few roster spots open coming out of Spring Training for the Opening Day roster. Here are some position battles to watch for in camp this year.
Fifth Spot in the Rotation
Heading into the season, the Blue Jays have the first four spots in the rotation all locked up and ready to go in Bassitt, Alek Manoah, Kevin Gausman, and José Berríos, one of the deepest rotations in the American League. Following these four is where the scenario gets a little more tricky.
Although Yusei Kikuchi is owed $20 million over the next two seasons, he is not guaranteed a rotation spot after posting a 5.25 ERA as a starter last year with the Blue Jays. Kikuchi struggled with his fastball command and got hit for plenty of loud contact. The Jays' front office brought in Mitch White from the Dodgers at the 2022 trade deadline, but he struggled to finish out the year as well, failing to lock down the open rotation spot once Kikuchi was moved to the bullpen.
Fast forward to this Spring Training and the battle is really between Kikuchi and White, with pitchers like Zach Thompson and Thomas Hatch on the outside looking in alongside, non-roster invites Bowden Francis, Drew Hutchison, Casey Lawerence, and Matt Peacock.
Early Returns on this Roster Battle
Kikuchi is coming out of the gate strong this Spring after his Saturday outing (2.0 innings with five strikeouts and 14 whiffs on 33 pitches) while White suffered a setback in the offseason, a shoulder impingement that is delaying his ramping up for the season. The southpaw currently has the advantage in this battle right now and another strong start or two over the next month could easily seal the deal for Kikuchi to begin the year in the rotation.
Last Bullpen Spot for the Blue Jays
If the Blue Jays head into the season with five starters and max out their pitching spots (which seems likely), that means there will be eight players in the bullpen. Looking at the current group, there isn't a lot of wiggle room with White/Kikuchi, Swanson, Anthony Bass, Tim Mayza, Adam Cimber, Trevor Richards, Yimi García, and Jordan Romano all looking to return to the Blue Jays relief corps this year.
Should all of these players make the team, there would be no more room for any fringe candidate, however, I wouldn't be so quick to think that this group is locked down.
Injuries are likely to occur, meaning a spot or two could open up early this season, but there is a possibility that Richards could be DFA'd to make room for a hard-throwing right-hander like Zach Pop or Nate Pearson, who both could be optioned if the Jays prefer a more experienced arm in Richards to start the year in the MLB.
White could also technically be DFA'd but this seems less likely given his years of control (still pre-arb) and ability to start games, likely making him the long-man/spot starter this season.
Outside of Pop and Pearson, the Blue Jays will have Chad Green likely back later this season, once he is fully recovered from Tommy John surgery, and he will need a roster spot. Internal options also in the mix include Yosver Zulueta, Hayden Juenger, Trent Thornton, Hagen Danner, and Jackson Rees alongside non-roster invitees Paul Fry, Junior Fernández, Julian Fernández, and Jay Jackson all looking for a roster spot as well.
Bench Spot/Fourth Outfield
While there have been some changes to the team position player-wise, if the Blue Jays run with the expected 13 pitchers, that will leave room for 13 position players on the squad for Opening Day. Similar to the pitching staff, there are not a lot of spots available on the bench, given the following roster players all considered locks heading into the season.
Catchers: Danny Jansen and Alejandro Kirk
First Basemen: Vladimir Guerrero Jr. and Brandon Belt
Second Baseman: Santiago Espinal and Whit Merrifield
Shortstop: Bo Bichette
Third Base: Matt Chapman
Outfielders: Daulton Varsho, Kevin Kiermaier, George Springer
Utility: Merrifield and Cavan Biggio
This collection of players brings us to a total of 12, with only one potential bench spot remaining for everyone left in camp.
One thing the Blue Jays won't be considering to start the season is a dedicated third catcher with Gabriel Moreno now with the Diamondbacks. Varsho can catch on an emergency basis if needed but he will be in the Jays' outfield picture given his speed and defensive ability, one of the main reasons the front office acquired the lefty-batter.
As of right now, it does not appear that the Blue Jays will head into Opening Day with a dedicated fourth outfielder as well, likely using Merrifield or Biggio in the outfield should their services be required, with Espinal taking reps at second base or on the left side of the diamond when needed.
That's not to say the Jays won't consider bringing a dedicated fourth outfielder to Opening Day in Nathan Lukes or Wynton Bernard (NRI), with Lukes having the slight upper hand of already being on the 40-man roster, but I would bet that John Schneider and co. are content with Merrifield and Biggio in the outfield when needed.
Alternatively, the Blue Jays could bring in a utility-type player like Otto Lopez, who had nine at-bats with the Jays last season. He will be spending part of the Spring Training with Team Canada at the World Baseball Classic but he is one of the players to be considered for the 13th bench spot who can play both in the outfield and at second base or shortstop.
One player making a case for themselves last season and early this year is Addison Barger, whose stock increased after a strong 2022 season split between three Minor League levels. Barger launched a moonshot this past Saturday and has been taking reps in the outfield.
The lefty-batter has only eight games of experience in Triple-A, but a strong spring could see him brought to the big leagues, although one could also argue that increased reps in Triple-A would be more beneficial for his long-term development. I have a feeling this will be one of the last decisions for the roster prior to Opening Day.
Other players who could factor into the Opening Day roster if they have a strong start in Spring Training are Spencer Horwitz, Davis Schneider, Zach Britton (NRI), and Vinny Capra (NRI).