Analysis
When Can We Call the Arizona Diamondbacks True Contenders?
One of the most exciting young teams in baseball, led by rookie phenom Corbin Carroll, the Diamondbacks are looking like a threat in the NL.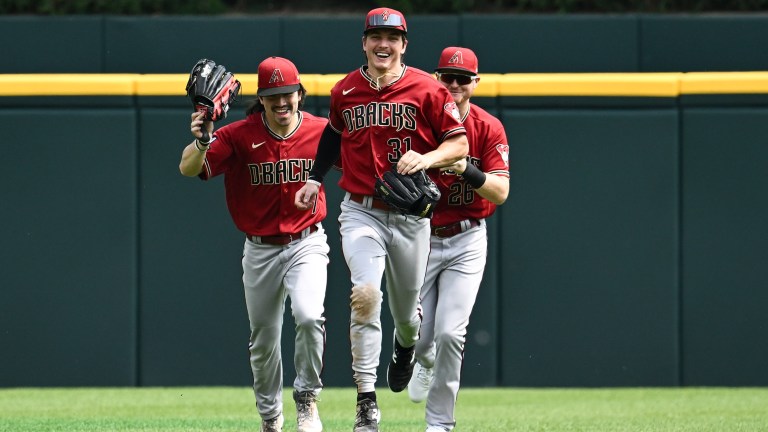 Turn back the clock to late April, and the Arizona Diamondbacks put baseball on notice:
Although this statement is no longer true — the D-backs have since split two series and lost five — they remain a very good baseball team with a record of 41-27. They are two games ahead of the Dodgers in the NL West, and in the NL, only the Atlanta Braves have a better record (43-26). In other words, the D-backs have proven themselves to be a sneaky-good baseball team.
But when can we consider them "contenders?"
Now might be a good time as the season's mid-point approaches. If the D-backs make a few adjustments at the trade deadline, notably to strengthen their pitching, they've set themselves up for a run into the postseason.
Last season, the Diamondbacks went 74-88
That was then. In 2023, young players are stepping up, and the combination of youth with some veteran experience has proved effective.
First, consider the offense.
After the conclusion of their June series with the Philadelphia Phillies, as measured by fWAR, the D-backs are the seventh-best team in MLB (11.0 fWAR). They've hit 79 home runs (14th most); they have the fifth-highest SLG (.437); and they have the 10th-highest wRC+ (106). Eight D-backs have a wRC+ of more than 100.
The D-backs are just good at getting on base. They have 615 hits (the eighth-most in MLB), the fourth-most doubles (140), and the second-most triples with 16. All those hits provide an average of 5.3 runs scored per game to support their starting pitching.
In addition, they are fast. Corbin Carroll and Jake McCarthy are the fifth- and sixth-fastest runners in baseball. With the league average of 27 ft/sec, the D-backs have seven position players — including catcher Gabriel Moreno — with above-average speed.
The D-backs, then, are good at getting on base (.330 OBP) and then letting their speed create chaos — all abetted by bigger bases and a pitch clock.
Back in early April, manager Torey Lovullo said, "We're a good team, we're athletic and we're going to exploit things that we're supposed to."
So far, they've been successful. Check out these clips from their series with the Cleveland Guardians:
Consider, then, individual player stats.
Currently, Corbin Carroll is the third-most most valuable player in baseball as measured by fWAR (3.3 fWAR). Only Ronald Acuña Jr. and Wander Franco are better. The 16th most-valuable player in baseball? Carroll's teammate Geraldo Perdomo (2.4 fWAR), who's not someone receiving much attention right now.
A contending offense needs to have players suited to the game as it's played at that moment. Right now, the Arizona Diamondbacks are.
Okay, but what about the defense?
Turns out, the speed that plays so well in the offensive game works pretty well for the defense, too.
The D-backs are ranked ninth in terms of DRS with 12. If you look at Outs Above Average, Christian Walker has the fourth-most with eight. As a team, they're tied for second with 12.
So, the defense is not quite as sparkly as the offense, but it's still top 10 and gets the job done. The outfield of Corbin Carroll, Alek Thomas, and Jake McCarthy is just plain good.
Here's how Dodgers manager Dave Roberts put it: "I'm telling you, as far as run prevention . . . this as good as an outfield as I've ever seen. These guys are better than that Expos' outfield. These guys are freakin' unbelievable. You hit the ball in the air, it's an out. They're scrappy. It's fun watching these guys run."
Case in point? This catch from Jake McCarthy:
So, yes, the Arizona Diamondbacks have the defensive chops, too.
You have my attention, but none of this matters without pitching. How is it?
If there's a weak link, this is it — but it's also not that weak.
In terms of fWAR, the D-backs' pitching is worth 6.3, which is 18th in MLB. The starters are 10th (4.9 fWAR), and the relievers are 23rd (1.4 fWAR). Their starters have thrown 364.1 IP, which is 12th in baseball. Given that the bullpen is less effective, that's a good sign.
Their cumulative ERA- is 100, which is average and ranks them 19th in MLB. By this metric, the relievers (ERA- of 93) are slightly better than the starters (ERA- of 105).
Now consider the individuals.
Their most valuable pitcher — and this comes as a surprise to no one — is Zac Gallen who's worth 3.1 fWAR (2.54 ERA; 70 ERA-) and leads all MLB pitchers. Here he is discussing his philosophy of pitching.
Gallen is followed by Merrill Kelly (1.5 fWAR; 3.3 ERA; 69 ERA-). They're also using Tommy Henry, Ryne Nelson, and Brandon Pfaadt, who've had uneven results so far.
Their best reliever is Andrew Chafin (0.8 fWAR; 2.96 ERA; 67 ERA-), and it falls off from there.
In other words, the pitching is solid but uneven while an electric offense gets things done.
Okay, I'm convinced, but what's next?
The Diamondbacks will need to make some pitching acquisitions at the trade deadline. They've been committed to letting younger pitchers get innings, but they will probably need one more effective veteran starter, and a couple of relievers might help.
In the meantime, they need to keep letting younger players get experience and hope everyone stays healthy.
If you're not keeping up with the D-backs, perhaps you should because this is a very fun team that's just getting started. Check out their "Victory Vest."
The Diamondbacks' plan is coming together.
"We're very diverse, and we can do it with a lot of different players," Lovullo said. "You look up there and you have a lot of different players with an over .900 OPS, and that's not by accident. They're just good players, and they're growing and learning and accepting the coaching every single day."