News
Brandon Pfaadt Earns the Call for Determined D-Backs Squad
The Arizona Diamondbacks are calling up Just Baseball's No. 24 overall prospect Brandon Pfaadt to make his MLB debut.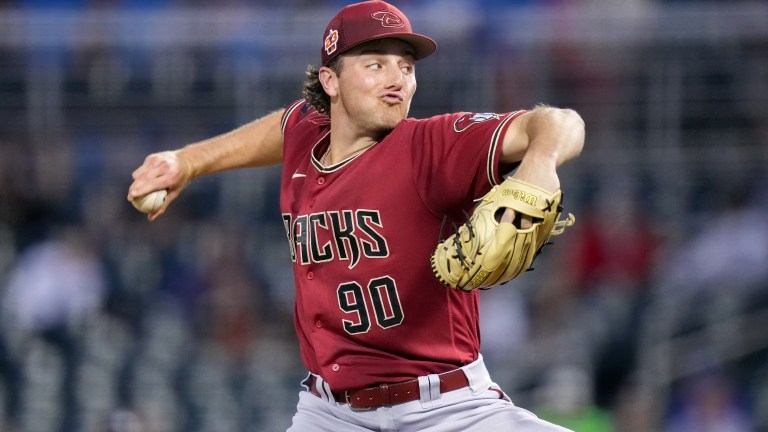 The Diamondbacks are calling in – or, more accurately, calling up – reinforcements. A week after releasing Madison Bumgarner, the D-backs will be promoting top pitching prospect Brandon Pfaadt to the big league club.
Arizona has not yet added the right-hander to the 40-man roster, but Nick Piecoro of the Arizona Republic reports that Pfaadt is set to make his MLB debut today against the Texas Rangers. The Diamondbacks will need to make a corresponding move to open a spot on the roster.
Pfaadt is the No. 24 overall prospect in the game, according to Just Baseball's latest top 100 list. Here is what our own Aram Leighton has to say about the 24-year-old:
Though he may not have ace upside, Pfaadt is as much of a virtual lock to stick as a starter as there is in the system and continues to get better each time I watch him pitch…The 24-year-old has the floor of a back end of the rotation starter, though I believe his pitchability and willingness to improve and tweak his craft will have him closer to a No. 3 starter with room for a bit more. 

Aram Leighton, on Brandon Pfaadt's outlook
Pfaadt wasn't particularly sharp in his latest start, giving up seven hits, three runs, and two walks in five innings of work against the Sugar Land Space Cowboys. However, he was dominant in the outing before that, tossing seven scoreless frames with eight strikeouts. He was similarly impressive last summer after his promotion to Triple-A, making ten starts with a 2.63 ERA and 10.80 K/9.
The young righty doesn't need to be nearly so dominant to earn a regular role in Arizona's rotation. The Diamondbacks already have an ace in Zac Gallen, and all they ask from Pfaadt is that he gives them a chance to win every five days. Bumgarner wasn't doing that, nor have starters Tommy Henry and Ryne Nelson:
| | | | | |
| --- | --- | --- | --- | --- |
| Pitcher | GS | IP | ERA | FIP |
| Madison Bumgarner | 4 | 16.2 | 10.26 | 8.19 |
| Tommy Henry | 2 | 9.2 | 6.52 | 5.43 |
| Ryne Nelson | 6 | 31 | 6.39 | 5.11 |
Major League Baseball is full of surprising success stories this season. The Pirates are leading the NL Central with a 20-10 record, and the Rangers are leading the AL West with the second-highest run differential in the sport. Meanwhile, the Orioles are in position to earn a Wild Card berth with the second-best record in baseball.
The Diamondbacks aren't quite on the same level as the rest of those teams, but they would make the playoffs if the season ended today. As recently as April 30, they were leading the NL West. That's the same NL West where the Dodgers and Padres reside.
Arizona's +3 run differential suggests they aren't really a postseason-caliber team, but they have impressed so far, outperforming pre-season NL favorites like the Padres, Cardinals, and Phillies. Therefore, it's good to see they're making a continued effort to win.
Cutting ties with Bumgarner this early in the season was surely a difficult call, but it was the right move. Aggressively promoting Pfaadt is another smart decision. The Diamondbacks have the chance to open their competitive window early, but they can't afford to waste any time. Every win is precious, even this early in the season. The D-backs may not be the favorites, but they aren't going down without a fight.