Analysis
What's Next for the Miami Marlins?
The pressure is on for the Miami Marlins in year four of the rebuild, which means big moves could be coming.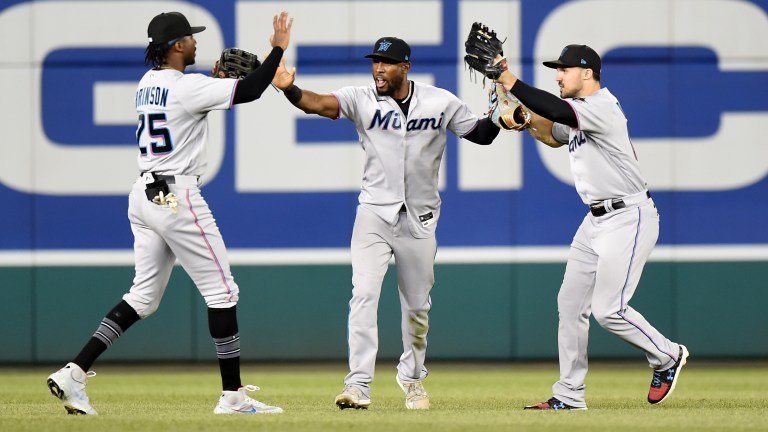 The Marlins are in a precarious spot. Now in the fourth season of the Bruce Sherman and Derek Jeter era, the team seemingly took two steps back after a step forward in 2020's abbreviated season by making the franchise's first playoff appearance since 2003.
Last year's 31-29 finish was no doubt an indication of the team's young pitching starting to allow the club to stay in ballgames. But in a 162 game marathon, the offense put forth by the Fish is just too meager to compete. After finishing in the bottom third of the league in virtually every offensive category, the Marlins only added Adam Duvall on top of the team's deadline acquisition of Starling Marte.
After a season where Marlins catchers produced a .1 WAR, which would've been negative if it weren't for Francisco Cervelli's .3 WAR in 16 games, the Marlins decided to run it back with Jorge Alfaro and Chad Wallach and replaced Cervelli with Sandy Leon.
Unsurprisingly, the Marlins catching position remains a glaring weakness this season. Marlins catchers rank dead last in wRC+ (44), fielding percentage (.980), and have four more passed balls (18) than the next worst team. As you'd expect, that all contributes to a WAR of -0.5. Craig Mish has stated the Marlins desire to be active at the deadline and find an answer at the catching position as well as center field. At 15 games under .500, the Marlins are going to sell any assets that are not a part of the team's long term plans. Starling Marte is almost a sure thing to be dealt, Adam Duvall is likely as well, along with several relievers.
Limited Offensive Reinforcements
One thing that stands out among the new regime is its ability to discover and develop young pitching. On the flip side, the team has done an abysmal job with developing offensive talent. Outside of Jazz Chisholm, there's been a laundry list of disappointing prospects for the Marlins. Those who have seen Top 100 lists, but haven't put it together include: Lewis Brinson, Monte Harrison and Isan Diaz. All of which came over in the Christian Yelich trade. Also, former first rounders Connor Scott and Kameron Misner have not met expectations, while JJ Bleday has struggled in his first full season at Double-A.
The frustrating track record of hitting prospects for the Marlins begs the question if the issue is the franchise's development system, poor scouting, or bad luck. The answer is D. All of the above.
Someone like JJ Bleday struggling in his first full season isn't all that alarming, though not ideal. Bleday defies the general methodology applied by the Marlins front office when it comes to position prospects, thus he has a higher floor and feel to hit which should shine through in the second half of the season.
Outside of Bleday, the Marlins have specifically targeted athletic, toolsy prospects with generally questionable hit-tools. Players who fit that criteria are baseball's version of boom or bust. If that stud athlete with plus power is able to make consistent contact, the sky is the limit. But athleticism is largely useless if you can't hit with relative consistency.
Ironically, the Marlins don't abide by the same methodology when it comes to pitching prospects. The team doesn't exclusively chase pure stuff, they also value pitchability. If the Marlins targeted pitchers the way they targeted hitters, they'd be going after pitchers who can touch triple digits with not much of a clue where its going. The Jorge Guzman types.
Fortunately, the Marlins have built up quite the stable of arms at the big league level and in the team's farm system, and now its time to turn some of those arms into offense.
Potential Trades
As the Marlins prepare to unload some of the aforementioned MLB assets, I'd expect the team to be willing to attach prospects, if it nets them a solution in centerfield or catcher moving forward. Targets for the Marlins could include names as big as Byron Buxton and Cedric Mullins, per Mish, or even Giants catching prospect Joey Bart.
While I don't anticipate that the Marlins would trade from their big league stable of Trevor Rogers, Sandy Alcantara, and Pablo Lopez, it is worth noting that the trade market is dominated by bats. A controllable starting pitcher could net a franchise altering return.
Joey Bart – Giants
Bart would make a ton of sense for the Marlins as a player who is essentially big league ready right now. The 24-year-old former No. 2 overall pick in 2018 won't come cheap, but a Giants team that is hungry to get back to the World Series could be enticed by an instant upgrade in Starling Marte, sweetened by attaching a pitching prospect. Marlins fans may not be happy with this one, but the team could look to sell high on Jake Eder, who will undoubtedly be of interest to the Giants. The Marlins would likely balk at any deal including Eder unless center fielder Heloit Ramos is also involved in the deal.
The Giants are one of the few teams in baseball who could care less about high spin rates, and Jake Eder is not exactly a guy who racks up the RPM's. Eder is an example of why San Francisco's approach is valid, enjoying massive success in Double-A despite not chasing RPM's.
The Nelson Cruz return for the Twins also set the bar pretty high for rentals in the trade market moving forward. For that reason, I think the Marlins may be able to pull off a deal without including the rapidly rising Eder. Starling Marte, Yimi Garcia and Dax Fulton for Joey Bart and Casey Schmitt could make sense. Bart would be an instant upgrade defensively and offensively and comes with the offensive ceiling of an All-Star catcher.
Byron Buxton – Twins, Cedric Mullins – Orioles
The idea is sexy. Buxton when healthy has the capacity to be one of the game's most electrifying players, but when healthy is a huge key here. Buxton is currently on the IL and in his seven seasons in the bigs, the 27-year-old has only played more than 100 games once. The Twins have made it clear that if Buxton does not accept their extension offer which was reportedly along the lines of 7-years, $70 million, they'd move him. Aside from the fact that the Marlins have not delved out more than a two-year deal since Bruce Sherman and Derek Jeter took over, the price for Buxton will be steep prospect wise as well.
There is definitely the argument that the Marlins need to just take a chance here at acquiring a player who is capable of being the face of your franchise. The problem is, the Marlins don't have much margin for error at this point in their rebuild, and he is just as capable of spending the majority of his Marlins tenure on the IL as he has in Minnesota.
With Cedric Mullins, there's a different kind of risk. The soon-to-be 27-year-old has broken out this year, and full disclosure I am totally sold on him being able to continue what he's been doing for the Orioles, but they don't need to move him. Mullins is under control until 2025, and while the O's are rebuilding, I would venture to say that they expect to compete before Mullins is set to hit free agency. The Orioles value each dollar as much as any team in baseball, they even tried to defer Trey Mancini and Anthony Santander's combined $7 million ahead of this season.
In the case of Mullins, the Marlins would have to pay an absurd price prospect wise, which would probably be borderline unjustifiable for a player with a limited track record like Mullins. Buxton won't come cheap either, and the injury risk could just be too much for the Marlins to be okay with dealing top pitching prospects Max Meyer or Edward Cabrera (either would likely have to be the starter in a deal for the two centerfielders).
Ketel Marte – Diamondbacks
The Marlins have made a couple of big trades over the last two seasons with the Dbacks, so why not one more? The Marlins swapped Zac Gallen for Jazz Chisholm in 2019, then acquired Starling Marte at least year's deadline.
Ketel Marte may be one of the most expensive players on the market, but the Marlins do have the prospect capital to get a deal done if they really want to make an aggressive move. Marte is one of those players who is a good fit for essentially any team, but he is the quintessential player it seems like the Marlins are looking for. The 27-year-old instantly answers their centerfield questions for years to come, and is owed an affordable $26 million over the next three seasons.
A switch-hitter who can play all over the diamond, Marte is a manager's dream. Marte came up a shortstop, played most of his games at second last season and now has started a majority of his games in centerfield this year. His control, versatility, age, and track record will make Marte a hot commodity, but some teams may be weary of paying a premium for a player who is currently on the IL with a bad hamstring. Marte is expected to return in the next week or so, but hamstrings have a way of nagging, and for the Marlins the deal would be worth it even if Marte didn't play a single game in 2021 for them. Nearly all of the other teams targeting the Diamondbacks utility-man likely can't say the same.
Unlike with Buxton and Mullins, there are few questions as to whether Marte is worth the price. A deal will likely start with Max Meyer or Edward Cabrera, with more important pieces on top, but the Marlins have no centerfield help in sight in the minors, and an impending free-agent class that does not offer much to be excited about up the middle.
This is more for Marlins fans, but before you scoff at this proposal, remember that the Marlins have a big league rotation that includes Trevor Rogers, Sandy Alcantara, and Pablo Lopez as well as a stable of projectable pitching prospects.
Marte is a needle mover for the Marlins. A top of the order that features Jazz Chisholm and Ketel Marte is dynamic and exciting. Free-Agency and the offseason in general will be much easier to approach when you have centerfield plus the top of your order locked up for the next three seasons. If by some bizarre outcome Marte struggles, there are team options in his deal for 2023 and 2024.
Marlins: Ketel Marte
Diamondbacks: Max Meyer, Jose Devers, and Monte Harrison