Analysis
Kim Ng's Departure Could Spell Trouble For The Miami Marlins
The Miami Marlins will have new leadership in their front office for next season, as GM Kim Ng is parting ways with the team.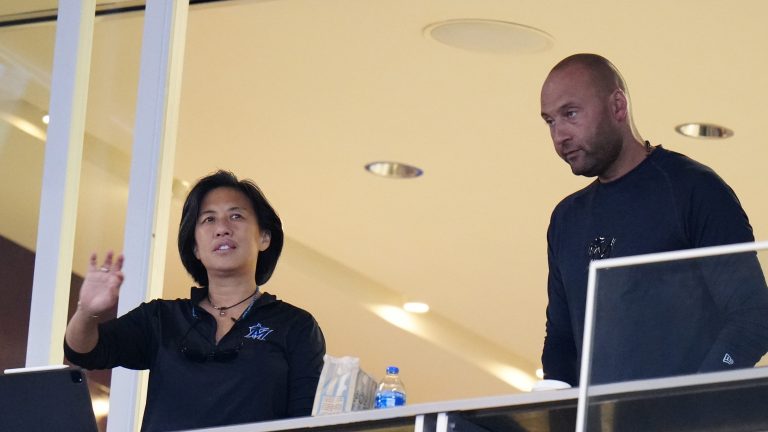 The Miami Marlins announced early Monday morning that general manager, Kim Ng, would not be returning as the team's GM next season. It was certainly not the best news to wake up to having been an advocate for Ng for so long.
I believed it was a foregone conclusion the Marlins would extend Ng after she revamped the roster and set up the team's first full-season playoff appearance since 2003.
Most Marlins fans seemed to share that opinion, especially after the Marlins clinched a playoff berth. The team seemed happy: Bruce Sherman sung her praises, Jazz Chisholm Jr. called her "Mama Kim" during the celebrations and manager Skip Schumacher rarely went a day without mentioning what she did for the team.
Having spoken to Kim before and seen the way she handled the press I can say this: she was never anything but pleasant, she is incredibly well spoken and highly intelligent about the game of baseball. Beyond her success as a general manager and her position as a trailblazer, she is also a great person.
Reports from outlets such as The Athletic and ESPN confirmed that Ng was well-liked and respected within the organization. Marlins' employees believed she had the club headed in the right direction and deserved an extension.
So how did we end up here? It remains unclear. Marlins owner, Bruce Sherman, said in a statement the team picked up Ng's option for 2024 but Ng declined her end of the option. ESPN's Buster Olney reported the Marlins offered her a contract extension but Ng declined. On the other hand, The Athletic reported no such extension was offered.
Whether or not the Marlins gave Ng an extension offer is unclear. However, one thing is not: Ng did not seem satisfied with the direction the Marlins were heading in. Multiple reports have confirmed the Marlins planned to hire a president of baseball operations above Ng. The Athletic reported Ng wanted more changes to be made within the organization, but Sherman and her did not align.
Ng said it herself in a statement to Tyler Kepner of The Athletic:
"Last week, Bruce and I discussed his plan to reshape the baseball operations department. In our discussions, it became apparent that we were not completely aligned on what that should look like. I felt it best to step away. I wish to express my sincere gratitude and appreciation to the Marlins family and its fans for my time in South Florida. This year was a great step forward for the organization."

-Kim Ng on her departure from the Miami Marlins
This is now the second time in two seasons the Marlins' top executive has left the team because their vision did not align with Bruce Sherman's. The first one was a guy you might know: Derek Jeter. His departure has seemed like a win for the Marlins, especially since it gave Ng more control.
However, combined with Ng's departure it suddenly looks like Sherman has a vision one to himself, that includes a baseball operations department with a different head.
Ng was far from perfect as an executive, and Jeter even more so. But if anybody knows what a winning organization looks like wouldn't it be those two? Not to mention the Marlins had their most success in 20 years in the first season Ng was atop the totem pole.
Ng had some huge flops in free agency: Jean Segura, Johnny Cueto, Avisail García and Yuli Gurriel were all bad signings. But she has also absolutely nailed the trade market: Luis Arráez, Josh Bell, Jake Burger, Tanner Scott, A.J. Puk and Jesús Luzardo are all major contributors acquired in trades by Ng.
At the end of the day, she made the major moves needed to get the Marlins into the playoffs. Considering her track record and what that accomplishment meant to the franchise, Ng earned an extension. End of story.
This is a real step back for the Marlins organization. They did the right thing if they did in fact offer her an extension. However, now we know that came with the caveat of a virtual demotion by wanting to hire a president of baseball operations.
Ng likely felt good about her ability to get another job around baseball, and she should. The Red Sox have an opening, as do the Mets, and those teams have much bigger budgets than the Marlins. Her success with a depleted farm system and small budget bodes well for what she could do with a Mets-like budget.
Regardless of where she ends up, the Marlins are now in search for their third head of baseball operations in as many years. Luckily they seem to have a great young manager in place with Schumaker, who will be heading into year two with a similar core to what they had this season.
With that said, there are big decisions to be made, with Josh Bell and Jorge Soler both having opt-out triggers in their contract, who could become some of the top bats on the market in a weak free agent class. Will those players be retained, or move on to greener pastures?
Sandy Alcantara had Tommy John surgery and will likely miss the entire 2024 season. His salary jumps from $9 million in 2024 to $17 million in 2025, meaning he is no longer going to be as affordable a player upon his return.
Luzardo, Arráez and Chisholm Jr. are all extension candidates. Can the new front office come to terms with any of them to keep a core together, or will the window for this team to win become markedly short.
The farm needs rebuilding, and without Sandy the team is likely to be worse in 2024. Will a down year be an excuse to tear it down all over again? These are all questions that Marlins fans should be asking themselves and that Sherman needs to answer.
Keeping Ng could have led to continuity that would have made it easier to build off the momentum of this past season. Instead, the Marlins will be starting over to some degree.
Now all Marlins fans can do is wait to see who is this president of baseball operations, and how will the franchise go about their business after hiring them. With plenty of decisions left to be made, both in the front office and on the roster, the Marlins will at least be a fascinating team to monitor this winter.